Constant innovation is the only way for the business to prosper in the changing market scenario. And the same applies to the taxi-dispatch business as well. The taxi-dispatch market has become more competitive than ever because of the inception of robust mobile apps. Now people don't have to wait for a long time to get a cab. They can easily book it within a few taps over their smartphones.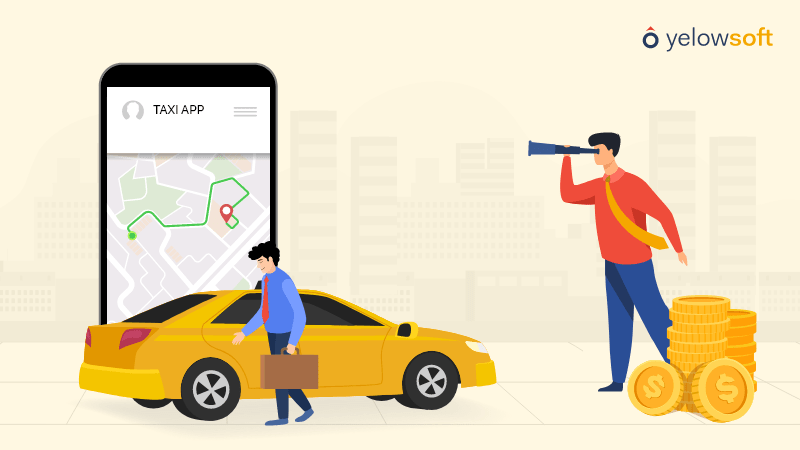 As per Statista, the revenue in the taxi-dispatch market is expected to grow at $1621.9 billion US (approx.) in 2025. So there is an attractive growth opportunity for you to start your taxi-dispatch business. Initially, you should provide services to individuals. Then you can gradually shift towards serving the corporate.
Not just individuals, but corporate companies are also looking for seamless taxi dispatch services for their employees. Avail of this profitable opportunity by integrating a seamless corporate travel booking solution into your business.
But before you start talking with a leading cab booking app development company in your city, you need to know what a corporate taxi solution is and how it can help you grow your business.
A detailed outlook of current taxi markets
To extend their offerings for better coverage, local taxi businesses are gradually eyeing corporate clients. And for this, rental companies are focusing more on building an exclusive corporate car-sharing solution for their clients.
Besides this, Lending Home, Gartner, Intuit, Asana, etc. are some popular companies that are providing cab facilities to their employees. But the list doesn't end here as industries like BPO, IT, Consulting, have also started providing cab services to their employees. Before diving deeper into the need for the corporate taxi booking solution, let us have a look at the current taxi market scenario.
As per Mordor Intelligence, the taxi market is estimated to reach $327.54 billion (approx.) by 2026. Apart from this, the CAGR will be 8.95% (approx.) for 2021-2026. This data shows that taxi booking services are rapidly going to transform the global transport landscape.
Even the taxi market share of the Asia-Pacific region was around 73.14% of the global taxi market in 2020. Nowadays, the cab booking industry is rapidly evolving as a potential market. And with taxi-hailing apps, the taxi and transportation industry has got a major uplift. So, this is the best time for you to take a plunge into this market.
Talking about the business expansion in the corporate travel booking segment, prominent Indian taxi provider Meru Cabs has announced in 2020 that they are planning to raise 54.25 million from privatized equity funds.
According to Financial Express, the MD and CEO of Carzonrent has said that the rental taxi booking industry is growing at an annual rate of 14% to 15% (approx.) per year. He further added that Carzonrent has a targeted CAGR of approximately 24% for years.
So, we hope that now you are clear about the current taxi market condition. After witnessing such an enormous potential taxi businesses are getting more interested to opt for corporate taxi services. Let us now look at the reasons for implementing a corporate taxi solution.
Benefits of a Corporate Taxi Solution that are hard to miss out !
When you are providing individual taxi service, you are serving just one customer. But when you are offering taxi services to a large corporation, then you need to take care of a large group of customers. In such a situation, a corporate taxi solution can be of great help. Here are the remarkable benefits of a corporate taxi booking solution:
Read More: Essential benefits of corporate cab booking systems.
Fully automated solution for customers' convenience
Gone are the days when a customer needed to call the cab operator to book a ride. Thanks to a tech-edge corporate services system, your customers can easily get the cab right on their doorsteps.
With a corporate fleet system in place, now your corporate client's staff do not need to rush to find taxis. Your corporate client will get a fully automated system for corporate booking management.
Your corporate clients can allow their employees to easily request rides for their daily commute through an app, in-person, or via phone call, and corporations can indefinitely manage the ride bookings of their employees within a single click.
Free up customers from booking hassles with 'Recurring ride' feature
Sometimes hectic work routines often make the employees forget about generating their return ride requests. Not only does this result in them missing out on a ride, but also negates the efforts they make through the week to prosper the environment.
And that is why the corporate taxi management software is equipped with the "Recurring Rides" feature. The recurring ride feature enables the employees to book a ride once and select the days accordingly on which they want to book their rides. After this, the dispatcher will automatically assign a taxi to them on the selected days.
In this way, the "Recurring Ride" feature frees up the employees from the hassle of booking their rides every day.
Read More: All you need to know about Yelowsoft's 'Recurring Ride' feature.
Charge the way you like
A corporate taxi booking app lets you offer the freedom of keeping different prices for different corporate clients. Apart from this, you can keep the pricing low or high or you can give discounts as per your business terms and conditions.
Let us say that one of your corporate clients has its business operations on a large scale, then he would be capable enough to bear the higher payment. On the other hand, there are some clients who can't afford such exorbitant rates.
But by using a corporate taxi booking solution, you can easily customize your pricing structure as per the company type. Thus, you do not have to miss out on your customers.
Consistent income source
It has been seen that often the taxi companies do not get the rides constantly. Sometimes a passenger may cancel the ride or the ride gets cancelled by the drivers because of some unavoidable situation. Thus you have to lose your rides in both cases.
A corporate taxi booking solution enables you to get a consistent source of revenue. When you provide a taxi business solution to corporate, you can get a long-term client. Now, you do not need to go helter-skelter to find clients.
If you provide best in class services to your corporate clients, then there can be a strong possibility that their employees may start availing your services. This will let you get prospective clients for your business.
Let superior authorize the rides
If an employee wants to book a cab, he needs to get permission from his immediate superior. When an employee raises a ride request, then it will immediately go to its superior. However, the employee will get his cab only after his boss approves it.
After that, the authorizer filters and approves every ride before it is booked for authentication. This way they can keep track of every employee booking done through the service and authority after the trip confirmation.
Robust Corporate Panel for seamless management
Accurate client management becomes important when it comes to providing taxi services. Managing multiple corporate clients is not a child's play. But with an advanced corporate panel, you can easily manage your corporate client by making their profiles.
The corporate panel is one of the core features of a corporate taxi booking solution. With this panel, the admin can maintain better transparency and can control all the operations by taking proper actions.
With the help of a corporate admin panel, the clients can check the rides of every employee on a per-day basis. These rides can be sorted out on a daily, weekly, and yearly basis. This makes business management easy for the admin.
Stay updated with rides with real-time location tracking
Admin should be well informed of whoever its driver is going to pick. Also, the driver needs to be informed about a passenger's location as well so that it can reach the location on time.
By integrating real-time into your corporate taxi fleet management system, both your drivers and customers can know about each other's correct location and make the pickup easy for each other.
By using this feature, corporate admin can know the current location of its employees. They just need to click over the radar icon and the app will accurately detect the user's exact location, which helps the passenger to book a ride even without knowing the exact place. This will keep you a cut above your rivals.
Ride management becomes easier with request analytics
Along with the above-mentioned features, a corporate taxi booking solution shows the different statuses of passenger ride requests such as ongoing, completed, canceled, rejected, etc. The taxi dispatch solution presents all these data in a graphical format.
Furthermore, you can also know the percentage of requests if it's more than needed so that you can extend your driving staff to make the most of these requests. Similarly, rejection and cancellation of rides can alert you in advance to change the matching algorithm if needed.
Advanced data-driven insights
An accurate data is the key to succeed in any business and the same applies to corporate taxi-dispatch business as well. A corporate taxi solution lets you analyze and monitor your daily operations by enabling you to have a clear record of your expenses and the estimates of spending based on the number of rides completed.
Also, it shows the number of requested rides were requested and the location with the highest number of requests in the reports and analysis format. Apart from this, you can also keep a tab on your authorizers by analyzing the number of approved and disapproved rides to ensure that they are doing their work properly.
Why you should go for a corporate taxi solution?
The transportation needs of a company differ from an individual. Employees of corporations have to travel a lot. They may have to attend important meetings or they have to commute for marketing purposes. Thus, they book cabs for commuting comfortably and safely.
But, it can be tiresome for the employees to book a cab every time. You can solve this issue by developing an employee transportation system. It allows you to provide cabs to your employees at your convenience. Let us look at the reason of having a corporate employee transportation solution:
Employee Safety
Safety is an important concern for any organization. You need a reliable taxi-booking company to provide cab facilities to your employees. For instance, you can provide masks and sanitizers to your drivers. Apart from this, you can also instruct the drivers to fully sanitize their cabs.
Besides this, you can integrate COVID guidelines into your driver app that are issued by the government. In this way, you can protect both your drivers and customers from coronavirus.
Taxi booking with flexibility
Availability of cabs is an important thing. But sometimes it may happen that the ride request of all the employees cannot be fulfilled during the peak hours. So chances are there that the employees missed their flights or they got late in reaching their location.
By using a taxi dispatch solution you can effortlessly get rides for your employees. Now your employees do not have to wait for long to get their rides.
Transparent Billing Process
A corporate travel booking solution equips the corporates with greater billing transparency. It provides a digital bill receipt that shows the crucial ride details such as the driver's name, ride duration, price, ride timings, taxes, etc.
By disclosing the details fully, you can build a sense of trust among your customers. Besides this, you can also sort any transaction to verify it later.
Ride Monitoring
A feature-rich taxi business solution can help you to cope up with these issues. It offers you a real-time GPS tracker to trace any cab's location at the given point of time. Also, you can ensure that your vehicle is on track or not by using a real-time tracking solution.
You can add an SOS button into your cab. SOS stands for "Save Our Souls". It is used to help passengers in an emergency. By using this feature, the passenger can send a message to their family or friends about their situation. Also, the corporate company can be notified about their employee's condition.
Final Words
Service quality can directly affect the business's revenues, and the same can be said about the taxi business also. Taxi businesses have benefited from the implementation of technology in their business as it has allowed them to provide better services to their customers.
So what are you waiting for? Start providing affordable corporate taxi booking services with Yelowsoft's cab booking solution. I hope we have provided you with detailed information regarding the corporate taxi business solution. Feel free to contact us if you still have any doubts in your mind.