Coronavirus pandemic has turned out to be a global economic disaster as it has stopped the moments on roads and business activities across the globe. Because of this, customers are not able to fulfil even their basic needs and grocery was one among them. But these crucial times had a silver lining as well which was an on-demand grocery delivery solution.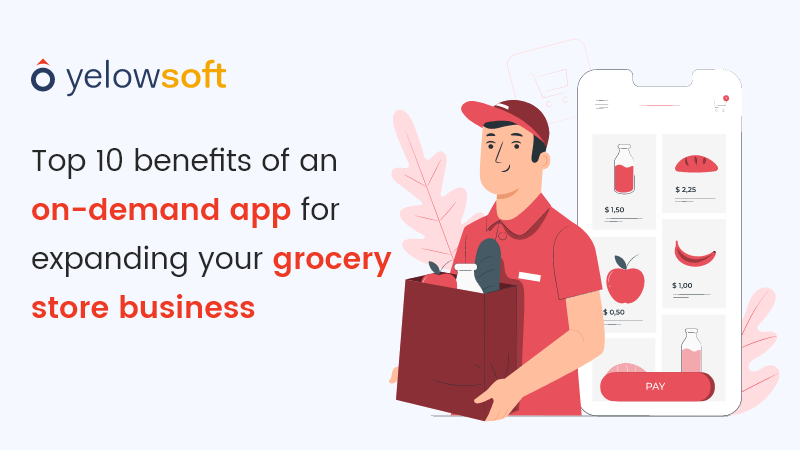 And the developments in the grocery segment have created innovative on-demand trends as well. Witnessing such an attractive opportunity to make high profits, many startups, SMEs, and enterprises have shifted their grocery business online by developing an on-demand grocery app solution.
If you are wondering why to open a grocery business and take it online? Then this blog will help you out to find the answer.
In this blog, we will give you an overview of the on-demand grocery delivery business landscape. Besides this, we will show you the advantages of pre-built grocery delivery app solution. So, let us start without any more delay.
Current on-demand grocery market scenario
Coronavirus pandemic has disrupted the way customers perceive online shopping. Strict lockdown rules across and social distancing norms has made it hard for the consumers to step out of their homes.
And that is why, consumers had switched to online portals for buying products to cope up with the new normal. Experts have provided on-demand delivery predictions that depict a massive revolution of on-demand delivery business.
Grocery Dive predicts that over 30 million adults (approx.) will use on-demand apps to book daily groceries for their homes. According to BCG, the first time users of online grocery ordering services in the United States are around 41%.
In addition to this, Supermarket News says that the CAGR of online grocery will boost at 21.5% (approximately) with a total projected grocery sales of $1164 (approx.). TO get a better understanding of this grocery market growth, you can refer to the below graph: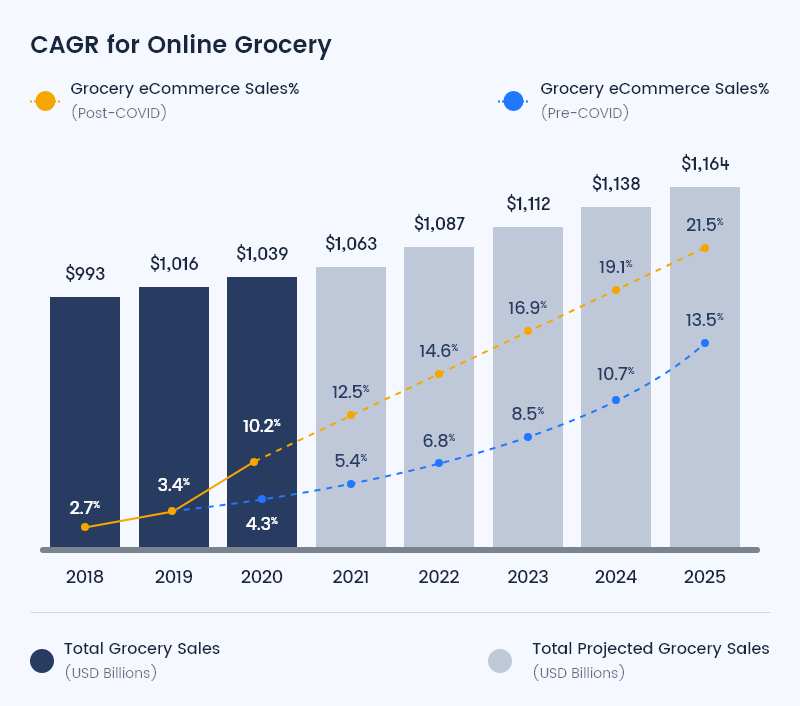 In addition to this, the number of online grocery shoppers was 43% (approx.) in 2020 which is almost 1.7x more as compared to the year 2018. Furthermore, 26% (approx.) of customers prefer to shop online from their preferred grocer. This can be clearly depicted from the graph below: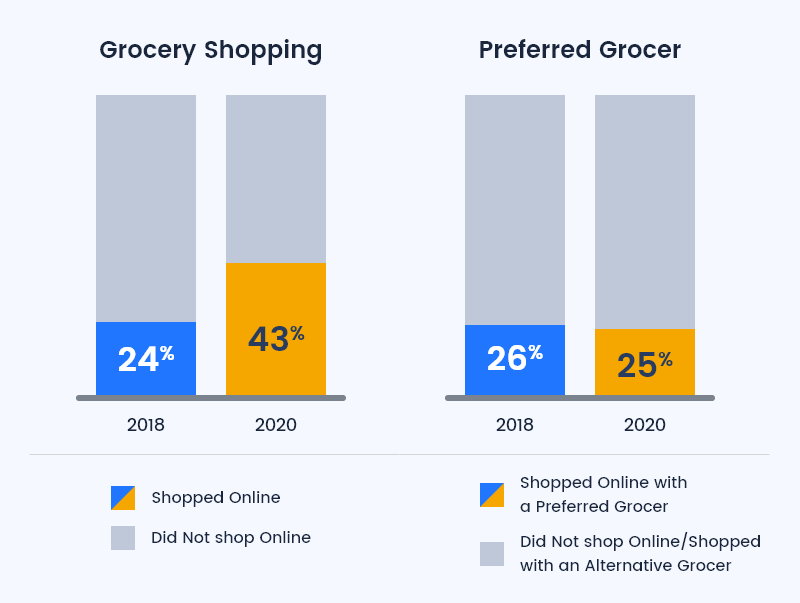 I hope you get a clear cut idea of the global grocery market scenario. Now it's the time to take a look at the reasons as to why you should automate your current grocery delivery business.
Benefits of having an automated grocery delivery business
A mobile based grocery shopping app has remodelled the entire business scenario in the business world, and the same applies to grocery deliveries as well. The grocery delivery business has observed drastic growth in the last few years.
So, if you own an offline grocery, then this is the best time to boost your grocery business during covid-19 by making the best online grocery shopping app. Now you surely have a question - Why? Allow us to answer this question by describing the advantages of the automating grocery delivery business through online grocery delivery app development:
Reach all your customers in this pandemic with YelowSoft
Create your own brand
Which business doesn't want to be a great brand that rules the customer's hearts? Gaining trust plays a huge role in the success of any on-demand delivery business. An on-demand delivery solution will help your business with it.
An on-demand grocery delivery app solution equips you with round the clock availability so that you can entertain orders at any time. Furthermore, the users can get In-app notifications that lets them stay updated on food deliveries.
All of these features will help you deliver a great convenience to your customers that will eventually create a good image of your business in their minds.
Go cashless
In the critical times of the COVID-19 pandemic, everybody is finding ways to avoid human touch and the same is the case with grocery delivery as well. However, a contactless delivery system provides you with a great opportunity to go cashless by availing you with multiple contactless payment options.
You can let your buyers pay with multiple digital payment modes such as paying through credit cards, debit cards, mobile wallets, net banking, etc. Furthermore, the major advantage of using online payment methods is that they are easy to use and secure as compared to traditional payment modes.
Auto-generated reports for in-depth analysis
With an online grocery shopping cart system, you can gain crucial and actionable business insights that you can consider to take important decisions related to your business. These insights comprise the data related to the products that are sold the most or preferred by customers the most.
The day to day activity report provides the admin with a detailed monthly business overview that lets them plan better strategies for the next year. Along With this, a multi story grocery delivery app shows the current issues with deliveries and the operational areas that need to be worked upon.
Stay updated on deliveries with real-time tracking
Real-time order tracking is one of the most important parts of an on-demand grocery delivery service. It helps the owners to track and monitor their business and their driving staff. By doing this, you can manage your grocery deliveries in a better way.
Besides this, you can view where your driver has been reached and what he is doing at that moment with the help of the order tracking feature of an on-demand grocery home delivery system. Moreover, you can use this feature to decrease the idle time drastically by assigning them the proper number of orders.
Seamless business management
On-demand grocery ordering & delivery app solution comes with a fully-featured Admin Panel that can help the grocery delivery business Admin to manage its day to day business operations and inventories.
In addition to this, the Admin Panel of an online grocery shopping app can provide essential metrics and data that help you to operate your grocery delivery business seamlessly.
An on-demand grocery delivery software also lets you set notifications about stocks so that you'll get them organized easily. Besides this, you can effortlessly manage the different grocery stock statuses.
Customers can track their deliveries in real-time
On-demand grocery consumers get real-time updates of their grocery orders at the comfort of their couches. With real-time tracking features of an app to order groceries, customers can view where their order has been reached.
Along with this, the real-time feature of white-label grocery delivery app lets the customers know the estimated time of delivery arrival. Additional order details such as quantity, driver name and phone number can be also viewed by using the online grocery delivery app.
Read More: Be a successful food delivery brand with a white label food delivery app.
Assess buyer behaviour to personalize offers
To understand buyer behavior, you first need to understand the decision making process of your customers at the time of purchase. Businesses have separate processes to make purchase decisions that are affected by cultural, social, individual, and psychological factors. The detailed analysis of the abovementioned factors can help you design better personalisation strategies.
A grocery delivery platform is an excellent way to provide lucrative discounts and schemes to both old and new customers. In this way, you can get new customers and can retain the old ones as well.
Take help of in-app notifications to promote your online grocery store. Along with this, you can share your app links with your potential and existing customers.
Take help of third party SMS services as well to spread a word to your customers about your services. This will extend your app's reach and increase its downloads on app stores.
Access to a vast product catalogue
An on-demand grocery delivery app offers the customers a 'Smart Search' feature. This feature allows the users to find out their desired grocery items by using advanced filters and sorting options.
By offering these features to your customers, you can provide them with an easier and better ordering experience. This will gradually create a good image of your business in their minds.
Order assignment made easy
Order management comes in handy that can help managers evaluate fuel expenditure on a specific route. It also identifies drivers who drive more miles on a route than required.
With grocery orders flooding in every day and every hour, quicker assignment of deliveries is inevitable. An on-demand grocery delivery solution will provide you with importing addresses and preparing an optimal delivery schedule for your fleet. By using this information, admin can allocate delivery schedules as per location proximity and driver skills.
Grow your store offerings
Traditional brick and mortar stores sell only those products that are available to them. In other words, traditional grocery stores have a limited range. However, by developing a cutting-edge digital grocery delivery system, you can extend your grocery business offerings.
Customers can find these varied products on a single platform which saves their time. There is no need for buyers to roam around physical grocery stores to get different products. Here, they will get everything in a single place.
Some successful on-demand grocery delivery apps
Grocery delivery apps can let you cater to a significant market segment. In this era of digital transformation, everybody is using their smartphones to satisfy their delivery needs.
Now, smartphones are no more a gadget just for receiving calls, they are now becoming a powerful solution for all your delivery needs. Take a look at some of the popular on-demand grocery delivery mobile apps and delivery platforms:
One cart
One cart is a Cape Town based on-demand grocery delivery platform founded by Lynton Peters. It comprises a huge chain of grocery stores that are making customers' lives easier by delivering groceries directly to their doorsteps. Moreover, One Cart lets its customers set their location and browse various available items that are available on the platform.
Currently, One Cart is operating over 40 locations and has 5000+ daily users. It has approximately over 600 shoppers and drivers on its board. Apart from this, One Cart was part of the fourth cohort of Knife Capital's Grindstone Accelerator.
Akhigbe Supermarket
Owned by Kingsley Akhigbe and Rita, Akhigbe Supermarket was established in 2011. It was launched as a one-stop shopping place for safe, affordable, high-quality African groceries, Nigerian meals, and beauty supplies to its customers.
In 2019, the company entered into a partnership with Obehi Quality Foods Ltd for processing and packaging frozen snails, vegetables, pap, washed beans, etc.
Yebo Fresh
Founded in Yebo Fresh is a Cape Town based teach driven online grocery delivery app solution company that caters to every customer needs. In the time of the COVID-19 pandemic, Yebo Fresh has expanded its services to many countries to make their customers' lives easier.
Yebo Fresh was started as a food delivery platform in 2018 by Jessica Boonstra. Later the company started delivering groceries to customers on-demand and grasped new opportunities in Cape Town markets.
Woolworths
Woolworths was founded by Australian entrepreneurs George Creed, Percy Christmas, Cecil Scott Waine, Stanley Chatterton, and Ernest Williams in 1924. Currently, it covers approximately 80% of the Australian market share.
Woolworths specializes in groceries, beauty products, health products, DVDs, magazines, household products, pet & baby supplies, etc.
In 2019, over 981 Woolworths supermarkets and around 43 Woolworths Metro convenience stores are available, ensuring to satisfy the customer's demand accurately. Moreover, Woolworths Group took a historic decision to ban plastic bags during the checkout process.
Zulzi
Created by Vutlharhi Valoyi in 2013 and introduced in the market in 2016, Zulzi operates in Johannesburg. It allows the customers to access grocery items directly through an advanced on-demand delivery platform.
This platform allows its users to create a virtual shopping list that frees them up from visiting brick and mortar grocery stores.
Initially, Zulzi was an e-commerce platform that targets students. But rising demands had led Zulzi to extend its customer range. Customers can order groceries online to get them delivered at doors within no time.
Aftermath
The grocery delivery markets across the world contain excellent on-demand delivery business opportunities. All you need to find a reputed on-demand grocery delivery solution provider to make the most of increasing popularity and gain high ROI in a short time.
Apps are becoming more than just software. That's why you should build a virtual supermarket according to your needs. If you have been a part of this digital market, then on-demand grocery app development is right for you.
So, if you want to build a dynamic online grocery delivery solution, you can hire grocery delivery app development company or you can outsource your grocery delivery mobile app development.
Do you have any suggestions? Then feel free to connect with us. We love to hear your wonderful ideas!
Give your grocery delivery business a digital transformation with YelowXpress