COVID-19 pandemic is changing all our lives. This health catastrophe that has inflicted unimaginable destruction by causing the death of millions has also turned out to be a global economic disaster. This is mainly due to the preventive measures taken by authorities which include strict rules of social distancing and lockdowns that has adversely affected almost all the business sectors.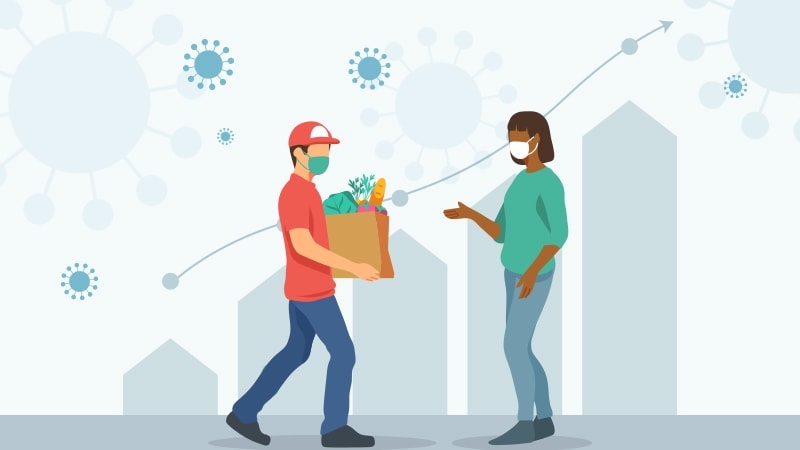 However, even this gloomy scenario has a silver lining for a few businesses like on-demand grocery delivery and food delivery. There has been an unprecedented surge in the number of downloads of on-demand grocery apps around the world. As per Apptopia, grocery players in the US like Walmart Grocery, Shipt, and Instacart saw a surge in their daily downloads by 160%, 124%, and 218% respectively. Generally, these apps see tens of thousands of downloads, but after the imposition of lockdown Walmart Grocery and Instacart saw as much as 54,000 and 38,500 downloads respectively.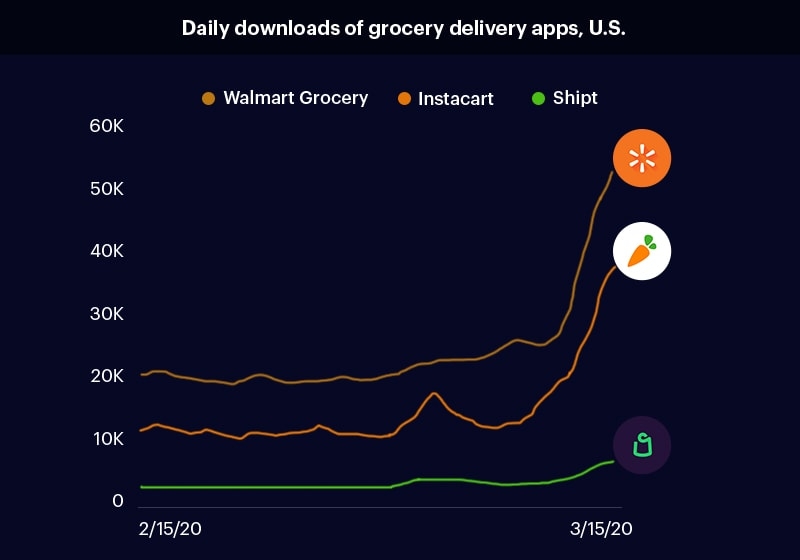 Even Target saw a huge jump of staggering 98% in the number of daily downloads in the month of March as compared to the previous month.
And this situation is not only in the US, even in China, the online grocery delivery has seen a huge spike in the past few months. As per the French retailer Carrefour, China has witnessed a humongous growth of 600% in the vegetable deliveries in the lunar New Year period.
These stats showed the surge of the on-demand grocery delivery; however, it's also true that the grocery delivery market was growing even in the pre-COVID-19 times. As per Statista, the online grocery market sales are estimated to reach 59.5 USD by 2023.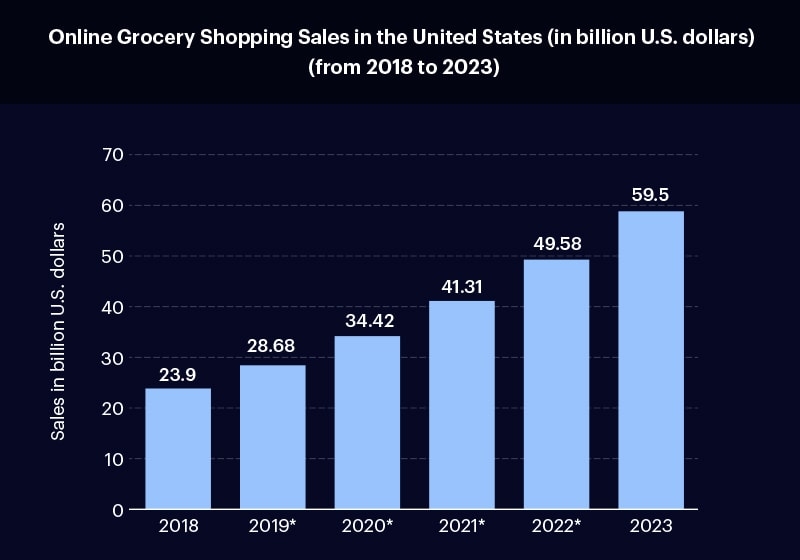 It won't be wrong to say that COVID-19 pandemic acted as a catalyst in the growing adoption of on-demand grocery delivery. But how COVID-19 helped online grocery delivery services? The answer lies in the changes in the lifestyle that were caused due to the COVID-19. The below stats show how a large portion of people stopped going to shops and started to shop online.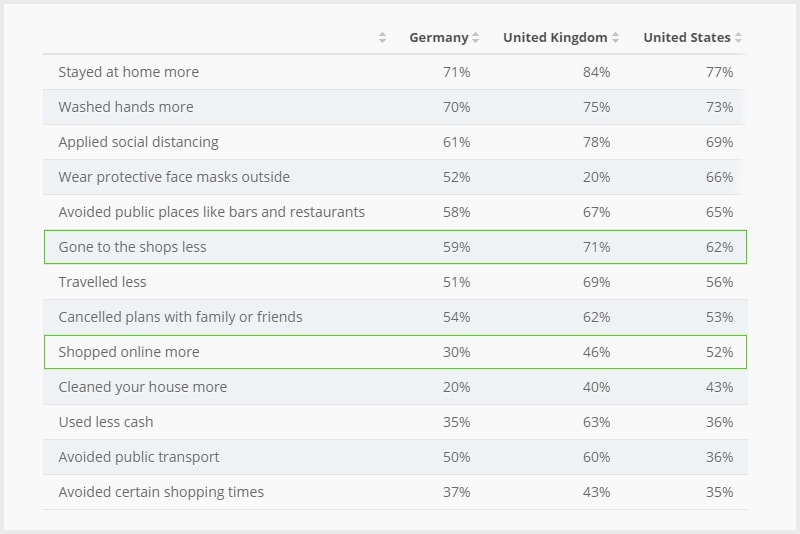 All these stats clearly indicate that the grocery delivery apps are on their rise and its demand is increasing exponentially. That's why it won't be wrong to say that this is probably the best time to develop an on-demand grocery delivery app.
However, things haven't been that easy for grocery businesses in general. They have faced lots of challenges due to the COVID-19 pandemic. Let's have a look at them one by one.
Challenges faced by grocery businesses due to COVID-19
General challenges
Panic buying and stock-outs
Coronavirus leads people to indulge in the practice of panic buying where people buy large quantities of commodities and products due to fear of price rise and shortage. This resulted in grocery stocks running out of stock. The constant out of stock situation also makes a dent in the customer's confidence. And in the worst-case scenario, you might also lose a very loyal customer of yours. In such scenarios, it becomes mandatory that you figure out some improved measures to meet the rapidly increasing demand.
Supply chain management
Another major challenge that grocery businesses faced was supply chain management. The imposition of several lockdowns adversely affected the supply chain networks. According to a poll conducted by The Institute of supply chain management, around 75% of the companies have registered problems or disruptions with their existing supply chain networks.
Technical challenges
Engineering
The success of an on-demand grocery solution depends on engineering factors such as:
Application's position on the cloud
Position and level of microservice journey
The level of initial system sophistication
Scaling
As we discussed earlier in the blog that grocery delivery and food delivery have witnessed unprecedented demand due to the COVID-19. This increased demand has also led the grocery business owners to make investments in auto-scaling technologies.
Two factors that assist the scaling of an on-demand grocery app include:
Startup optimization to avoid lags and removal of other additional steps.
Compulsory caching of server-based services to prevent lags or cold-starts.
Caching
Caching is a double edge sword because if it's done right then it can promote faster processing with low lags. But, if it's not done in the right manner, then it can lead to system failure.
Key factors to consider while caching your grocery app involves:
Don't mix event-based caches with TLL-based ones.
Ensure that you cache every generic content on CDN
Go for client-side caching
Why must you develop an on-demand grocery delivery app?
As you saw, the COVID-19 pandemic has caused a lot of problems for the grocery businesses. However, there is a solution that can help these grocery businesses to overcome all these challenges. And that solution is an on-demand grocery delivery solution.
Yes, an on-demand grocery application is the need of the hour for every grocery store. Grocery businesses can leverage the cutting-edge technology of on-demand delivery software to offer groceries to their customer's doorsteps. Not only this, there are many other reasons as to why you must go for an on-demand grocery delivery app. Let's have a look at them one by one.
Doorstep grocery delivery with an on-demand solution
There's no doubt that the coronavirus pandemic has disrupted the entire grocery industry. However, no one denies the fact that it has also contributed to the sudden spike in the demand of essential items which includes grocery too.
To capitalize and optimize this sudden rise, grocery businesses need to make investments in an on-demand grocery delivery solution. An on-demand grocery delivery solution assists the grocery stores to continue their business even in the lockdowns since delivery of essential items is permitted in lockdowns.
The second important factor is social distancing. Due to the pandemic, many users want to follow social distancing by not going to a grocery store. You can ensure that your users can shop their grocery by sitting at their home and following social distancing norms.
Offer rich variety
In today's time of a pandemic, the last thing one would want is to eat the same food again and again. Access to a rich variety of grocery items is what would make any user happy. You can offer a rich variety of grocery items that would enable your users to make diverse cuisines. Moreover, this rich variety of grocery items will also make them come again to shop thus increasing your customer base.
Gain critical product engagement insights
With an on-demand grocery delivery solution, the admin can gain critical product engagement insights which help him to make insight-driven business decisions. The solution provides the admin with insights like which is the most bought or preferred product by a user. This insight helps the admin to identify the products which are bought the most number of times. So, they can stock that particular product accordingly.
Moreover, the admin can also include features like wishlist, add to cart, product menu, etc which makes the shopping experience better along with providing key insights.
Real-time order tracking
Real-time order tracking is one of the major aspects of on-demand grocery delivery. It is beneficial for vendors as well as for the customers. With this, the owners can easily track and monitor their staff and their working methodology. You can also integrate administrative panel management that can assist you to comprehensively manage all your orders starting from order generation till its delivery.
Personalized offers and discounts
On-demand grocery delivery solution also enables the admin to offer various personalized offers and discounts to their customers. These offers often attract new users as well as retain the existing ones. Moreover, you can also track and analyze your user's shopping habits and offer them with personalized offers. These things enhance customer loyalty. You can also show suggestions of similar products which can enhance the shopping experience to many folds.
5 must-have features in grocery delivery solution
Contactless delivery
Contactless delivery is a feature which you can't do without especially in the current times. It's because, if your doorstep delivery of groceries involves contact then it defeats the purpose of social distancing. To avoid this scenario, you must introduce contactless delivery where the delivery person simply leaves the package at the customer's doorstep thus eliminating the contact.
The option of in-app payment also ensures that there is no contact between the customer and the delivery person. In addition to that, your delivery persons must follow strict measures like wearing protective gears and many others.
Push notifications
Push notifications is another very crucial feature which you must include in your application. It's an effective tool to inform and engage your audience with your latest product launches, deals, offers, contests, trivia, etc.
It also acts as a tool which constantly reminds your customers about your app. You can also increase your engagement by rewarding cashback and reward points. However, you must not use it excessively otherwise it would irritate the customer and they might end up uninstalling the app.
Multiple payments modes
In today's time, it's very important that you offer your customers secure multiple modes of payments. This feature results in higher customer experience and satisfaction. You can enable your customers to make payments via various payment gateways like .Net, PayPal, CCAvenue, Authorize, COD, lyzico, Bankwire, PayU, Quickpay, etc. Integration of these multiple payment gateways in the grocery app makes payment easier and more convenient for your users.
Shopping list
The shopping list is a very interesting feature that you must integrate with your on-demand grocery app. This feature helps your customers to create a list where they can add the products which they want to buy. This feature offers great convenience to the users as they don't have to use pen and paper to note down their list.
Moreover, you can also allow them to save the list which they can use again in the future thus eliminating the need of creating a new list all over again. You can enable your customers to share this list with their friends and family, who can also edit the list.
Quick and easy search
Quick and easy search feature enables your users to search for different items and products easily. The users can search for their favourite items through different categories like dairy, meat, vegetables, alcohol, chocolates, products, etc. They can easily find these products by specifying the particular keyword instead of navigating through the entire app. Quick and easy search options can rapidly enhance the user experience as users can search whatever they want to buy in quick time.
Conclusion
These are testing times for all businesses across the globe. Making quick and wise decisions is the key to sustain and overcome the COVID-19 challenge. On-demand grocery delivery solution development in one such wise decision that can sustain and boost your grocery business. However, building such a solution from scratch is a very slow process and might cost you a lot of time and capital.
A quick and wise decision would be to get a ready-made white-label grocery delivery solution that comes with all the must-have features that we discussed and has a proven success record. If you're also looking for such a solution, then choose YelowXpress which is a ready-made grocery delivery solution that comes with the next-gen technology and has the capability to sustain and boost your grocery business in this pandemic.