Did you reach your office without important documents when you needed them urgently? Worry not! Now, your documents can be delivered within a short span at your convenient place. Introducing the hyperlocal on-demand delivery services that play a vital role in delivering your important documents to you.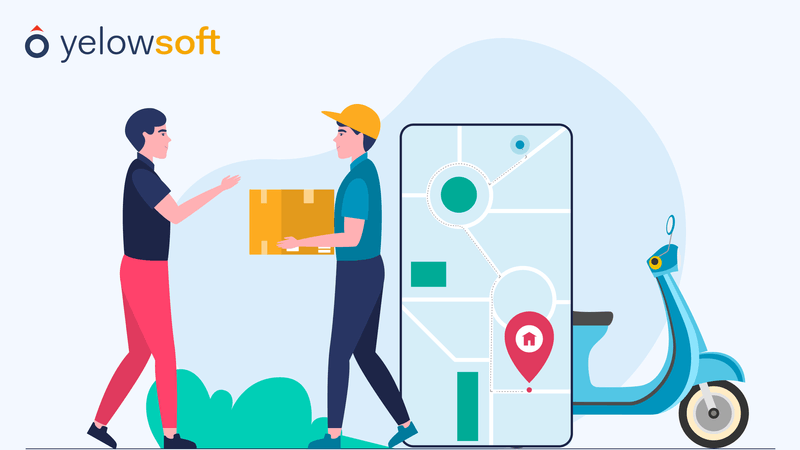 We are living in the era of the on-demand economy where from booking a cab to buying groceries, ordering food to medicine delivery, almost everything is just one tap away from our smartphones.
To stay ahead of the curve in this competitive market, all the businesses and startups are coming up with the innovative idea of a Hyperlocal delivery business model.
Hyperlocal on-demand services are considered the future of the on-demand economy. In this blog, you'll go through a step-by-step guide to building an on-demand hyperlocal delivery business model.
But before knowing how you can build this business model, it is also equally important to understand what a hyperlocal business model is? Evolution of this business model, How does it actually work? The types of services that fall under this business model, and the companies that leverage this business model to enjoy its potential and high chances of success.
Knowing these answers will help you gather concrete information and empower you to make an informed decision about making the hyperlocal on-demand delivery business model.
Without any more ado; let's start.
What is an on-demand hyperlocal delivery model?
Let's understand the big words in parts. 'On-demand delivery' means the essential or ordered good or service should be delivered when demanded. 'Hyperlocal' means to cover small geographical areas or to go local and get the delivery within a short period of time.
Thus, the on-demand hyperlocal delivery services can be defined as logistics services that provide order fulfillment within a specific demographic area at a rapid speed. This business model enables the service provider to acquire ordered products locally from retailers and deliver them to the customers within the same geographical areas.
Want to create an on-demand delivery app that boosts your income
Evolution of hyperlocal delivery services
There are three important factors that boost the demand for hyperlocal delivery businesses. They are –
Easy internet accessibility
Smartphone proliferation
Hectic lifestyles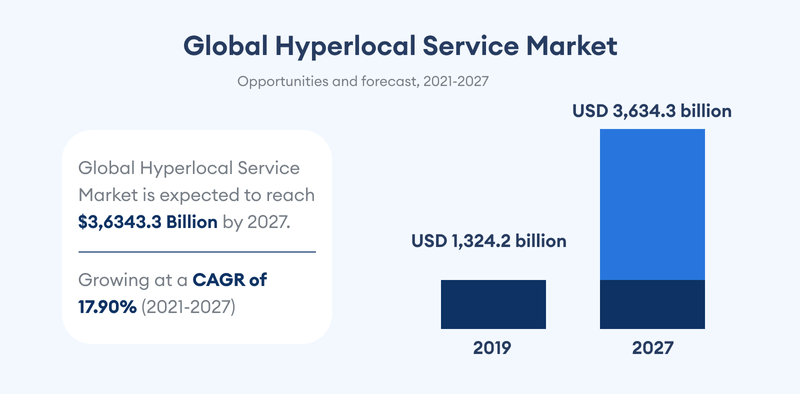 According to Research and Market report, the global hyperlocal services market is projected to grow from $1,324.2 billion in 2019 to $3,634.3 billion by 2027 at a CAGR of 17.9%. This projection ensures a bright future and shows the scope of growth for your business is high.
Hyperlocal delivery services are booming in all categories and you can provide on-demand delivery services through a network of delivery boys from businesses or individuals in local areas.
Types of services that fall under the on-demand hyperlocal delivery business model
In general, there are many but when it's about daily needs, convenience, and affordability, we have found some services that are best suited for this model. They are;
Food ordering services
Grocery delivery services
Home healthcare services
Handyman services include plumbers, carpenters, electricians, painters, and more.
Personal home care services include dental care, beauty, spa and salon services, & more.
To make it more concrete for you, we have found that;
Hyperlocal market size is projected to grow in all the segments including food ordering, grocery ordering, home utility, logistics service providers, and many more. In 2019, the home utility service segment holds the major share of 39.9% and is expected to continue till 2027.
Most of the developed countries like the USA, Japan, Germany, and Russia have shown huge traction in home utility services for on-demand hyperlocal delivery services. These developed countries are attributed to improved mobile and internet technologies, innovative services, and high urbanization.
So what are you waiting for! Grab the rising opportunity and quickly understand the working of on-demand hyperlocal delivery services from our next section.
Do you know you are not the first to adopt this business model. Yes, there are several known companies that already do business leveraging Hyperlocal on-demand delivery model.
Let's have a look at which are those companies.
Companies that enjoys using Hyperlocal Delivery Model
Haptik
Zomato
Pluss
Blinkt
Now that you know the names of some trusted companies, it's time to know how does it actually works? And the next section will be contributing for the same.
How does an on-demand hyperlocal delivery system work?
The hyperlocal delivery platform enables local businesses to conveniently reach out to consumers around for selling goods and services within a specific area.
Let's discuss how does an on-demand hyperlocal delivery system work.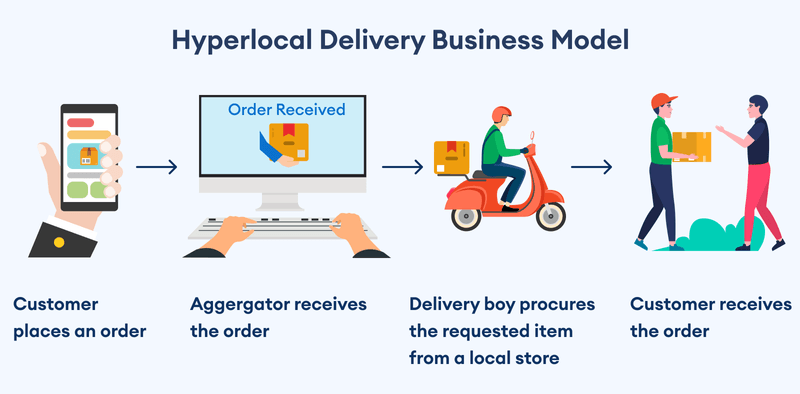 The customer can place an order using a dedicated mobile application or offline to a local retailer. The aggregator receives that order, performs the required action for goods or services, and passes the order details to the delivery partner through the on-demand hyperlocal delivery software solution.
The delivery partner dispatches ordered item with the delivery boy from local stores and deliver them to the requested location. Thus your on-demand hyperlocal business model bridges the gap between existing local demand and available suppliers.
So, till now you have learned all that is necessary to know and take concrete action for developing the hyperlocal on-demand delivery business model. Once you are content with the information and feels confident to proceed, you should know the comprehensive development process.
Read More: Digital solution to engage customers for on demand delivery business
A step-by-step guide to building a Successful Hyperlocal On-Demand Delivery Business Solution
To start with your hyperlocal delivery services you should follow the below-mentioned steps to satisfy your customers with the best of your on-demand software solution and services:
Decide your business niche
Hyperlocal delivery services are not limited to any particular segment. So carefully chose what service or product you want to deliver. As there are multiple services that you can select and start.
The best practice would be to check out the local geographical area keenly, understand their needs, and gather data. Make your decision assessing the data and then decide what type of services and products you can deliver.
There is tremendous potential in hyperlocal delivery services as you are acting as a bridge between the retailer and customers. Hence, your customer base is already established. You keenly have to choose the niche you want to operate in.
Targeting the local audience
Your marketing strategy will depend upon the target audience (mostly the local audience, rare chance of the outsiders) and the target industry you chose. To make it more clear, your target audience could be working professionals who have no time to go to grocery shops or restaurants who would like to have everything on the table.
Read More: On-demand Food Delivery System for your Restaurant Business
It could be senior citizens too, who won't be able to go out for basic necessities like groceries, medicines, etc.
Food delivery, gift delivery, medicine delivery, gas delivery, and many more. Their retailers have a strong customer base. You can approach them once you are clear with your target audience.
Build trust, collaborate and seal the deal!
Networking is really important for every business. Once you are done with the above two steps, start building your network in hyperlocal businesses.
To create a robust on-demand delivery network, you need to build trust among your audience. Once you win the trust, you have the opportunity to undergo partnership with two parties- Delivery Partners and Local Merchants.
Figure out a strong delivery partner as a hyperlocal delivery system highly depends upon the delivery timings and this could help you to make a strong brand reputation.
Make a revenue model
When you create your revenue model first think about how the hyperlocal business model makes money. Your income model would be based on two sources, either commission from the merchant partner or delivery charges from the customer.
Delivery charges from customers are out of fashion nowadays as most of the service providers offer free delivery. So try to make strong partnerships with local merchants and deal with an agreed percentage for the order amount as commission on every order.
Launch your mobile app to manage things easily with all the above-mentioned steps being taken care of. It's time for on-demand hyperlocal delivery app development. This would be the next big move for your on-demand delivery services.
Your on-demand mobile app development should be based on iOS and android platforms and is segregated into three modules-
The Local Merchants
The delivery drivers
The customers
Your hyperlocal delivery app should be more user-friendly and feature-rich with a steady revenue model. Always consider the fact before starting to develop your mobile app that what technologies make up the hyperlocal marketplace model more accessible and robust for my end users.
When you plan to launch the app, keep yourself in the shoes of your customers and check the functionalities according to their points of view.
The above steps have clearly guided you that all the important considerations you should keep in mind when you are building your business around a hyperlocal on-demand delivery model.
E-commerce applications are growing in demand and the models are active worldwide. As they are covering a large area and population they cannot fulfill the immediate needs of customers.
For that reason, the on-demand hyperlocal delivery model becomes critically important to fulfilling all the urgent needs of their customers.
Conclusion
Hyperlocal on-demand delivery solutions enable local merchants to increase their visibility and presence with the online platform. It is beneficial for local retailers too as they didn't develop their own app and can enlist their name on your on-demand hyperlocal delivery software.
Hence, considering all the benefits and features, it's a good time to go for on-demand hyperlocal delivery app development. When you don't have expert to build the app you want, you always have the option to hire a dedicated team that will help you from consultation to successful deployment.
And if you are looking for someone with similar experience of developing the Hyperlocal on-demand delivery solutions Yelowsoft is the right choice.
Yelowsoft can provide you with a one-stop solution for your hyperlocal delivery system that helps you manage deliveries effectively, optimize utilization of resources, and enhance your customer experience.
Want to eliminate the problems associated with hyperlocal delivery by automatation?