The on-demand delivery business is now one of the most thriving markets globally, capable of generating billions of dollars. This is due to many app users, which makes developing an on-demand delivery app a crucial necessity. On-demand delivery market size is growing day-by-day.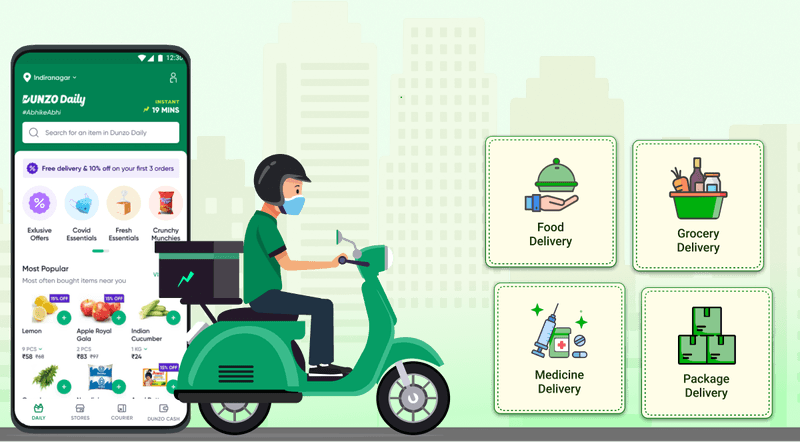 By 2023, the market for food delivery mobile apps is going to increase to $16.6 billion. As per the Statista, the on-demand food delivery industry will reach the market is expected to reach $192.16 billion in 2025 at a CAGR of 11%.
It is no secret that individuals will always choose what is most convenient. This is true for almost everything we do in life, including the movies we watch, the games we play, and, yes, the food we eat. Developing a food delivery app like Dunzo can be lucrative for your business. Perhaps this is the most important element driving the growth of meal delivery applications like Dunzo.
Dunzo is essentially a delivery service that currently provides almost anything. Dunzo began as an app that could pick up an item from one area and transport it to another for a nominal price.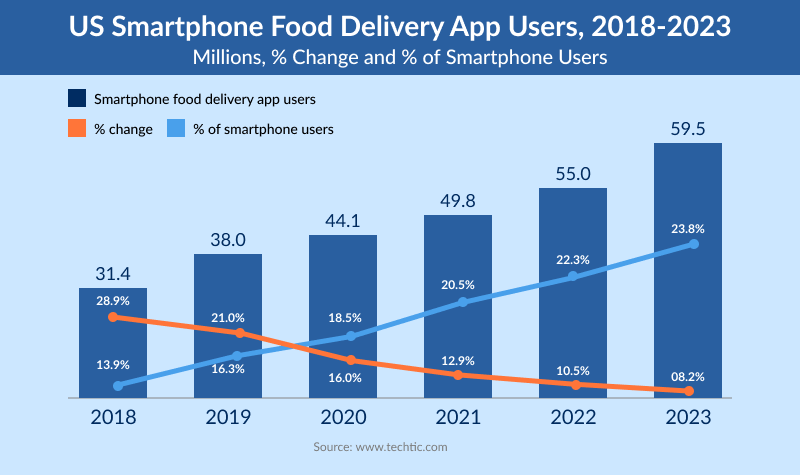 We are seeing a huge potential in on-demand supply apps like Dunzo. According to the company's recent financials, income increased 67.2% to Rs 45.9 crore in the preceding fiscal year, while losses decreased by 33 per cent to Rs 225.2 crore.
According to RedSeer, quick commerce will be worth $300 million in 2021 and will rise tenfold in the next five years, reaching $5 billion by 2025.
Now that we are acquainted with the market size, future potential, and demand for food delivery app like Dunzo, let us understand how this app works.
Introduction to Dunzo app
Dunzo is a Bangalore-based task management company that has a pretty straightforward business plan. Users can add notes to their orders using the app. Once users place an order, the delivery task is handed off to a delivery person by a nearby delivery manager.
The user will get a picture of the submitted goods for confirmation. The item will be delivered to the selected location after confirmation.An online multi-delivery app like Dunzo links customers with the nearest delivery person to complete their tasks. Dunzo provides its customers with everything they need, from restaurant orders to groceries, pets, and prescriptions to make their life easier.
How does the Dunzo app work?
Dunzo is a comprehensive on-demand delivery app that is based on algorithms of machine learning that monitors the workflow signalling when a certain activity is clogged.
The system receives the pick-up order and drop-off information automatically, assigns duties directly, and the human intervenes if there is a significant delay. Its major purpose is to reduce costs by minimizing resistance throughout the process flow.
Each order flow is broken by task approval, delivery executive assignment, geolocation, order confirmation, and online money transactions. These routine tasks can be delegated to computers that can effectively complete them.
The delivery executive and the customer can initiate a dialogue to trace the transaction. This way, a parcel delivery app like Dunzo allows customers to submit orders with particular instructions.
What are the top features of apps like Dunzo?
The success and failure of building an app like Dunzo depends a lot on the features that you provide. Here, we will discuss some of the common features that must be included when building an on-demand food delivery app.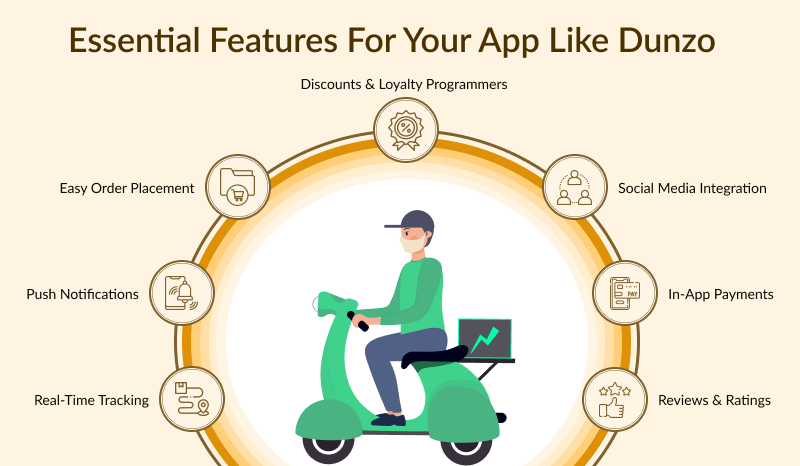 Push notification
Dunzo regularly sends alerts and notifications, offering an ideal approach to gain exposure and remain ahead of the competition. It helps them to stay in touch with their customers.
Cashback, discount and loyalty programs
Dunzo offers discounts and special offers to attract new clients. They are more concerned with establishing brand loyalty among potential customers.
You can engage your customers for an on-demand delivery business in the same way as loyalty programs and rewards will have them coming for more.
GPS tracking
One of Dunzo's key features is the ability to track food locations in real-time using GPS. With the help of the GPS, it can offer bidirectional monitoring and communication. It aids in determining the consumer's location to provide better and more accurate service.
One-stop payment solution
From the business owner's perspective, payments play a critical function in every firm. They've integrated practically all of the available payment gateways or mobile wallet app services, including Google Pay, PayPal, credit or debit card, online banking, and cash on delivery, among others. You must build an on-demand delivery app that offers multiple modes of payment to gain wider usage.
Social media integration
It is undeniable that social media has played a significant role in online marketing in recent years. It is one of the basic points of view that influences customers' decisions. Social media integration is useful in online grocery delivery apps like Dunzo. Benefits of an on-demand app for expanding your grocery store are numerous.
Reviews and feedback
Because customers are the lifeblood of each business, each one takes care of them. Any feedback or evaluation assists the company to understand the drawbacks of its on-demand delivery service.
Easy user interface
Most consumers choose to purchase online since it is quick and handy. This is only achievable if the software is user-friendly. Dunzo's crew is incredibly knowledgeable about this subject, which is why they have created a user-friendly interface for them. You can transform your on-demand delivery business with an easy user interface quickly.
App features for different entities
An on-demand delivery app will have different entities at various touchpoints. All such touchpoints will require a distinctive set of features. Let us check out the features of rider app, customer app, and admin app.
Features of rider/delivery agent app
Create a rider on-demand app delivery that has a range of features to help drivers carry out tasks efficiently. The app must consist of acceptable elements for the delivery person or courier who works as a bridge between the business and the customer.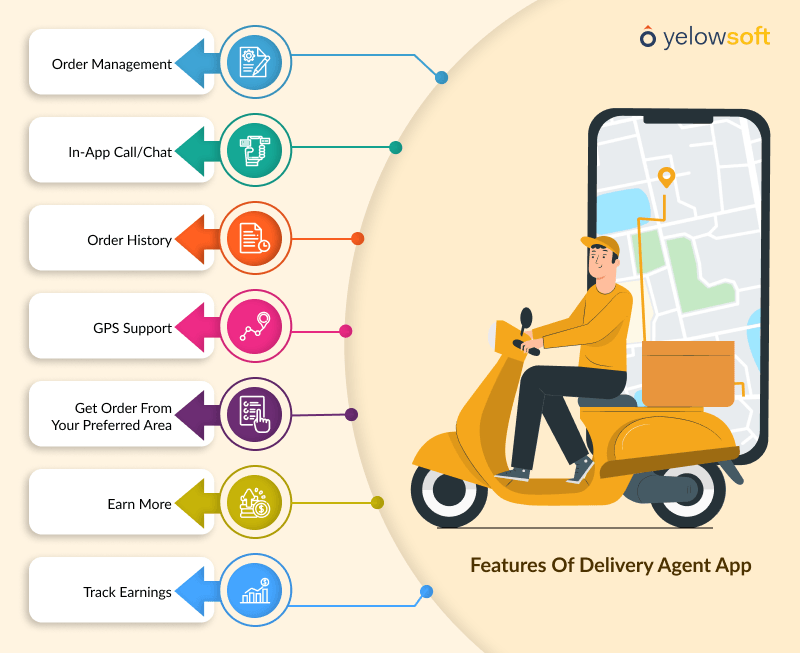 Let us check out some of the must-have features for the rider delivery app. The on-demand delivery agent can get live and updated information directly on their handset.
Order Management
The delivery agent get the choice to accept or ignore the orders from different grocery stores and locations across the city.
In-App Call/Chat
Providing riders with the ability to talk with consumers directly from inside the app, enabling them to address any questions or concerns with order or location.
Order History
Riders can have access to all past orders as the order history option gives them access to information such as order status, order details, and so on.
GPS Support
The delivery person will need GPS support as they will be delivering many parcels. GPS technology will help them locate customer addresses quickly and precisely.
Get Order From Your Preferred Area
If the delivery agent has an area which they prefer, they will be assigned grocery deliveries in that particular area for their convenience.
Earn More
Delivery agents can open up more ways to earn more by choosing and accepting the pending orders in queue that are available in different locations.
Track Earnings
Delivery providers should get information about the service they offer and monitor their profits using the app.
Features of the customers app
Provide greater convenience with an on-demand delivery app for users. Help users find new restaurants, order food, grocery, and other requirements by simply using the app. Let your on-demand service app act as a facilitator to simplify customer life with state-of-the-art features.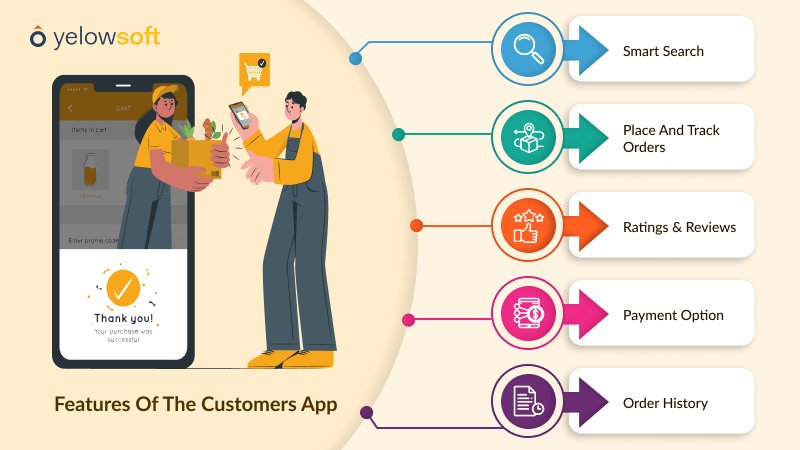 Smart Search
Clients benefit from a well-functioning search page that helps them find precisely what they need. If you're looking for a place to get food from, consider using filters to narrow your search by things like location, price, cuisine, and delivery time.
Place and track orders
A considerable rise in customer loyalty may be attributed to compiling an order list from many locations rather than placing numerous orders from different restaurants.
Push Notifications
For an on-demand delivery app to effectively connect with its customers, including a push notification function is essential. Thanks to this feature, you'll know exactly where your package is at any given moment.
Ratings & Reviews
Customers' confidence in service providers will rise if you provide them with the space to voice their opinions. Your on-demand delivery app should offer customers some to include ratings and reviews options into their app. It will also allow the on-demand delivery service providers to enhance their service depending on the input they get from their customers.
Payment Options
Secure payments are the most important feature of an on-demand delivery service for clients. On-demand delivery apps need secure and trustworthy payment gateways to ensure the safety of their customers. An on-demand service app should provide users with a variety of payment alternatives. In this way, they may make the payment at a time that works for them.
Order History
All previous orders may help customers decide whether or not to reorder. An on-demand hyperlocal application gives many options that may confuse the user. Simplify their choice by providing order history that helps them order tried and tested things. It's excellent for when customers are unsure what they want to order.
Features for admin panel
Admin panel for an on-demand delivery app will require added security, control, and effective management options, Therefore, admin panel will have a web interface which works as a dedicated software to handle large volume of orders.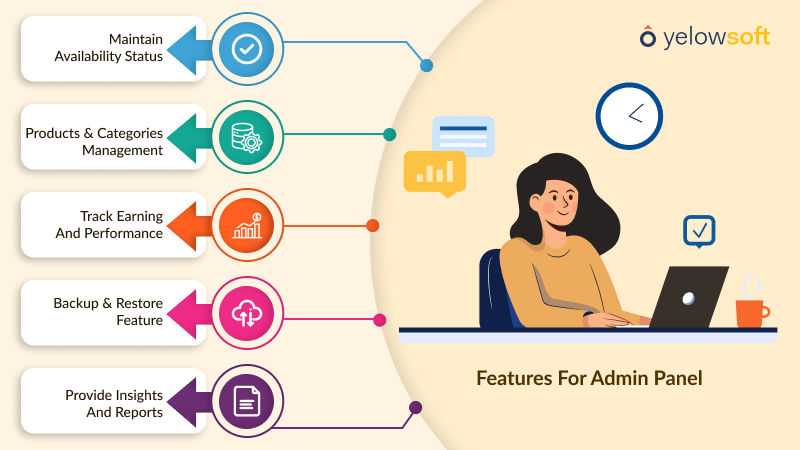 Also, the admin control offers a verification platform for on-demand hyperlocal businesses to vet the delivery personnel. Admin panel controls the delivery assignment, payment, scheduling, and customer query part.
Enabling below-mentioned features for an on-demand delivery app like Dunzo can prove rewarding. Here are some of the key features of the admin panel.
Maintain Availability Status
Admin controls the availability of the vendor and shows their status as either online or offline based on the delivery hours.
Products and Categories Management
Admins can select which products to display, the quantity of stock, and also assign categories based on different types of products.
Track Earning And Performance
The administrator has control over all commissions, monetary rewards and cash cuts. Profit sharing is easy when the admin has a proven track record of driver's performance.
Backup and restore feature
Empower your business with data management as on-demand hyperlocal businesses can get back their historical data saved on cloud to track customer order and delivery preferences.
Provide Insights and Reports
Provide insights into delivery, orders, and cashouts to the delivery agents. Admins can also create and analyze reports for every activity to help top management make data-backed decisions for quicker customization.
Read More: Things to consider before developing a food delivery app
Steps to follow to develop an app like Dunzo
If you are looking to create an app like Dunzo then follow the proven process that delivers results in time. Here are some of the key steps in the process of on-demand delivery app development.
Find the solution to the problem people are facing
This is the first step to develop a replica of the Dunzo app. Successful entrepreneurs use a novel approach to overcoming obstacles. Every product and service you use was created to answer a problem when you look around yourself.
You decided to move faster from one area to another, so you took a ride. You have an airplane and want to fly out of the country quickly. Now, in the case of Dunzo, the issue is the delivery of products and foodstuffs promptly.
Collect all the requirements
Gathering requirements to develop a progressive on-demand delivery app is critical. You must know what you want your app to do and how you want it to behave. Only until a documented plan has been created can appropriate development begin, and this cannot be done without first obtaining all of the needs.
Locate the target audience
After you've gathered the requirements, conduct an extensive study to determine who your target audience could be. A mobile app development business in the United States should prioritise the demands and requirements of residents.
You may modify your criteria and create a suitable prototype once you know who you need to cater to. After choosing who your target audience is, you'll need to decide on features and functionality. It is vital as it would allow you to engage your customers for on-demand delivery business engage your customers for on-demand delivery business.
Create an MVP (Most Viable Product)
You may quickly create an MVP for the on demand application after knowing the criteria and target audience. Once the prototype is complete, you must stick to the strategy and keep evaluating different aspects of the app.
The prototype is only the initial plan of the application; after that, you must act to help your app grow further. For instance, if you are running a restaurant, you can create an on-demand food delivery app to fulfill orders online.
Discard unnecessary features
All functionalities that aren't necessary for the app should be removed as it simplifies the usage amongst the customers. Most on demand applications fail because they have so many extra features that can overwhelm users.
App design
It's time to hire professional developers to deal with the UI/UX when you've decided to create a prototype. Check out the designs of online packaging services apps like Dunzo to get some inspiration.
Find a developer or development company
When you've reached this point, you'll need to enlist the help of a developer or a development firm to begin the actual creation of the app. The application's backend is crucial; hence, professionals should design it. Find a development company that can help you build a parcel delivery app if you are in the parcel delivery business.
Read More: Importance of parcel delivery solution for your business
Analytics Integration
The analysis enables you to track your mobile app's downloads, user engagement, and retention. Make sure you're using free software, like the flurry and Localytics versions.
Gather user feedback
When you submit an app to the app store, you may discover how to improve and strengthen your app in the initial set of usage and behaviours. Improvements are being made to keep user feedback actionable and enhance application. Suppose you are in the grocery business, collecting crucial feedback from users would allow you to build a better on-demand grocery delivery app.
Read More: On-demand app for expanding your grocery store business
Update the app and add features as per demand
Only a restricted number of features were included in the first edition. It's time to test and implement most of the original version's features. You'll be able to tell if features are significantly based on your analysis and suggestions.
How much will it cost to develop an app like Dunzo?
Building an app like Dunzo with a perfect replica of the Dunzo app depends on the types of features you want to add. Roughly, it can cost you around $100K to $200K.
Below are some of the factors that can affect the cost of developing an app like Dunzo.
App platform
The price of building a mobile food delivery solution like Dunzo varies depending on the platform. Because of the test features, iOS app development is more expensive than Android.
App complexity
Mobile applications are divided into three categories based on their complexity: high end, midrange, and basic. The basic version of the Dunzo app will be less expensive than the medium and high-end versions as it will have limited features.
You may choose the design of the Dunzo clone app based on your budget. Some app development involves a lot of complexity such as medicine which involves prescription upload/verification, scheduling doctor's appointments, etc and this is why the cost of on-demand medicine delivery apps is usually high.
Read More: Lift your pharmacy income with on-demand medicine delivery
App development team size
The cost of developing a Dunzo alternative app is determined by the size of the Dunzo app development team, their geographical location, and their expertise. In general, the finest mobile application development teams have many members and you may leverage expertise of each.
Content
Content can make a lot of difference within the app. With the right content that compliments your app design can enhance user experience. Blend in a range of information, such as blog posts, infographics, and galleries.
Theme design
Many themes available on the internet are ideal for a meal delivery app. Compatibility with various devices is aided by proper UI use.
Application launch screen
Make sure the mobile shipping app works smoothly on any screen size if the online shipping app is configured on iOS or Android.
Advanced features
Data encryption, disintegration, hosting, push notification, and OTP assessment are just a few of the functions available in the Dunzo mobile app.
Conclusion
If you're familiar with Dunzo's popularity, it might be time to create your on-demand delivery software. Reach out to us for while label on-demand ordering & delivery solution development. The market is changing to satisfy the needs of a diverse range of companies, applications, and sectors.
Creating an app like Dunzo will help you stay relevant in the market while also increasing your customer base. Choose the right team of developers, quality designers, and experienced QA team. If this gets too overwhelming for you then opt for an on-demand app development company.