Flowers are the most wonderful and preferred gift for any occasion or event. On special occasions, roaming around the multiple shops in search of the perfect bouquet is exhausting and time-consuming. Fortunately, with the technological advancements, there is an on-demand delivery software solution for everything nowadays and flower delivery software is one of them.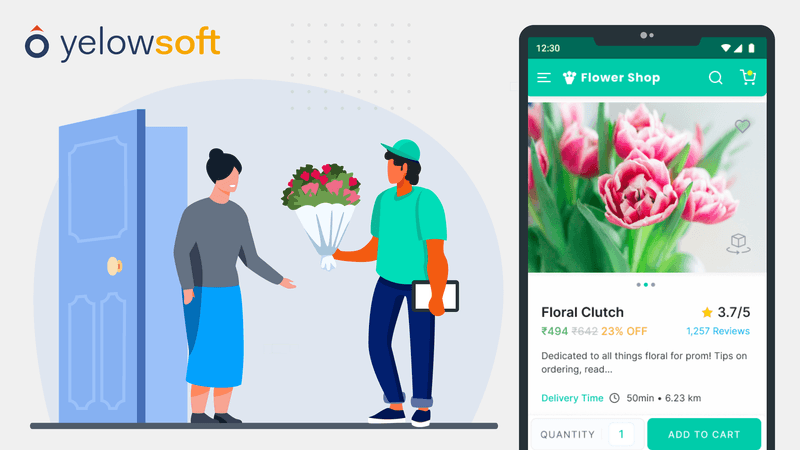 Gifting plants and flowers are also one of the latest trends as people are realizing the importance of plants and looking forward to sending them as gifts. This raises the demand for the revolution of the on-demand delivery business. Delivering flowers on the occasions as a surprise on some unusual timings has promoted the mid-night delivery services.
This convenience has shown the opportunity to many florists like you to build their on-demand flower delivery apps. On-demand flower delivery solutions have gained momentum in the last few years.
In this blog, you will be able to understand how flower and plant delivery software works, how will it benefit your business, what should be the features of a good flower delivery solution, and how to develop them.
Market size and growth of flower delivery mobile apps
Online flower delivery software can be the daintiest startup as it is easy to your pocket and very much affordable for the florist startup businesses. Flower and plant delivery business has shown rapid growth and customer's interest in the following statistics:
The online floral gifting market is booming. According to a report by Arizton, the U.S. floral gifting market is $11.91 billion in 2021 and is expected to reach $17.02 billion by 2027 at a CAGR of 6.13%.
As per a report by International Mass Retailers Association (IMRA), on average men spend more on gifting flowers than women. Men spend approx. $95 on gifting the flowers while women spend $60. The trend shows a rise with the average household spend of $94.50.
This shows that online flower delivery systems are revolutionizing the market and providing a powerful service that is accessible to their clients by bringing joy to their life. Let's learn the process of booking an on-demand flower delivery service from your mobile app or website.
Want to build an on-demand flower delivery solution for your flower delivery business
How does flower delivery application work?
Flower delivery app development is one of the on-demand digital solutions for the florist where the customers order the flower of their choice and get doorsteps deliveries without roaming and wandering around different flower shops.
Famous floral delivery apps in the market are Boqus company, UrbanSteam, Bloom and Wild, Bloomon, Ferns & Petals, etc. The following are the steps involved in the workflow of a good online flower delivery software:
Selection of order
Your users can download the on-demand flower delivery mobile app, login, or register with credentials or with social media. Customers can then select the flowers, plants, and bouquets of their choice. They can add customization requests as per the demand and can also add some notes to be delivered along with their orders.
Order received by florist app owner
Flower store owner receives the order request via mobile app or web panel and performs the required action as per the order instructions. Once the order is being prepared, it will notify the customer of their order.
Dispatch and delivery of order
The florist can then dispatch the order as per the customer's mentioned address. The delivery driver will get the notification and can use the flowers delivery route optimization system to smoothen their delivery process.
Order delivered and payment is done
The delivery drivers will deliver the order at the doorstep of the consumer and the client can then select the mode of payment either offline as COD or online mode of payments like cards/debit card payment, mobile wallets, internet banking, and digital payment apps.
The above are the simple steps that emphasize the working of your Flower delivery software. As on-demand flower delivery businesses are accelerating with pace in today's time and hence, there is a great opportunity for your startup or already established business to grab and introduce your on-demand delivery services in this sector. The following are some of the benefits of an on-demand flower delivery app in your business.
How will an on-demand flower delivery app be beneficial for your business?
In today's digital world, e-commerce is a vital component to increase your floral business. The flowers and plants sector is projecting a rising future in digital commerce. More consumers are interested in ordering the plants and flowers according to their preferences and convenience.
Online retailers should reinvent themselves to these existing requirements to continue to remain competitive and successful. The following are the benefits of an online flower business for a retailer of a floral shop:
Good for expanding your business
With some good marketing tactics, you can apprehend the benefits of the new trends of online shopping to increase your online sales and help you to build loyalty to your business.
Showcase all your products like bouquets, exotic plants, and flowers in different categories such as gifting items, wedding arrangements, party flowers, occasional add-ons, etc. This lets your customer browse through different categories and can raise your sales and more return of investments(ROI).
The florists can have a wider reach among their customers because of their online presence. With an online ordering system coupled with effective marketing strategies, owners can have more online customers as well as stand out as an innovative business.
Helps you to generate a strong client database and preferences
With the registration and profile management feature in on-demand flower delivery apps, the owners get a strong and vital client database and their preferences. This will also help you to make some new decisions about your products and services to understand the latest trends and needs of your customers.
Flexibility for your customers
This is among the most important on-demand flower delivery features as your product and services are available 24/7 and customers can place orders at their convenience. Customers have the flexibility to browse your site and order when they relaxed and have some good free time.
The benefits we have discussed above can be greatly achieved with the following list of features in your flower delivery software. A flower delivery service may vary in function in different ways depending upon the business models. Depending upon your need you can select your business model from the following section of our blog.
Digital solution to engage your customers for on demand delivery business
Business Models Involved in Flower delivery Apps
The flower delivery apps are broadly categorized into two types of business models:
Dedicated to a brand
In this type of model, a dedicated app has been developed for a particular flower company brand for better expansion of their business. It includes all the operations from receiving the order to delivering the orders by their brand name. This platform offers its brand name and earns commission from its marketplace.
Aggregator model
In the aggregator business model, the app owner doesn't own any services. This allows bringing all the florists under one page. In this type, the customer has the privilege to check out all the flower and plant service providers offering their services and select the one as per their preference. There is some amount of commission received from all the listed florists when customer avails themselves of their services.
Steps to develop your on-demand flower delivery app:
When you are planning for the on-demand flower delivery app development for your business, you should follow the below-mentioned simple yet effective steps for smoother operations of flower delivery services:
Planning and research
Planning is the most important stage of your app development as it defines the core features of your app. A well-managed plan allows you to identify the goals of the app, prepare an effective competitors analysis and marketing tactics to be included in your app.
Research on your plan to better understand and define the concept of your app, targeted audience, technical feasibility, and identifying features of similar apps.
Competitor analysis and market trends
Knowing your competitors and their marketing strategy is the most important part of your app development process. It will help you to know the strength and weaknesses relative to each competitor and identify them as a point of comparison with your business. Analysis should also include the latest market trends to maximize your customer engagement and interest in your flower delivery software.
Understand your target audience
With deep research and analysis, filter your targeted audience to imply better marketing planning and strategies. Your target audience must be categorized as per their preferences, interests, cultural values, age groups, etc.
Designing UI and UX
The user interface design should be simple and more user-friendly. UI/UX defines the fit ratio of your flower delivery app. Design your app as per user perspective and check out the same from beginning to end. It should always be convenient and easy to use for your customers.
Enlist your must-have features
Make a clear list of features necessary to be included in your on-demand flower delivery software and prioritize them according to their functionality. Arrange all the features and plan to include them at any cost in your app. This will help you to build your MVP for your business.
Start actual development
With the completion of all the above steps, you are ready to start the actual development of your app. Select the best as per their expertise and experience to fulfill your requirement and specifications.
Now, as we have understood the different steps and business model suitable for on-demand flower delivery software solutions, we have to keenly focus on features to be included. With the help of a robust and featured system, you can have a technically superior and commercially feasible on-demand flower delivery app software that could help you in delivering your blooming flowers online hassle-free.
Important features for creating a successful flower delivery app
The feature of your flower delivery app should be categorized as per customers' panel, vendor's panel, admin's panel, and driver's panel according to their convenience, safety, and quality services. We are suggesting you some important features of the on-demand flower delivery app should have:
Features for customer's app
Your on-demand flower delivery solution should have the following innovative features for your customers so that they can easily choose, customize and send flowers and plants to their loved ones with few clicks or taps from their smartphones.
Scheduled delivery:- When it comes to sending fresh flowers or plants, on-time delivery should be the main concern. Letting your customers schedule their order delivery and gifting time can be a game-changer feature of your floral business.
Location-based recommendations :- The on-demand flower delivery software should provide features to filter and search the flower shops options based on selected geo-locations.This saves your customers time and helps them to build preferences in nearby options.
Customized notes and personalization in gifting :- This feature should allow your customers to write a customized note along with ordered flowers and placing it with gifted flowers or bouquets will be an innovative feature that the receiver will love and feel good. Personalization is heartfelt gifting that not only gives a special feeling to your customers but also builds your on-demand delivery business opportunities stronger.
Real-time tracking and alerts :- This feature is helpful for your customers to offer an accurate picture of the order's delivery location. This will help your customers to estimate the delivery time and route using real-time GPS for their orders. Timely alerts and updates about the order would your customers to get upgraded information about your order.
Various Payment methods :- Integration of multi-payment options in flower delivery software within the app can enable your user to opt for fast, secure, and hassle-free payments. There should be provision for both the mode of payment – online as well as offline. Let the customers decide to go for cash on delivery(COD) or online payments including mobile wallets, credit/debit cards, etc.
Offers, discounts, and loyalty programs :- Various offers and discounts especially for targeted days like valentine's day, friendship day, thanksgiving, etc can be timely updated, and notifying your customer can boost your sales. These special offers and discounts help the online flower ordering services to retain your old customers and bring more new users.
Read More: Engage your customers for on demand delivery business
Order placement and view order history :- Your customer can easily select the order from various categories and there should be an option to add in cart and place their orders conveniently. Users should have the option to view their old orders from the order history feature.
Giving tip to the driver :- Customers should have a feature to give tips to the delivery driver as a part of the appreciation. This makes the delivery partner smile and the customer feel more satisfied.
Features for vendor's app
Here is the list of features that will let your vendors use your SaaS-based flower delivery app more conveniently and unlock ROI more potentially:
Product details and description :- By providing a detailed description of your flowers and plant-based product and gifting item, your customer will be able to select and shop with ease. This also helps out your customers to know what your product has that your competitors don't!
In flower delivery software, the product description must include good photographs and videos. Your buyers may want to see multiple angles of your product.
Multi-drop deliveries to your drivers :- This feature allows your drivers to make multiple deliveries at a time which reduces the additional delivery run and eventually increases your revenue and sales. Flower delivery route optimization system allows you to create, manage and drive the optimized routes to save time and effort.
Dynamic Pricing options :- Your on-demand flower delivery software should enable your vendors to take partnership with other flower shop owners to the next level by charging the dynamic delivery rates based upon the value and location of the order.
Preferred area selection :- Delivering fresh flowers and plants should be highly recommended by every vendor in order to satisfy their clients. Vendors can allow their drivers to choose their preferred location or area for assigned orders so that they can do rapid and quick deliveries for their customers.
Notify and broadcast of pending orders :- Your registered vendors should get alerts or notifications about their pending orders as per scheduled delivery. If there is no availability of your delivery partner for a particular location or time, the other available nearby located delivery partners should have the choice to fulfill the pending order.
Faster Payouts for drivers :- Vendors can easily store as well as share the commission with their delivery partners with faster options like mobile wallet payments and other online payment methods.
Features for driver's app
The driver panel should have the following pivotal features to provide a comprehensive platform for your flower delivery app that enables your driver to get complete and seamless functionalities:
Multiple order acceptance :- The drivers should have the option to accept multiple orders based on locations. It will save time and efforts of the driver and customers will get their delivery on time too.
List of all deliveries and order confirmation :- All the scheduled delivery should be listed in the driver's app that includes the customer's address and value of the order. It helps the drivers to plan the delivery as per the location and priority of the scheduled time. With the order confirmation feature, they will get the confirmed delivery order from their vendors and can also keep track of the canceled order.
Select the broadcasting order delivery :- Delivery partners or drivers can choose the broadcasting order to utilize the capability and resources and earn good rewards.
Online communication options :- It allows your drivers to communicate with your customer to understand the geolocations if required through chats or calling options for delivering at the exact location and on time.
In-App credit payment options :- Your on-demand delivery system should allow delivery order on credit and enables the drivers to collect the payment from the customers for deliveries later on.
Seamless navigation options :- Your delivery partners should have a flower delivery route optimization system feature to navigate the orders effortlessly with absolute delivery route informations to make quick deliveries.
Features for admin's panel
The admin panel for the white-label flower delivery app development solution should have the following features to run the business smoothly in the most cost-effective manner. The extended features and effective dashboard helps the owners to track the business in a more organized manner.
Better order management :- This feature allows the admin to keep track of delivery orders, manage the flower delivery by checking the exact status of drivers, and can manage the idle hours to make the process more smooth.
Route management and live tracking of orders :- Admin can track, analyze, and manage the routes of the delivery staff at any point in time.
Manage vendors smartly :- Admin can effortlessly manage their vendors, add new vendors and supervise them to resolve any issues faced by drivers or at customers' end.
Payment settlements :- The admin can do payment settlements with their vendors and drivers. They can keep track and know the amount of exchange between their vendors as well as with the drivers.
Analytical reports :- Admin will get detailed reports and analyses about their vendors, customers, and drivers. Reports related to order delivered requested and canceled orders can be tracked and used for the projections and planning of their business.
Technology stack for Flower delivery app
With our expert research and analysis, the following technologies will be best fitted for your on-demand flower delivery mobile app development:
Mobile Programming Languages
iOS:React Native
Android: React Native
Web Frameworks
Angular
Cloud Server Platforms
AWS
Data base
MySQL
MemSQL
Elasticsearch
MongoDB
API Payment Gateways
Stripe
PayU
PayPal
Navigation
Google Maps
Google Places
Google Directions
Analytics Tools
Google Analytics
Cost of development of your flower delivery app
The cost of the development of your flower delivery apps depends upon the technical stacks and several factors. The following are a few important factors that may vary the cost of the development of your flower delivery apps:
The software development framework picked
Creation of UI / UX
Creation of frontend and backend
Integrated feature types and features
Integrations of third parties
Amount of development hours
Thus depending upon the complexity of your app and the mobile app developer you chose, the cost of development will vary.
Conclusions
The on-demand flower delivery industry is growing as a billion-dollar industry with a huge potential customer base. A lot has been changed in customers' behavior in the last few years and they are more oriented towards online ordering systems. With online flower delivery software, you can range a wider audience and have a high chance of boosting your sales.
Flower and plant delivering apps are among the latest trend. As a flower shop owner, you need to put some extra toil of smartness to make it online to stand out better in this competitive market. Yelowxpress is a powerful solution that provides you with an outstanding online presence and features in your app to make your flower online business more successful.
We mold all your requirements into simple to build, run and scale your on-demand flower delivery app for your desired platforms for iOS, Android, and web. Now, this is the perfect time to digital and available 24/7 with a wide client database for your florist shops.