An on demand parcel delivery solution likewise Swiggy is a gift for its clients, yet in addition for Parcel entrepreneurs. So, how one should be getting an optimum advantage with an application built just like Swiggy for their business.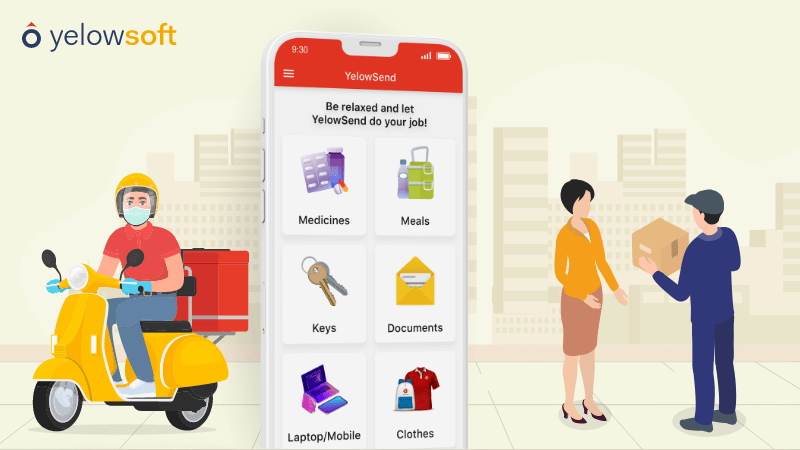 In order to understand that, what we really should do is to know more about Swiggy Genie and what is it doing? Combining all those experiences, risk handling, planning highlights, design, and development approach, forecasting hurdles, and so forth, help in comprehending what needs to be done in building an app like Swiggy Genie.
The Story Behind Swiggy
Swiggy started with its operations way back in 2014 realizing the importance of parcel delivery solutions, acquiring extraordinary help and love from app users over time. Nandan Reddy and Pilana Sriharsha Majety, the two youthful graduates, are the legends behind the example of the overwhelming success of Swiggy.
They, alongside Rahul Jaimani, began Swiggy as a hyperlocal food delivery business in the month of August 2014. The underlying initial plan comprised more than 150 delivery staff and tie-ups with 300 eateries.
Read More: Beat the competition in the on-demand food delivery business
At this point, Swiggy accomplished over 1000 food deliveries each day. The finances acquired by Swiggy were a breakthrough in the startup industry. As time went by, in 2016, Swiggy set up its presence in 7 cities like Kolkata, Chennai, Hyderabad, Delhi, Pune, Mumbai, and Bengaluru.
This wide reach and acknowledgment made other organizations collaborate with Swiggy. In the year 2018, Swiggy collaborated with Flipkart's very own PhonePe and ICICI Bank to empower end-users to take care of online payments with utmost ease.
The following are important accomplishments among on demand delivery trends achieved by Swiggy, making it the most well known and esteemed parcel delivery startup app:
Swiggy Capital gave free loans to the restaurants in partnership.
Swiggy Pop contributed curated single-serve menus under ₹200.
Swiggy Scheduled helped in ordering planned meals ahead of time.
Swiggy Super for month-to-month and quarterly membership plans.
looking for growing your courier business through an automated on-demand solution.
What makes on-demand parcel delivery app Swiggy Genie popular?
In this bustling world, who wants to wait to go to a courier office to send out parcels, after weighing them? The following are the on demand delivery management software variables drawing individuals towards parcel delivery apps:
Faster delivery of parcels from sender to receiver.
Range of payment options to choose from like Netbanking, Credit/Debit Cards, Cash on Delivery (COD), so on, and so on.
Instantly placing parcel orders with coupons or offers.
Tracking of the parcel through a seamless end-to-end delivery.
Features to Develop a Mobile Application like Swiggy Genie
Looking at the current situation with the importance of parcel delivery solutions, it comes as no surprise with parcel delivery services starting with their very own mobile app and site. While on-demand parcel delivery applications like Swiggy Genie have already proved their essence, other parcel services should think of how senders can send things to receivers nationally and internationally.
So, assuming one needs to build on-demand parcel delivery apps just like Swiggy Genie, these are the functionalities to incorporate:
UI is appealing and simplistic at the same time
A parcel delivery app should not be difficult to utilize and explore. There has to be lucidity on pages and results need to be seen with ease by the end-users.
Execution should be dynamic across all sized gadgets
Guarantee that an application can show up on gadgets of all types. Certain individuals like to get the parcel delivery done on sites and some like to do it on apps, helping individuals to get the exact experience required in parcel delivery.
Helping users with comprehensive in-app information
Applicable and complete data is the core of parcel delivery software. Users should have complete access to each phase of parcel delivery with as little confusion while using the application.
Thus, there has to be a complete step-by-step approach right from placing an order for delivering parcels, to tracking the parcel, and finally, the parcel reaching where it is meant to be. All along the way, all three parties – end users, app owners, and delivery staff should be well aware of the delivery right from when it leaves the source until the time it reaches the destination.
Integrating a range of secured payment processors
One of the most engaging variables in a parcel delivery application is safe payments. A variety of payment options help users feel about the adaptability of an application.
Causing them to have a solid outlook on payment information confidentiality to build up a relationship. Various payment techniques speed up transactions, an unquestionable requirement of today.
Rewards and offers to motivate users for using the app constantly
Everybody likes to send all kinds of parcels – small or big, at sensible costs and so many offers are available to keep users sending and receiving more parcels. Most on-demand parcel delivery should work on deals and discounts which benefit the sender.
Importance of a parcel delivery solution for your business
Models Followed By On-Demand Parcel Delivery App
On-demand delivery apps usually follow two types of on demand parcel delivery solution models:
Aggregator Model
It is said to be the conventional model of delivery. A solitary site or application allows users to place parcel delivery orders from a list of vendors providing parcel delivery services.
This means a solitary app acts as an aggregator acting as a bridge between clients wanting to send parcels and service providers belonging to the parcel delivery business. Vendors enlist their business on this app via free or premium registration, with users getting an option to choose a vendor from the list to send parcels to beloved people.
Logistics Model
Swiggy Genie does follow this model of business. Unlike the aggregator model, users place parcel delivery orders straight away to Swiggy, who takes up the responsibility of completing the delivery from source to destination.
Herein, the logistics team is on Swiggy's payroll. Alternatively, Swiggy collaborates with local courier services to do the job of logistics on their behalf.
Structure of an On-Demand Parcel Delivery App like Swiggy Genie
A few components make on-demand parcel delivery applications remarkable from other standalone applications along the lines of on demand parcel delivery solutions. These provisions are sorted into four as per the people managing them. Four kinds of boards to be specific
Customer Panel
Admin Panel
Delivery Panel
Customer App
The most crucial class of a parcel delivery application is the client itself. They should feel simple and alright with an application right through from placing the order to the parcel delivery.
Tracking of user location: Users have the ability of app auto-detecting the user location via phone geolocation.
Homepage screen with account overview: Consists of the actual screen wherein an order can be placed by filling up the details.
Searching for the information: Look for parcel delivery rates based upon the type, size, and weight.
Management of orders: One can go through the menu, select parcel things, put in details, and confirm the order, for delivery.
Shopping cart to add items: See the parcel details with cost to check for address and receiver details.
Multiple ways to pay: Users can see the absolute payable sum while further selecting the type of payment method.
Tracking of the order status: Follow the whole transit cycle as soon as the parcel is out for delivery, to follow delivery personnel at all times.
Dashboard of user account: Get access to the profile section, order history, orders in progress, payment details, and much more.
Placing feedback on the app: Place reviews after the delivery completes or simply rate the delivery person.
Look at historical orders: Details of current orders and orders placed in the past help with repetitive or future deliveries.
Modifying the orders: Modify or Cancel orders if there are last-minute changes in order due to unknown circumstances.
Driver App
Checking up for the Status of Order: Shows the deliveries to be made. Can acknowledge or dismiss the delivery as per demand.
Live Call or Chat with customers: Delivery individuals can chat with customers with regards to the inquiries identified with orders. Such a move assists delivery people to reach the right objective with the least exertion.
Tracking the user location: The delivery individuals can arrive at the client's place whether sender or receiver to get the delivery completed.
Delivery statuses for orders: View finished deliveries, impending and dropped orders.
Personal Profile: Create and update the profile with all the pertinent data about them.
Admin Panel
Managing the Parties: Manage both end-users and delivery staff to ensure there is a seamless delivery between both parties.
Modifying both Users and Delivery Staff: Make modifications with regards to adding or deleting delivery personnel or customers.
Managing end to end order process: Keep a check of the impending, current, and dropped orders.
Master Dashboard to view detailed info: View a rundown about forthcoming, impending, and dropped orders, and have reported in place for historic dates.
End to end overseeing of Payment Processing: Take care of processing the payments and monitor transactions from a payment standpoint.
Push Notifications to keep everybody informed: Send pop-up notifying messages to end-users about discounts or offers, and the delivery personnel for allocation of deliveries.
Transaction History to look back at orders: Have a look at the historical orders, for quick analysis on whether orders are from existing customers or new customers have placed an order.
Deals and Offers for value offerings: Generate occasional discount coupons or promo codes for clients.
Order Analytics for analyzing order and delivery metrics: Do a study of the reports associated with completed orders, orders in progress, and upcoming orders on a daily, monthly, or yearly basis.
How does an app like Swiggy Genie work?
Swiggy Genie runs across its business on a hyperlocal plan of action, one of the fundamentals of on demand delivery trends. That implies the parcel delivery has to be executed within the city limits, with a notable presence in almost all of the major cities.
The plan of action works in four stages:
The application permits users to fill up the details to place a parcel delivery order with the aforementioned pickup date and time as an optional thing.
Then after the order is placed followed by payment mode.
The delivery staff receives the order who are all set and prepared for pickup and drop-off.
The delivery personnel picks up the order from a sender and drops it off at the receiver's home while completing the order, and takes money in cash only if the cash on delivery (COD) option is selected.
How does an app like Swiggy Genie monetize and generate income?
There are various ways in which Swiggy Genie makes money by monetizing the app. Let us look at what those ways are:
Order Revenue
A significant piece of revenue can be made out of order payments by delivering parcels from one place to another while easing the whole process for both sender and receiver.
Delivery Charges
There are times when delivering things can be quite challenging such as long-distance, short time, rain, pandemic, or natural calamities, making such an app demand more of the delivery charges.
In-App Promotions
Other optional yet significant kinds of revenue come from advertisements within the application helping other businesses, specifically parcel delivery services, to gain traction on the app while making the app money in return.
Affiliate Income
Nowadays, such applications additionally procure collaborations with financial institutions, specifically banks, by attracting users to get generous discounts on utilizing the credit/debit cards of partnered banks.
Festive Charges
There are times, especially during festive or seasons, when there is a higher demand for parcel deliveries with limited supply, giving such apps an upper hand in charging more than the usual delivery charges to anticipate.
Partner Commissions
Similar to affiliate income, but in this case the app ties up with as many parcel deliveries as possible, to get off commission on every parcel delivery accomplished by these service providers.
Winding up with some Marketing Strategies adopted by Swiggy
Significantly, Swiggy has utilized internet advertising lobbies for its business growth and development on different online social media platforms with the likes of Pinterest, Instagram, YouTube, Twitter, and Facebook.
A portion of its missions include:
#Secondtomom
#DiwaliGharAayi
#SingwithSwiggy
Swiggy's normal update on Facebook is another advertising exertion that opens the entryway to user commitment through special offers, giveaways, and dealing with complaints.
In the wake of expanding demands during COVID pandemic times for essentials, being neglected by physical supply chains, parcel delivery applications like Swiggy moved from global to hyperlocal. They decided to plan pickups from nearby stores, running a same-day delivery model, offering contactless and credit-only delivery.
Read More: Contactless delivery system to sustain during COVID-19
This resulted in a win-win situation for all the supply chain partners whether be manufacturers, distributors, retailers, or end-users, as Swiggy helped with providing logistics while delivering across necessities to end-users.
Despite all these, Swiggy is still in the competitive phase, with major competition coming from Zomato and Uber Eats, and new players coming into the space every single day.
Hence, in case you are thinking of getting into the parcel delivery business, or simply an aggregator business bringing all the parcel delivery services and customers on one platform, then take into account all that we just discussed above.
Empower your business with customised on-demand Parcel Delivery App.