The COVID-19 pandemic has changed the way of global businesses. Rigorous lockdowns and social distancing laws have forced people to stay at their homes. Due to this, there was not a single person on the roads. Also, the global businesses had to face tough times due to decrease in their sales. It seems that the world had been paused for a while.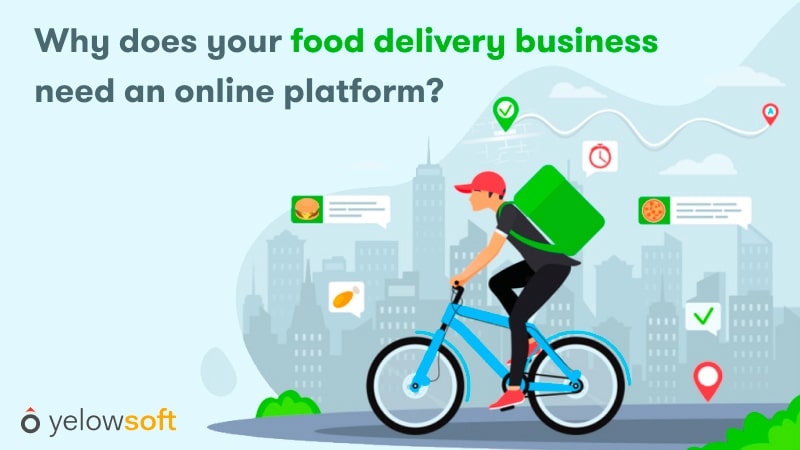 However, in such critical condition, there was a business that was operating successfully. That business was online food delivery. With advanced online food delivery apps, it becomes easier for customers to get food without the need for leaving their homes. Also, these apps had allowed the restaurants to make the most of the digital marketing mediums.
Apart from this,on-demand food delivery apps are also in high demand due to the need for social distancing. So, if you are operating your food delivery business in the same old way then this is the time for you to get technologically equipped.
In this blog, we will discuss with you the challenges faced by traditional restaurants and show you how a feature-rich on-demand food delivery app can boost your sales.
Challenges faced by traditional restaurants
The restaurant business has become challenging due to the adverse effects of the COVID-19 pandemic. Their business has diminished due to the decrease in the numbers of customers.
So, it is tough for entrepreneurs to explore business opportunities due to high competition. Let us understand these challenges one by one:
Read More: Proven ways to beat the on-demand food delivery market competition.
Decrease in the number of customers
Due to lockdowns and social distancing norms, it became difficult for the customers to step out of their homes. So the traditional restaurants had to face a shortage of customers.
Moreover, customers have started working from home due to this. And this workforce wanted to get food delivered at their doorsteps. This has also adversely affected the traditional restaurants as they were unable to get customers.
Higher operational costs
Another big challenge faced by traditional restaurants is high operational costs. Similarly, restaurants also need enough cash on hand to run. Due to exorbitant operational costs, many traditional restaurants were forced to shut down the business.
Building a loyal customer base
To make any business successful, one needs to focus on creating the best customer experience. And for this, the business needs to create a loyal customer base. But sometimes poor customer service can become a hindrance in getting a loyal customer base.
Hygiene issues
You may have a wonderful atmosphere in your restaurant and the best food on the table, but if your customers are not served properly, they will never return to you. This has happened with traditional restaurants as they do not take enough hygiene measures.
Sometimes, the waiters of a traditional restaurant serve food without gloves. Also, the quality of food may not be up to the mark. Furthermore, the hotel premises are not clean sometimes.
Poor customer service
Poor customer service can also be considered as the decrease in the number of customers in traditional restaurants. With numerous chives available in the food segment, customers are not ready to tolerate poor service. Thus, customers will just move on to the competitor.
Apart from this, traditional restaurants have long lines due to the lack of enough staff. This may create management issues.
Traditional restaurants can grow their business by understanding the above challenges. This understanding will lead them to develop unique strategies to increase their chances of success. So if you are doing your restaurant business traditionally then it's the best time for you to switch to a robust on-demand food delivery system.
Business model of on-demand food delivery app
Starting an on-demand food delivery business with a suitable business model is a great idea to get success in the times of the coronavirus pandemic. Generally, there are three types of on-demand food delivery business models that are highly popular in the market. Let us discuss them in detail:
Order only model
In this online food delivery business model, the food delivery business acts as a mediator between the customers and the restaurants. To facilitate both these parties, the food delivery business uses an on-demand food delivery platform.
The main aim of the order only business model is to let the restaurants reach out to a larger customer base. Also, it allows the customers to get their favourite food in just a few taps over their smartphone.
Grubhub and JustEat are the examples of order only model.
After getting a detailed understanding of the order only model, let us look at how it works:
Customers can place their order by using an on-demand food delivery app.
After this, the order will go to the restaurant online ordering platform.
Restaurants will confirm the order and send a confirmation to the customers.
If the restaurant has a POS system, then the order gets directly passed on to the kitchen.
After the preparation of food, the driver goes to the restaurant to pick it.
Order and delivery model
The order and delivery model deals with the customers, restaurants, and deliveries. It is one of the common solutions used by restaurants. Furthermore, many restaurants take the help of on-demand food delivery service so that they do not have to deal with the deliveries.
UberEats, Zomato, Swiggy, Doordash are some popular companies that use the order and delivery model.
However, this business model needs more resources compared to the above one. Now let us look at the workflow of order and delivery model:
Restaurants first need to register on the online platform.
This platform will enable your customers to place orders via an online ordering app or website.
Customers can either use online payment modes or they can use cash.
Fully integrated model
A fully integrated model covers the food delivery startups. This business model is best for new entrepreneurs to start a food delivery venture. In this model, the business owner takes care of everything. Here the business owner can cook the meal on their own or can hire a chef for it. The workflow of the fully integrated model is as follows:
In the first type, there is no role of Admin as the order gets directly notified to the nearby driver.
While in the second type, there is a little involvement of the Admin.
After discussing food delivery models, let us understand why you need an online food ordering platform for your food delivery business.
Top 8 reasons to have an advanced online platform for business
Many of the businesses got a hard hit of COVID-19 pandemic but the food delivery segment is witnessing a massive surge. The reason behind this is the inability of people to go to restaurants amid the COVID-19 situation. That is why customers increasingly prefer their favourite tasty food delivered at their doorsteps even when the pandemic passes.
With the rise in demand, an online food delivery business allows the traditional food businesses to serve more customers and boost profits. Here is how a digital platform can add value to your business and help you to stay ahead of your competitors:
Read More: Imacts of COVID-19 on ride-hailing and food delivery
Hike in online food delivery segment
COVID-19 pandemic has drastically changed the lives of people across the globe. Almost everything was closed in the market. However, food delivery businesses are essential during this pandemic.
As per statista, the projected market volume in the online food delivery segment will be $1,82,327 million (approx.) by 2024. Moreover, it is expected to show a CAGR of 6.36% (approx.) by 2024.
So if you are already having a restaurant business, then this is the right time for you to start an on-demand food ordering business. For this, you can take the help of a software development company or you can hire a remote development team for food delivery app development.
Helpful for social distancing
In the critical times of the coronavirus pandemic, it is advisable to make the food delivery contactless so that both your customers and drivers don't get infected by the adverse effect of the pandemic. In this way, you can cut any kind of physical contact between them.
They do exchange the food package from each other. Also, the delivery person can be instructed to keep the parcel outside the door of the customer.
Efficient order management
Some ten-fifteen years ago, customers used to make calls or drive to the restaurant physically to pick their food. They had to wait longer to get their orders. Sometimes, there could be mistakes while making an order on the telephone. So, ordering from restaurants may not be a good idea for people with a busy lifestyle.
So, the best solution for the above-mentioned problem is to switch over to online food ordering. For this, restaurant or food delivery business Admins can create a website or on-demand food delivery app that will make order management easier for the Admin. Also, it will increase the efficiency of food ordering services.
Integration of contactless payments
In these critical times, contactless payments became a necessity to avoid physical contact. For this, you need to integrate an on-demand food delivery solution into your restaurant business. By implementing a robust online food delivery system, you can offer your customers to pay with multiple contactless payment methods such as debit card, credit card, RFID, NFC Cards, POS systems, etc.
Along with this, you can also provide your customers with auto-generated payment receipts. Besides making online payment safe and secure, the digital platform helps you to win your customers' confidence by offering them maximum transparency into billing.
Read More: Working and features of wallet system.
Provides rich customer data
Who are your regular customers? Which food they would like the most? Which food items are in high demand? Do they use a website or app for ordering food? These are some questions that can be answered with the help of the analytics feature of an advanced on-demand food delivery software. You can use this data to make targeted offers for customers.
Apart from this, on-demand food delivery platforms allow you to analyze the latest food ordering trends and customer preferences deeply so that you can customize your offerings, menu, and delivery services. Due to this, you can provide a tailored experience to your customers.
Increases returning customers
To get better revenues, it is important to get a customized on-demand delivery app for your on-demand food delivery business. Moreover, if you want to retain your customers for long then you should focus on making a top-notch food delivery app with unique features and functionalities.
Furthermore, you need to take care of the changing needs of your customers. For that, you can modify the basic features during app development to increase the returning customers and also attract new ones. Also, you can integrate attractive offers and cashback into your on-demand app.
Gives real-time delivery updates
Online food delivery platforms use a GPS tracking feature that provides real-time delivery updates to the Admins regarding their drivers. This will help you to improve customer performance which will fetch you to gain happy customers for your business.
The GPS tracking feature also allows the food delivery Admin to easily map out your driver's delivery path to make the deliveries faster. People now prefer to get food delivered at home due to the fear of the coronavirus pandemic.
Provide convenience to customers
One of the important reasons behind the increase in dependence of the customers on the on-demand food delivery apps is the convenience offered by them. Moreover, the food delivery apps can help restaurant owners to fulfil the increasing customer demand with the real-time analytics and route optimization feature.
An on-demand food delivery app is carefully developed to provide clients with a great customer experience. Also, it offers numerous benefits to restaurant owners to oversee deliveries and communicate with clients to provide a better experience.
Final Words
So by considering the reasons discussed in this blog, you can make a profitable on-demand delivery platform for your food business that can help you to boost sales. So if you are having an idea of making a successful on-demand food delivery app then you can do it by your own or you can get a white label solution. However, you should do in-depth research before you make a choice.
In case, if you have feedback or queries on building an online food delivery platform or its cost estimation, then feel free to reach us at any time. Thanks for reading our blog.