Food delivery is a booming business, and it will only get bigger. According to Business Insider, the food delivery software services industry is expected to grow by around $216 billion by 2024, at a CAGR of over 12%. But how can a single restaurant benefit from a food ordering and delivery business model?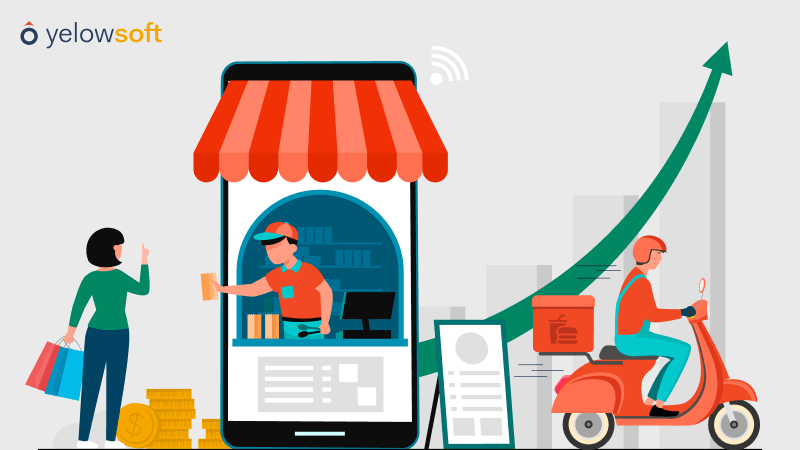 In this post, we'll explore how food delivery services can help small businesses grow their following and increase sales. We'll also look at some examples of successful restaurants that have leveraged these services successfully on their own.
What is a food delivery solution?
Food delivery solutions are software that helps restaurants manage their food delivery business. They can be used to accept orders, manage delivery staff, and track orders. In addition, they can also be used to manage the inventory and customer database.
Read More: Needs an on-demand Food Delivery System for Restaurant
Food delivery systems can be expensive, but it is essential for restaurant owners who desire increased efficiency in their operations to invest in a quality solution that will ensure success in this area of business and others within their operation (such as POS software).
There are many benefits to having a food ordering application. This article will discuss a few of them and why they are crucial in today's business environment.
Stimulate your business
The most common reason for building an app is to increase sales. By offering customers a way to order food directly from your restaurant, you'll be able to direct them towards ordering more of what they currently enjoy and less of what they don't like as much. This can lead to increased sales, which is always good!
Automate your business by choosing food delivery app development
Additionally, if you have a loyalty program in place, an app will allow customers to easily access information about your business on their phones.
Improve customer engagement
With an app, customers can place orders from anywhere. This means you can bring in new customers and improve customer engagement, which is always good! When it comes to customer service, there's no better way than being able to answer questions quickly and efficiently.
With an app, your customers can see what's available at their favorite restaurants and order directly from their phones. This can help eliminate confusion about what's on the menu or how much things cost.
This can also help you keep your customers happy and engaged. With an app, you'll be able to talk directly with those using it. This can help improve customer service in ways that you never thought possible.
Build brand awareness
You can use the app to build brand awareness. Customers can share stories about your food with their friends, increasing the likelihood of them returning for more. Brand awareness is essential for a restaurant because it makes people want to return again and again—and if you can do this through social media, brand awareness becomes easier than ever!
Better customer loyalty
A mobile app will also allow you to build loyalty with your customers. You'll be able to offer them special discounts and promotions that can only be accessed through the app, encouraging them to return for more. This is an excellent way of getting people already familiar with your business interested in what else you offer!
Read More: Why does your food delivery business need an online platform?
Facilitate communication with customers and automate routine tasks
You can use your food ordering app to automate the process of taking orders, so you don't have to hire more people or spend more money on staffing. This will also help increase customer loyalty and brand awareness and accelerate business growth by making it easier for customers to order food whenever they need it—no matter where they are in the world!
Increase managerial efficiency
Managers everywhere understand how important it is for businesses like yours to streamline their operations while maintaining high productivity levels.
This means creating an efficient workflow that allows employees from different departments within an organization (such as sales reps) access without having too much overlap between them when working together on an assignment/project complete tasks towards achieving goals set forth by management beforehand.
Reduce food ordering operational costs
By using an online ordering system, you can reduce your operational costs by not having to pay for the employment of a full-time staff member whose sole responsibility is to take orders and process them for your business.
Online food ordering systems also make it easier for customers who want to place orders from their smartphones or other mobile devices, which means that you don't have to worry about hiring someone to sit at a counter all day long waiting for people to come in and place their orders manually each time they stop by your store.
Customers love ordering what they want without waiting for someone else to take their order; it also allows them to get exactly what they want without having to ask for modifications because of allergies or dietary restrictions.
Gain access to your delivery business
Data analytics lets you know exactly how many deliveries you've made and what customers are ordering the most. You can also see how long it takes to get a delivery out, which locations need more drivers, and which have more orders than they can handle.
This is especially helpful if you have multiple locations; by using data analytics, you won't have to worry about running out of food or ensuring that all your drivers are where they need to be at any given time.
Analytics can help you make decisions, improve your business and understand your customers. They can even help you understand your competitors and how they're doing it. Access to data analytics will allow you to gain insights into how customers are responding to promotions, coupons, or discounts.
This will make you understand what customers like and don't like about your delivery service. It can also help you determine if certain products are selling well or not. This information is helpful as it allows you to tweak and update your menu based on customer feedback.
Now that we've discussed the benefits of analytics in general, let's look at some specific ways that restaurant owners can benefit from building their app:
Food ordering applications are a necessary tool for growing restaurants
Analyze customer data to identify trends and patterns in customer behavior (e.g., average order size) or revenue per visit (e.g., highest spenders or lowest spenders).
This information could be used by management team members to determine what menu items should be offered next time so that meal costs stay within budget while still satisfying guests' desires and preferences.
Alternatively, it might show managers where improvements need to be made regarding menu items being ordered regularly but rarely purchased due lack of awareness among patrons about those selections' availability (or even worse—that they're just not worth trying!).
Simplify the Ordering and delivery process for your restaurant business with our automated solution
How much would it cost to build a food delivery application for your restaurant?
The exact cost of developing an on-demand food delivery app depends on various factors such as the app's features and functionalities, the complexity of the app, the number of hours that goes into the app's development, etc.
If you would like a cost estimation of your food delivery project, kindly get in touch with consultation experts.
Here is a list of some of the most basic and mandatory expenses you'll need to budget for when building a food delivery application for Android and iOS platforms.
Developers' expenses
Building a food delivery app like Swiggy takes around 1500-2000 hours, with the cost varying from region to region. However, the average developer rate in Asia is US$40–60 per hour (The cost may vary depending on company specialization and developers' experience). This is when you decide to have a custom solution from scratch by hiring developers.
But here is the thing, in this fast world, who likes to wait for 1500 to 2000 hours, take the headache of managing the team, giving them perks, paying them an on-time wage, and reviewing the quality? This time has gone.
Today, smart solutions are SaaS-based. We have a ready-made SaaS-based food delivery solution by employing which you can start offering services on your name to your customers. It takes hardly 24 to 48 hours to own the app and start offering your services.
When you take our solution, you eliminate the need of hiring developers, paying them a high and on-time salary, wait of 2000 hours, quality management, etc.
In-house developer
Having a team of developers for your project in-house will give you full access over them. You will have better control on quality, will be able to transfer your core project goal and get the delivery as you want.
However, Owning a team of in-house developers is costly. You'll have to pay them even when you don't have work for them. You'll have to spend on infrastructure, perks, and other employee activities.
Read More: SaaS vs In-house vs Clone softwares for your on-demand business
Capital investment
This part involves financial planning related to investments in various types of social media, including recruitment and hiring.
Design & development
The company usually spends the total cost of on-demand delivery business application configuration and its development to hire developers, designers, and engineers. The cost for this will include the various licenses needed to expand the development team.
Testing
Even if you hired the most experienced professionals in software development and testing, testing your application thoroughly before releasing it on app stores is essential. In a worst-case scenario, the app could contain bugs that might cause trouble to users when they use it after deployment.
Read More: Things to consider before developing an food delivery app
Conclusion
With so many benefits, it's no surprise that restaurants are investing in their own food ordering and delivery software apps. You can give your staff more freedom and improve customer engagement with the right software. You can also use these apps to build brand awareness and increase revenue.
The next time someone orders a home delivery from your restaurant, there will be no need for manual entry as everything is done automatically through an app on your mobile phone or computer.
Ready to automate your Restraunt business?
Get 14 days FREE TRIAL of our smart solution and enhance your operations.