Today, every industry needs modern technology to grow. The restaurant comes in it too. Be it any size of restaurant - to meet the evolving demand, streamlining the operations is the key. And here is where the SaaS platform comes in.
A report by hospitality technology says that 75% of restaurants have already embraced automation to simplify their process, manage online orders, improve customer communication, and boost efficiency.
In today's world, the traditional method is no more helpful to run a successful restaurant business. Our futuristic platform is designed by keeping your problems in mind that make you say goodbye to order mix-ups, delivery delays, and customer communication mishaps. The best part about our product is - it is easy to use and built by a team of experts who are always available to help you get the most out of your investment.
Our platform has the full potential to transform your business in several ways. Get ready to take your restaurant to new heights of efficiency, satisfaction, and growth.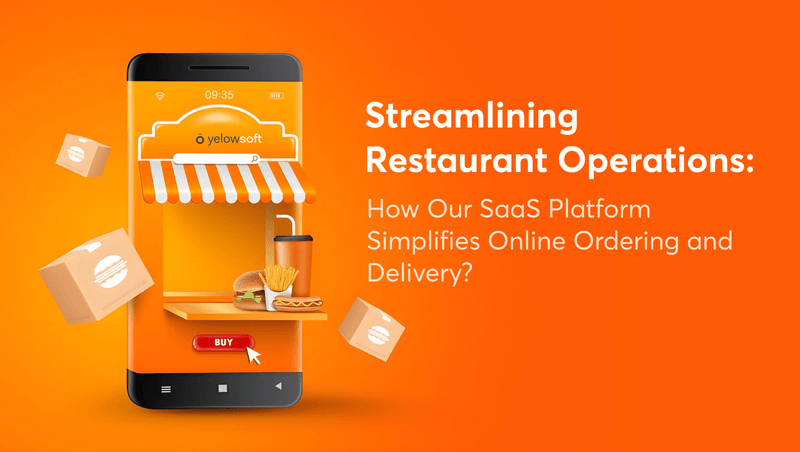 But before we discover how our SaaS platform can transform your business, let us first explore the growing importance of online ordering and delivery and the common challenges that your restaurant faces these days.
The Growing Importance of Online Ordering and Delivery
Online ordering and food delivery are essential for restaurants in today's digital age. Consumers want convenience and efficiency, and online ordering and delivery provide just that. By offering these services, restaurants can stay competitive, expand their reach, and deliver exceptional experiences that keep customers coming back for more.
Remember that the global restaurant management software market is expected to reach $17.3 billion by 2031.
Need for SaaS Platform for Restaurants
In today's fast-paced world and constantly changing customer demand, the need is high. As not one, two or four, but almost every restaurant is striving to adopt the technology and stay compatible in the market. Here are some of the benefits you can leverage by implementing a SaaS-based restaurant platform:
Increased convenience: Online ordering and delivery make it easy for your customers to get their food. They can browse menus, place orders, and pay for their food all from the comfort of their own homes.
Expanded reach: The system opens up new markets for restaurants. You as a restaurant owner can reach customers who live outside of the delivery radius or who prefer to order food from home.
Improved customer satisfaction: Improved convenience and flexibility is what drives improved customer satisfaction. And with our SaaS platform, you can confidently offer your customers not just that but even more than that. Plus they will be satisfied with the experience when they can order and receive food quickly and easily.
Increased revenue: It is said that when money is spent online, customers often spend more. And with our on demand food delivery system, your customer can easily buy the food of their choice and pay with ease, as our platform has multiple payment options. This can lead to increased revenue for your restaurants.
Remember: Restaurant owners who are denying the advancement, automation or the power of technology in business growth will actually be responsible for their own destruction.
In today's world, only smart restaurant owners are surviving. And if you are a smart restaurant owner, you should implement the Restaurant SaaS Platform and enhance your business performance. This SaaS platform adoption can help improve your business and increase your profits.
Common Challenges Faced by Restaurants
Online ordering and delivery are becoming increasingly popular, but they can also be challenging for restaurants. There are a number of factors that can go wrong, such as inaccurate orders, late deliveries, and poor communication with customers. To avoid these problems, restaurants need to understand the challenges and take steps to address them.
Here are some of the most common challenges that almost every restaurant face with online ordering and delivery:
| Challenge | Description |
| --- | --- |
| Order Accuracy | Ensuring precise order fulfillment to avoid misinterpretations, miscommunications, or technical glitches that may lead to incorrect orders. |
| Delivery Efficiency | Overcoming obstacles such as traffic congestion, weather conditions, and peak hours to ensure timely and efficient order delivery. |
| Customer Communication | Establishing effective communication channels to provide clear and timely updates on order status, delivery time, and any unforeseen delays. |
| Integration Challenges | Complex to integrate online ordering and delivery systems with existing POS, inventory management, and CRM platforms. |
These common challenges that you face in the realm require proactive measures and strategic solutions. You can provide a better experience to your customers and improve their online ordering and delivery experience by following some proven steps below.
Invest in technology: There are a bunch of technology solutions available in the market that promise to solve your problem. But remember, not one solution fits all. Invest in the technology solution that fits your needs. The perfect system can help with order accuracy, delivery efficiency, customer communication, and integration challenges.
Optimize operations: To take the optimum benefits from your business, you should streamline your restaurant processes and optimize resources. And this can be done by implementing procedures for order processing, delivery, and customer communication.
Communicate effectively: Seamless communication is the key to the success of any business. Thorough communication between all the characters in a restaurant will enable you to deliver top-class service. Effective communication includes providing clear and timely updates about order status, delivery time, and any unforeseen delays.
Seamlessly integrate systems: Hassle-free integration leads to seamless growth. And by integrating online ordering and delivery systems into your restaurant with existing operations, you can easily handle all aspects of the process. This integration can help you improve order accuracy, delivery efficiency, and customer communication.
By taking these steps, you can overcome all the above-mentioned challenges of online ordering and delivery and provide a seamless experience to your customers.
Till now, you have gone through the importance of online order and delivery, and common challenges. Now we will uncover the SaaS platform and you just have to keep reading to understand it better.
Introducing Our SaaS Platform
We are proud to introduce our new SaaS platform. Proud because our system solves your problem. It is designed to keep your restaurant problems in the center. It simplifies your restaurant operations and enhances efficiency. Our platform provides a comprehensive solution that covers all of your restaurant needs. To add some, it includes online ordering, delivery, inventory management, customer relationship management, and more.
Overview of the SaaS Platform
Our SaaS platform is a cloud-based system that is easy to use and manage. It is accessible from any device with an internet connection, so you can manage your restaurant from anywhere. Our platform is armed with advanced features that are designed to simplify your restaurant operations, such as:
Online ordering and delivery: With our platform, it's not even a one-minute task now. Your customers can order food online or using a mobile app. You can also offer delivery through our platform, so your customers can have their food delivered right to their door.
Inventory management: The management is not easy. Say goodbye to all your management headaches. You can track your inventory levels and prevent stock outs using our platform. You can also set up alerts so that you are notified when inventory levels are low.
Customer relationship management: Better customer relationships = better business growth. And with our Saas platform, you can manage your customer data and track customer interactions. Our platform will also help you to send out marketing messages and promotions to your customers - helping you to even increase your audience reach.
Simplifying Restaurant Operations and Enhancing Efficiency
Digitalization is not just the goal of our SaaS platform. The goal is to simplify the complex process, automate mundane tasks, streamline operations and enhance efficiency. And our SaaS platform is designed by keeping all these factors at the core. Here are some of the ways that our platform can help you to improve your restaurant:
Increased sales: Today the smart business earns more. Our platform makes your legacy restaurant business smart and allows your customers to order food online, smartly. You can also offer delivery through our platform, which can help you to reach a wider audience, which leads to increased sales.
Reduced costs: Automating the manual tasks results in less human error which means less need for labor and infrastructure that results in reduced costs. Our platform helps you to reduce costs by automating tasks such as inventory management and customer relationship management. You can also save money on labor costs by using our platform to manage your online orders and deliveries.
Improved customer satisfaction: With our platform, you can improve customer satisfaction by providing a seamless ordering and delivery experience. You can also use our platform to send out marketing messages and promotions to your customers, which can help you to build relationships with your customers and encourage them to come back again and again.
It's not just we but our global clients believe that our SaaS platform is the best way to simplify restaurant operations and enhance efficiency. And they trust us because our platform is easy to use, affordable, and packed with features that can help you to improve your restaurant. If you are looking for a way to improve your restaurant, it will take $0.00 to try our SaaS platform.
Features are one of the key factors that make us stand out from the competition. Let us explore each of them in detail below.
Key Features and Benefits
There is no need for a system with basic features. And no one needs a system with features that do not ensure a benefit. Our software is packed with advanced features that ensure a bunch of benefits - explore them one by one below.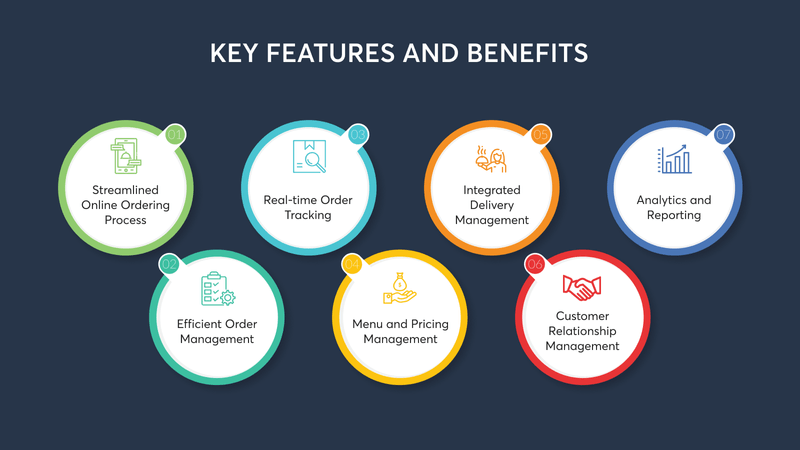 Streamlined Online Ordering Process
The platform has a user-friendly interface. Your customers can easily browse menus, customize orders, and place online orders.
Give your customers to conveniently select delivery or pickup options, choose preferred time slots, and make secure payments.
Simplify the ordering process, reduce friction and enhance your customer's overall experience.
Efficient Order Management
Automate the process and manage all your incoming orders from one place.
You can easily integrate with your existing POS system to seamlessly transfer order details. This results in minimizing manual data entry and potential errors.
Streamlines restaurant operations and empowers your staff to efficiently process orders, manage inventory, and ensure timely deliveries.
Real-time Order Tracking
Provide your customers with real-time updates on the status and progress of their orders.
Allow your customers to track the location of their delivery drivers, estimated arrival times, and order preparation stages.
Enhance transparency and customer satisfaction by keeping them informed throughout the order journey.
Menu and Pricing Management
You can easily update menus, add or remove items, and modify pricing in real time.
Ensure accurate and up-to-date menu information across all online ordering platforms.
Allows you to effortlessly manage promotions, discounts, and special offers to attract and retain customers.
Integrated Delivery Management
Streamline delivery operations, track driver performance, optimize routes and assign delivery orders to available drivers.
Helps you to Improve efficiency, reduce delivery times, and enhance customer satisfaction with seamless delivery management.
Customer Relationship Management
You can maintain a comprehensive customer database, and store important details and order history.
Help you provide personalized customer experiences by offering tailored recommendations and promotions.
Allows you to implement loyalty programs and incentives to foster customer retention and repeat business.
Analytics and Reporting
This great feature helps you generate detailed reports and analytics on sales, order volumes, customer behavior, and more.
You can gain valuable insights into business performance - enabling you to make data-driven decisions.
You can easily enhance operational efficiency and profitability by identifying trends, opportunities, and areas for improvement.
Customization and Scalability
SaaS-based online ordering and delivery software are highly customizable and scalable. This unique functionality of scalability makes it a valuable asset for restaurants of all sizes. By tailoring the software to fit the specific needs and branding of each restaurant, your businesses can create a seamless customer experience that will drive sales and boost profits.
Customization
SaaS-based online ordering and delivery software is usually ready to use. It can be customized or could be white labeled, making it "your brand, your way" to fit the unique needs and branding of each restaurant. When using a SaaS-based platform, you can:
Change the look and feel of the software. Inject your own branding taste to completely make it yours
Add or remove menu items as and when you need as it is modular software
Set prices as per your preferences
Offer promotions and discounts
Integrate with your existing POS systems to streamline your operations and enhance the performance
And more
This level of customization allows restaurants to create a truly personalized online ordering experience for their customers.
Scalability
SaaS-based software is majorly praised and chosen for its high scalability. And this scalability function makes the first and good fit for businesses of all sizes. The system is flexible enough that can be adjusted as per your restaurant's growth.
You can scale if you get more orders to provide a top-class service or can shrink with fewer orders. This means you don't have to pay for unwanted space that you don't use. This scalability helps your restaurant businesses to avoid the need to invest in expensive and complex on-premises software solutions.
Benefits of Customization and Scalability
Above we have already gone through the benefits. But here, it's different. It's about benefits that you get using the scalable system. The scalable SaaS-based online ordering and delivery software offers a number of benefits for restaurants, including:
Increased customer satisfaction
Increased sales
Boosted profits
Reduced costs
Improved efficiency
Enhanced branding
And more
Adopting the scalable saas-based platform, restaurants can provide a truly personalized customer experience and ensure the walk towards increased customers and sales.
How to Get Started
SaaS-based online restaurant software is a great option to streamline your restaurant's online ordering and delivery operations. This software can definitely help you increase customer satisfaction, sales, and profits. The question is, we are talking about its key features and benefits but how to get these all benefits? How to get started?
Don't worry, we have covered that as well for you.
Here are the steps for you on how you can start with SaaS-based online ordering and food delivery software:
Explore our website: The very first step you should do is visit our website. There you will learn more about our software and how it can benefit your restaurant. And wait, you can also request a 14 days free trial before making a purchase.

Request a demo: Trying first is better than buying first. And this is what we (Yelowsoft) believe and tell to every customer. Do not hesitate to ask for a demo. Our team of experts is waiting for you to give you a personalized demo of our software. The demo will allow you to see how our software can address your specific restaurant needs and objectives.

Contact our sales team: A straight and direct talk with the experts is better than assuming. If you have any questions or need further assistance, our dedicated sales team is here to help. You can contact us directly through our website or reach out via phone or email.
Conclusion
A SaaS platform can provide your business with a number of benefits. The future of business is in the cloud, and with a SaaS platform, you can future-proof your business and ensure that you are always ahead of the competition.
Yelowsoft is a SaaS platform that can help your restaurants grow by automating manual business processes and fueling rapid growth. With it, you can streamline operations, optimize efficiency, and unlock tremendous potential.
Yelowsoft is the perfect platform for restaurants of all sizes that want to grow their business. You can automate manual processes that can lead to streamlined operations. And with advanced analytics, you can optimize efficiency, and unlock tremendous potential.
If you're a restaurant owner, you should invest your time and energy to learn more about how Yelowsoft can help your business grow. It will not cost you even a penny but is worth investing your precious time.