Let's face it. Ever since Uber arrived, it not only has revolutionalized the taxi industry, but it also introduced an entirely new marketplace called on-demand.
The on-demand marketplace is basically a business model in which a business or a startup can only scale through the continuous growth of two separate user groups.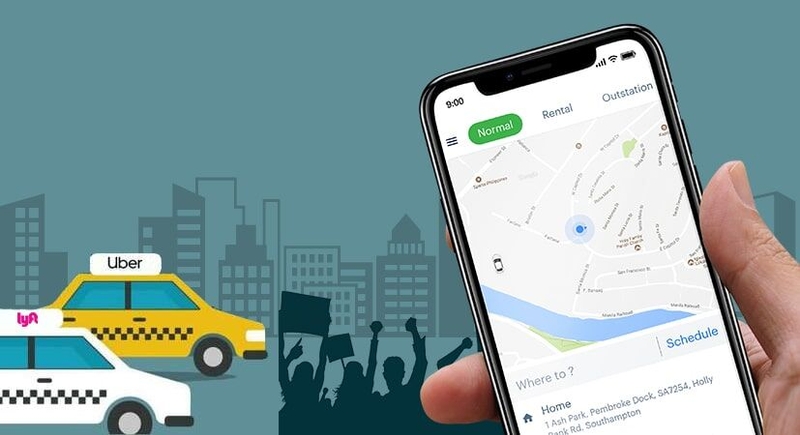 Uber, for example, is nothing but a third-party platform that has to provide both the buyers (Passengers) and the sellers (Uber Drivers).
Now, if Uber focuses only on one user group, then they will not survive.
In simple words, Uber has to convince sellers (Uber Drivers) that there is a high demand to make money, and they also have to convince the buyers (Passengers) that there are enough drivers waiting to pick them up and take them to their desired destination.
As you can see, this business model is, without any doubt, difficult to sustain.
But, despite all the challenges, many startups have adopted the same business strategy as of Uber's and have built their own app based taxi booking solution.
Of course, if you're planning to build an Uber clone app, then competing against Uber won't be a piece of cake. But with the right strategy, it is indeed possible for local taxi cab unions to beat Uber.
Here are a couple of examples of startups who have already done it.
Top Uber Clone App Startups That Made It Big!
Before we discuss the different strategies to beat Uber, let's take a look at three case studies of taxi startups that have done it and then we will see how you can replicate them.
Ola
Ola, previously known as Ola Cabs, is one of the two most popular online taxi provider startup in India. Founded in late 2015, Ola has built a network of 200K cars in over 85 cities today.
What's more interesting is the fact that Ola has recently expanded its operations to Australia, UK, and New Zealand, giving tough competition to the biggest taxi-hailing service startup Uber.
Lyft
Lyft is another popular Uber-like app startup based in the US. Founded in June 2012, today Lyft is covering 65+ cities across the US, giving tough competition to Uber in its own hometown.
One of the biggest plus points of Lyft is that the company has done an excellent job when it comes to passengers' safety and has proved to be far better than Uber.
GrabTaxi
GrabTaxi is an Asia-based taxi booking app startup just like Uber. Currently, they have a network of 75,000+ drivers with biggest fleet of ride-hailing taxis.
As far as the passengers are concerned, GrabTaxi has received lots of positive praise from people across SouthEast Asia and has already reached a 3.8 million download mark.
As you can see, despite Uber being the leader in ride hailing software marketplace, there are many uber like startups doing extremely well in the market.
So, how did Ola, Lyft, and other ride hailing startups are giving tough competition despite Uber's aggressive expansion strategy?
Let's look at the best ways taxi cab unions and local taxi businesses can beat Uber.
Best Ways to Beat Uber with a Competitive Uber Clone App
If you're an entrepreneur, own a taxi business or belong to a local taxi cab union, we have good news for you.
Despite Uber's large market share in the taxicab industry, there are still a couple of ways you can survive and thrive in the on-demand transportation economy.
Below are the 3 best ways to beat Uber at its own game!
Arrive Earlier than Uber
Though Uber has entered almost every populated continent across the globe, there are however many corners around the world where Uber is yet to arrive.
You can definitely grab this opportunity to establish your own Uber-like on-demand taxi app startup.
On the other hand, you don't like the idea of arriving earlier than Uber, you still have the opportunities to enter markets where Uber is banned.
For example, Uber is currently banned from Denmark, Hungary, Italy, and Australia's Northern territory. You can launch your build app based cab booking solution and enter one of these countries.
Offer Ride-Sharing Service
Ride-Sharing service is a kind of an entirely new concept that can consider offering to grab maximum attention from drivers as well as passengers.
Ride-Sharing service, in simple words, is all about sharing the travel cost with other passengers.
For instance, if a rider is booking a ride from A to B and another rider from the same location is booking a ride to travel from A to C, then both riders can share a taxi and the fare from A to B will be divided between the two riders.
As a result, both riders will save money on their rides and will have a chance to meet new people.
Read More: Top factors to consider while creating a ride-sharing app.
Make Uber's Weakness Your Biggest Advantage
Ever heard about surge pricing?
It's a concept that Uber introduced to charge an excessive amount of money during peak times.
In simple terms, when there aren't enough drivers on the road or when there are more riders than the available drivers, Uber increases its normal fare.
However, it's one of the main reasons why Uber is often criticized by its passengers. The majority of riders, for example, find Uber's surge pricing strategy an outrageous one, which has ultimately resulted in a massive churn of passengers.
What you, as an Uber's competitor, can do is serve your passengers with the same rates irrespective of peak times or high demand.
Gett, an Israel-based taxi booking app startup, applied the same strategy to maximize riders' attention towards their business.
In fact, Gett even launched an Anti Surge Pricing campaign called Surge Sucks to beat Uber.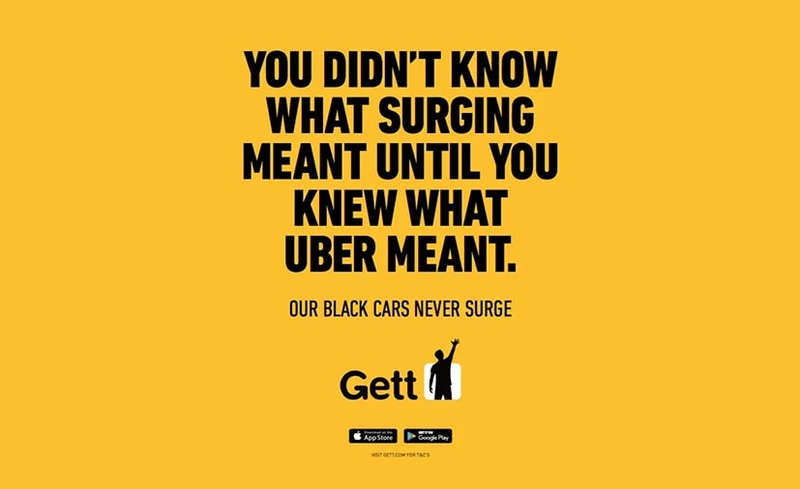 In addition to this, Gett also offered to pay $500 USD to Uber drivers to join Gett's driver network and $500 more once a driver completes his or her first 20 rides.
With all these strategies and its No-Surge Policy, Gett managed to become successful, despite heavy competition from Uber.
Conclusion
So there you have it!
These are the best 3 strategies you can use to compete with Uber and become successful just like Gett, Ola, Blablacar, and many other successful taxi app startups did.
The success stories of Ola, Gett, GrabTaxi, and others prove that it is indeed possible to successfully establish your own ride hailing startup and compete with Uber.
We hope that these successful ride hailing startup stories inspired you to take action. In case you need help or an expert's opinion, feel free to contact us for a free consultation.
We'd be more than happy to help out.