Taxi industry has come a long way in the past 10 years. The technological innovations that took place over these years have totally changed the face of taxi industry.
The advent of Uber was an event that triggered the transformation. Uber served as a case study for all the riders, drivers, and taxi company owners that a taxi business could also be run in this way. The concept of app-based taxi aggregator business was novel for all of us.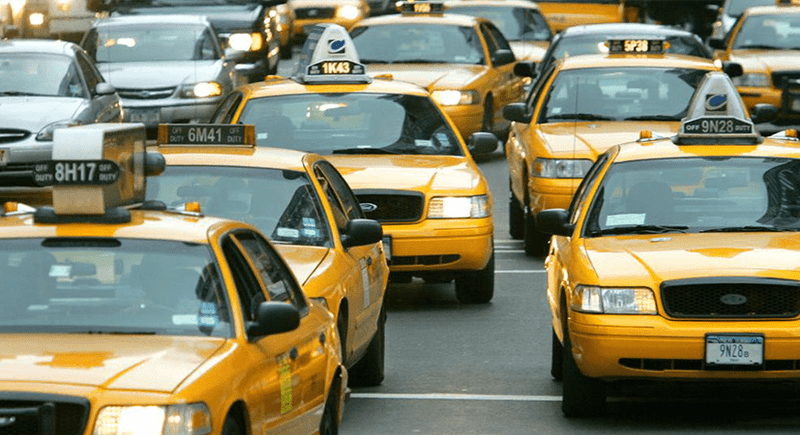 Once the idea was out in the market, entrepreneurs from all the corners of world jumped to take the first mover advantage. Lyft emerged as the first chief rival of Uber. Slowly other big players like Grab, Yandex, Didi Chuxing, Ola, and many others emerged and started ruling in their respective regions.
Since then taxi industry has seen rapid growth over the years. And the trend seems to continue in future also.
Market overview
The forecast for the years 2019-2024 says that the taxi market is expected to register a CAGR of 9.22%.
The online booking segment has captured a mammoth share of 40% of the taxi market in the year 2017. There are many reasons which has driven online booking segment towards this. Some of these reasons are ease of booking, reduced taxi fare, and many more.
With the increase in smartphone penetration in the countries like Vietnam, China, India, etc, the people have begun preferring ride-sharing services over the traditional taxi services. This trend has encouraged many companies to expand their business on the mobile application platforms. Not only that, it has also helped them to retain their respective market share.
Asia-pacific is the region that has taken a huge chunk of the market share which accounts for more than 70% of the global bike/motorcycle taxi c. Relatively lower taxi fares and increased traffic congestion as compared to that of other modes of transportation are the driving factors for the growth of bike/motorcycle taxi service in the Asia-Pacific market.
Key Market Trends
Increase in the Demand of Online Channel
As mentioned before, the massive smartphone penetration across the globe accompanied by the internet exposure has made users to quickly migrate from offline to online booking.
One must not assume that internet exposure and smartphone penetration are the only two reasons for this increased demand. Advanced features of taxi booking apps provides various information to the passengers such as driver contact, driver's location, estimated fare, vehicle details, and many more.
To take advantage of the increasing demand, many big players like Uber, Grab, Ola, and many more are offering ride-sharing options in which the co-passengers split their bills.
Read More: How local taxi cab unions can beat Uber?
The trend of ride-sharing is not only limited to the big players, even the local taxi services are adopting this strategy to gain some traction. For example
In the Mai Linh city of Vietnam, one of the major taxi companies is trying to provide ridesharing services in an attempt to overcome the challenge posed by high traffic congestion and population expansion. They are doing it by partnering up with the Kyyti Group.
Similarly, in 2019, a company called Ridealto started offering ride-sharing services to its customers at a subscription. Additionally, the company had its own fleet of drivers and SUVs.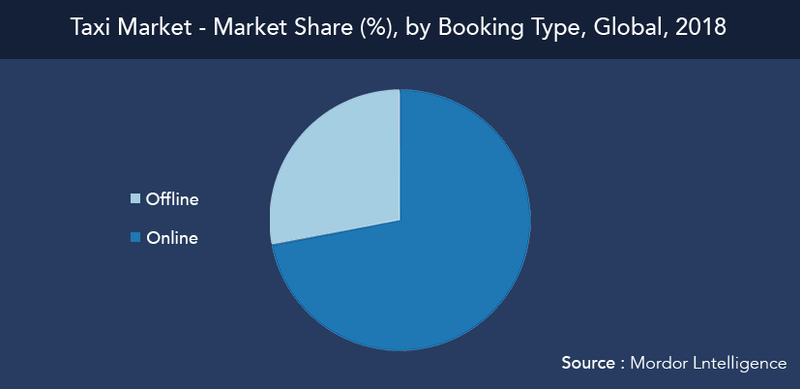 Asia-Pacific - Leading the Taxi Market
Asia-Pacific is a region where there has been a rapid increase in the demand for taxi services. This is due to increased demand of ride-sharing services in the countries like India, Vietnam, China, and Singapore.
This is the reason as to why big companies like Uber, Ola, Didi Chuxing, and many more are launching or expanding their existing services. For example. India's Ola and China's Didi Chuxing entered Australian market in the year 2018.
With the increase in the demand for taxi services in the Asia-Pacific region, the government norms and regulations regarding the taxi industry has also tightened up, especially in the countries like Vietnam and Australia. Let's see some instances which proves this.
In Vietnam, the Ministry of transform (MoT), implemented the pilot program Decision No. 24/QD-BGTVT in January 2016. This decision increased the number of cabs working under operators to approx. 78,000 for the year 2017. Later in 2018, the Vietnam's Department of Transportation made a decision to stop giving operators a license under a pilot program. This was because the app-based taxi services were causing unhealthy competition with the traditional or local cab services. Moreover, these services were also putting pressure on the local traffic infrastructure.
Read More: Vietnam's market offering tons of taxi business opportunities for new entrepreneurs.
The Australian government in the year 2018, announced that they would levy AUD 1 on the taxi services. These decisions impacted customers as the taxi fares hiked up by 7-12%.
In recent years, many innovative business models and technologies have been introduced in various cities across the globe. These involves online payment services, booking, and ride-sharing services.
These technological platform acts as an extension for the on-demand transport. Sharing economy serves as a perfect platform that makes it easy for the customers to engage and negotiate directly with the service providers. Not only that, customers are also provided with high-level information of price comparison in prior.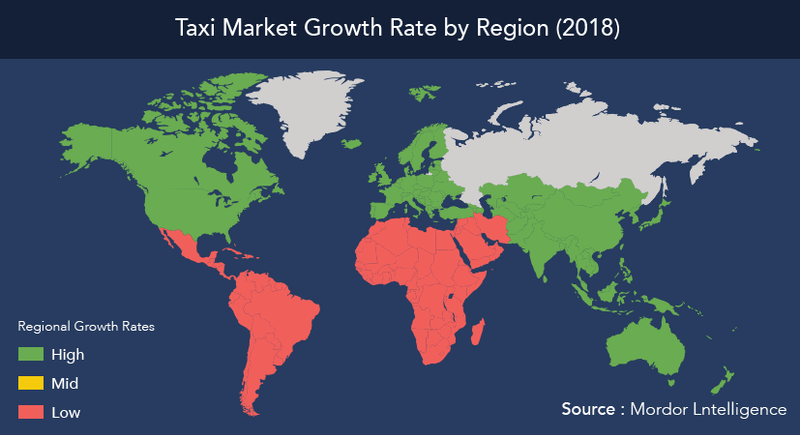 Key taxi trends for 2020 and beyond
1. Eco-friendly electric cars
Global warming is warning the globe again and again with the signs of upcoming catastrophe. Emissions from vehicles is a major contributor of our planet's carbon footprint. With fossil fuels about to run out and an imminent pressure to reduce the carbon footprint, electric cars can become the future of taxis.
Read More: What benefits SMEs can achieve by switching to electric vehicles.
The trend of electric car has just started but it is here to stay. Norway is the country that leads this trend with highest number of electric vehicles per capita in the entire world. Norway achieved this feat with the help of Norwegian government's efforts to incentivise electric vehicles since the 1980s.
Electric taxis seem to be the logical step given the increased demand of eco-friendly future. However, the issues of geographical spread of electric vehicle's charging point along with its availability might restrict electric cars to urban areas only.
Another disadvantage is the time required to fully charge the car. This factor doesn't go well with uncontrollable variables such as demand, maintenance, etc.
Electric car is on many countries' wishlist. That's why there's a political will to make it happen. Due to this you may see taxi company owners and taxi drivers benefiting from various incentives and schemes proposed by their respective governments.
For example, the EU has proposed a target of 40 percent car sales by the year 2040. What's interesting is that this trend is not only prevalent in Europe. In the US, electric cabs are in operation including that of Electric Cab North America, whose cabs are known for providing zero emission micro-transit services to heavily congested urban areas.
The trend of electric cars is really picking up and all the taxi companies must think seriously to gain the first mover advantage by including electric cars into their fleet.
2. Autonomous vehicles
Autonomous vehicles have become a reality with Copenhagen's Metro which is completely driverless.
This isn't the only project which is autonomous. Waymo, Google's self-driving car project which began a decade later is mighty close from becoming a reality.
Similarly, Nissan is all set to launch its own self-driving cab service in Japan by the year 2020.
Big names are joining in the race to come up with an autonomous car. However, big names like Uber and Tesla have to work on their driverless car strategy owing to their respective failures which includes a Uber's highly sensational fatal crash in Arizona and Tesla driverless car's second fatal accident in California.
The trend of autonomous vehicle is a huge one which most of the cab manufacturing as well cab aggregators companies are trying to cash in. However, there's a question mark when it comes to safety and legislation.
A report by Pew Research Centre in 2017 found out two out of three Americans think that self-driving cars will dominate in the next 50 years. However, fewer than half of them would choose to take a ride in them.
In addition to that, the events of Uber and Tesla fatalities, people's perception towards autonomous cars will go further down.
With such situation, it's important for the taxi companies to understand that autonomous cars inevitable, they'll become a normal transportation as soon as the safety and legislation issues are resolved. So, the key is to make it 100% secure and the legislation will follow.
3. The merger between traditional taxi companies and TNCs
Taxi companies have realized the importance of transportation network companies (TNCs) with the inception of mobility as a service (MaaS).
Toyota has already invested the mammoth amount of $1 billion into the taxi giant Grab to grasp the potential MaaS field in Asia.
The concept of MaaS is innovative and exciting and a leap towards redefining mobility. That's why even after several PR disasters, Uber is all set to become the Amazon of transportation with the help of bikes, scooters, cabs, trucks, cars, and autonomous vehicles that are publicly available in its fleet of 3rd party transportation.
Third party transportation, taxi apps, and ride sharing have become the new normal. This has resulted adversely to the traditional companies. If these traditional companies don't embrace this change then they will become irrelevant.
Conclusion
In this blog we saw how taxi industry is growing by leaps and bound. We also saw the impact of on-demand taxi services on this growth. We analysed the key taxi market trends in various countries and how it is shaping transportation there.
We also saw some future taxi trends that might become mainstream in the coming years. I hope this article helped you to understand the current and future scenario of taxi industry. For more such insightful articles keep reading this space.