The rise of the Uber was pivotal in modern times, especially for all the businesses. It's because it not only disrupted the taxi industry but also laid a platform in the form of an on-demand economy for other entrepreneurs to disrupt several industry verticals. Freight or trucking industry is also among those industry verticals which has undergone tremendous change due to the Uberization.
Today, Freight or truck industry in the US is worth approx. $800 billion. Trucks are the most preferred mode of transporting cargo as 84% of the total freight spending is done just on trucks.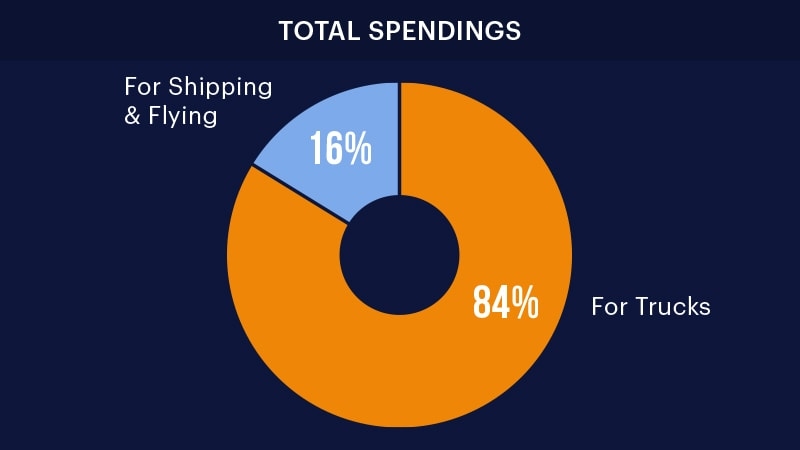 By the year 2027, the amount of cargo moved by the trucking industry will be 27%. ATA has also estimated that the total freight tonnage will increase by 35% between 2016 and 2027.
The above stats make one thing very clear that the trucking industry is booming. However, the real question arises is that how you can take the piece of this cake? Well, the answer is with an on-demand cargo delivery solution. In this blog, we'll discuss in detail how can you leverage an on-demand cargo delivery solution to boost your trucking and freight business.
But before that, we also need to acknowledge the challenges faced by the trucking industry. So, let's have a look at it.
Top challenges associated with the cargo delivery industry
Freight and cargo delivery business is tough. The number of operations that the carriers and owners have to perform is more than enough to overwhelm them. These operations include receiving new load orders, assigning it to suitable drivers, managing emergencies, ensuring deliveries on time, etc. The majority of traditional trucking business still employ phone calls to get new business. This results in slow operations and a lot of wastage of time.
Empty trucks
Underutilization of trucks and resources is one of the biggest challenge faced by the trucking businesses. Many times their truck moves with less amount of load and returns empty on the return. This causes much higher fuel consumption per unit load. Freight businesses can unlock new revenue opportunities if they figure out a way to fully load their trucks on their return trip. This way they can improve their overall resource utilization. However, achieving this feat is a difficult task in its own.
High broker and middleman commissions
High brokerage commissions is another challenge associated with the trucking industry. The business owners have to pay a massive amount of commission fees to broker and middleman for getting new business. This is because they are heavily dependent on these brokers for shipment request which results in them accepting all their demands and ultimately lowering their profit margins. These business owners can eliminate the need for these middlemen and brokers with the help of a digital marketplace in the trucking industry.
Security
Security is also a major concern as carriers often have no information about the precise location of their drivers and truck. Moreover, phone calls are prone to error and are time-consuming. This lack of tracking causes issues like delays in delivery, misuse of trucks, stolen shipment, and many more.
Customer experience
There's no doubt that today's age is the age of instant gratification. People are now used to lightning-fast deliveries whether it is grocery delivery, food delivery, parcel delivery, etc. Compared to food delivery and eCommerce delivery, the trucking industry has to do some catch up to reach that stage. The trucking industry is still plagued with incomplete orders, damaged items, delivery delays, and high shipment fees which heavily contributes to poor customer experience.
However, these challenges can be overcome with the help of an on-demand cargo delivery solution that can transform the entire trucking and logistics industry.
Read More: Expand your on-demand business with Yelowsoft's super app
Here comes the On-demand cargo delivery solution
An on-demand cargo delivery system is a one-stop solution that can put an end to all the challenges faced by the trucking industry. First, it eliminates all the middlemen and other intermediaries between the customers and the truck drivers by providing a platform for them to connect directly. This also means no more commissions and time-consuming documentation. An on-demand cargo delivery solution not only makes the process faster and easier but also reduces clients' expenses by a great extent.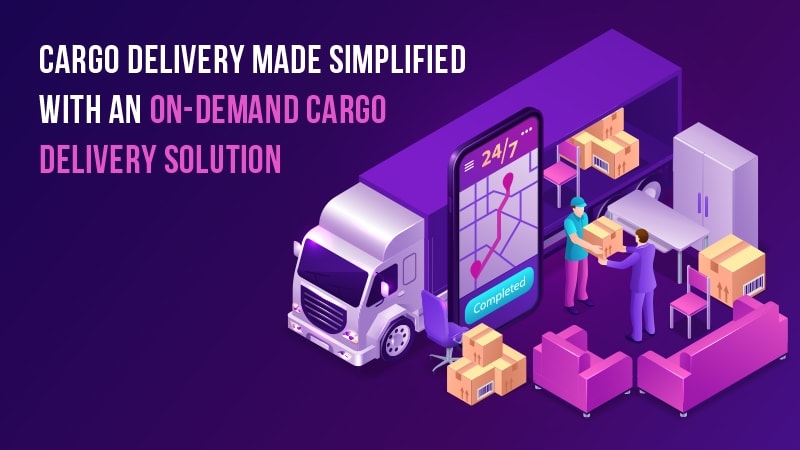 With faster communication channels and easy accessibility, truckers can now provide precise information a short period which means that the containers can be filled with new cargo thus solving the issue of the empty truck riding on the return trip.
These are just for the starters, an on-demand cargo delivery solution comes with numerous benefits for trucking business owners, drivers, and customers. We'll discuss that in detail later. First, let's have a look at how you can develop your own develop your own on-demand cargo delivery solution.
Must-have features for your on-demand cargo delivery software
To achieve some of the benefits mentioned above, you must have a robust on-demand delivery solution. So, here we will discuss the top features that you must include in your on-demand cargo delivery solution.
Integrate geolocation for real-time tracking
Geolocation is a very crucial feature in the cargo delivery app. It helps you to know the precise location of all your drivers. This feature also plays a crucial role in establishing trustworthy relationships with your customers as it helps you to offer faster and accurate delivery services. This feature proves to be handy in detecting and eliminating any loopholes. This feature ensures that none of your drivers escapes before completing their tasks. Moreover, you can also find out the time consumed during each delivery. This can help also help in reducing fuel consumption.
Chatbots for 24×7 support
A key to offering rich customer experience is to understand and resolve all their queries quickly. This can be achieved with a chatbot that can offer 24×7 support services to all your customers. This chatbot feature can answer any type of question for example, if someone wants to know if there will be any on-demand labour required or not.
You need to ensure that the in-app chatbots obtain the correct information and keep the customers engaged in the communication loop. With such a feature, you can offer top-notch online customer support. This will also eliminate any miscommunication along with giving a sense of security and satisfaction to your customers.
Payment gateway integration
All the successful on-demand cargo delivery businesses offer their customers with multiple modes of payments. You can do the same by integrating several payment gateways like PayPal, Braintree, Square, Stripe, etc. This will enable your customers to make payments via multiple modes such as cash, card, and wallet .
Once the user makes the payment, you can also provide them with an online payment receipt which will have all the booking information. This feature will make your business look more trustworthy and professional.
Read More: Why you need to integrate a digital wallet into your taxi-hailing app.
Reports and analytics
To progress, every business needs to identify its shortcomings so that they can eliminate them. Reports and analytics is one such feature which helps you in doing that. It provides you with all the crucial data that helps you take insight-driven business decisions.
This feature offers you data like the total number of deliveries made, cancelled, failed, and many more. It also breaks down expenditures like commissions, taxes, fuel expenses, and miscellaneous so you can analyze and minimize your expenses. With reports and analytics, you can minimize your shortcomings and enhance your strengths.
Benefits of on-demand cargo delivery solution
The benefits of an on-demand cargo delivery solution are immense. Moreover, it's a win-win for owners, drivers, and customers. Let's have a look at its benefits one by one.
For truck business owners
Real-time tracking with excellent control
This solution eliminates all the blind spots in the operations as the truck owners can track all their trucks and the drivers in the real-time. Moreover, they can set speed limits, create predefined routes, and monitor violations if any. Receiving such real-time data can help them to unlock massive optimization opportunities.
Read More: The opportunities for an on-demand business in the times of COVID-19
Enhanced efficiency & productivity
The on-demand cargo delivery solution ensures that there are no underutilized trucks. With this, you can assign drivers to the multiple shipping loads that have to be moved in the same direction. This will result in increased efficiency and productivity.
Scale your business rapidly
Offer a top-notch cargo delivery experience to your customers and establish a solid reputation in the market with a robust on-demand cargo delivery solution. This will help you in getting more business from the existing customers and adding new as well. Thus, you can scale your business quickly.
For drivers
Easy-to-access job information
A driver gets complete and accurate job information which includes pickup location, shipment destination, time of pickup, load weight, and other information pertaining to the job. This makes life easier for the driver as they are getting the entire information at one place.
Easy bill logging
The driver can get rid of time-consuming paperwork processes like getting delivery confirmation from customers, adding tolls, record trip length, gas refill bills, etc. All this information can be easily filled from the driver's app itself.
Payment and performance monitoring
Drivers can check their performance reports, job's history, and payment status from their driver app at any time.
For customers
Simplified booking
Customers can enjoy a simplified booking process where they can easily schedule a shipment booking by filling all the required info like pickup location, time, shipment destination, load weight, etc. They can also get instant fares or request a quote for their particular requirement.
Real-time shipment tracking
Customers can track their shipment in real-time. Moreover, they can also know when exactly there shipment or package would reach the destination.
Reviews and ratings
Customers can share their cargo delivery experience by giving ratings and reviews on the app. These ratings help other customers to make better decisions.
Conclusion
Freight and cargo delivery is a booming industry and you can earn a lot of profit by developing your own on-demand cargo delivery solution. But why develop one from scratch when you can a ready-made on-demand cargo delivery solution which is tested and proven? You can save a massive amount of money and time by getting a ready-made solution instead of building one from scratch.
Yelowsoft which is a leading on-demand delivery solution provider has developed a next-gen on-demand cargo delivery solution that can empower cargo delivery startups and enterprises to emerge as a leading cargo delivery behemoth.