Let me tell you something you have heard before and will probably hear again, albeit the sound might slowly begin to disperse if you actually consider taking action. It is an established fact that an online food delivery system is no longer in the category of hype.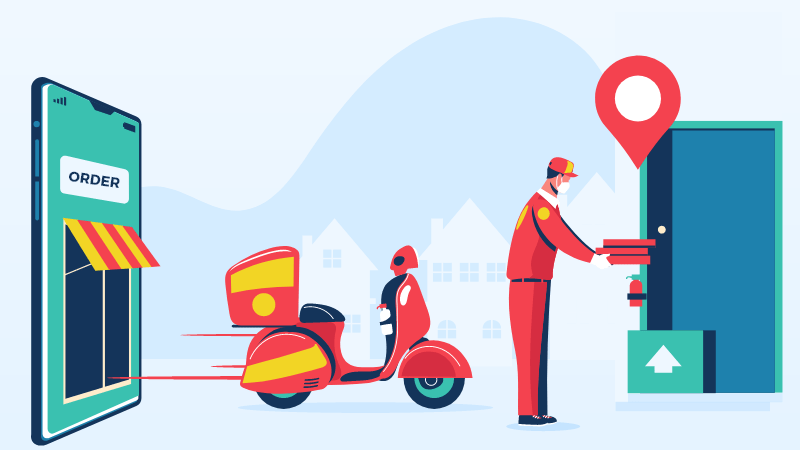 In reality, most of us, the residents of the Internet are known to Zomato and Uber Eats and are nothing less than a fan. These food delivery applications are bringing a real revolution for restaurants and food hubs.
Don't believe the words. Instead, let the number startle you.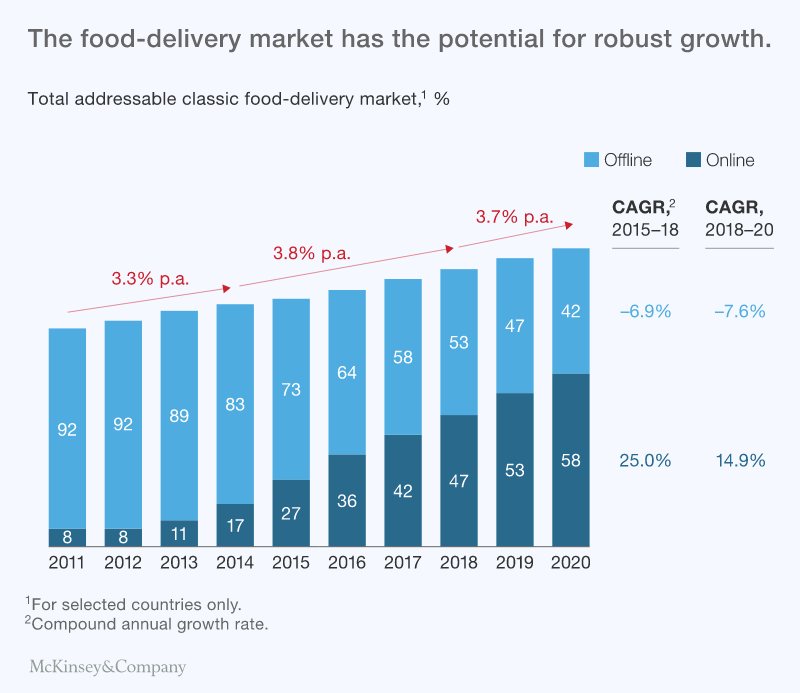 As per a study by Statista, the revenue of online food delivery is expected to inch near USD 302, 826m by the end of 2021.
According to the same study, the total number of users of online food delivery system are anticipated to cross 2,897 by 2025.
In 2020, Uber Eats generated revenue of USD 4.8 Bn, with an increase of 152% year-on-year, according to Business of Apps.
Taking a look at these numbers, the prominence of the online food ordering system can be understood.
Why Do You Need an On-demand Food Delivery Software?
Gone are the days, when restaurants had an extension telephone to receive food orders. Who wants the nostalgia of taking error-prone orders and getting the customer frustrated?
Alright. The telephone-based process of the food ordering system is not full of errors. However, it is not even devoid of it. Besides that, the food ordering system is not aligned with the food delivery system, which leaves a loop for errors.
In addition to this, manually tracking the availability of delivery boys and assigning orders can be another hassle and prove to be time-consuming.
Where is customer delight when the time taken to deliver orders extends?
To answer this question, let's take into consideration the importance of on-demand food delivery software.
End-to-end Operations:
An on-demand food delivery software offers an end-to-end sales channel for the restaurant. This implies that restaurateurs can leverage a food ordering platform and align it with the food delivery system to generate more profit as well as organize their restaurant in a better fashion under a single platform.
Save Excess Overhead Costs:
An online food delivery solution facilitates restaurateurs to save labour costs and restaurant space required to host customers. If an online food delivery system for restaurants is implemented in a proper manner, it can assist a restaurant in leapfrogging its competitors.
Passive Sales Channel:
One of the popular arguments against the use of an online food order delivery system is that it increases the costs on the restaurant's part through commissions as well as other sponsorship and featuring charges. However, it adds an additional sales channel to your restaurant, thereby increasing your revenue in the long run.
Tech-savvy Approach:
Users are being tech-savvy and expecting the same from their restaurants. A significant part of being a successful restaurateur is to have a forward-thinking approach and adapt to customers' evolving needs. An online food delivery system has been widespread, owing to its convenience to customers crunching time and finding it difficult to cook.
Reach to the Target Audience:
With an acute rise in the number of dual working households, millennials become target customers for restaurants. As demand for takeouts is on a meteoric increase, restaurants are readily connecting with third-party delivery services such as Uber Eats and Zomato.
Save your Restaurant from Legalities:
Since policies pertaining to third-party delivery services are changeable and may cause high commission rates, it is pertinent to adopt an in-house online food delivery system for your restaurant.
Know all benefits of an online platform for your food delivery business!
Below are some of the important reasons to adopt a food delivery system:
Consumers Prefer Online Food Delivery from Restaurants
Online food delivery services such as DoorDash, Uber Eats, and Grubhub have drastically revolutionized the way customers interact with restaurants. Instead of waiting in long queues and travelling to restaurants in traffic-gusted streets, individuals prefer the convenience of staying at home and ordering their food.
Customers are getting accustomed to this new habit of online food delivery. As a result, if you are not keeping up with the needs of customers, you are falling short in your attempts.
Spread your Restaurant's Word to Broader Set of Audience
Since customers expect the convenience of ordering food online or having their food delivered at their doorstep, restaurants can spread their word to more individuals.
With a brick and mortar food institution, you can generally attract local individuals and occasionally from other areas. However, with a dedicated online food delivery channel, you can target new customers and offer your restaurant a chance to hatch new opportunities.
Online Food Delivery System Offers Increased Sales Opportunities:
When you get increased customer opportunities, it portends increased revenue for your business. The online delivery system can be your chance to distinguish your business from your competitors and attract the cohort that supports the idea of food delivery.
As a result, you can gain more customers from your online ordering capabilities. Initially, you can launch your restaurant business with free delivery and later on, with the rising popularity, you can ask for the service charge.
Read More: Business opportunities during Covid-19.
Puts your Restaurant in the Best Light:
Marketing is a game of distinguishing your offering from your competitors. And, guess what? An online food delivery system enables you to do so. You can make social media posts proffering promotions on doorstep delivery instead of dine-in and takeaways. With discounts and promotions, you might end up working with more customers than usual.
Brings your Restaurant more Accurate Orders:
Do you remember the times when over a phone call, you received an incomplete or a wrong order? As a result, you might end up having a disappointed customer.
If this keeps on happening at regular intervals, you may even lose some of your loyal customers. In such a situation, putting in place a food ordering platform in your business can do the requisite and increase the accuracy of your orders placed. As a result, you can have happy customers and no-loss kitchen operations.
Know your Customers Well and Increase Customer Delight:
When you opt for the best online delivery system for restaurants, you receive customer data in your system. Therefore, you can track the most loyal customers and their experience with your restaurant.
Alongside, you can find out what motivation is keeping your customers close to your restaurant and staying consistent with your efforts. Also, you can track the common factors keeping your customers happy and work on customer delight.
Provide Personalized Offers as well as Discounts:
With customer data at your disposal, you can know what is working for your restaurant and what is not working. You can track individuals having a pleasant experience from your restaurant and do more of it.
In addition to this, Zomato and Uber Eats track repeat customers, and if they have not used the online delivery platform for food, they roll out notifications with personalized deals to get the attention of their customers.
Which Features are Required for Your Food Delivery System?
There are many things to consider while developing an on-demand food delivery app. To enable easy and quick management of the day-to-day activities of your business, you need an umbrella of features. Let's take a look at the best features for an on-demand food delivery system:
Key Features of a Food Delivery System for Delivery Men:
Easy Order Assignment:
As soon as a user puts forth his order, the app tracks the delivery men in the location nearby the restaurant and sends them the request. As a result, the delivery men can easily accept the request and get the order assigned to them.
Multi-order Delivery:
In order to save on the cost of fuel and further increase the efficiency of deliveries, food ordering and delivery systems can have a multi-order delivery feature. With this feature, delivery men can accept orders around the same area.
In-app Navigation:
Delivery men can use the map integrated into their application to view the routes of deliveries.
Easy-to-use Interface:
The food and ordering system features an easy-to-use interface for delivery men, admin, and users.
In-app Earning:
The food and ordering system offers an in-app earning feature for delivery men to check their statistics and earnings from the app.
Want to build an on-demand food delivery app? Here is what you need to know!
Top Features for Admin:
Efficient Management of Chains & Restaurant:
Admins can add their number of chains or restaurants and enjoy the convenience of a one-tap view and make actionable decisions.
Centralized Admin Panel:
Admins can use the online food delivery app with the centralized admin panel to take a look at the operations and inventory.
Monitoring of Orders:
Admins can track the number of orders and delivery men from the dashboard and identify the loyal customers to cross-sell and up-sell.
Insightful Reports and Analytics:
With the use of the online food and delivery application, admins can view reports on a daily, weekly, quarterly, monthly, and yearly basis and get insights about the next steps.
Top Features for Users:
Track Live Orders:
Users can leverage the online food and delivery application to track live orders and find the total time for the order to arrive at their doorstep.
Multiple Payment Modes:
Users can use the food and delivery app and choose their preferred payment modes to place an order.
Smart Search:
Users can leverage the smart search feature from the food and delivery system to carry out the search and find out the best deals, discounts, speedy delivery, and chains of restaurants.
SaaS-based vs Custom Food Delivery System: What Should be your Choice?
An efficient delivery system in a restaurant ensures quick delivery of food to the right customer in an efficient manner. But the most obvious question arising in the mind of most restaurateurs is which food delivery system to choose-SaaS-based or custom?
Well, the reasons we have covered, but to dive deeper into the best development approach for an online food delivery system for your restaurant, you need to know the underlying pointers involved:
| Parameters | SaaS-based Food Delivery Solution | Custom-based Food Delivery Solution |
| --- | --- | --- |
| Companion Applications. | Supports companion applications. | Possible to develop companion applications for admins, vendors, delivery men, and users. |
| Use of Latest Technologies | Since the SaaS-based food ordering and delivery system is cloud-based, it only requires minor configurations. | The custom food ordering and delivery system is developed based on the tech stack suggested by product teams. |
| Budget | Since there is no ownership of the main code, restaurant businesses can integrate it with a low initial starting cost. However, the cost piles up when the subscription-based model is used in the long run, thereby making it costly in the future. | The initial cost of the development of a food ordering and delivery system is high, as resources and IT infrastructure required to be assembled needs to be capitalized. After that, the custom-based food delivery software needs only a little budget for maintenance and modernization. |
| Time to Market: | Fast | Takes more time |
| Reporting System | Offers a limited number of reports based on the subscription model of the restaurant. | A custom food delivery system enables businesses to access reporting through the use of comprehensive third-party APIs. |
| Brand Customization | Possible | Possible |
What are the Top Strategies to Boost your Restaurant Business?
The success of a food delivery system hinges on multiple aspects. In today's time, users not only look at the food taste and quality but also the overall experience of ordering and getting the food delivered.
As a result, it becomes important to take a look at the key processes that are interconnected with the restaurant businesses. Below are some of the key strategies and top processes to look for to achieve success for restaurateurs:
Order-taking Management:
It is a known fact that the pen and paper mode of placing order is prone to a lot of confusion and errors. In addition to this, the order cycle is likely going through numerous people, right from the receptionist to waiters and finally to the chef. In the process and human intervention, errors might only add up.
That is where a centralized food ordering system can be of great help. The servers can display the most recent order food items along with the preferred food items from the menu.
It also facilitates cross-selling and up-selling instances. Since a centralized food ordering restaurant management system means that all the operators in the restaurant are on the same page.
Integration with the Online Food Aggregator:
You can only have a phone and order-based system for doorstep delivery, as discussed, it might be prone to errors. On the other hand, with delivery men for your restaurant, you can achieve it.
However, time and again, without the proper address, they might end up getting confused between lanes and streets, which might delay the order.
When you integrate an online food aggregator with your restaurant business, your restaurant receives the food orders directly into its system.
As a result, your staff knows what food is to deliver to what customer. In addition to this, the map integration enables saving up on the route fuel cost and time.
Real-time information about the Food:
In today's time, customers need to know the status of their food at every level, right from the order accepting stage to the processing and arriving stage.
When the chef prepares the food, the online food delivery system displays that the food is being prepared.
At this point in time or even before the order is being placed, customers can share additional information or demands about their orders or taste preferences, which directly goes to the chef.
The food orders received by the restaurants are stored in the POS system. After this, it enables the ease of viewing orders directly on the screens of the kitchen.
Hence, there is no need to write sticky notes all over the kitchen platform. After the food is being prepared, the next team handles the packaging stuff.
Assigning the Order to the Delivery Staff:
As soon as a particular food order is placed by an individual and accepted by your restaurant, on another level, a delivery staff is assigned to the order.
While the order is processed and packaged by your restaurant, the delivery person reaches the point from which he needs to pick up the order. On the other side, the individual who has placed the order is able to view the movement of the delivery partner.
Once the delivery person reaches the restaurant, the packaging staff, as well as the customer, receives a notification about his arrival. The parcel is then handed over to the delivery person, and the real-time notification is sent to the customer along with the delivery partner's contact details.
Route Optimization System:
While the driver is on his way to deliver the order placed by the customer, he is able to retrieve the delivery address and contact details of the customer. In case of any doubt regarding the address or the delivery, each of these stakeholders can contact the other person and get the required information.
The route optimization system is integrated into the delivery partner's mobile application. It enables the delivery person to identify the best possible route to the delivery address. The system not only facilitates the saving of time but also of fuel.
Customer Support System:
No matter how sophisticated and advanced an online restaurant system you integrate with your restaurant operations. It is incomplete and less capable without proper customer support.
In reality, customer support provides the required confidence among customers when it comes to placing orders. It makes them feel like they are being heard and their issues are being taken into consideration.
It is an inclusive and integral part of the online food delivery software. At any point in the lifecycle of food delivery, if a customer faces any kind of issue, the report can be sent to the support team via a customer support system.
Whether your restaurant business is small or big, a data-driven kitchen display system can keep you off from a busy day and help you easily move orders forward, prioritize important orders, and also reroute orders.
With online food delivery system in your restaurant, you can win your competitive battles on many fronts. However, the key is to assess your kitchen needs and get yourself a customized yet the best online food delivery system for your restaurant.
Run a successful online food delivery business with YelowSoft's tech solution!