Medicines are one of those necessary products that everyone needs at some point. However, customers occasionally have to deal with the inconvenience of standing in lines, not finding the essential medicine in the shop, or stepping out to buy medicines during illness.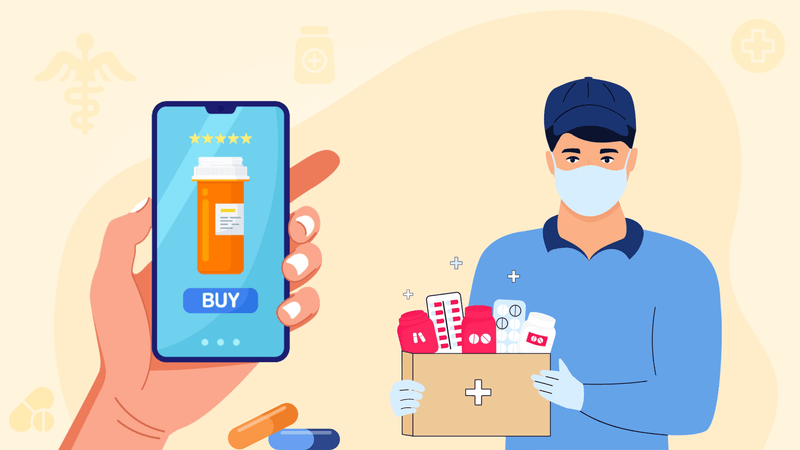 The solution to such issues lies in getting on-demand medicine delivery app development. The pharmacy sector is experimenting with new ways to reach out to clients, creating a feature-rich drug delivery smartphone app. Starting with an on-demand medicine delivery app development for your pharmacy store can help you scale up your business amidst the ongoing pandemic.
Develop a medicine delivery app for your pharmacy store that can help you distribute medicines smoothly and effortlessly. The global spread of the COVID-19 has increased the demand for home delivery of pharmaceuticals.
The medicine delivery business was expected to be worth $1,530,5 billion by the end of 2020, which it duly surpassed. By 2025, the market can expect to increase at a CAGR of 7.1 percent, reaching $2,015.3 billion.
The investment made in the digital health market in 2021.

Between Q1 and Q3 2021, $97.1 billion was invested in healthcare comprising a whooping 22% of all money raised during this period.

541 agreements worth $21.3 billion in digital health enterprises were sealed. The average deal size was $39.4 million.

In the third quarter of 2021, 169 digital health agreements were concluded, reaching $6.7 billion in investment.

The most money was spent on on-demand healthcare, R&D acceleration software, and illness treatment software.
These on-demand delivery solutions for pharmacies or on-demand medicine delivery apps development are a game-changer in the field of medicine since they allow users to get their medications delivered to their homes. When several drugs are available for certain ailments, one can choose the one that best fits their needs and purchase it. Secure payments may be made immediately, and the consumer does not need to carry cash with them at all times.
How does the medicine delivery application work?
Your consumers can upload prescriptions online and receive their healthcare supplies to their homes. Because it's an online pharmacy business, that's why it's subject to additional rules. You'll want to make sure your app protects information regarding your medication orders. Many firms have a lot of expertise with HIPAA and HL7-compliant software.
Workflow of on-demand pharmacy delivery app development
The on-demand medicine delivery app development feature simplifies delivering pharmacy supplies and medicines to your doorway. Take a quick look at how it works.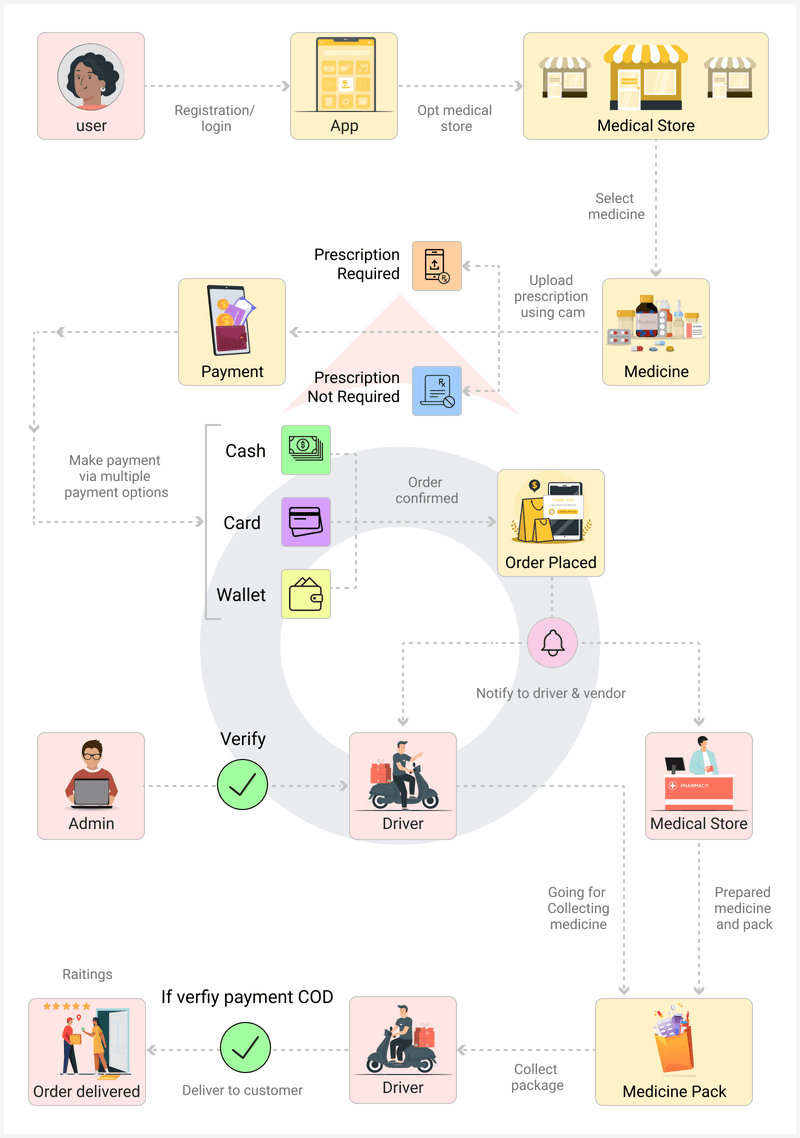 Uploading the prescription
After making an account on the pharmacy delivery app, users must provide a scanned copy of their prescriptions to search for drugs. The in-app camera allowusers to take a picture of their prescription and upload it immediately to the app.
Search for medicines
Customers may use several criteria to find medications and medical stores, such as medicine, location, proximity and so on. If any drug from the prescription is not available after uploading it, users can search for it in the app's numerous categories and settings.
Adding medicine to cart
After putting all of the medications they need in the cart, users must move to the following phase. To examine the price data and amount of their order, they must first add all specified drugs to the basket.
Modes of payment
This feature allows users to make payments using various methods, including cash, credit cards, and mobile wallets. Users of on-demand drug delivery apps can pay for their orders online or choose COD (cash-on-delivery).
Order tracking
Real-time tracking is available for users' pharmacy delivery orders. They can also look at the delivery agent's predicted arrival time.
An intuitive guide to on-demand medicine delivery app development
There are plenty of steps involved in creating a drug delivery application. You must come out with your unique selling proposition, analyze your competition, choose a reputable on-demand delivery software supplier, and launch your app in the market.
Let's take a thorough look at how each drugstore delivery app has evolved.
Analyze the market
A detailed market study is the foundation of every successful app development. This phase consists of multiple sub-steps. You must estimate the market size, learn about the viability of building apps for drug distribution in a certain location, and identify possible problems and competitors.
Choose the right business model and monetization strategy
After you've completed your market research on medicine delivery app development, it's time to decide on the ideal business plan for your app. Return to the section where the various business models and monetization tactics are discussed. Determine features your application will require to suit the model's expectations.
Look out for reliable mobile app development companies
It's just as crucial to choose the greatest software vendor as it is to establish a compelling USP. You may outsource application development in a variety of ways. Choosing the right delivery app development partner has various advantages.
Many of them are multinational corporations situated in the United States, Europe, South America, UK, and India. Only a few companies can match their world-class quality that guarantees cost-effectiveness.
Choose the functioning of an online medicine delivery application
The capability of your application to distribute drugs from your pharmacy will depend on the business model and monetization approach you choose. You may begin creating your app with the initial version, with minimal features and come up with an MVP.
Choose carefully so you don't end up with many features that your consumers don't desire. After successfully verifying the application idea and subsequent development phases, additional functionality can be added to the program.
Test & launch
A testing phase should be included in the construction of a drug delivery application, in which engineers examine every aspect of the app, from UX and UI to code, interfaces, and more. The tester's main purpose is to guarantee that the application performs smoothly under any load.
Post-launch support
When it comes to medicine delivery app development, the job doesn't end once they've been released. After your app has been successfully removed, you should start thinking about the next update and how you can improve the user experience.
Additionally, collaborating with a recognized pharmacy chain and agreeing to advertise them in your app can boost your app's reputation among clients of respectable pharmacies.
Types of On-Demand Medicine Delivery Business Models
When you think of creating an app for medicine delivery, it is wise to consider the entities involved in the same. There are multiple vendors, suppliers, and delivery partners that contribute to on-demand medicine delivery app business. Let's check those out.
On-demand pharmacy delivery app development for a single store
The first is an operational framework in which clients submit their prescriptions to online retailers and place their orders. The online vendors then verify product availability before sending the drugs to the individual who requested them. The user then makes an online payment for the medications.
Example: The capsule is a New York-based online medicine delivery application. It is the greatest example of a growing company that guarantees its consumers same-day free prescription delivery.
The firm was started in 2016 after its owner Eric Kinariwala had a bad experience waiting in line for sinus infection treatment at a local drugstore.
Aggregator on-demand medicine delivery app development
The second approach does not need the online pharmacy to carry its medications; instead, it forms a relationship with a local drugstore. When a user puts an order, the e-pharmacy searches for the nearby chemist shop, an app partner. You must develop a medicine delivery app for your pharmacy store.
They route product demand to these local pharmacists, who then hand-deliver the medications to the customers. Before forming a partnership for this type of business model, both sides, e-pharmacy and chemist shops, must sign the terms and agreements.
Example: Netmeds is an Indian online drug delivery service that claims to have served over 3 million consumers around the country. Without a doubt, the app provides a flawless experience for purchasing prescriptions online, and its outstanding features, such as easy sign-up, push alerts, and simple navigation, make the app even more appealing to its users.
Direct to customer on-demand pharmacy delivery app development
In the third and final approach, the applications strive to avoid using any intermediaries in the delivery or supply of drugs. By directly contacting their clients, they may get greater and stronger control over their business.
Example: RiteAid Pharmacy is a Fortune 500 firm with one of the top pharmacy delivery apps in the United States. It operates plenty of drugstores in the United States where people may get their medications with a single touch.
Tech stack for custom medicine delivery app development
It is critical to identify the correct technological stack for drug delivery app development as part of the development process, depending on the recognized features and capabilities.
Before that, you will have to consider;
Cross or native platform app.
Data security and compliance.
Cloud storage capability.
Budget and time to market MVP.
A well-chosen technological stack ensures the smoothness of the app development process. Some development teams use the following technical stack;
Mobile Programming Languages
iOS:React Native
Android: React Native
Web Frameworks
Angular
Cloud Server Platforms
AWS
Data base
MySQL
MemSQL
Elasticsearch
MongoDB
API Payment Gateways
Stripe
PayU
PayPal
Navigation
Google Maps
Google Places
Google Directions
Analytics Tools
Google Analytics
Cost of on-demand medicine delivery app development
The cost of mobile app development varies depending on multiple factors. A custom app will cost you more than the medicine delivery software. The following factors affect the cost of medicine delivery mobile apps.
Development platform
You may design the e-pharmacy app on whatever platform you like. This can be an iOS, Android, Windows, or cross-platform hybrid mobile app.
Development timeline
Development timeline depends on the technology and features you look to incorporate within the mobile app.
Features
The features and functionalities you want in the app also impact the development cost. The more features an on-demand medicine delivery has, the costlier it will be.
Third-party integration
Custom features necessitate the integration of multiple 3rd party platform APIs adds to the cost.
App Partner
The app delivery company will charge you a premium service that includes 24X7 customer assistance right from app development to the deployment. And this service will add up the cost as well.
Estimation of the cost
An MVP (Minimum Viable Product) will cost $16,000 to $30,000 if you consider only the basic features as a part of the package.
But, if you want to compete with big players and add unique features to your pharmacy delivery app then cost may shoot up. In that case, app development costs might cost anything between $100,000 to $200,000 that includes a vast range of third-party integrations and multiple features. This type of app can take your company to the next level.
But, if you are looking for a rather cost-effective alternative to on-demand medicine app development then opt for a ready-made solution that works as SaaS. More in it further.
Ready-made medicine delivery app solutions
SaaS (Software as a Service) is a cloud-based program licensing model in which the user receives a subscription-based, centrally hosted software. It is one type of cloud computing that consumers often access through a web browser.
The worldwide software as a service (SaaS) market was worth $134.44 billion in 2018 and is predicted to reach $220.21 billion by 2022, growing at a CAGR of 13.1%.
It's become a popular delivery approach for enterprises to select on-demand delivery apps. CRM, accounting, payroll processing, management information, enterprise resource planning, invoicing, and human resource management are just a few of the roles it does for other firms. Now, you can get similar SaaS for medicine delivery as well. Let us know more about it.
Cost of the SaaS-Based On-Demand Pharmacy Delivery App Development
Finance and capital are critical components of any organization, particularly those that demand growth. On-demand enterprises and startups are increasingly using technology to provide smart solutions. Compared to in-house or clone-based solutions, the cost of single and multi-tenant SaaS is pocket friendly.
The approximate cost of a medicine delivery app development ranges from $5000 to $10,000, depending on your business development model, toapp type, functionality, region, and other considerations. The fee will change if you use both the iOS and Android platforms. Here are some of the advantages of opting for a medicine delivery app solution.
Costs way lesser than the custom app development.

You can use your own branding elements like colour, logos, design before launching it.

You get a proven model with the app which needs little to no changes moving ahead.

Easy to maintain the application as you get the direct app and not the source code.

No need for any in-house technical resources or outsourcing the app update work as the same can be done by the solution provider.
Why must you choose a SaaS-based medicine delivery app rather than choosing custom app development?
Full customization: The on-demand medicine delivery solution can be tailored to your designing requirements.
High-end security: We take precautions to ensure the safety of your online panel and mobile apps. We stick to the same security standards as our well-known app development services.
Solid analytics: With the one click of your mouse, you can track your KPIs and produce reports. It aids you in gaining a better understanding of your company.
Multi-lingual: You may make your apps available in various languages to appeal to a wider audience.
Launch instantly: Our on-demand delivery solution will be up and ready to launch in a few weeks. Unique alterations would need more time.
Cost-effective: Rather than investing in custom app development, a conventional pharmacy delivery app solution saves a significant amount of money. You'll need to employ developers or go through the QA process, which will increase the cost.
Read More: SaaS vs Custom Based Solutions – The Pros and Cons
Monetizing the medicine pharmacy delivery app
The primary aim for developing a prescription delivery app is to gain a competitive advantage by reaching a larger audience and increasing sales. But, there are ways that you can follow to monetize pharmacy delivery applications and make the most out of your idea.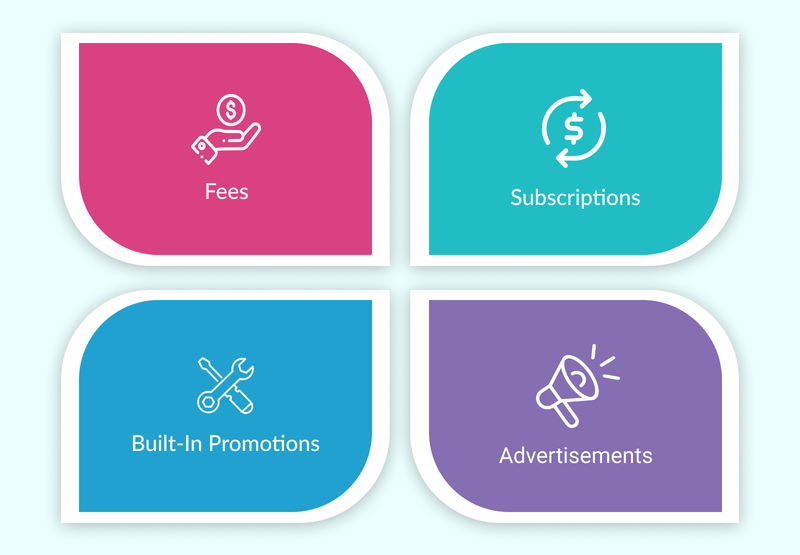 Let us check out each of these ways to leverage prescription delivery app for making money.
Fees: If you enable third-party merchants to sell items on your platform, you can profit by charging a charge per product sold or collecting revenue.
Advertisement: Another popular method for turning an online pharmacy delivery app into a lucrative cash stream is to include advertisements within your program. You can market drugs, other pharmacies, or third-party medical merchants' items.
Subscription: A monetization approach where you subscribe customers for a fixed time and on fixed subscription charges. In turn, provide them with benefits like discounts on purchase, free and fast delivery, etc.
Built-in promotion feature: This technique is appropriate for drug delivery applications operating as third-party vendor marketplaces. You may allow them to market their businesses within your app and pay them for placing their businesses in the recommended area, putting it on top in search results, and so on.
Depending on the company strategy, one or a blend of monetization tactics might be used. You must decide which ones you will use before developing a pharmacy delivery app as making dramatic modifications amid the development process might get trickier and expensive.
Advantages of on-demand pharmacy delivery app development for pharmacists
Pharmacy delivery applications provide value to both — users and medicine providers. Let's check out the benefits of a medicine delivery app for pharmacists and users alike.
Advantages for pharmacists
Medicine delivery app development is the best method for increasing medicine sales by providing easy opportunities to sell medicines.

For these applications, the pharmacists don't have to maintain the stock record every time they fulfill any order since they allow them to update stock to pharmacists with pre-order placements.

The applications help the pharmacist to reach customers beyond their reach as the application can break geographical barriers as they don't need to travel a longer distance to get medicines.

A feature of the application can analyze the monthly needs of regular customers and remaining sellers to keep those medicines in stock and provide them easily.

The application also helps increase the efficiency of the delivery process and provides better, timely customer service.

To attract more customers, you can give better discounts and promotions on the total cost. The application provides ways to introduce a bonus system for your loyal customers.
Advantages for users
Users leveraging these applications save both time and effort as they do not need to go through the hassle of standing in line for hours for the order and payments. Online pharmacy app development solutions help users order all those medicines while sitting at home.

Users can get many cashbacks and rewards while ordering from these on-demand medicine apps, which is not possible if buying from an offline medical store.

These applications are not the only cable for delivering medicines to their customers. They can also give medical assistance in need like doctor on call, get a digital prescription, etc.

Local pharmacy stores lack the payment options as the mobile app provides various payment options like UPI, Creditor debit cards, internet banking and much more, along with COD (Cash on Delivery).
Bottomline
Medical delivery applications are extremely beneficial to the healthcare business. It becomes easy for users to obtain health advice at reasonable pricing while sitting at their own houses.
When people need medical help, they don't want to stand in huge lines or get delayed in traffic.
Additionally, an administrator will find it simpler to communicate with patients and keep track of all of the medicines they administer. As a result, the on-demand delivery software for pharmacies is beneficial to both patients and administrators.
The online drug delivery smartphone application provides information to its users about nearby diagnostic laboratories and pharmacies. The app directly links users with stores or laboratories and offers competitive rates to increase their sales.
It's a significant reduction of the pain for the patients and users. It also stores the user's medical information. The team has years of expertise empowering organizations across industries to create amazing web and mobile applications.
FAQs
Yes, we support several currencies and languages. We also provide a variety of additional payment channels, including Braintree, Stripe, PayPal, and Authorize.net.
Over $21 billion was invested globally in digital health companies in 2021, setting a new high. Many collaborations centered on medicine distribution were also formed. This leads us to conclude that the sector is rapidly expanding and profitable.
Through the on-demand delivery app idea, you may link all of your pharmacy stores online via a mobile app or the web and have your medication delivered to your clients' homes, doctors' offices, or any other location.
It might be pharmacy staff (if you're creating a delivery app as a service rather than a delivery business with an app), app owner-drivers (if you're a fleet owner looking to distribute medicine), or hired drivers/runners who sign up for the app as Uber drivers do.