We are living in a digital age where we can have almost anything by just making a few taps on our phone. On-demand delivery services have certainly increased our appetite for instant gratification even for the things which are not needed on an instant basis. But what about the things which are sometimes needed on an instant basis? Shouldn't they be available at our fingertips?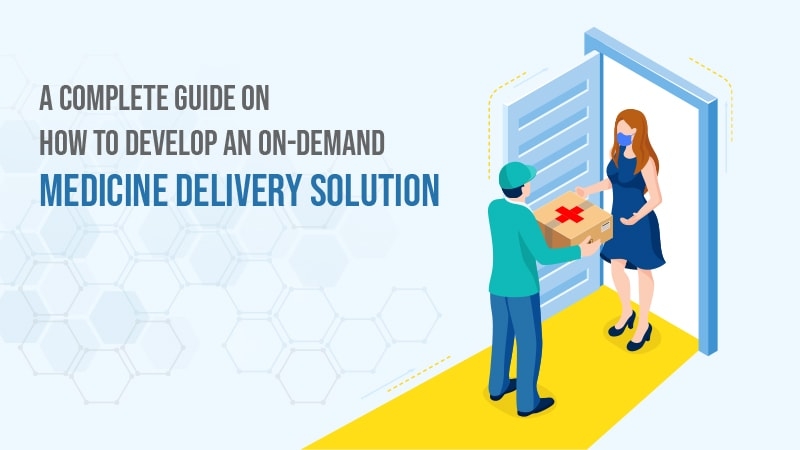 We all can agree that medicines are one of the most important things that all of us require at some point in time. Especially, a patient suffering from a serious condition needs it on an emergency basis. However, due to increased demands we have to face a lot of hassles for buying medicines.
For an instance, we have to wait in a never-ending queue at the pharmacy only to find out that the required drug is not available.
Over the years, on-demand medicine delivery apps have emerged as the perfect solution to overcome all the above-mentioned hassles. With these apps in place, pharmacies can enable their customers to buy any medicine from anywhere and at any time. The pharmacy industry is continuously leveraging the on-demand medicine delivery solutions to offer their customers with a rich medicine buying experience.
Medicine delivery apps: The need of the hour in times of COVID-19
The COVID-19 pandemic and its aftermath have made on-demand medicine delivery solutions more important than ever before. They have emerged as the biggest support systems to the online medicine delivery systems. It's because the COVID-19 pandemic resulted in lockdown in several countries where people were unable to go out of their house to buy medicine for themselves or their loved ones.
Not only this, but the pandemic also caused a sharp decline in the availability of the medicines & drugs as the people started stocking up medicines and hoarding pharmacies for sanitizers and drugs. In such a scenario, people started moving towards using on-demand medicine delivery applications where they can easily check the availability of the medicine and order it without leaving their houses.
On-demand medicine delivery applications empowered pandemic struck customers to order medicines at their homes with the safety of contactless delivery. This convenience and speed of buying medicines at the times when the whole world was struggling due to an unknown disease quickly gained popularity as more and more people started using online medicine apps.
Market size and stats for on-demand pharmacy app development
If you're looking to develop an on-demand medicine delivery software, then right now is the best. The e-pharmacy market had its own issues in the past, but the COVID-19 pandemic has caused a huge surge in this industry.
According to the statistics, the healthcare and fitness industry are one of the top business industries to accelerate the development of mobile apps and digital devices. Not only this, but the mobile healthcare market globally is estimated to reach around $90.49 billion by the year 2020 at a CAGR of 33.7 per cent. You'll be shocked to know that this number was only $21.17 billion in 2018.
As per Statista, the projected growth for mHealth applications is estimated to grow at around USD $332.7 billion by the year 2025. The below graph clearly shows how the market size for mHealth applications is increasing each year.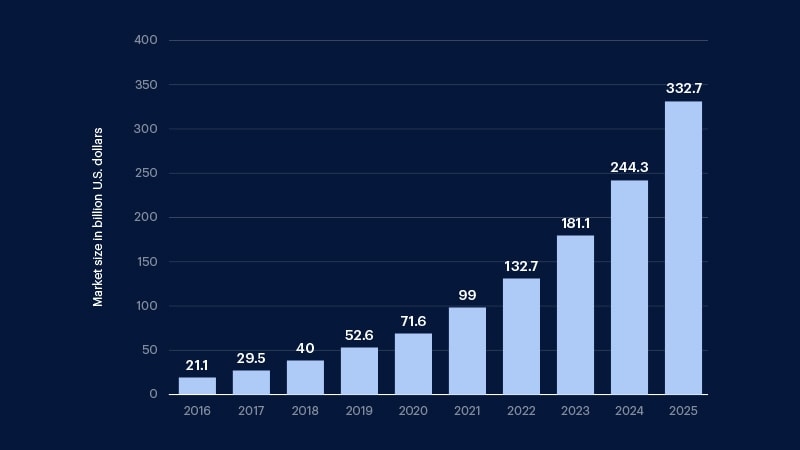 This stat is the testimony to the fact that that digital health industry in on an all-time rise and that's the reason why it is attracting so many investors from other industry verticals.
Let's have a look at few more stats which proves the same:
As per stats, there are more than 325,000 health-related mobile applications present on the various app marketplaces.

Around 60% of the total mobile phone users have downloaded a mHealth app to their devices.

mHealth apps are also responsible for increasing the productivity of healthcare workers and saving more than $200 billion on remote patient monitoring.
If you're still not satisfied with these stats then what if I told you that the on-demand pharmacy delivery apps Netmeds and NowRx have raised $ 35 million and $ 7 million respectively.
There are many other reports which suggest this growth of mHealth apps. According to Zion market research, the market for e-pharmacy was of approx. USD 42.32 million in the year 2018 which is all set to increase to USD 107.53 billion by the end of 2025.
Not only this, as per another Zion report, the mHealth apps are all set to reach USD 111.1 billion by the year 2025. It's important to note that earlier the market was valued at USD 8 billion in the year 2018.
Let's have a look at the online pharmacy global market through the below graph.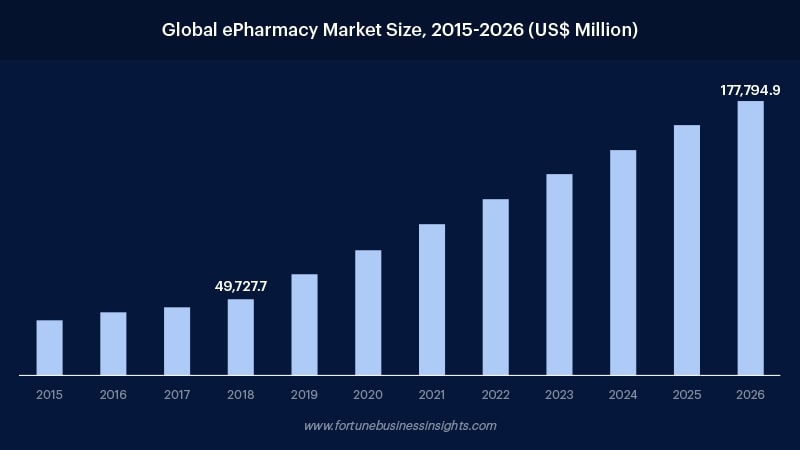 The below image shows the pharmaceutical drug delivery market by different regions.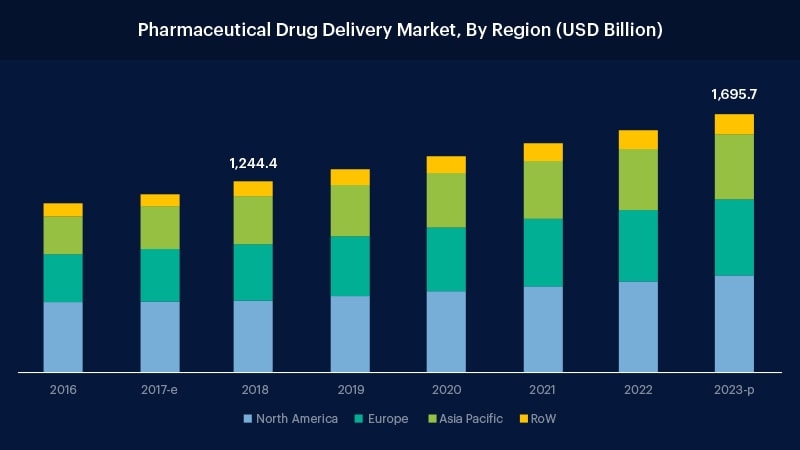 Which are the different business models that you should consider?
When it comes to developing on-demand medicine delivery solution, you must consider different business models and choose one as per your requirement and feasibility. There are mainly two business models which we will discuss one by one.
Medicine delivery software for a single pharmacy store
This is an operational model, where the customer places the order by giving their prescriptions to the medical store. The medical store person then checks if the ordered drug is available or not. If it's available then the store sends the medicine to the customer's doorsteps. Once the customer receives the medicine, he makes either makes cash payment or online payment to the medical store.
Aggregator medicine delivery app
In the second business model, you don't need to own a medical store. In this model, you can establish partnerships with local pharmacies and medical stores. When a user places the order using the app, then the app will find the nearest medical store to the user which is also a partner to the app.
The application would simply redirect the demand of the customers to the local chemists and the local medical store would send the ordered medicines to the user's doorsteps. In this business model, the app acts as a common platform where customers can find the nearest chemist.
In this business model, both the parties which are medical stores and e-pharmacy should sign the terms and agreements before they enter into such partnerships.
Top 3 medicine delivery apps that you must know of
There are many on-demand medicine delivery apps that have emerged over the past years due to its growing demand. However, only a handful of them has been successful in winning the trust of the customers. Let's have a look at such top three medicine delivery apps.
Capsule pharmacy
Capsule pharmacy was founded in the year 2016 and since then it has achieved a lot of feats. Last year, it made its way to the Forbes list of the largest companies in 2019. This New York based app promises its customer of a same-day delivery for any medicine. This app lets its customers to order medicines either from their prescription or by entering the details manually.
NetMeds
NetMeds is an Indian-based company that has garnered over 3 million users in quick time. NetMeds delivers a rich medicine ordering experience to its customers along with offering them with homoeopathic and ayurvedic medicines.
NowRX
NowRX has emerged as the leading on-demand medicine delivery app in the US after just three years of its inception. This app comes with some interesting features such as allowing their customers to chat with the pharmacists and adding their prescription via Alexa. One distinct feature which makes it different from others is that it enables its users to receive the prescription directly from the diction through the app.
Read More: how you can manage your businesses with a super app
Challenges associated with the development of on-demand medicine delivery solution
Starting an on-demand medicine delivery business is not that easy. There are a lot of challenges associated with it. Let's have a look at them one by one.
HIPAA compliance affecting app development
One of the major challenges that app developers face is the compliant development process. It is very challenging as developers have to design the medicine delivery app as per the HIPAA rules and regulations.
These rules and regulations inhibit developers from being creative and resolving user's problems in an innovative way. It also limits the developer's creativity as they have to build the app within the constraints of HIPAA policies.
FDA regulations
The on-demand medicine delivery app that you develop must comply with the rules and regulations framed by the FDA. These rules and regulations are laid down to promote a healthy lifestyle. It also instructs modifications of electronic devices into the medical services which allow them access to various services such as medication, diet tracking, and exercise.
Data security
It has now become compulsory for all the online pharmacy systems to provide security to the data of their patients and users as per the HIPAA (Health Insurance Portability and Accountability Act).
The on-demand medicine delivery systems must ensure that they don't disclose any of their patient's health to anyone.
This is the reason why all the patient's health data which are shared to the doctors and hospitals through these apps must be in compliance with the security rules and regulations of HIPAA.
Cloud integration
Cloud adoption is another major technical challenge that developers face mainly due to its security concerns. It's because many of the cloud-based storage database are not capable enough to store and preserve patients' data and information in a secured manner.
Conflicts from older enterprise's traditional system
There are still many hospitals that follow the traditional and old way of medicine distribution. These enterprises still haven't adopted the new and modern ways of delivering medicines to patients. This is the reason why many online pharmacy services are facing adaptability challenges with traditional hospitals.
Must-have features for your on-demand medicine delivery app
If you want to develop a successful on-demand medicine delivery software then you must ensure that it has all the important features in it. Let's have a look at the on-demand medicine delivery app features that you must include.
A medicine delivery solution has four major apps viz. customer app, vendor app, delivery agent app, and an admin panel. Here we will discuss all the must-have features for all these apps. First, let's have a look at the must-have features for the customer app.
Features that make medicine ordering easy for customers
Profiles
The customer app should enable the users to create their profiles on the app which would offer a rich and seamless experience. These profiles would have all the information like the user's address, prescription history, previous orders, payment details, and many more.
Upload prescription
The customer app must have a feature which enables users to upload their prescriptions easily. This would also help the chemists to read the medicine details and send it accordingly. The applications should also allow users to link their phone gallery to their account so that they can upload the prescriptions easily.
Search medicines
Customers can directly search for the required medicine by simply entering the name of the medicine along with all the vital information. Once the user enters the details, he will be automatically redirected to the pharmacies that have the required medicines.
Expansive search with filtering options
Customers can easily filter out medicines and stores via various categories like locality, medicine, proximity, and many more. Apart from that the application should also enable users to look up for the substitute of medicines as many a time the required medicine might not be available.
Refill prescriptions
This feature helps the users to save their prescriptions for the future use. So, when a customer orders medicines the next time all he has to do is simply refill it on a later date.
Multiple modes of payment
This feature enables users to make payments via multiple modes such as cash, card, or through mobile wallets.
Track order
With this feature, users can track their medicine order in real-time. Moreover, it also shows the estimated time of arrival of the delivery agent.
Review and ratings
Customers can give feedback to the services provided by the pharmacy store by simply rating the pharmacy store along with writing a review.
Features for pharmacy store owners
Manage drugs
The vendor app should enable the chemist to independently manage all the drugs by adding and removing any medicine from the list on the app. The app must allow the medicine store owner to access all the information of its products.
Order notification
The app should have a feature which notifies the pharmacy owner every time a new order is placed via a notification or text message.
Order management
The pharmacy owners must be able to manage all their orders by taking care of the processing of orders, returns and refunds for customers, and many more.
Manage prices
With this feature in place, the vendor owners can seamlessly manage the prices of their medicines.
Manage discounts
The app should also enable the pharmacy owner to offer discounts, promos, and redeemable points to their loyal and repeated customers.
Digital prescriptions
The application should allow the chemist to access the prescriptions uploaded by the users.
Features that make delivery agents' job easy
Quick order notification
The delivery agent should get a quick order notification on their phone whenever a new order is placed by a customer.
Complete delivery information
The delivery agent app should provide complete delivery information such as the drop of address, name of the buyer, directions, and many more.
Share availability
Delivery agents can share their availability like offline/online as per their convenience with a simple toggle option.
Real-time navigation
The companion app should provide accurate directions and better route suggestions with the help of real-time GPS navigation.
Track earning & performance
The delivery agent app should enable the delivery agents to track their earning and performance on a daily, weekly, and monthly basis.
Read More: How can you beyond the ride-hailing business with a super app
Features that empowers admin to manage everything efficiently
Dashboard
An interactive dashboard acts as the control centre for the admin. Moreover, he can also view and verify all the requests placed by the customers on a single screen.
Manage inventory
With this feature in place, the admin can track and monitor the availability of all its products in the inventory. This feature ensures that no product goes out of stock. This feature also alerts admin when a medicine approaches its expiry date.
Marketing and promotion
The admin should be able to run various marketing and promotion campaigns to attract more customers to use their on-demand medicine delivery service.
Manage order status
The admin can manage the status of all the orders placed whether they are new, in the progress, or completed.
Manage payments & commissions
The admin can manage and control the commission rates of all its medical vendor partners. Apart from commissions, admin can also manage and effect payments as scheduled.
Reports & analytics
Reports & analytics feature offer crucial data to the admin and helps him to take insight-driven business decisions.
How on-demand medicine delivery benefits users and pharmacies?
The on-demand medicine delivery app not only benefits the users but also benefits the pharmacy store owners. Here we will have a look at these benefits one by one. First let's have a look at user benefits.
For users
The on-demand pharmacy delivery app is gaining a lot of popularity among users. Let's have a look at the reason why?
Saves time
Unarguably one of the biggest benefits of a medicine delivery app is that it enables the users to order medicines directly from the app. This saves a huge amount of time as they don't have to wait in the long queues to get the medicines. With on-demand medicine delivery apps they can order medicines at the comfort of their homes.
Saves money
The on-demand medicine delivery apps also come with a variety of loyalty options such as discounts and offers which can help customers to save a significant amount of money. Moreover, with referrals in place, customers can earn more loyalty points and rewards.
Descriptive
Another major benefit of on-demand medicine delivery apps is that it offers users with comprehensive information and details about all the medicines. Users can know about key things like the benefits and side-effects of the medicines which helps them to make better decisions while buying the medicines.
24×7 medicine delivery
Not many pharmacies are not open for 24 hours a day. However, users can order medicine at any hour by using the on-demand medicine delivery app.
Users can check availability
Not all pharmacy stores guarantee availability of all the drugs. Many a time, it happens that users are not able to buy the drugs at the pharmacy as prescribed by the doctor since they are out of stock. With the help of an on-demand medicine delivery app the users can easily check the availability of medicines and order it accordingly.
For pharmacies
Users are not the only beneficiaries of the on-demand medicine delivery apps, pharmacy stores also have their share of the benefits. Let's have a look at them one by one.
Superior buying experience
One of the biggest advantages of an on-demand medicine delivery app is that it offers a superior buying experience to your customers with the help of high-end services right from placing the order to its delivery.
Improving customer base
Increase and improve your customer base by knowing them better, offering discounts, keeping them engaged, and having a clear conversation.
Offer services beyond geographical constraints
On-demand medicine delivery solutions help you to expand your business by overcoming all the geographical restrictions as the solution can reach to the customers that are far away from your place.
Automated updating of inventory
With a medicine delivery app in place, the pharmacy owners no longer have to update the inventory manually as it can be done by the app. Moreover, the app also provides information about the expiry dates and other essential details.
Increase revenue
The doorstep delivery of medicines in the times of COVID-19 is the need of the hour as it will solve problems of a huge number of customers. And in return, you will receive a massive amount of revenue.
Why go for a ready-made on-demand medicine delivery solution?
People who decide to get an on-demand medicine delivery software often encounter two choices. The first choice is to build the app from scratch and the second choice is to have a ready-made white-label solution.
If you ask us, then years of experience in dealing with on-demand delivery solutions have taught us that opting for the second option is always better. Let's see why.
Quick and easy to brand
White-label solutions are ready-made and fully integrated thus making them easy for branding. As an owner, you won't have to invest time and money on research and development. All you have to do is simply put your branding and start your business.
Keeps your customers satisfied
A white-label solution offers a crystal clear path to your customers. Whereas, when you develop your own solution then it might take years which can easily force your customers to find any other alternatives. You can avoid this scenario with the help of a ready-made solution that fulfils the needs of your customers on an immediate basis.
Saves time and money
Developing a solution from the scratch takes a massive amount of financial and human capital resources along with time. When you decide to develop a solution of your own then you must consider the time for marketing.
You must consider the time that it takes for processes like design, architecture, building, and testing. Instead, you exempt from all these processes by opting for a ready-made on-demand medicine delivery solution which enables faster deployment and saves costs.
Focus on your core competencies
Many a time, solutions that companies go on building fall way outside their area of expertise and competency. It's never smart to assign your resources to do something that doesn't fit their core competencies.
If you think the core competencies of your resources don't match the task on hand then you can always go for a white-label solution. A ready-made solution offers you an opportunity to put trust on the experts of those particular fields.
Conclusion
On-demand applications continue to dominate as new industry verticals join this business model such as food delivery, groceries, and now medicine delivery joins the list too. Nowadays, customers are becoming more digital savvy as they expect to buy and order almost everything from their phone.
With the COVID-19 pandemic, social distancing, and lockdowns in place, on-demand delivery of medicines have become the need of the hour.
That's why it's the best time for all the entrepreneurs to invest in developing an on-demand medicine delivery app. If you're also looking to get a medicine delivery system of your own then get Yelowsoft's readymade on-demand medicine delivery software which is an advanced, robust, and next-gen solution with a proven track record.