The E-commerce business has shown ample growth in the past decade and the pandemic has bought huge impacts on altering consumers' behaviors. The ability to purchase all required items with a single click or tap and delivered at doorsteps has not only created a trend but also rises an opportunity for online retailers.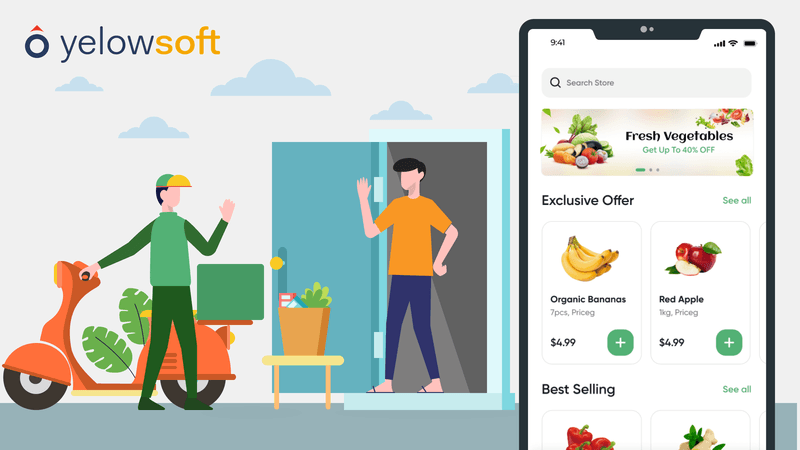 In just two years, the online grocery market has shown tremendous growth, achieved great sales, and gained users.
The E-grocery market has shown revolutionary changes for online retailers. This raises both on-demand delivery business opportunities and competition in the e-commerce space. Thriving in this new e-grocery landscape, as a retailer, you must require unique insights and required actions to stand out strong.
As a merchant, you have to continue to follow the consumer's demand online and create a space for your brand to grow and prosper.
In our blog, we will share some projections about the online grocery business in 2022 along with important insights into how e- grocery shopping behavior has transformed. We will also discuss what are important key factors to focus on the smooth operations of your online grocery business, how to attract vendors as well as engaging buyers.
Growing capacity of online grocery shopping in upcoming years
Online retailers are expanding their online capacity and offer with the growth in consumers demand. With the evolving needs of your consumers, you have to quickly understand and respond to shape their better online shopping experience.
According to the Mercatus survey report, the online grocery market will have 11% of overall grocery sales in 2022 and will be projected to 20.5% by 2026.
In the above Mercatus Survey report, the estimated growth for the online grocery market in 2021 in the pre-COVID scenario was 5.4%, however, the same in post-pandemic has reached 9.5%.
This shows how pandemic has reshaped the growth factors and created the opportunity for online retailers to boost their grocery business during COVID19.
The projected rise in 2022 is 11.1% of $1,124 Trillion in e-grocery sales and 20.5% of $1,285 Trillion in 2026. Safety concerns and pandemic-related health issues remain the key drivers of e-grocery delivery solutions.
Launch a feature rich on-demand grocery delivery app for your grocery business.
On-demand grocery delivery solutions have contributed to overall growth in grocery stores sales and as per experts, the usage of such solutions is expected to grow from 18 million in 2018 to 30.4 million in 2022.
According to Technavio's latest market research report, the global online grocery delivery market is expected to grow with a CAGR of approx. 22% in 2018-2022. The most important factor driving the growth in online grocery delivery systems is the increase in popularity and adoption of various e-commerce platforms.
Did you know?
One of the key trends for the e-grocery market will be the Growth In Demand For Functional Food and Beverages. Consumers are preferring functional foods and beverages as a healthy source of nutrition. E-grocery market is projected to grow at a CAGR of 9.5% from $281.4 Billion in 2021 to $529.6 billion in 2028 in this sector.
Analysis of 2022 survey results showed four key insights or understandings that can help you to refine your strategy and planning for the technical innovations in your on-demand grocery delivery system to capture high sales and returns. Let's quickly and briefly discuss them as follows:
Consumers are still adopting online grocery delivery software and showed continual steady growth in this sector. This is a motivational factor for you as an online retailer to attract and retain customers by strengthening your online offerings.

The key to e-grocery success is to understand your customer's needs and preferences. Better breakdown the grocery shopping behavior based on age group, ethnic background, and demographic preferences. Plan and strategies your on-demand grocery delivery app development for great results.

Consumers are adopting curbside pickup and in-store pickup. You should keep in mind that this adoption will rise in the post-pandemic situation. So plan and make the right investment to ensure a better quality pickup experience for your customers.

A shift to mobile usage is being experienced in all the sectors including the online grocery business. If you haven't invested in a white-label grocery delivery app yet or experienced any improvements in your mobile app, this is the right time to address it.
Read More: On-Demand Industry is changing the Face of Delivery Business?
Top customer trends shaping grocery e-commerce
The projected growth in automated grocery delivery business rely on following consumer trends and advantages that are responsible for continuous evolution in the online marketplace:
Change in consumer's behavior
There is a shift from in-person shopping to online shopping as consumers are more prone to online purchasing from comfort at their own places. The benefit of getting their orders at their doorsteps through on-demand delivery not only saves their time but also promotes contactless deliveries.
The pandemic has created anxiety and fear in consumers and hence they are more prominent towards safety and hygiene which leads to the change in purchasing patterns.
Customers are willing to pay for convenience
The grocery delivery business software offers hassle-free purchasing and delivery anytime and from anywhere. Home delivery and same-day delivery system are the new trends consumers are widely opting for as per their convenience.
Lockdowns, busy schedules, and exhausting lifestyles have promoted on-demand grocery delivery solutions.
Brick and mortar stores are underpinning
With technological advancements, many brick-and-mortar stores are connected with the digital age to make consumers' journey more smooth and convenient.
Features like curbside pickups or Buy Online-Pickup In-Store(BOPIS) business models have helped to merge the offline and digital worlds.
Keeping yourself up-to-date with the emerging digitization is most important for offline retailers. Investing wisely to ensure quality pickups and deliveries for your customers can be pivotal for a successful business.
The future is mobile
According to a survey conducted by Inmar Intelligence, one-quarter of consumers orders 75% of their groceries online with a mobile device and 20% do all online shopping via web or mobile web.
The on-demand grocery delivery mobile apps have taken the world by storm. Transition to mobile apps is one of the latest trends that's occurring in every sector and grocery is one of them. This is the right time to do your investment in grocery delivery app development or experience any modification in that.
Fresh and frozen categories have gained momentum in online demand
Though all grocery categories have shown a significant rise in e-commerce adoption over the last 2 years, fresh, packaged, and frozen items have led the baskets. Dairy products, fresh vegetables, fresh meat, and frozen foods have raised the sale of e-grocery businesses.
Did you know?
The global frozen food market is projected to grow at a CAGR of 5.98% from USD 256.46 billion in 2021 to USD 385.04 billion in 2028. The rise in frozen food CAGR is because of the growing demand for convenience food products such as ready-made meals and cold cuts.
All the above trends are promoting the usage of online grocery shopping. But as the consumers become more comfortable with e-grocery solutions, their expectations from on-demand grocery delivery apps have been raised.
As an online retailer, you need to adjust some offerings with the key features to meet their expectations. Let's discuss them in our next section and understand the need of your customers from your on-demand delivery software.
Read More: Automate your on-demand delivery business to attract customers
Important features to be included in your e-grocery solution
Online grocery delivery software is no doubt growing with pace which rises the fierce competition in the market. Your buyers must be convinced with some great features in your software that they are going to use the safest, cost-effective, and comfortable on-demand grocery delivery app:
Product Listing and categorization of items
This is one of the basic yet important features of online grocery delivery app development. Do segregate all the items as per different categories and subcategories for the seamless shopping experience of your users.
All the listed products should have proper descriptions so that the customer can collect all the necessary information.
Quick shopping list
This feature can include the list of items the customer has visited but doesn't purchase and save it for later purchase and future references.
This feature can also include many other options like reminder lists, favorite lists based on previous shopping history, and scanned barcode lists.
A product comparison feature can also be added to your system for giving better options to your customers.
Delivery scheduler and order tracking
This feature in your grocery delivery system allows the user to schedule their delivery as per their availability and convenience in advance. It also notifies your customer about the estimated delivery time.
Your grocery delivery software should be integrated with real-time GPS tracking so that user can track their orders and know the exact status from dispatch to delivery.
Coupon Codes, Festive Discounts, and Offers
To engage more customers' interest in your grocery delivery app, offer coupon codes and discounts on their purchases. It will encourage them to purchase more and increase your sales.
Clear Product Return Policy
This used to be an important concern for the online users whether the product will be replaced or not if found damaged or not as per their choice. Thus, your software should have a feature that allows the customer to return the desired product.
Also, a clear product return policy should be mentioned for the listed product so that it may not create any confusion later on from your end as well as from your end-user.
Multiple payment options
There should be both payment options online like credit/debit cards, mobile wallets, and other gateways as well as offline or COD in your on-demand grocery development solution. This allows your customers to select the mode of payment they want.
With these above-listed features, you will be able to create a potentially rewarding online grocery delivery system. However, as a business owner, you need to focus on every aspect of your consumer's experience before launching your e-grocery delivery solutions.
Run a successful online grocery store and deliver a modern shopping experience with the right technology.
Things to keep in mind before starting your online grocery business
For successful starting and operating an online grocery delivery solution for your business, the following are things to consider and focus on:
Selecting the right business model
Selecting or enhancing the right model for your online grocery business is most important. Create a roadmap of your operational model for an agile, precise, and efficient delivery process.
For a successful on-demand grocery business, a strong marketing strategy and the right business model are essential. The following are the business models of online grocery delivery systems and you can adopt one of or a hybrid of the following to sell your grocery online:
1. Marketplace Model
The marketplace model works like a multi-vendor shopping model with the exception that the customers have no choice to chose the store while ordering.
When the platform receives an order, it transfers the details directly to its in-house delivery personnel who will be then responsible for shopping for that item and delivering it to the customer. Example: Instacart
Who can choose grocery marketplace model
The marketplace owner has to encourage multiple vendors, shops, or plans with a strategic market plan.

This type of model provides you easy management of your vendors, enables the delivery partners to choose their preferred service areas, set up dynamic rates of delivery, broadcast a list of their pending orders, and advance payout options for their delivery partner.
2. Grocery Chain Model
This type of model is having multiple retail stores of the same brand with a common warehouse and has a centralized hub to effectively manage all marketplace business operations.
They have multiple grocery stores across the specific region and also provide their on-demand grocery delivery services through online channels. Example: Walmart
Who can choose grocery chain model
This model shares a common brand and central management practices with standardized business methods.

The most important feature of the retail-chain model is you can achieve the business goals easily as you know what is required from your vendors and distributors.

You can apply great supply chain strategies to focus on customer demand and accomplish effective operations with your current resources.

Franchise models can help you in growing your online retail chain services.
3. Dedicated grocery store model
In this type of business model, the on-demand grocery delivery software is created dedicated to your own brand. Owning your grocery delivery app will be helpful for easier and quicker management of your delivery orders.
You can have the feature of "Buy Online-Pickup In-Store(BOPIS)" where your customers purchase the product from your on-demand grocery delivery software and later collect them from stores as per their convenience physically.
It is the most effective business model for implementing a contactless delivery system during the pandemic period.
Who can choose a dedicated grocery store model
This model is dedicated to your own brand and it will help you manage all your orders as well as delivery partners in an easier and faster way.

An on-demand grocery delivery software solution as grocery businesses are heading in the online world and you have to stand out in the competition when you own your grocery delivery solution.

It will help you assign your orders to dedicated delivery partners, real-time tracking and multiple delivery options to your customers, product and category-based up-to-date inventory solutions, and seamless operational management of your store.
Planning to Launch your own On-Demand Grocery Delivery solution
Focus on your target audience
As you can now able to decide which business model can work efficiently to meet your requirements. The second most important factor you have to keep in mind is to focus on your target area, a group of people with common interests, preferences, needs, and challenges.
Define your niche and make it unique. When your niche is uncommon and meets the needs of your target audience, your popularity will increase and sales as a result.
Know your major online grocery market segmentation
Based on your target audience and their preference, the market can be segmented into various categories. The online grocery market is segmented in parts based on category, type of shoppers, and demography. The following representation will help you to understand these categories: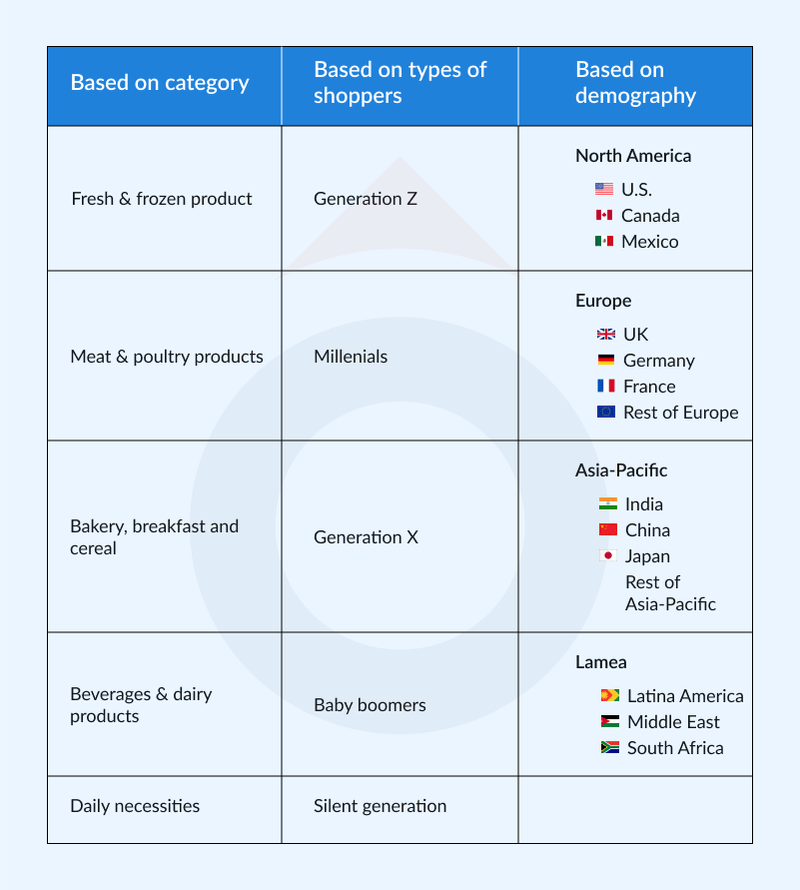 Do thorough competitor analysis
Proper competitor analysis is a must while you plan to have an on-demand grocery delivery app development. To make your mark in this competitive market in various segments and to raise your sales, you should have a well-defined USP. Consumers will visit you with trust in your uniqueness and specialization.
Make your featured website and mobile app
Focus on the actual development of your on-demand grocery delivery website and mobile app. It should have all the required features, categories, and subcategories for a better customer experience.
Always cross-check your website as well as mobile development from the customer's point of view for a powerful solution for all your delivery needs.
Set up efficient delivery channels
The success of the grocery delivery business system depends heavily on the efficiency of your delivery system. Consumers prefer same-day delivery for their household groceries and food item.
Fresh and frozen items are the new trend in the grocery delivery system. Segregate your delivery regions and estimate the proper timings to deliver your order. Transparency in delivery will help you and your customers to build trust.
Understand the impacts of the pandemic
Understand and update yourself with the impact of COVID19 or any of its new variants on your target area and audience. Panic Shopping and curbside pickups may rise to engage your customers for an on-demand delivery business.
Read More: Importance of on-demand grocery delivery solution in pandemic.
On-demand grocery delivery software solutions are becoming more and more familiar with consumers and as a business owner, you have to keep the above points and features in mind to attract more customers to your e-grocery business.
With a good SaaS-based grocery delivery software solution you can streamline your operations with advanced features.
Conclusion
We all have witnessed the world traverse the outset of a global pandemic in the last two years. This leads to e-commerce grocery businesses quickly pivoting and charging forward.
While today's online grocery retailers are benefiting from a shift in consumers' habits towards on-demand delivery solutions. To remain and perform in this competitive world of the e-grocery business, you have to provide an interactive web experience to your customers.
In the upcoming few years, we will see a huge reduction in offline stores as improved delivery methods and robust logistics will be the future of on-demand grocery delivery services.
This is the best time to invest in your business to reshape it for your own online venture. For white-label software and app development, contact yelowsoft for all your on-demand grocery delivery business requirements.
Book a 14 Day Free Trial of Our Grocery Delivery App and Automate your Business Operations.