Quick Summary
Restaurants are transforming their way of doing business. From ordering to pickup to delivery – to meet the evolving needs of the customers. The medium of transformation is - restaurant management software. This article talks about the pickup and delivery best practices. And how Yelowsoft's restaurant ordering and delivery software is helpful in enhancing your restaurant performance + your customers' satisfaction.
"The off-premise dining (pick and delivery ordering) will continue and play a significant role for the growth in the restaurant industry," Hudson Riehle, senior vice president of the Research and Knowledge Group for the National Restaurant Association.
Yet many restaurants struggle to keep up and rely on outdated processes that result in errors, delays, and dissatisfied customers. That's where Yelowsoft comes in.
Yet many restaurants struggle to keep up and rely on outdated processes that result in errors, delays, and dissatisfied customers. That's where Yelowsoft comes in.
Our powerful restaurant management software helps you flawlessly handle a high volume of off-premise orders. We arm you with the tools to expand your reach, fill orders faster, keep customers happy, and grow your business.
In this article, we'll share actionable best practices you can perform with Yelowsoft to make your pickup and delivery unmatched and 'WOW' customers. Let's dive in.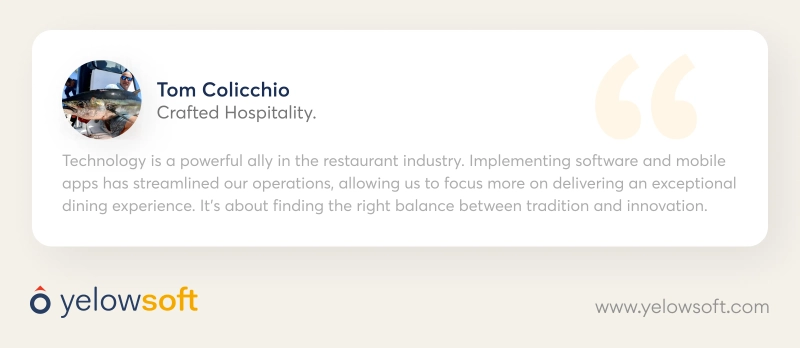 Streamline Ordering with Online Platforms
Meeting customers where they are is key in our digital-first world. Offer seamless online and mobile ordering to remove friction from the purchase process.
To stay ahead today, meeting your customers where they are is the key to your success. You need to take your restaurant online with your own mobile app and a branded website. This will help you make ordering food from your restaurant as easy as they scroll and like on Instagram.
Offer Mobile Ordering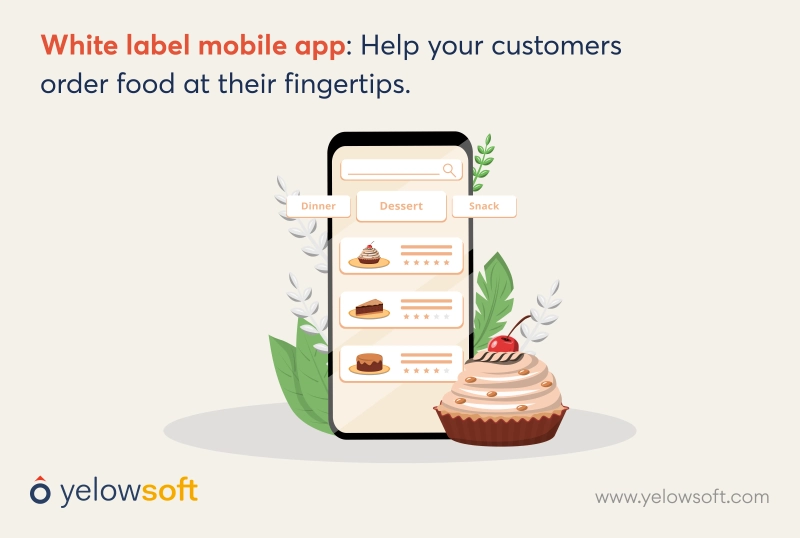 A custom-branded app that allows your customers to browse, order, customize, and pay effortlessly using their smartphones at their fingertips. The convenience keeps your customers engaged with your brand and drives higher order frequency.
But the question is, should you build an app now? No! Yelowsoft offers a white-label food ordering application development services.
Read more: Build vs. Readymade restaurant ordering and delivery software. What's good for my business?
Here, you can brand your app your way. Our team will help you rebrand the Yelowsoft app with your logo, color, menus, and everything you want for your restaurant.
And the best thing is - you can launch your brand in just 2 days without investing a massive amount in building an app from the ground up.
How Yelowsoft Can Help with Mobile Ordering?
You get ready to use mobile app for your customer to order food
You can launch your own branded app in a few days
Start and stop anytime you want - no contract
Easy-to-use app for your customers
Build Your Own Branded Website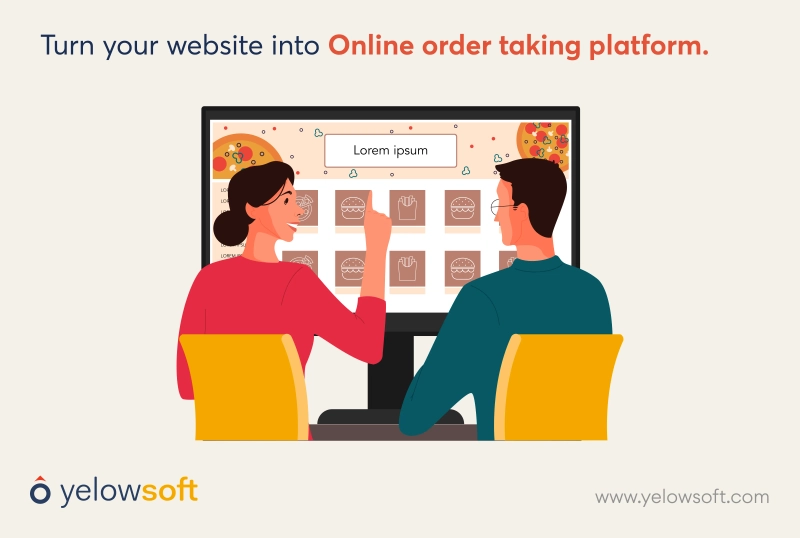 Don't leave your online presence to third parties like UberEats. Relying on third-party food ordering and delivery platforms steals your customers from you. It also cuts down your profit margin by charging a commission.
You know the truth now and your benefit is saying "not any more" to any third party.
Yelowsoft helps you turn your own existing website into an order-taking platform. With us, you can make your website work harder for your business, build loyalty, and enable your customers to order directly from your website 24/7.
YelowSoft Role Here?
Integrates an online food ordering software functionality in your website
Turns your website into an order-taking platform
Allows your customers to order food directly from your website
Helps you save millions of dollars which you should have to spend for building an online ordering mobile app from scratch.
Helps you drive direct orders and sales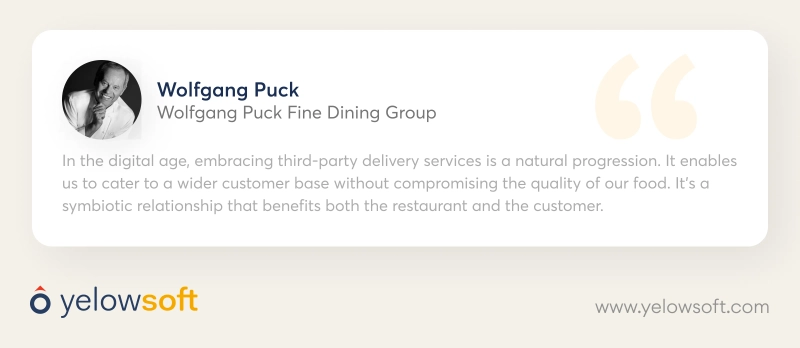 Partner with Third-Party Delivery Services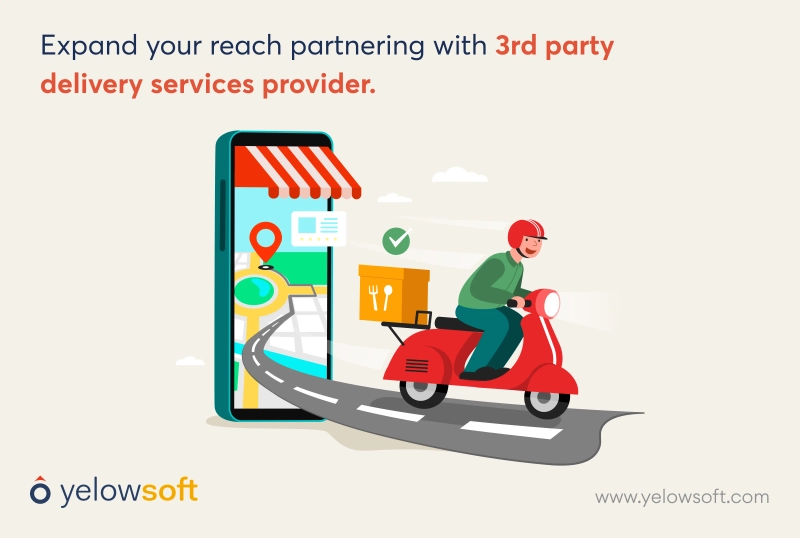 If you don't have drivers with you to deliver your online orders at your customer's doorstep. Then, partnering with a third-party delivery services provider would help you serve more customers and foster their loyalty.
Partnering with third-party delivery partners like UberEats and DoorDash can help you expand your reach.
Yelowsoft Role Here?
Helps you integrate any 3rd party delivery services with your food delivery management system
Our online food delivery software syncs orders from third parties to streamline your fulfilment.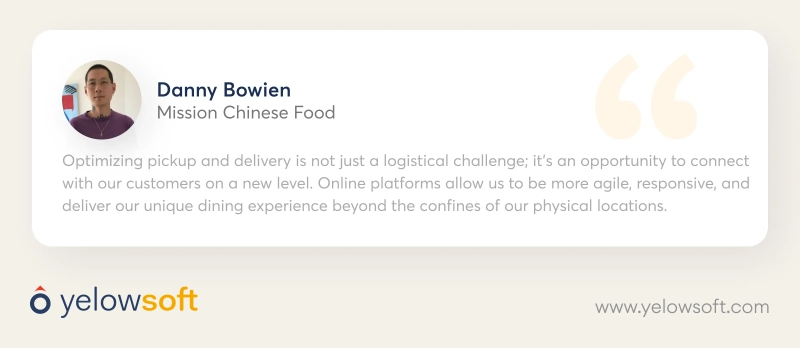 Optimize Pickup and Delivery Operations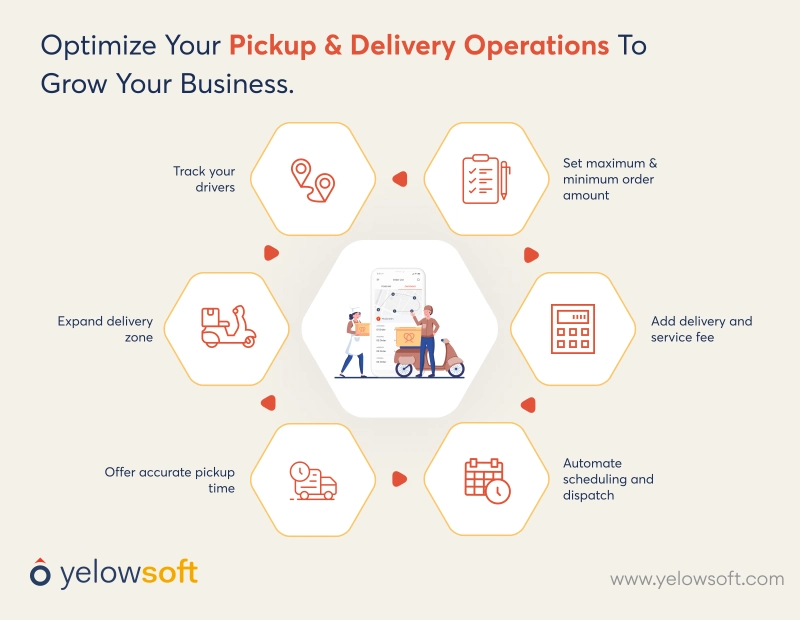 Streamlining your behind-the-scenes processes is crucial for on-time, accurate order fulfilment. Leverage Yelowsoft's delivery management software to optimize your pickup and delivery operations and see yourself growing.
Maximum and minimum order amount
You can configure minimum and maximum order amounts in Yelowsoft's food delivery software. Setting a minimum ensures profitability, while a maximum minimizes risk for unexpected cash payments denials. You can set a prepaid online payment as mandatory for a predefined large order amount threshold.
Delivery and service fee
Yelowsoft enables you to set delivery fees based on order amount tiers and distance. You can also add separate service fees to each order. This smart fee settings features ensure you earn fair profits from delivery while remaining competitive.
Implement Scheduling and Dispatch Software
Automated delivery workflow in Yelowsoft balances loads across drivers. The feature helps you route your orders based on factors like driver proximity. This further helps you remove guesswork, reduces delays, and increases on-time deliveries.
Offer Accurate Pickup Time Estimates
Our online ordering system takes the guesswork out of pickup and delivery times. When your customer places an order, the system can automatically assign an estimated pickup or delivery time based on your preset fulfilment windows, average prep times, and any order-limiting rules.
But you also have flexibility on your end. Your customers can select their preferred pickup or delivery time during checkout if you enable that option. Or you can manually override the estimate and schedule a specific timeslot that works better operationally.
Expand Delivery Zones Strategically
Analyze your order data to identify neighboring areas ride for delivery expansion. Add new zones gradually after confirming you can uphold speed and service quality standards. Don't sacrifice customer experience.
Enable Driver Tracking
You and your customers can track their delivery in real-time with driver locations and ETAs. It reduces anxiety. Your drivers will also have turn-by-turn navigation in their driver app for optimal routing right from the Yelowsoft platform.
How Yelowsoft's Can Help You Optimize Your Pickup & Delivery?
Yelowsoft offers a smart food delivery management system. With it you can
Set minimum and maximum order amounts to ensure profitability and minimize risks. You can also mandate prepaid online payment for large orders.
Configure delivery fees and service fees to earn fair profits while remaining competitive.
Automate scheduling and dispatching to balance workloads and increase on-time deliveries.
Provide accurate, customized pickup time to your customers to help them set expectations.
Allow your customers to select preferred delivery/pickup times at their convenience.
Analyze data to strategically expand delivery zones without sacrificing service quality.
Enable real-time driver tracking and optimal routing to reduce delivery times and avoid any delays.
Streamline behind-the-scenes processes and workflows for staff fulfilling orders.
Read more: How SaaS-based platforms simplify online ordering and delivery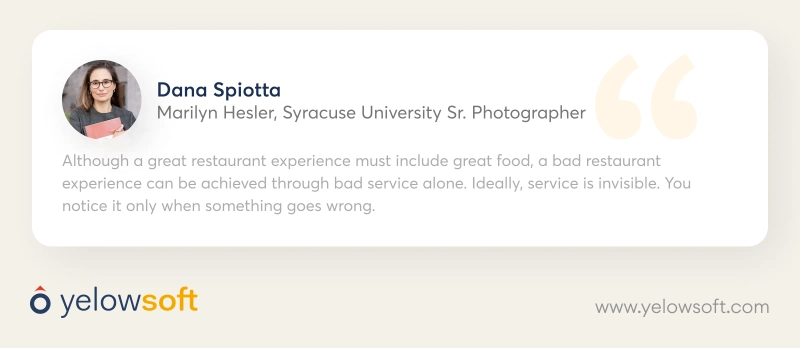 Enhance Your Customer Experience With 5-Star Service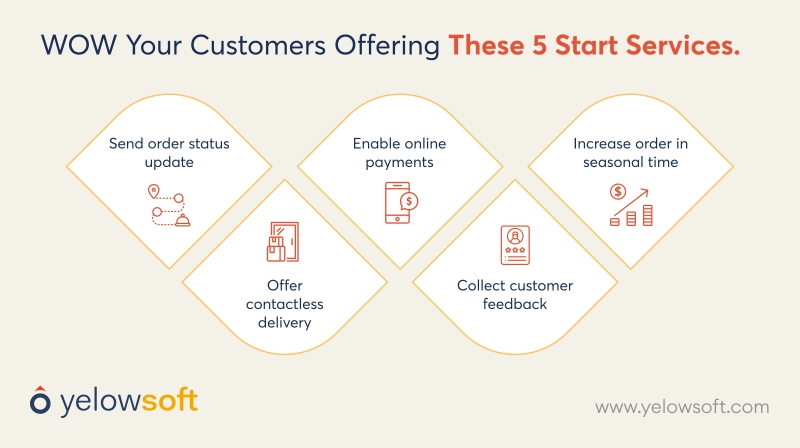 Consistently wowing customers is crucial for loyalty and repeat orders. Deliver next-level service with these tips.
Send Order Status Update Proactively
Keep your customers in the loop by sending them real-time order confirmations and updates about their orders. This proactive communication sets accurate expectations.
For pickup orders, you can mark orders as "Ready" when they're packed and waiting for the customer. This triggers an automatic notification to the customer that their order is ready for pickup. Then once the customer picks their order, you simply mark it "Complete."
You can set up order statuses, triggers, and rules to keep your staff organized and informed. This takes the chaos out of order management so you can focus on food quality and customer service.
Offer Contactless Delivery
Enable contactless dropoff with Yelowsoft to give your customers control over their desired delivery experience. Your customers can opt to have drivers leave orders at their door for a zero-contact experience. This ensures safety and convenience.
Enable Online Payments
Accepting online payments is a must for providing customers with a fast, convenient checkout experience. No one wants to pay with cash or checks these days.
Yelowsoft's restaurant management software makes implementing online payments easy. Our software seamlessly integrates with top payment gateways like Stripe and Authorize.Net.
With just a few clicks, you can activate digital payment acceptance through your Yelowsoft subscription. Then you can provide your guests with the speed, convenience, and security they expect from online checkout today.
Gather Customer Feedback
Getting feedback from customers is invaluable for continually improving your food delivery service. However, collecting impressions manually is time-consuming.
Automated feedback requests through Yelowsoft make gathering reviews and ratings easy. Our delivery management software can send a quick survey via email or text after each order.
Maximize online orders for key seasonal moments to repeat customers
Certain seasonal moments like football season, holidays, and cold weather months drive a surge in pickup and delivery orders. Maximize revenue around peak events with targeted promotions and campaigns.
Offer enticing discounts on delivery for big games like the Super Bowl to get fans ordering your finger foods and party platters.
Yelowsoft Role Here?
Delighting your customers gets harder as your delivery and takeout business grows. That's where Yelowsoft shines. Our restaurant management software is designed specifically to help you enhance customer satisfaction as your volumes increase.
You can send automated order status updates and ready alerts so your customers know exactly when to expect their food.

You can easily streamline front and back-end processes with our delivery management software, like letting you mark orders as "Ready" for easy pickup coordination. In addition, you can also customize statuses, triggers, and rules to reduce staff chaos.

You can offer flexible delivery with contactless dropoff and make your customers feel safer.

We make fast, convenient payments easy by integrating with top payment gateways like Stripe or any other you want.

You can collect feedback straight from the source - your customers! Our food delivery system allows you to gather ratings, reviews, and suggestions so you can address concerns quickly.

You can maximize promotional opportunities around peak seasons and big games. This helps you turn occasions into opportunities for major revenue.
Conclusion
Pickup and delivery are rapidly changing the restaurant landscape. Yelowsoft equips you with the technology to meet this shift and deliver exceptional convenience.
Our restaurant management system centralizes your operations so you've got everything in one place. We use smart tools to optimize prep, routing, staffing - the complicated stuff. We help you communicate proactively so your customers know what's up. And we help you turn your customer feedback into insights so you can improve over time.
In short, we've got your back! We help you deliver 5-star pickup and delivery experiences that keep customers hooked on your food. Sound like just what your restaurant needs? This is what we provide actually. Let's chat! Don't leave business on the table - let's partner up for online ordering success!