The food delivery businesses are booming across the world. Uber Eats, GrubHub, Swiggy, and other food delivery app's success stories are a testimony to that fact. But why is that? Well, the answer is quite simple. Food delivery apps offer quick, easy, and convenient food delivery option without much human interaction.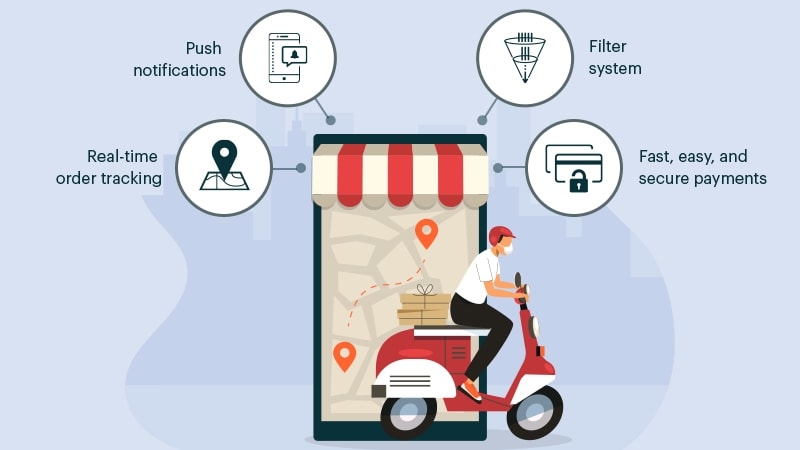 It offers customers the luxury of ordering their favourite cuisines from their favourite restaurants by simply making a few taps on their smartphone.
Well, that was from a customer's perspective, but why one must build an on-demand food delivery app? The answer lies in the ever-increasing demand and popularity of on-demand food delivery applications.
As per the eMarketer research, almost 23%of the US smartphones will be using applications for delivering food by the year 2023. This is a massive chunk of population which is equal to around 60 million people.
And this number comes just from the US; imagine what a huge market base would be present everywhere else around the world.
On top of that, the current COVID-19 situation is just perfect for services like on-demand food delivery. It's no secret that on-demand delivery services have surged in the time of the current pandemic. As per the NPD group, the digital restaurant orders increased by 63% and the delivery increased by 67% in the month of March.
This is because people are scared of catching an infection at restaurants and hence are more confident at simply ordering the food at home. Moreover, food delivery giants have now introduced the concept of contactless delivery which gives customers more confidence to rely on these services.
So, after seeing all these major benefits, why won't anyone want to make fortune by starting their own food-delivery services?
However, entering the food-delivery industry is not that easy. If you've already decided to enter this market then ahead lies a cut-throat competition in which survival is difficult if you don't know the vital tips and tricks of the trade.
That's where we step in. In this article, we'll provide you with vital tips, tricks, and insights along with top factors and features that you must consider before building an on-demand food delivery application.
Decide your budget
Budget is one of the most crucial aspects when it comes to the development of the on-demand food-delivery application. So, it's imperative to decide your budget before moving forward. The cost of building an on-demand application depends on various factors such as platforms, location, the technology used, features, and many more.
Moreover, the hourly rates of developers majorly depend on the country and geography. For example, if you hire a developer from Asia & Africa, then you've to pay somewhere in the range of $10-50 per hour. However, if you hire a developer from Western Europe, Australia, or North America, then you have to pay in the range of $50-100 per hours.
According to our study and research, it takes approximately 500-850 hours to build the entire on-demand food delivery application. So, if we take the developer's average hourly rate at $40, then the overall cost would be around $20,000-$34,000.
There's also a better option where you can simply go for a ready-made food-delivery solution that can save a large amount of money, time, and effort that goes into developing an app from scratch. Yelowsoft is a reputed solution provider that offers solutions for a variety of businesses including that of on-demand food delivery.
Decide on technology
After deciding on the budget you must now focus on the technology that you're going to employ in your solution. In this you have to make several decisions, the first of them is to decide whether your app will be native or hybrid.
You can decide this after considering various factors like time, cost, quality, and the technology that your target audience uses. While choosing, you must remember that the native apps are more secure, scalable, fast, and user-friendly as compared to the hybrid apps. However, you must also take into account the combined cost of them both which would eventually make it costlier.
Also, while you're hiring a development team, you must ensure that they offer a full range of services that include branding, identity design, UI, development, and support post-launch.
Read More: A step-by-step guide to build a taxi company
Being unique is important
As mentioned earlier, the food delivery market consists of big players like DoorDash, Uber Eats, Grubhub, and many more. In order to survive in this market, you must come up with some innovative ideas that can distinguish your offerings from the rest. Below are a few of the suggestions that you can adopt as your solution's USP.
Offer additional services apart from food delivery like beverages delivery which may also include alcoholic beverages. You can also deliver gifts and laundry.
Enable your customers to make a reservation for a pick-up order and a sit-down meal.
You can also offer a 24x7 service
Integrate a non-profit idea with your business that will improve your brand image. For example, with every order placed, you can donate free meal to a needy person.
Top features that your on-demand food delivery app must have
We discussed a few factors above which plays a significant role in an on-demand food delivery app. Now let's have a look at some must-have features.
Real-time order tracking
Any food delivery app is incomplete without a real-time order tracking feature. This feature makes it easy for the customers to know exactly when the meal would arrive. To include this feature, you have to implement a GPS tracking system in your application.
This feature isn't only beneficial for the customers, but it also helps your delivery personnel to get precise and accurate directions to reach the destination quickly without any delays.
On top of that, this feature would also allow you to track all your delivery personnel in real-time and helping them to avoid routes with heavy traffic or accident.
Push notifications
Push notifications and alerts have emerged as unique and effective ways to engage customers where a message simply pops up on the user's mobile screen. Push notifications easily draw the attention of a user and notify them with information about their orders, special offers, and discounts.
Initially, push notifications were used to alert the user if their order was ready or was about to arrive. However, with time the application of push notifications has also changed. Nowadays, many food delivery apps are using push notifications to provide information about their latest offerings and deals.
Moreover, many apps have also started marketing their restaurants with these tools. Push notifications have become a crucial feature for any food delivery application as it offers seamless service by keeping customers informed right from the start till end.
Filter system
There are many people who use the food-delivery application only to order a specific kind of food. So, in case you're offering a variety of food, then you must have a filter system which enables them to find their desired cuisines by sorting name, restaurant, location, diet, cuisine, food category, and many more. Moreover, you can also allow them to choose the latest offers and propositions with free delivery. This robust filter system will let users find what they need in less time.
For example, if your customer wants to have Thai food with a medium price and wants it to deliver within 30 minutes then enable them to find all of it with your complex filter system.
Fast, easy, and secure payments
One major reason why people choose to order food on apps instead of making a phone call to give order is to keep their personal data safe. So, it becomes your responsibility to keep their information and payment operation safe.
To ensure better customer experience, you can include as many payment options as available. For example, people in the US generally prefer to use debit/credit cards. You can use online payment processors like Braintree, 2Checkout, Simplify Commerce, Stripe, WorldPay, Authorize.Net, Optimal Payments, SagePay. Many users also prefer to use PayPal.
Read More: Yelowsoft introduces automated driver payment settlement
It's important to note that most of the payment processors are similar when it comes to the features; however, Stripe, PayPal, and Braintree charge around 2.9%+30 cents for each successful transmission. Moreover, it also offers reporting tools, split purchase transactions, payment procedures, and simple invoicing.
It's also important to note that most of the developers prefer Braintree since it supports six programming languages and the least amount of time for integration.
Conclusion
If you're looking to start your own food delivery app service, then this is the golden period for you. The business of food delivery is skyrocketing and the market is far from saturation point. As per Mckinsey, the food-delivery market is rapidly growing and has massive potential for the future. So, what's stopping you? Start developing your own on-demand food delivery app by considering all the major factors and features as mentioned in the article.
And if you're looking to get a robust on-demand food-delivery solution in quick time then you can get Yelowsoft latest offering – YelowXpress which comes with a cluster of advanced features which includes all the features that have been mentioned above. It also leverages cutting-edge technologies and tools which ensures that your food delivery business operations run smoothly. So, contact us now to discuss your business idea.