The food delivery business is hotter than a just-fired skillet—Online food delivery revenue is expected to show an annual growth rate (CAGR 2023-2027), with a project market volume of US$1.65tn by 2027 according to Statista.
Moreover, restaurants are adopting food delivery apps at a rapid pace. This adoption is pushing the entire food delivery app industry to reach a $165 billion market size by 2029.
But beware of flimsy tech that can't handle the heat—bad software will burn customers with delays and screwups. Only the right restaurant ordering & delivery software can cook up streamlined operations to delight diners.
Read on as we review the most essential features your restaurant needs to thrive in this booming online orderscape. With the right tech recipe, you'll have customers hooked and revenue cooking!
Order Taking and Management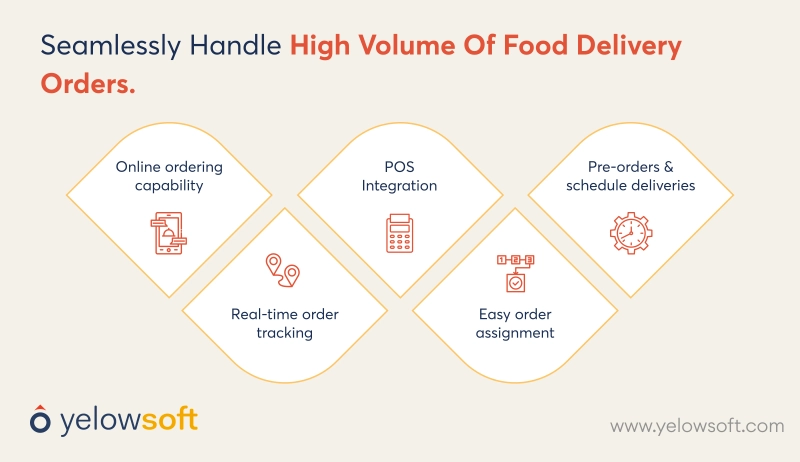 To seamlessly handle a high volume of food delivery orders, a restaurant needs specialized restaurant management software that makes the order-taking process ultra-efficient. The right food delivery solution will include features like online ordering, real-time order tracking, integration with the restaurant POS system, easy order reassignment, and options for pre-orders and scheduled deliveries.
Online ordering capability
A streamlined order-taking and management process is essential for restaurants running delivery and takeout. The restaurant order management system should have online ordering capabilities to let customers place delivery or pickup orders directly through the restaurant's own website.
This brings control over the ordering process to the restaurant itself rather than relying on third-party delivery apps.
Real-time order tracking and status updates
Real-time order tracking and status updates are a must-have feature. Customers should be able to track their order status from the moment they place the order till the food arrives. Providing order status visibility improves customer experience.
Integration with restaurant POS system
Integrating the order management system with a restaurant's point-of-sale (POS) system enables a unified view of all orders. Staff can manage and fulfil orders more efficiently when dine-in orders from the POS are synchronized with online and phone delivery orders.
Easy order reassignment if needed
Easy order reassignment options come in handy when an order gets assigned to the wrong driver or kitchen staff by mistake. The manager should be able to quickly reassign such orders to the correct person.
Options for pre-orders and scheduled deliveries
Options for pre-orders and scheduled deliveries allow customers to plan ahead. Customers can place an order to be delivered at a future date and time, which is hugely convenient. The restaurant management solution will manage all scheduled orders and send them to the kitchen for timely preparation.
Delivery Logistics Optimization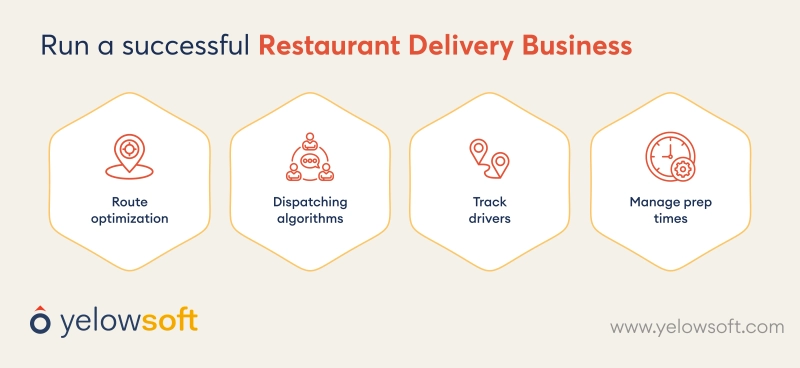 Managing delivery logistics is a major part of running a successful restaurant delivery business. From route optimization to driver tracking, food delivery software needs to provide the right tools.
Route optimization to ensure fast and efficient delivery
Route optimization determines the fastest and most efficient delivery routes, sequencing multiple orders together. It minimizes mileage so more orders can be handled per shift.
Dispatching algorithms to match orders with delivery fleets
Dispatching algorithms automatically match incoming orders to available drivers and fleets for quick pick-up and delivery.
Driver tracking and ETA calculations
The software should provide real-time driver tracking and estimated time of arrival (ETA) calculation. Customers get ETAs and can track their driver getting closer. Accurate ETAs also help restaurants schedule preparation according to expected driver arrival times.
Managing prep times based on order complexity
Managing variable prep and cook times for different menu items ensures food is not rushed out before it is ready. Integrating these logistics features enables restaurants to fulfil more deliveries faster without compromising on food quality.
Payments and Invoicing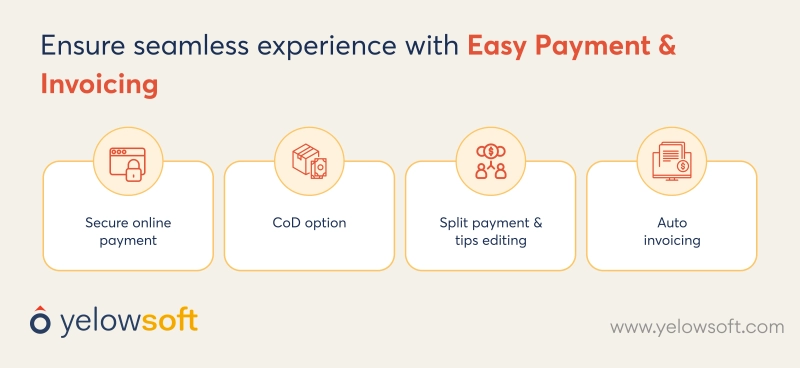 Secure online payment processing
With food delivery, security is paramount for online payments. The software should integrate with leading payment gateways like Stripe to enable accepting cards and digital wallets.
This provides the security of SSL encryption and PCI compliance without restaurants handling sensitive card data. Customers can pay conveniently via credit card, Apple Pay, Google Pay etc. while their information stays protected. Secure payment processing builds trust while increasing online revenues.
Options for cash on delivery
While online payments provide convenience, some customers still prefer cash on delivery. The software should accommodate this by having a COD payment option. Customers can opt to pay with cash when the order is delivered.
This caters to those who are wary of online payments or simply want to pay on receipt of the food. Expanding payment options boosts orders and flexibility.
Split payments, tips, and order editing after checkout
The best food delivery software should allow order edits post-checkout like splitting payment, adding tips, or changing items. Sometimes customers may want to split a bill with friends or tip the driver after delivery.
Allowing changes even after checkout improves convenience and the ordering experience. This flexibility engenders goodwill and higher satisfaction.
Automatic invoicing and revenue tracking
Comprehensive invoicing and real-time revenue data helps restaurants stay financially organized. The software should automatically generate itemized invoices listing all items ordered, quantities, prices, payments, discounts, tips etc.
Detailed documentation provides clarity and audit trails. Dashboards to track revenue versus outstanding payments give real-time cash flow visibility. Hassle-free invoicing and tracking brings financial transparency.
Customer Profiles and Account Management
In the digital food delivery era, restaurants need specialized tools to provide personalized and efficient customer service. Here are the key account management capabilities to seek in food delivery software:
Database of customer profiles with order history
The online food delivery software should maintain a database of customer profiles, including order history, favorites, delivery addresses, and more. This allows for providing personalized experiences based on past purchases.
Customers feel recognized, and the restaurant can tailor promotions and recommendations based on known preferences.
Rewards programs and referral features
Loyalty and referral programs incentivize customers to order again and spread the word. Loyalty programs can provide points, free items, or discounts for frequent purchasers.
Refer-a-friend promotions encourage sharing with new diners. Automated rewards and referrals boost revenue for restaurants and engagement at minimal overhead for restaurants.
Easy re-ordering based on saved customer preferences
With saved customer preferences, the software can simplify re-ordering. Favorites, recent orders, and customized bundles allow quick one-click ordering.
Customers appreciate the convenience, restaurants benefit from larger basket sizes. It's a win-win.
Customer service tools and communication channels
Restaurants need omnichannel customer service options like in-app chat, SMS, email, and phone support.
This allows prompt resolution no matter the channel customers use. Combined with customer history, restaurants can deliver informed, personalized service across touchpoints, improving satisfaction.
Analytics and Reporting
Restaurants need in-depth analytics and reporting to optimize growth. Robust analytics transforms guesswork into confident, informed decisions. Key capabilities that analytics and reporting should include:
Sales and order data analytics
Robust sales and order analytics provide actionable data like revenue, order volumes, peak hours, popular items, and customer demographics. Restaurants gain visibility to adjust operations, pricing, menus, and marketing to maximize profits.
Insights on menu and courier performance
Menu performance reports reveal which dishes have the highest demand and margins. This allows optimizing offerings. Courier performance metrics like deliveries/hr, ratings, and tips help identify top performers to improve operations.
Identifying high-demand areas and peak times
Analytics mapping order density by location and time of day identifies high-volume areas and peak periods. Restaurants can fine-tune delivery logistics, promotions, and staffing to align with demand patterns for efficiency.
Data to optimize operations and marketing
Bringing together metrics on orders, revenue, routes, couriers, and customers provides a holistic view to optimize overall operations and marketing. Data minimizes guesswork so restaurants can confidently tailor every aspect of the business.
Read more: Why do food delivery businesses need an on-demand delivery platform?
App and Website Integration
Seamless integration between mobile apps and websites is crucial for businesses looking to enhance user experience and streamline operations. Your food delivery software should consider these integration aspects.
User-friendly app for customers to order and track
The cornerstone of successful app and website integration lies in the creation of a user-friendly app that allows customers to effortlessly place orders and track their deliveries.
A user-friendly app not only simplifies the order placement process but also increases customer engagement, satisfaction and loyalty.
The app should offer an intuitive interface with a user-friendly navigation system. Customers should be able to browse menus, select items, customize their orders, and proceed to checkout with ease.
Driver app to manage pickups and deliveries
A driver app streamlines pickup and delivery processes. This reduces errors and enhances operational efficiency.
The driver app should provide drivers with detailed information about their assigned tasks. It should include pickup and delivery locations, special instructions, and estimated arrival times. Plus, enables drivers to communicate with customers or dispatchers, report any issues, and capture proof of delivery.
Restaurant dashboard to oversee operations
A restaurant dashboard centralizes data and operations. Allows to oversee operations efficiently. This ensures effective management and improved customer service.
The restaurant dashboard should offer a comprehensive view of key performance indicators (KPIs) such as sales, inventory levels, and customer feedback. It should also facilitate menu management, table reservations, and staff scheduling.
Additionally, it can integrate with the kitchen management system to streamline food preparation.
API support for integration with other tools
To truly harness the power of app and website integration, restaurants need robust API support to seamlessly connect with other essential tools and services.
API support enables restaurants to expand their capabilities by integrating with third-party applications and services.
APIs (Application Programming Interfaces) serve as bridges between different software systems and allow data and functionalities to flow smoothly between them.
By integrating with other tools such as payment gateways, CRM systems, and marketing platforms, restaurants can automate tasks, improve data accuracy, and enhance their overall efficiency.
Additional Features
In addition to the core components of app and website integration, businesses can further enhance their offerings with a range of valuable additional features. Below you will explore 4 essential elements. If your restaurant order management system has them, you can thrive in the market at a rapid pace.
Menu management and customization options
Efficient menu management is the cornerstone of a successful restaurant or food service business.
A robust menu management system allows restaurants to easily add, remove, or modify menu items based on factors like seasonality or customer feedback.
Customization options enable customers to personalize their orders by choosing ingredients, portion sizes, and preparation styles to suit their preferences.
Marketing tools like promotions and coupons
Marketing tools such as promotions and coupons are powerful instruments for attracting and retaining customers. Moreover, it drives revenue growth and fosters brand loyalty.
By offering discounts, buy-one-get-one (BOGO) deals, or free items with a minimum purchase, restaurants can encourage customers to make additional purchases or try new products.
Coupons, whether digital or physical, provide a tangible incentive for customers to return and make repeat purchases.
Loyalty programs and partnerships
Loyalty programs are a tried-and-true method for fostering customer loyalty. Forming partnerships with other restaurants can extend the reach and benefits of these programs.
Loyalty programs can offer customers points or rewards for every purchase, which can be redeemed for discounts, free items, or exclusive access.
By partnering with complimentary restaurants, loyalty programs can expand their offerings to include a wider range of rewards, such as spa treatments or travel discounts.
Catering order and group order management
Catering order and group order management ensure that restaurants can efficiently process and fulfill large orders. This expands their customer base and revenue potential.
These systems should enable customers to place bulk orders for events or group gatherings, specify delivery times, and customize their orders.
The system should also provide restaurants with tools for organizing and coordinating catering events, managing inventory, and ensuring timely deliveries.
How Yelowsoft's Restaurant Ordering & Delivery Software Can Help Your Business
Yelowsoft offers robust and complete online ordering and delivery management software designed specifically for restaurants and food businesses. Some standout features include: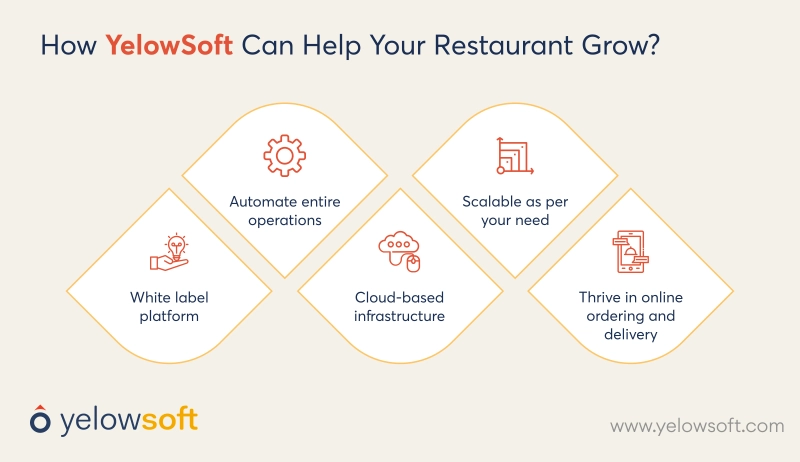 A customizable white-label platform lets you brand the apps and sites as your own.
Automates essential processes like order taking, assignment, invoicing, marketing etc. to streamline operations.
Built on a cloud-based infrastructure for any time, anywhere access and maximum uptime.
Available on-demand as you scale and grow, with options to pay per store or per transaction.
With these capabilities tailored for restaurants, Yelowsoft empowers food businesses to thrive in online ordering and deliveries.
Why Yelowsoft is the Go-To-Solution for your Restaurant
When it comes to choosing the ideal solution for your restaurant's needs, Yelowsoft stands out as the top choice. Our commitment to excellence is evident through the following key features:
Offer a white-label software
Yelowsoft provides a white-label on-demand order & delivery software solution, allowing you to brand it with your restaurant's identity. This not only reinforces your restaurant's unique image but also builds trust among your customers. With a white-label solution, your restaurant's branding remains consistent across your online ordering platform, enhancing recognition and loyalty.
Automated software to automate your business
Our on-demand food delivery system for restaurant is designed to automate various aspects of your restaurant business. From order processing to inventory management, we streamline operations, reduce manual efforts and minimize errors.
This automation saves time and resources while ensuring a more efficient and error-free workflow. This ultimately leads to improved customer satisfaction.
Cloud-based platform to help you provide uninterrupted services to your customers
Yelowsoft's cloud-based saas-based platform for restaurants ensures that your restaurant can provide uninterrupted services to your customers. By hosting your software in the cloud, you eliminate the risk of downtime due to server issues. This means your customers can access your online ordering system anytime, anywhere, ensuring a seamless and convenient experience.
Conclusion:
Running a profitable food delivery business requires robust technology tailored for restaurants. The right restaurant ordering & delivery software solution needs to have key features like order management, logistics optimization, payments, analytics, apps and more.
Choosing a comprehensive, scalable platform is critical for success. With capabilities like a white-label product, automation, cloud infrastructure, and on-demand availability, Yelowsoft empowers restaurants to thrive in online ordering and deliveries.
The platform brings together must-have functionality to help restaurants streamline processes, reduce labor, provide top-notch service and ultimately drive revenue. Investing in the right food delivery software solution can help restaurants dominate in the booming food delivery market.