In this highly competitive environment, it became tough to stand apart from the crowd, that's why marketers are looking for efficient solutions that can help them to achieve their goals. And finally, they got it in the form of white label solutions.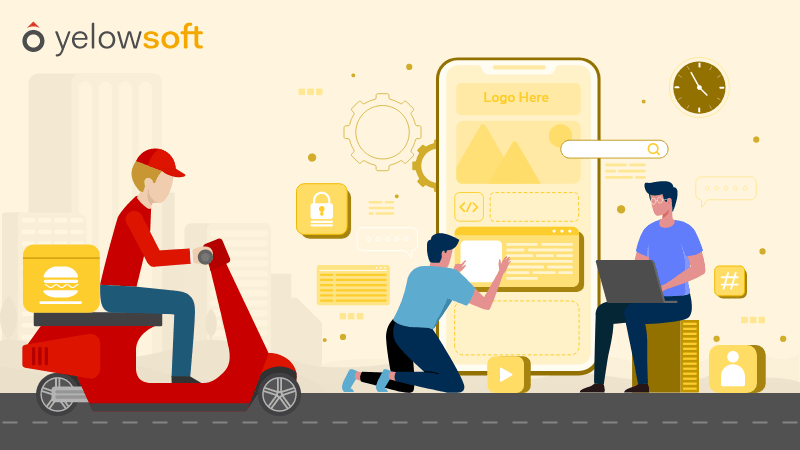 Business owners are choosing white label solutions over independent branding. Because of which white label branding is gaining huge popularity with each passing day because the tech world is developing faster than ever.
Previously, a considerable amount of time was spent on the development of online tools, testing, beta-testing with real people, and marketing. However, this scenario has been changed now. Today if you want to market your product better,you don't have to build your own online resources. You just need to integrate a white label solution to solve all your delivery problems.
In this blog, we will discuss with you everything you want to know about white label solutions such as its benefits and applications in business. Also, we will show you how the white label food delivery app solution can help you earn great profits. So let's begin without further ado.
What is white-label?
The term white-label is often used for different business niches and contexts. Generally, it's used when one company (provider) produces an unbranded service or product and uses the brand of the other company (marketer) to make it look as if the other company made it.
Let's take an example to understand this phenomenon better. Most of you might have visited grocery stores like Walmart. There at Walmart, you'll notice that there are several products that are sold under the brand name of Great Value. So, what does this mean? Does Walmart produce all of those products? The answer is No. Many companies provide their products and agree to put the branding of Great Value instead of their own.
White-labeling is often used for products which are mass-produced, such as electronics, consumer goods, and software. White-labelling has boomed in the past few years. Several IT development companies have leveraged white-labeling to develop top-notch apps and then sell them to other companies.
Different business models in white-label solutions
When we talk about different business models in white-label solutions, then there are mainly two types. First one is a SaaS based model and the other one is the hosted model. Let's discuss these models in detail:
SaaS based model
SaaS (software as a service) is a software distribution model that has gained rapid popularity among on-demand business startups. On-demand entrepreneurs are choosing SaaS since it helps them to overcome major hurdles such as:
Time constraints
Lack of expertise
Budget limitations
Talking about the charges involved in the SaaS business model then it has two types of charges:
One-time setup fee: - As the name suggests, it's a one-time fee which the business owners have to pay for setting up the solution.
Fixed monthly charge: - The fixed monthly charge depends on various factors such as number of delivery agents, orders, etc.
Hosted model
In the hosted model, the solution provider company also provides the source code of the white-label solution for a price.
Furthermore, the company may also provide support and maintenance to the solution for an annual maintenance charge.
Top advantages of white-label solutions?
On-demand delivery solutions are on the surge because of the giants like Uber Eats and Grubhub. These giant players have redefined the convenience and comfort in on demand food deliveries for the customers by amalgamating innovative technology. The ease of ordering food has simply flourished with the inception of 'food delivery apps.'
You can also use the on-demand business model to provide a great ease of food ordering to your customers. But it is only possible when your business is backed up by the white label food delivery app. Before you start with your food delivery app development, you need to look at its benefits of white label food ordering app solution:
Easy to brand
One of the biggest advantages of white-labelling is that it allows businesses to focus more on marketing, advertising, and branding of the products than on research and development which often takes a long time.
With a white-label online ordering system, you can get rid of resource deployment on factors which wouldn't make much of a difference in the market. Instead, the thing which makes a bigger difference is to reach out to the customers and let them know that you've a top-notch product.
Time & money
Building solutions from scratch is always a costly and time-consuming affair. Setting up a different team for building products will take a huge toll on your budget. With white-label on demand food delivery platform in place, business owners can eliminate such a huge cost overhead. White-label software enables businesses to focus more on their strengths than their subsidiary functions.
Reduced risk
Bigger the organization, bigger are the risks. So, if you choose to opt for white-label solutions, then it becomes easier for businesses to transfer risk associated with the development process of the product to third parties. This is exactly where Yelowsoft comes into picture as it specializes in developing white-label solutions and managing & mitigating the associated risks in a better way.
Satisfied customers
A business becomes successful when they have satisfied customers. And the satisfaction of the customers depends on how the business is delivering their services and products. White-labeling ensures an improved and efficient value chain, which results in customers experiencing valuable transactions from the business.
Why one should go for white-label food delivery solution?
The COVID-19 pandemic has totally changed our lives. The preventive measures taken to curb the spread of the disease have adversely affected all the industry verticals. Lockdowns, curfew, and social distancing norms have created unprecedented declines.
However, this critical situation has a silver lining for few businesses in the form of on-demand delivery. The on-demand delivery businesses, especially the food delivery business, have seen a huge spike because of the COVID-19.
This mainly because food delivery comes under essential services which could operate even during the lockdown. This means that COVID-19 restrictions had no negative impact on the food delivery, in fact it had a positive impact on it.
In the US, the top four food delivery companies DoorDash, GRUB, Postmates, and UberEats have raked a combined revenue of approximately $5.5 billion between April and September. To give you the perspective, this amount was more than twice of the combined revenue made during the same period last year.
These four top US food delivery apps also witnessed a rise of $3 billion in the second and third quarter as well.
All these stats only prove one thing that it's the best time to start a food-delivery business. Another thing to keep in mind is that no one knows for how long this golden period will stay. So, if anyone wants to leverage this period, then they must start as soon as possible.
But here's a catch. Starting an on-demand food delivery business is a long process. You first have to set up the team, build the app from scratch, and market the solution. All these may take a few months, or even a few years.
To prevent the COVID-19 pandemic, governments have imposed strict social distancing norms to make their citizens safe. Because of which no industry or business can be a, we are confined to our homes. This has spiked the demand for day-to-day household items, which includes everyday meals.
Food delivery businesses are making tremendous efforts to meet customer demands. This has opened the doors for the new players to enter the competition and deliver food to a growing market. Here is how a white label food ordering app enables you to take charge of your food delivery business immediately:
Investment Is Low
Initially, white label solutions do not require any significant expenditures. This may be helpful for many small businesses and startups for whom the budget is constrained to more substantial spending.
Customization
White label apps allow the businesses, the app can be heavily customized to reflect the brand's image. Businesses can utilise white label delivery models to synchronize services with their websites and social media networks.
Reduced Marketing Time
Let us say that a taxi company has a well-maintained fleet of vehicles. Now that this company has established itself in the market, obtaining a white label solution will simply be an added benefit for their clients.
Post-release Support and Maintenance
Post-release app maintenance is a critical thing. That is why software businesses offer white-label apps with guaranteed support and maintenance once the app is published. This post-release maintenance is critical.
Quick Turnaround Time
If a business wants to gain a position in a market swiftly, then they should choose a ready-made product. There are thousands of taxis across the global market. If you want to start a business in a place where such taxi service does not exist, then you need a solution that can be immediately launched in the market for rapid profits. And, a white label solution is the best choice for this.
Maintain accuracy with built in reporting system
Get a holistic view of your business performance by generating daily, weekly, monthly, and yearly reports. You can access previous orders, sales figures, and delivery statistics that can strategize your next move based on past performance.
Measure performance with accurate metrics
Constant analysis of business performance is the key to success in the taxi markets. That is why the importance of performance metrics can't be ignored. Performance metric markers allow you to keep tabs on every activity and transaction. Carefully check out the reviews and ratings, analyse order volumes, and place markers on special activities.
Provide better satisfaction to customers
White label solutions can help customers to get the best outcomes within the least possible time. Thus, it would be a win-win situation for you and your customers as they can order from the app soon and you are going to get your app in the least possible time. Hence, you can achieve the expected results in the shortest possible time.
Conclusion
YelowXpress' white label food delivery solution is an ideal choice to get remarkable benefits such as quick market acceleration, cost-effectiveness, and after-development support & assistance. So, if you are a startup owner looking to rebrand or launch your own white label food delivery app, then YelowXpress is the best choice for you.
Our experts will deliver you with a versatile white label on-demand delivery app within a week. So, make a state-of-the-art white label food delivery solution for your business today and start making profitable deliveries.