About
NaviGo is an app-based ride-hailing company which enables riders to connect to the nearest driver within a matter of a few minutes. The company was established in Koh Samui, Thailand by a local with a goal of improving the state of public transportation for both locals and tourists. The company's co-founder Pete Poolsawad started the company with just 5 cars in order to test the market.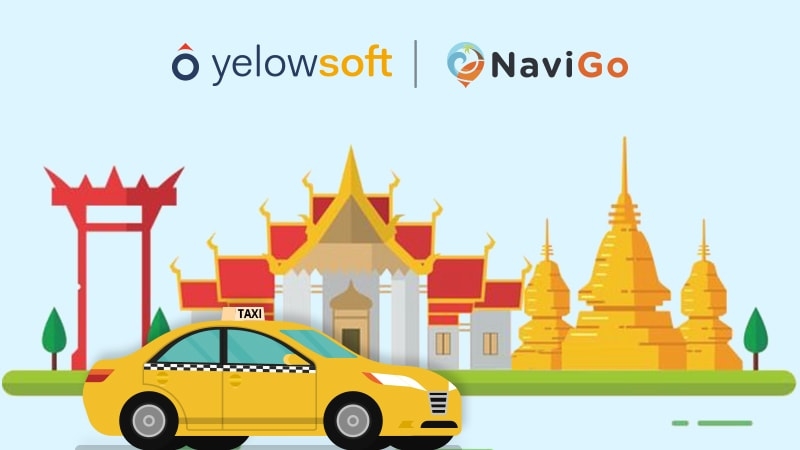 They had high hopes for bringing the change as they were the first taxi app company to operate on the island. Currently, the company has over 50 experienced drivers that provide taxi services to the entire community. NaviGo has now become the first choice for everyone's travel needs in Koh Samui.
Challenges
Wanted to introduce parcel and food delivery
Many taxi companies are now moving beyond taxi to tap various markets. Similarly, our client also wanted to cement their foot in various other industry segments like courier delivery and food delivery. However, their existing system was unable to include the above-mentioned services.
Tie-ups with hotels, restaurants and malls for taxi service
Our client wanted to tie up with the hotels, restaurants, and malls of Koh Samui. They had identified that these places have a lot of people who are usually in need of a cab service. Our clients wanted to leverage this need to increase their number of rides and revenue.
Wanted to define single pick-up point for specific areas
Our client also wanted to define a few zones which would only have a single pick-up point. In simple words, they wanted that all the requests coming from within the zone should have a single pick-up point.
So, if a rider books a ride from a particular defined zone then he has to reach the defined pick-up point to avail the taxi service. The driver won't be coming to the rider's location. It's important to note that they wanted this arrangement applicable in only a few zones and not on the entire island.
VOIP integration
Our client didn't want to charge the drivers for all the in-app calls that they made to the riders. For this, they wanted to integrate VOIP which enables voice communications and multimedia sessions over internet protocol networks.
Translate feature in chat
Since Thailand is a tourist hotspot, many tourists come there from different parts of the world. Many tourists faced difficulty in communicating with the drivers, as either of the parties didn't know any common language. To overcome this issue, they wanted a translate feature in the chat.
Solution
Gave our robust solution that comes with taxi booking, food delivery and courier delivery
To fulfil the first requirement of our client, we gave them our robust system that had both taxi booking and courier delivery. The food delivery integration is still in progress. With our advanced solution, the client can manage their taxi business and courier business from the same application.
Dispatcher apps and self-operating kiosks
To ensure stronger tie-ups of our clients with hotels, restaurants, and malls, we suggested them to use our dispatcher apps and self-operating kiosks. Our dispatcher app made it possible for the client to place their dispatchers who can perform manual bookings at these places via the dispatcher app.
The self-operating kiosk also played a similar function. However, the only difference was that they were totally automatic in its operation and didn't require anyone's help for its operation. Any rider can simply enter the details in the kiosk and book a ride for themselves with just a few taps.
Queuing system
To fulfil the requirement of a single pick-up point for a few zones, we came up with our automated driver queuing system. This queuing system allocates tokens to all the drivers that are present at the pick-up point on a first-come-first-served basis.
The token number signifies the driver's position in the queue. The requests are assigned to the drivers as per their token number. It means that whenever a rider comes to the pick-up point then his request goes to the driver with token number 1. As the rides get allotted the token numbers of drivers continue to approach towards one thus forming a proper sequence.
Integrated VOIP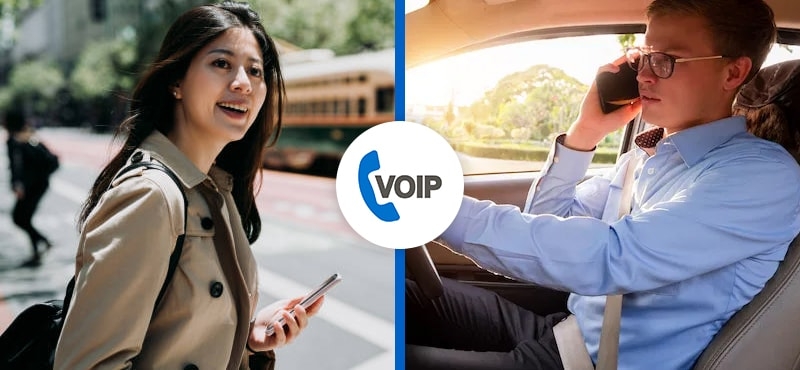 Yelowsoft has such a robust system that it can accommodate any third-party integration requirement of the client. Here we successfully integrated the third party for VOIP. We integrated Sinch which facilitated voice communication over the internet network.
Added translate feature in chat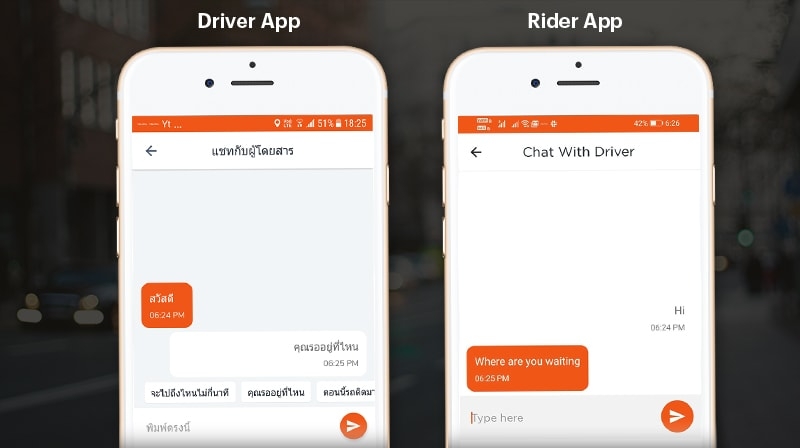 To resolve the communication issue, we integrated Google Translate APIs. There is a variety of Google Translate APIs which performs various functions like language detection, translation from one language to multiple languages and vice-versa.
Integrating all these APIs costs a high amount. So, rather than hard coding this feature specifically for NaviGo we decided to adopt a broader approach and kept this feature configurable. Now, our future clients can decide if they want to keep the translate feature or not.
Additional requirement
One additional requirement that NaviGo needed was a modification in our pricing schema due to Thailand's taxi pricing policy. Initially, we had two types of pricing viz. Normal pricing and meter pricing. However, to fulfil the client's requirement, we came with a combination of the pricing. Let's understand how.
First, let's understand what normal pricing and meter pricing are:
Normal pricing is calculated by taking two main factors which are time and distance. The normal pricing is also categorised into two types of pricing schemas which are
Time and distance pricing
In this type of pricing, the total amount of fare is calculated by the adding of base fare, the price per km, waiting charge, and ride time charge. If the total summation of all these fares is above the minimum fare, then the minimum fare it is applied else the rider has to pay the minimum fare which is predefined.
Total fare = Minimum fare or (Base fare + per km + waiting charge + ride time charge) Whichever is higher.
Meter pricing
Meter pricing is also called slab pricing due to its pricing structure which resembles that of tariff pricing. Let's have a look at an example to understand it better.
1-2 km – $5
3-4 km – $10
5-6 km – $20
The fare is calculated as per this slab pricing. So, if a rider travels 4 kilometres, then he has to pay $10 and so on.
We already had these two types of pricing schemas under normal pricing, however; our NaviGo wanted a pricing schema which could comply with Thailand's pricing policy. To meet the needs of our client, we came up with a new type of pricing schema.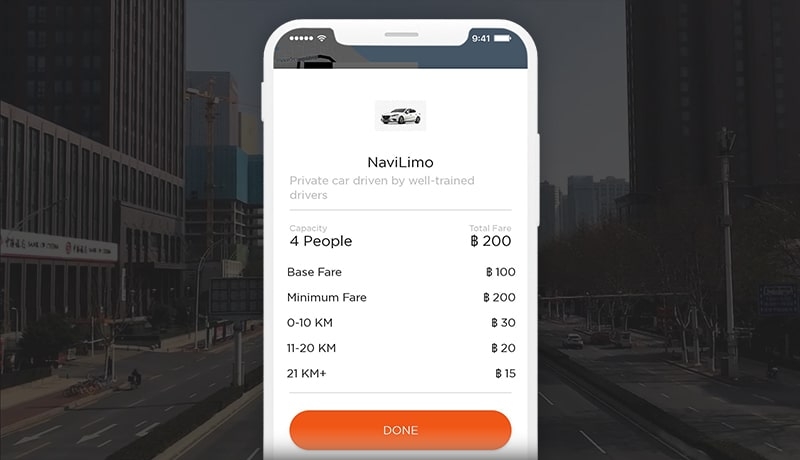 In this pricing schema, the pricing slabs were bigger than before and the rates defined for each slab were for each kilometre. It meant that to calculate the total fare one had to take into account all respective slab pricings.
Let's take an example to understand this better.
1-10 – $3 per km
11- 15 – $2.8 per km
16 – 20 – $2.6 per km
Suppose rider travelled 13km, then the total fare will be (3×10) + (2.8×3) = $38.4
We introduced per km pricing in the slab-wise pricing.
This pricing schema fulfilled all the criteria of Thailand's pricing policy.
Words from the client
Fulfilling our client's requirements is our number one priority. And that's exactly what we did with NaviGo. At the end the client was fully satisfied with our service. They also shared their experience in the form of a video which you can view below.
Aftermath
With Yelowsoft's solution, NaviGo tasted success in not only the taxi business but also in the courier business. The work for food delivery is in progress and once it's completed NaviGo will become a prominent multi-service provider in its region.