About Travee
Travee is one of the leading ridesharing apps in the Caribbean Islands. It offers the best ride-booking service for taxis, private cars and fleet operators. Travee avails them with the option to Pay by Cash or Credit Card. Also, the customers will get the bill receipt at the end of the ride.
Furthermore, Travee invests heavily into implementing safety features into its apps such as sending text messages with ride information to loved ones, driver screenings, and number masking to prevent drivers from getting the personal number of the client.
Apart from this, Travee also supports drivers at every step of taxi operations from signup, to becoming approved to complete rides. Travee provides hassle-free ride-hailing services to its riders to safely reach their destination.
What are the challenges faced by Travee?
The major reason why Travee came to us was that they were not happy with their previous solution as it hindered their business expansion opportunities. But Travee's problems were not just limited to the taxi dispatch solution, there are also some other which are as follows:
The system was not working properly
Travee was facing issues with its existing taxi dispatch system as it was not working properly. Also, their existing team was not capable enough to provide the required solution.
No expertise for modification
Travee was unable to modify their existing system. The reason behind it was that Travee did not have enough expertise for modification. This was affecting its current business. Apart from this, Travee was unable to scale up its existing taxi system.
Lack of proper maintenance
Travee did not have a proper maintenance structure for their existing taxi dispatch system. Due to which they had to face issues with daily ride management.
How we helped Travee?
After understanding Travee's business model, we felt that it was more of a taxi dispatch system rather than a taxi booking system. Then we understood the working of Travee and offered them an advanced taxi dispatch solution.
Basically, Travee wanted to automate its current system. So for this, we provided them with an advanced taxi dispatch solution that can efficiently automate their taxi business. Our taxi dispatch solution helped Travee to streamline its operations seamlessly.
The top-notch features of Yelowsoft's solution enabled them to offer a rich riding experience to their customers. Apart from this, our taxi dispatch solution also helped Travee in the following ways:
Our technological expertise
One of the major concerns of our client was the lack of technical expertise. Thus, there was no scope of modification in Travee's existing system. So Travee was unable to uplift their operations. Yelowsoft filled this gap with the help of its vast industrial expertise and a team of highly proficient software professionals.
Dispatch booking system
Previously, Travee's taxi booking was manual. So, they just got scheduled rides. So to help Travee, we have decided to provide them with an advanced taxi dispatch solution. Now, Travee can accept both the scheduled and the on-demand taxi rides.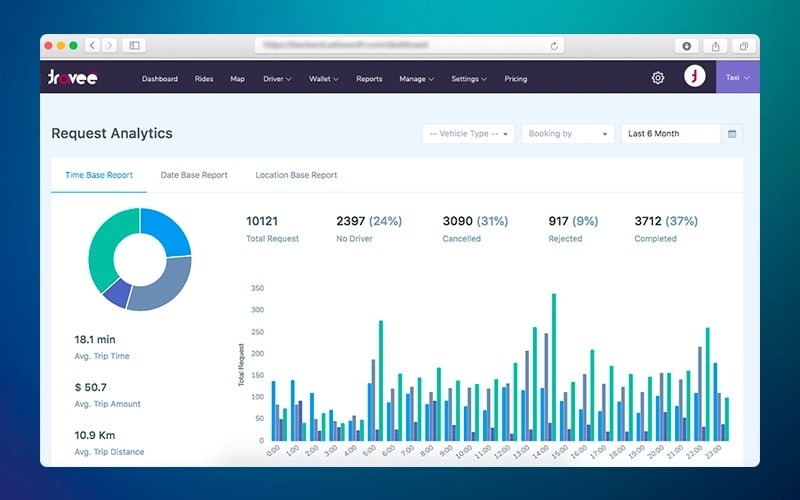 Apart from this, Travee was also not having a proper reporting system to record their daily transactions. So, we have decided to provide them with an accurate analytics feature in our dispatch booking solution that can help them to keep a tab on their profits and losses.
Ride Broadcasting
Ride broadcasting means the real-time visibility of rides to all the drivers. It allows the drivers to see the rides on their screen. So if none of the drivers is able to accept the ride request then the algorithm assigns the ride to another driver. Thus, the taxi business Admin does not miss out on a single customer.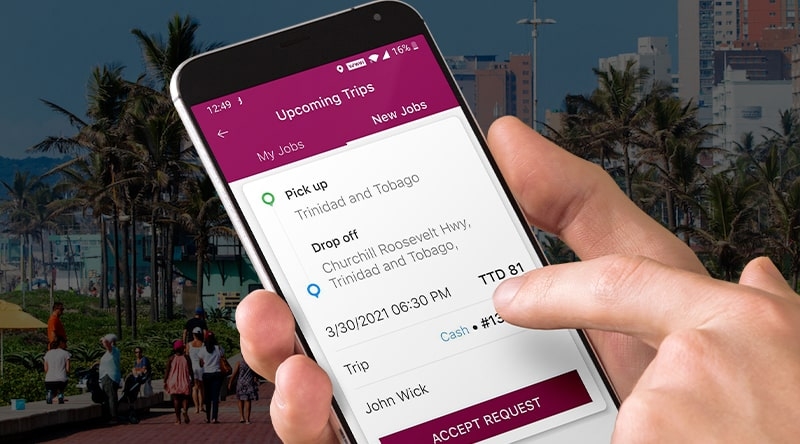 Apart from this, the driver will also get a reminder regarding his ride before the time. So that he can pass on this ride to another driver if he is unable to take it. Thus, the ride broadcasting feature assures the Admin that the ride would be allocated to some driver.
Sub Company Concept
In the sub-company concept, the Super Admin can seamlessly operate its services in multiple regions or countries. Also, the taxi company can even start their operations in another place in the same country.
Along with this, the Super Admin can segregate the rides geographically. For example, there are two branches of a ride-hailing company in India and another is in Dubai. Then the Admin can further segregate as per the regions.
Travee's future plans
Along with providing taxi services, Travee is also planning to explore other business segments as well that are as follows:
Super App
Apart from improving the dispatch system, Travee wants to enter into the on-demand delivery segment by making a Super App. But with its previous taxi dispatch solution, Travee was unable to make a Super App.
But after switching to Yelowsoft's taxi dispatch solution, our client will successfully fulfil their long time dream of evolving into a Super App for its service diversification.
With Yelowsoft's feature-rich Super App solution, Travee will easily provide multiple services such as parcel delivery, taxi, corporate, rental, etc. under a single app.
Corporate taxi booking solution
Travee is also planning to enter into the corporate taxi booking service segment. For this, Travee wants to provide companies that can tie up with Travee for their employees' transport – in that option their employees can travel from one destination to another safely and conveniently.
Aftermath
Yelowsoft's advanced taxi dispatch solution played a crucial role in maintaining Travee's reputation as a premier and secure taxi booking company in the Caribbean islands. After the integration of our solution, Travee has received 10,121 ride requests in the last six months. Moreover, Travee's average trip distance and average trip time were 10.9 kilometres and 18.1 minutes respectively.