Managing a taxi business is not a child's play. You have to take several things under consideration such as drivers, vehicles, customers, commissions, subscription, and many more while managing your taxi business efficiently.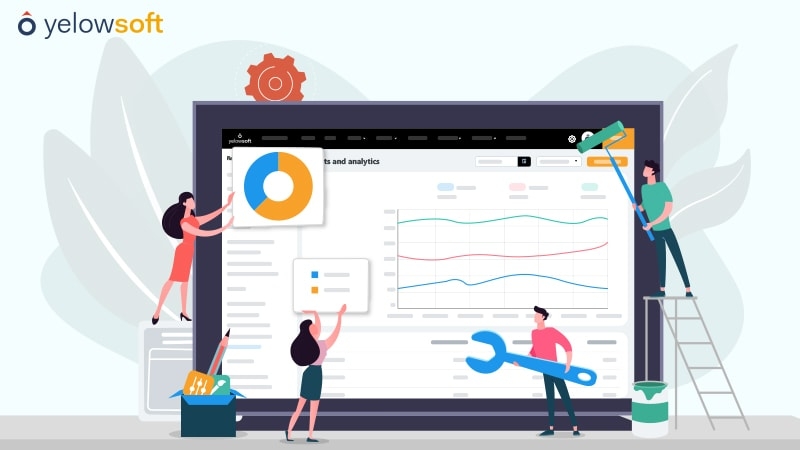 The complexity increases by many folds when one has to manage not only taxi business but also have to manage food delivery, parcel delivery, grocery delivery, cargo delivery, etc. on a single Super App.
We at Yelowsoft very well understand this concern of on-demand business owners and that's the reason why we have come up with a major product update with which admin gets an easy-to-use admin panel for efficient management of multiple services on the Super App.
Why this was required?
Before we discuss the product update in detail. It's very important to understand why we had to come up with it in the first place. Initially, when Yelowsoft began, it used to provide only taxi solutions. That's the reason why we developed our solution's UI, designing, features, and every other aspect keeping only taxi businesses in mind.
However, later on, Yelowsoft decided to offer on-demand delivery solutions for food delivery, grocery delivery, parcel delivery, cargo delivery, etc. And later on, Yelowsoft came up with its own Super App solution that included all the taxi booking and on-demand delivery services on the same app.
This is where the problem began. The clients were facing trouble in managing their drivers and customers in various services. There was no proper bifurcation of data with respect to different services.
For example, if an admin wants to view the number of online drivers for the taxi, then he would have a hard time as the system won't display the total number of online taxi drivers. Instead, it would display the total number of online drivers and delivery agents of all services including food delivery, grocery delivery, parcel delivery, and many more.
Likewise, the admin couldn't view other data such as a number of bookings, commissions, etc. for a particular service.
Another problem associated with the previous UI of our solution was that the admin had to perform the same tasks repeatedly. For example, if an admin wants to remove a driver, then he has to go to the taxi service tab and remove that driver. Similarly, he has to go to other services tabs also and perform the same task.
This caused a lot of confusion and chaos for our clients. In simple words, our solution wasn't user-friendly when it came to managing multiple services on the same app.
How we made the management of our Super App Super Simple?
To overcome the above challenge, we had to make some bold and necessary changes in the UI of our solution that would help our clients to manage each and every component of their multiple services in an easy and efficient manner. We had to come up with a UI that would provide our clients with a rich user experience.
To achieve this, we made several changes. Let's have a look at these changes one by one.
Introduced go to services page
Previously, when admin logged into the admin panel, he would see the dashboard for taxi service by default. Now, if we want to go to other services, then he has to go to the top right corner and change the service as shown in the below figure.
The main issue with this was many times admin would log in thinking that they are accessing the dashboard food delivery or grocery delivery only to find out that they were on taxi's dashboard all this time. The default taxi dashboard landing was causing a lot of inconvenience and confusion for the admin.
Also, admins tend to overlook the service type on the upper right corner as it was very small in size.
To overcome this issue, we introduced a go-to service page. Now, when an admin logs into the system, he would no longer be redirected to the taxi's dashboard by default but Instead would see a go-to service page as shown below.
This page would display all his operational services in a single place. Furthermore, the admin can also seamlessly navigate to various services with just one click. The bigger icons and simple UI eliminated all the possibilities of error and confusion as far as the service type was concerned.
Basic details tab
In the above screen, you must have observed a new tab – Basic Detail. We added this new tab to make admin's life easier. As earlier mentioned, our clients were facing the problem of performing repetitive tasks. So, we decided to fix this by with our new basic detail tab. Let's see how it works.
Before coming up with the basic details tab, we carefully studied the user experience. We identified all those functions or steps that were unnecessary and repetitive. We also identified all the common components from various service tabs.
After analysing over these findings, we finally came up with our basic details tab, where we placed all the repetitive and common tasks in a single tab. Now, admin doesn't need to go to every service tab for doing the same task repeatedly as he can simply go to the basic details tab and do it for once and it would be applied in all the operational service.
The dashboard of the basic detail tab shows the total number of drivers, passengers, and suspended users across all the services. It also displays the number of active and new driver and passengers.
Apart from that, admin can perform many functions from the basic detail page that would be applicable to all the services page respectively. Let's have a look at some of these functions.
The dashboard comes with a "Driver" tab, where admin can view details of all his active and suspended drivers across the services.
In the "wallet" tab, the admin can view the wallet balance of all his drivers. Furthermore, he can also payout outstanding amounts to all his drivers for all the services in one go.
In the "manage" tab, the admin can manage drivers, passengers, vehicles, incentives, staff, roles, documents, ads, SOS, and many more.
In the "settings" tab, admin can take care of things like document type, issue reason, extra fields, CMS, and notifications.
Benefits of our Admin Panel's UI
We just had a look at the major UI changes. Now, let's have a look at the top benefits that admins would enjoy with our latest Admin Panel' UI updates.
Easy to manage
Our newer and better UI of Admin Panel makes management easy for the admin. This is because they get all the information about all their drivers and passengers at a single place.
They can add, edit, and remove drivers and passengers for all the services from the basic detail tab. Moreover, they can also manage all kind of transactions from a single place rather than going to the tabs of respective services.
Easy UI & navigation
Our new update comes with easy UI and navigation which makes admin's job easier. Go to service page along with bigger tabs helps admin to easily navigate among the various service tabs.
Bifurcation of data
One of the biggest advantages of this product update is that admin can view all the data which are bifurcated as per the service types. Admin can view the number of drivers, passengers, bookings, commissions, payments, and many more for each of the different service type.
Business intelligence
Since admin gets all the data in the bifurcated and sorted based on the different service types. The admin can receive crucial business intelligence from these data.
For an instance, if he sees that his online food delivery agents are fewer as compared to the requests received then he can fill that deficit by assigning his parcel delivery agents to take up food delivery requests. Depending on the data, admin can make adjustments so that all his services do good business.
This was all about the product update. I hope this article served you best for explaining all the practical details of our product update. We'll be coming up with some more product updates in the future. Until then, keep reading this space.