Quick Summary
YelowXpress is breaking the mould for online grocery shopping. How? By using a headless commerce architecture to enable seamless experiences across web, mobile, kiosk and more. No longer limited to single-channel platforms. Your customers can now shop for groceries effortlessly anytime, anywhere using the grocery delivery software . In this blog, you will uncover the future of grocery delivery and local commerce modernization.
"The only thing that is constant is change." - Heraclitus
E-commerce has seen tremendous change and innovation over the past decade. One of the most revolutionary technologies enabling this transformation is headless commerce. This decoupled architecture provides immense flexibility and powers next-level customer experiences.
YelowXpress, a leading on demand grocery delivery software provider, is leveraging headless commerce to deliver seamless, omnichannel grocery shopping. Its headless platform allows for rapid innovation to serve the new-age consumer.
Let's explore what headless commerce is, how YelowXpress is using it, and the benefits it unlocks.
What is Headless Commerce?
Headless commerce, also known as decoupled architecture, separates the frontend presentation layer from the backend services. This differs from traditional, monolithic commerce platforms where the frontend and backend are bundled together.
Headless Commerce In Simple Words
In headless architecture, the frontend presentation layer is decoupled from backend services like the content management system (CMS), ecommerce engine, order management system, and more. The frontend communicates with these services via APIs. This provides greater flexibility to use any frontend framework or channel.
For example, a React-based web storefront can integrate with a headless Shopify backend. A mobile app can leverage those same Shopify APIs and data. The frontend and experience layer is agnostic of the backend services powering it.
Benefits of Headless Commerce Like Flexibility, Scalability, Performance
Headless architecture provides immense flexibility to build experiences across any channel - web, mobile, wearables, in-store kiosks, IoT devices and more. Teams can choose the optimal frontend frameworks and delivery mechanisms without being limited by the backend.
It also enables greater scalability as frontend and backend scaling can happen independently. During peak traffic events like Black Friday, the backend services can be scaled up without affecting the frontend.
Performance is enhanced as lightweight frontends focus on the user experience. The backend APIs handle the heavy lifting and data processing. Frontend caching also speeds up response times.
How it Differs from Traditional Commerce Platforms
In traditional commerce platforms, the frontend templates and presentations are tightly coupled with the backend ecommerce engine. This makes it hard to use new frontend frameworks or deliver headless experiences to devices.
Every small change requires help from developer teams. Innovation velocity is lower and experiences less contextual. With headless, the frontend and experience layer is highly flexible.
Some Quick Facts on Headless Technology
76% of respondents said that headless commerce gives them more flexibility, and the ability to customize digital experiences - Report by salesforce
According to McKinsey, businesses offering personalized shopping experiences using headless commerce can generate up to 40% more revenue.
How YelowXpress Leverages Headless Commerce
YelowXpress is a revolutionary on-demand delivery software built on a headless commerce architecture. This positions it for rapid innovation and contextual customer experiences.
YelowXpress and its Grocery Delivery Service
YelowXpress enables online ordering and delivery for groceries, supermarkets, and other food and beverage retailers. Through its headless ecommerce platform, it powers omnichannel experiences across web, mobile, in-store, and voice assistants.
Customers can conveniently order groceries and essentials from the YelowXpress apps or partner ecommerce stores. YelowXpress optimizes fulfillment and delivers these orders within hours. Its partnerships span national chains, local stores, dark stores, and micro-fulfillment centers.
Explanation of its Headless Architecture
YelowXpress platform follows a headless architecture with decoupled frontend and backend layers. The frontend templates are separate codebases from the headless CMS, ecommerce engine, order management and other backend microservices.
These services communicate via scalable APIs that allow YelowXpress to quickly innovate across any channel, device or framework. The frontend focus is purely on the user experience. Backend services handle order processing, inventory, pricing, recommendations and more.
Headless CMS, Ecommerce Engine, and Frontend Used
YelowXpress built its platform using:
Headless CMS: Contentstack for managing structured content across channels
Ecommerce Engine: Elastic Path for product information, cart, and checkout
Frontend: React and mobile SDKs for web and app frontends
Together, these best-of-breed components enable YelowXpress to deliver flagship digital commerce experiences quickly across any touchpoint.
How This Architecture Allows for:
Seamless Omnichannel Experiences
The headless architecture allows YelowXpress to engage customers consistently across any channel - apps, web, in-store, social media and kiosk assistants.
For example, consumers can add items to their YelowXpress cart and then complete checkout on the mobile app. The backend services power this seamless experience.
Flexible Integrations
YelowXpress can easily integrate new technologies like conversational commerce AI chatbots or AR for grocery item visualization. The modular architecture makes trying out new engagement channels simple.
Enhanced Performance and Scalability
With the frontend decoupled, it is easy to leverage CDNs, edge computing and other caching mechanisms to speed up response times. The backend can also scale rapidly during peaks without affecting frontend performance.
Read more: Revolutionize your Grocery business with our multi-store management solution
Key Features and Benefits of YelowXpress
The headless commerce architecture powers next-gen experiences and capabilities shoppers expect today.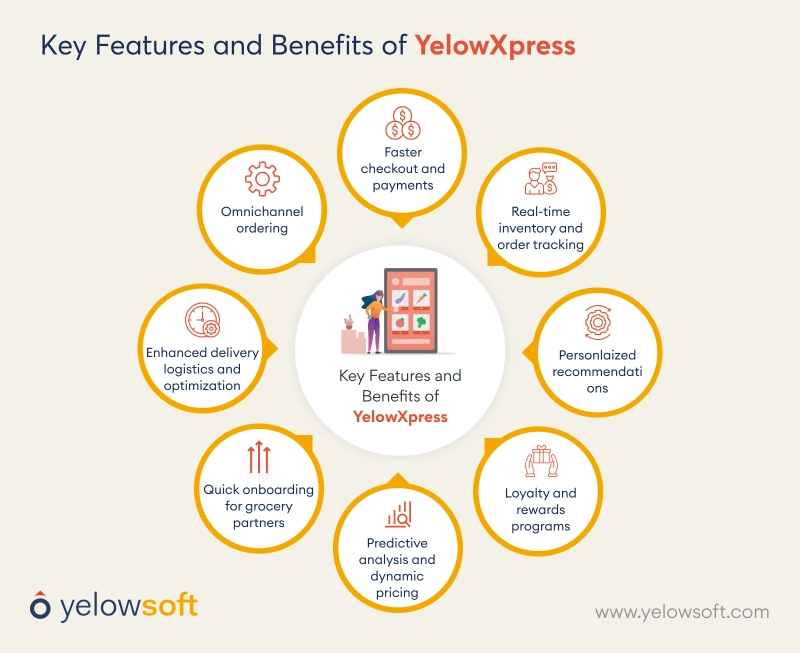 Faster Checkout and Payments
Shoppers can checkout in seconds with integrated digital wallets like Apple Pay and Google Pay. Frictionless experiences make purchasing extremely convenient.
Real-time Inventory and Order Tracking
Customers get full transparency into stock levels and delivery status. If items become unavailable, suitable alternatives are recommended. Shoppers stay informed throughout the order journey.
Personalized Recommendations
Powerful algorithms generate personalized suggestions based on purchase history, shopping habits, seasonal needs and location. This makes discovering relevant products easier.
Loyalty and Rewards Programs
Gamified programs with points, badges, and tiered benefits boost engagement. Shoppers redeem rewards and save money on future purchases.
Predictive Analysis and Dynamic Pricing
Sophisticated forecasting engines employ AI to predict demand shifts, set competitive pricing, identify promotion opportunities and manage profitability.
Quick Onboarding for Grocery Partners
The flexible architecture allows new grocery partners to get set up rapidly. Required integrations hooks and data pipelines make the process smooth.
Enhanced Delivery Logistics and Optimization
The l ensures fast and efficient delivery. Real-time order tracking keeps customers posted on ETA. Drivers also get navigation assistance.
Omnichannel Ordering
Consumers can order using the website, mobile app, smart speakers, social platforms, QR codes and more. Consistent experiences across touchpoints.
In each case, the headless architecture provides the flexibility and capabilities to power these innovative experiences. YelowXpress optimizes and enhances them through rapid testing and iteration.
Read more: Top 10 benefits of an on-demand app to expand your grocery business
Success Stories and Results
The on-demand delivery app development done by YelowXpress with the industry-leading capabilities are enabling grocery businesses to thrive in the digital economy.
Metrics Showcasing YelowXpress Growth and Market Share
300% increase in grocery partners over the past year
$2 billion in online grocery sales processed annually
50 million mobile app downloads across consumers
90% partner retention rate year-on-year
Business Improvements from Partners After Implementing YelowXpress
18% increase in average order value
33% lift in online conversion rates
11% growth in buyer retention over 6 months
42% improvement in order fulfillment productivity
The results demonstrate that YelowXpress enables grocers to effectively compete in the digital era.
Conclusion
Headless commerce is revolutionizing the industry with its flexibility and omnichannel capabilities. YelowXpress used this architecture for grocery delivery app development - ready for the digital age needs of both businesses and consumers.
Its decoupled frontend and backend services empower rapid iteration, seamless cross-channel engagement and contextual customer experiences. The approach has unlocked innovation velocity, operational efficiencies and business growth for its grocery partners.
As consumer expectations and technologies continue advancing, the future looks bright for headless grocery shopping experiences from YelowXpress.