Features

you need to grow faster

Take complete control of your taxi dispatch business with our feature-rich admin panel. Effortlessly streamline bookings, transactions, and CRM activities for better efficiency and productivity.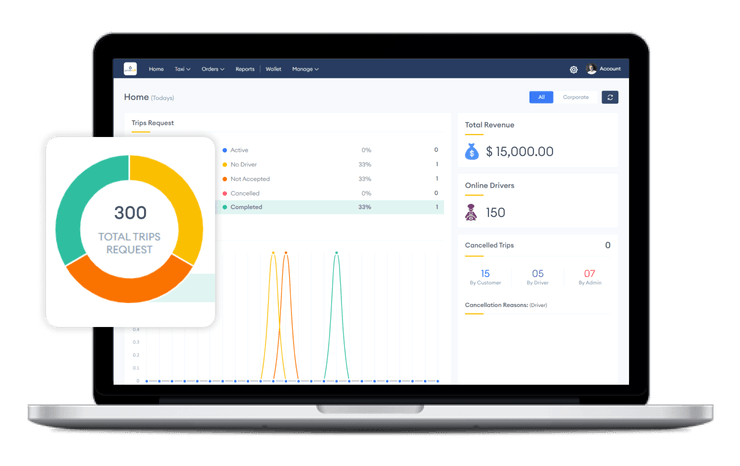 Comprehensive
Dashboard
Access a centralized dashboard that provides a holistic view of your entire taxi business. Monitor key metrics, track performance, and make data-driven decisions.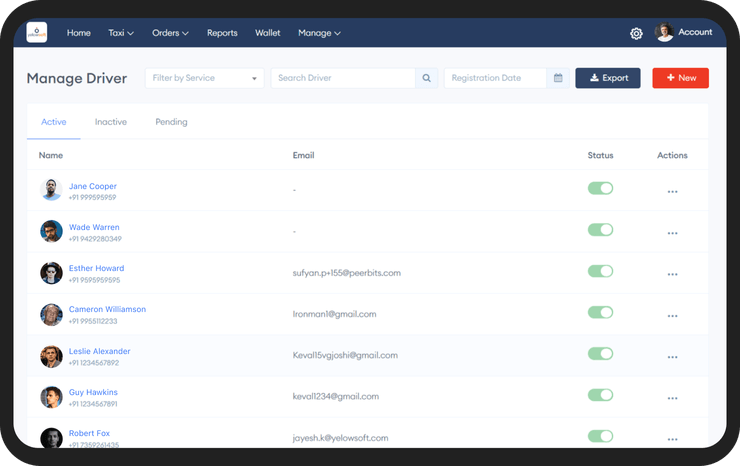 Driver

Management

Effortlessly manage your driver fleet such as driver profiles, availability, and performance tracking. Ensure efficient allocation of resources and maintain driver satisfaction.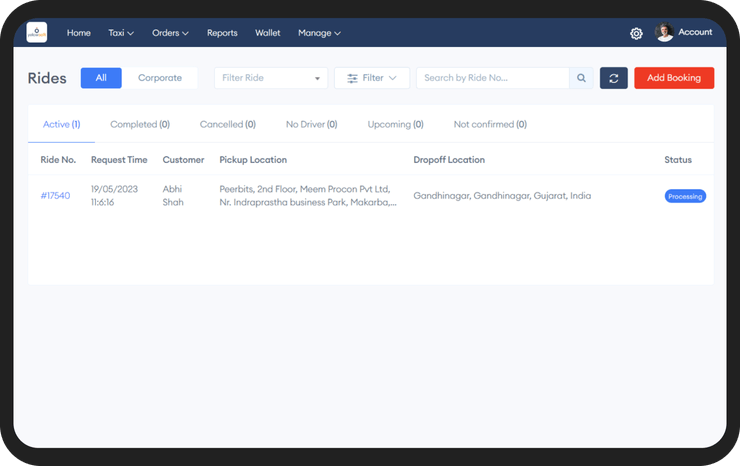 Trip

Management

Streamline trip allocation, tracking, and management within a single interface. Assign trips, monitor their progress, and ensure smooth operations.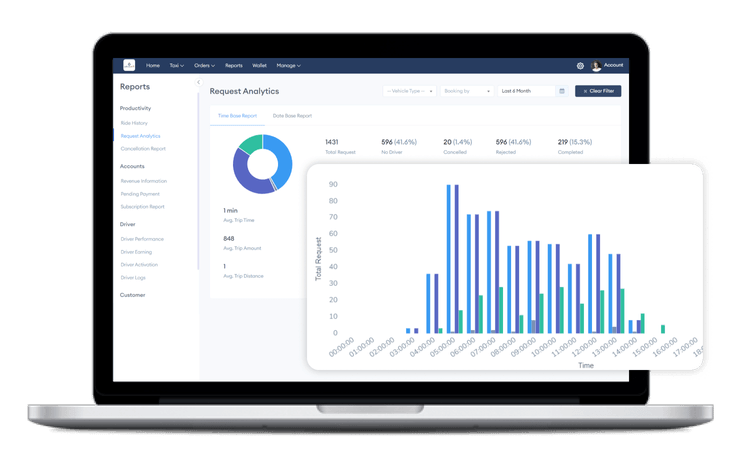 Advanced
Analytics
Leverage powerful analytics and reporting tools to gain valuable insights into your business performance. Identify trends, optimize operations, and drive growth.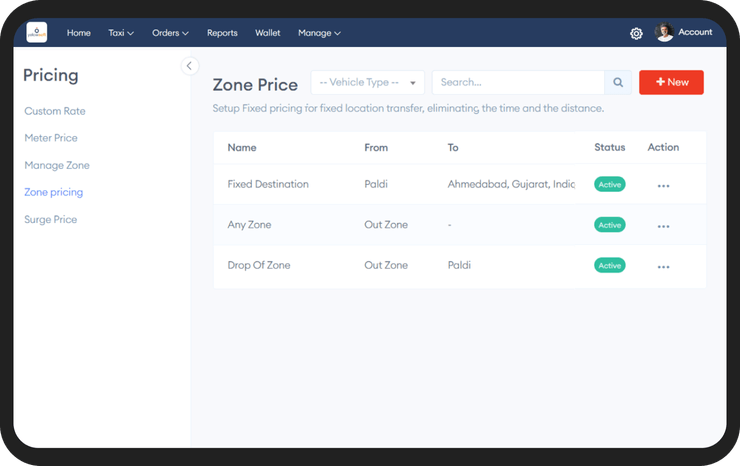 Zone

Management

Easily create different zones, like airports or railway stations and provide maximum convenience by assigning specific fares while enhancing the overall passenger experience.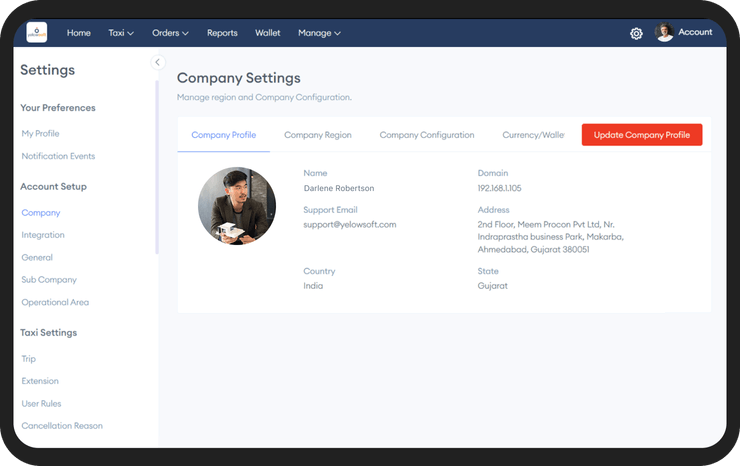 Customizable

Settings

Tailored admin system to meet your specific business needs. Customize settings, preferences, and access controls to align with your operational requirements.
Operating

Mechanism Revealed

It's easy to use, but here is the mechanism.
01
Log in
Visit the secure admin panel website and enter your unique login credentials to access the system.
02
Dashboard overview
Upon logging in, you'll see a comprehensive dashboard that includes details such as the number of active drivers, pending bookings, completed rides, and revenue generated.
03
Manage drivers
Here you can view driver details, track their location in real-time, assign specific areas for pickup, and review their ratings and feedback from passengers.
04
Monitor bookings
The admin panel displays a list of pending and confirmed bookings. Then you can assign them to available drivers, track the status of each ride, and handle any customer inquiries or issues that may arise.
05
Analytics and reporting
As an admin, you can view various reports like revenue, total rides, peak booking hours, popular destinations, and more. Utilize this data to make informed business decisions, optimize operations, and enhance customer satisfaction.
06
Fare management
Effortlessly manage your fare structures and pricing policies. Set base fares, additional charges (if applicable), and dynamic pricing during peak hours. You can also review and update fare rates for different vehicle categories.
07
Customer support
You get a dedicated section to view and respond to customer queries, resolve issues, and maintain a high level of customer satisfaction.
08
System settings and customization
Customize your taxi service in the admin panel. Update branding elements, configure settings, and personalize the experience to match your business identity and requirements.
09
Security and access control
Maintain the security of your admin panel by managing user roles and permissions. Assign different levels of access to different personnel to avoid any unauthorized activities.
10
Log out
After completing your administrative tasks, log out of the admin panel to secure your account and prevent unauthorized access. This step is crucial for maintaining the privacy and integrity of your taxi service's data.
Reap the
benefits
A system that carries the most awaited benefits for you. It has all you need, under one panel.
Streamlined Operations
Optimize and automate your taxi business operations while saving time and effort.
Intelligent Dispatch
Assign the booking to the most suitable drivers to maximize efficiency and reduce waiting times.
Seamless Communication
Facilitate communication between dispatchers, drivers, and passengers, ensuring clear and efficient coordination.
Improved Efficiency and Productivity
Automate repetitive tasks, streamline workflows, and reduce manual errors to enhance overall efficiency and productivity.
Scalability and Growth
Easily scale your taxi business as it grows. Add more vehicles and drivers without compromising performance or user experience.
Integration Capabilities
Enhance functionality and convenience by seamlessly integrating with third-party systems such as payment gateways, mapping services, and CRM platforms.
Data Security
Your privacy is our responsibility. Ensure the safety and confidentiality of sensitive data through robust security measures and access controls.
Mobile Accessibility
Access the admin panel on the go via mobile devices, empowering you to manage and monitor your taxi business from anywhere, anytime.
Competitive Edge
Stay ahead of the competition by leveraging the advanced features and technologies of our taxi dispatch software admin panel.
Improved Financial Management
Allows you to track and manage billing, invoicing, and driver earnings accurately, simplifying financial management processes.
Client

Testimonials

Proofs we have done amazing things!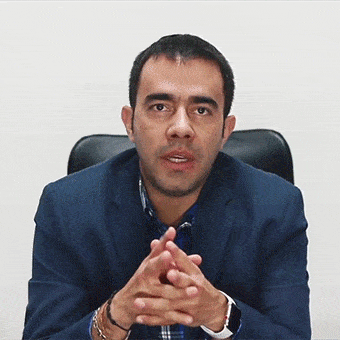 Yelowsoft helps its Mexican client –

Click To Go

with an advanced Super App. Watch the below video where our client shares his experience of working with us.
---
Arturo Reveles
Click To Go
Yelowsoft helps its taxi client from Caribbean – Travee with a robust taxi dispatch system. Listen what Travee has to say about their experience.
---
YelowSoft revamped its Malaysia-based client CPUT by delivering an advanced ride-hailing solution. Watch our client share their experience in the video below!
---
YelowSoft guided its France-based client Bookmi to emerge as a leading taxi booking solution by delivering our robust platform. Watch the video below where our client shares their experience.
---
News,
blogs

and Insights

Discover all the latest news, trends, and insights pertaining to on-demand businesses through our well-crafted content.
Don't Wait, Begin Your
On Demand


Journey Today!