Get vital report & analytics
Our taxi booking system provides you with various reports and statistics that help you in taking important business decisions.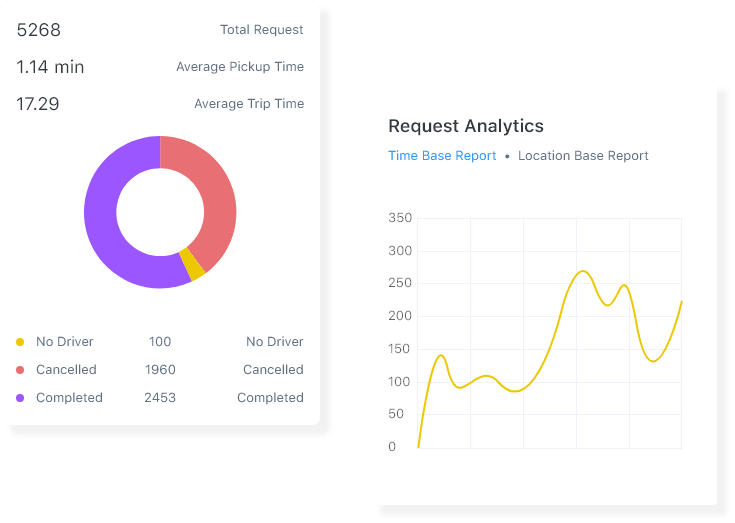 Get valuable insights from request analytics
This shows the total number of requests that your customers made. Each request gets various responses such as: 1. No driver 2. Cancelled 3. Rejected 4. Completed
The taxi dispatch solution records all the requests according to the responses they received and represents this data in the form a graph and a pie chart.
These data are crucial as it provides you with vital insights about the rider's requests. For example, if the percentage of requests not getting a driver is more then it suggests that you need to recruit more drivers to fulfill the requests.
Similarly, cancellation and rejection of massive of number of rides suggests that you must make some changes in the matching algorithm.
And if the completed rides constitute the majority of the pie chart then it means that your business is running smoothly and successfully.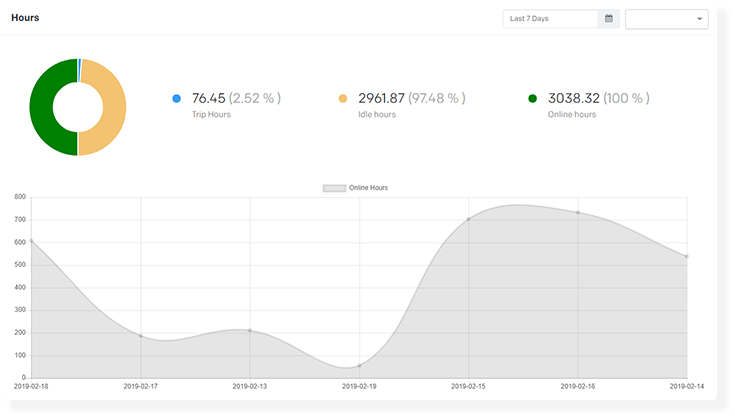 See how many of drivers are online, driving, and sitting idle
This shows a breakdown of the total number of online driver's hour in a graphical form and a pie chart. The total number of online hours comprises: Trip hours and Idle hours.
This stat is crucial as it helps you to understand that what fraction of total drivers are working and which are just sitting idle.
Large number of idle drivers indicate two scenarios:
Drivers are not accepting requests
Drivers are not receiving enough requests
Both are adverse situations for your business and you must get rid of it by taking appropriate steps.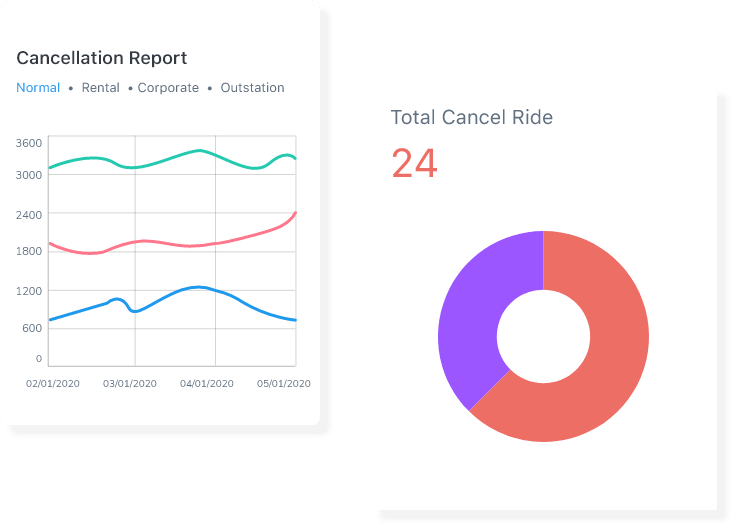 Get an overview of cancellation report to make necessary changes
This section shows the total number of rides that have been cancelled due to various reasons such as: When price charges are higher than expected, when car is unable to start, Slow or no internet, When the driver has to go to another place, and if admin cancels the ride for some reasons.
The graph and the pie chart show the total number of rides that have been cancelled due to above reasons.Drastic increase in anyone type of cancellation means that you must execute some changes to bring that number down.
For example, if you see high number of cancellations due to price charges then it means that you need to change your tariff rate.
Similarly, if you see increase in cancellation due to poor internet connectivity then it means that you need to strengthen your connectivity to all the affected regions.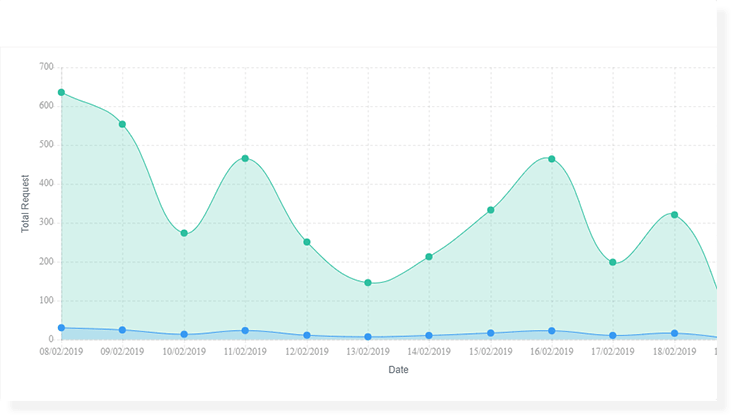 Manage all the finances with revenue statistics
This shows the total amount of money earned by both the driver as well the taxi company in a graphical form. It includes parameters such as: Total tax, Total discount, Total toll, Total earnings (Driver), Total earnings (Commission)
The revenue stats are important for anyone as it shows how your company is performing.
Moreover, it shows a comparison between the earnings made by you and your drivers.
These stats help you to maintain the correct balance between the two.
Benefits of reports & analytics
Reports & analytics in taxi business is critical. Below are few of the benefits that the report & analytics of our taxi dispatch solution provides.
Get key insights and numbers
With reports and analytics, you can get vital insights and numbers that helps you to get a clear idea of your business.
Check how much you are earning
Reports and analytics also shows in detail the total amount of earnings made by you per day, week, and month.
Decide your commission
The data received from report and analytics play a pivotal role in deciding whether you should increase or decrease commission.
Yelowsoft's global
footprints
Yelowsoft has provided top-notch on-demand solutions to clients that come from all the corners of the world. Our global footprint is growing each day.
News, blogs and
insights
Discover all the latest news, trends, and insights pertaining to on-demand businesses through our well-crafted content.
Let's get
started!
Get a free demo of all our solutions by simply filling out your details in the form.