Driver Management
Keep things running smoothly and make customers happy by
Efficiently Managing Taxi Drivers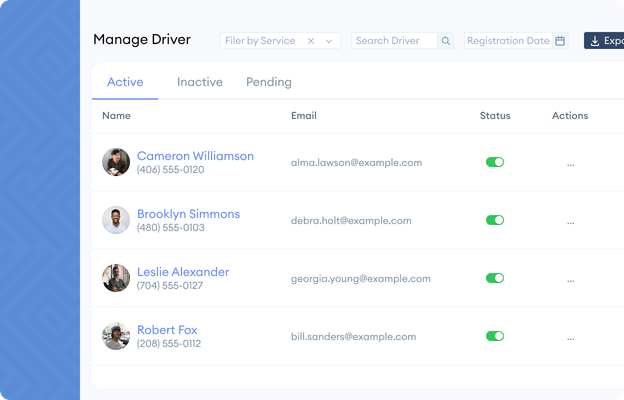 Seamlessly manage your fleet of drivers with our robust set of capabilities. Onboard new drivers swiftly, manage documents efficiently, track driver logs in real-time, and optimize assignments based on skills and availability. The simplified workflows and operational insights empower you to maximize productivity and keep drivers engaged. Drivers will appreciate the flexibility and managers will benefit from the transparency and coordination.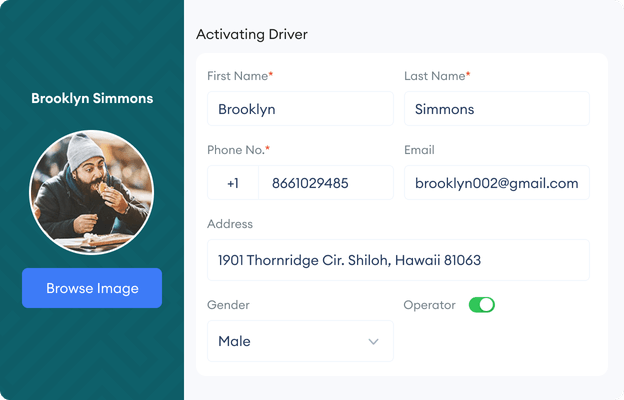 Registration & KYC
Onboard new drivers with ease using our intuitive registration and KYC verification process. Allows your drivers to smoothly enter required details and documents to get started right away. Reduce administrative hassles by automating your workflow and bring new drivers without operational slowdowns.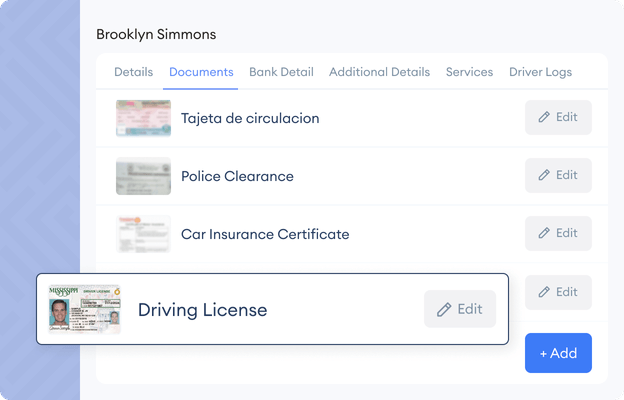 Manage Document
Manage driver documents seamlessly using our centralized document management system. Store important records like licenses and insurances digitally for easy access and renewal tracking. Stop chasing documents and focus on your business reducing paperwork headaches.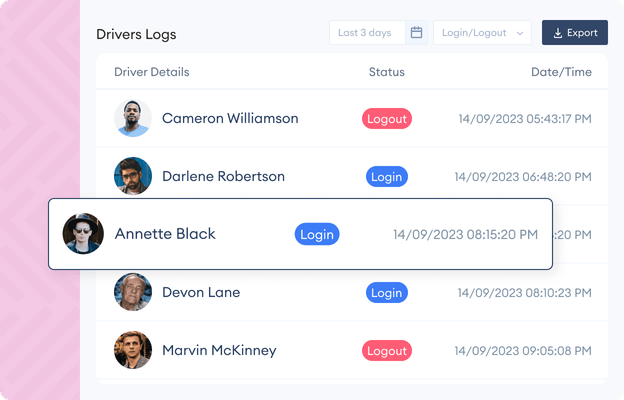 Driver Logs
Access to driver logs and get invaluable operational insights. Monitor driver hours, locations, and completed jobs to optimize coordination and planning with manager dashboards. You get control over detailed logs that adds transparency and accountability for both managers and drivers.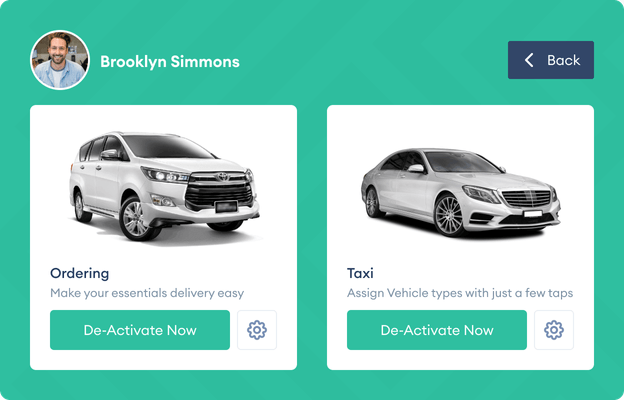 Assign Multiple Services
Easily assign individual drivers to multiple service types based on their capabilities and availability. Drivers have the flexibility to support different delivery verticals like food, groceries, or packages. Dynamic assignment ensures you leverage your workforce across services to meet demand.
Trips
Make your
Trips Hassle-Free

for both passengers and drivers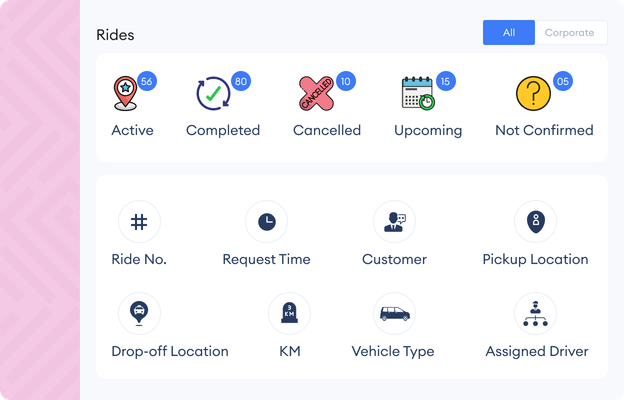 Get real-time visibility and tracking to optimize your delivery operations. Live mapping allows you proactive coordination while detailed trip logging enables data-driven improvements. Customers receive updates for peace of mind, drivers stay on route, and managers gain the insights needed to maintain prompt service and satisfied customers.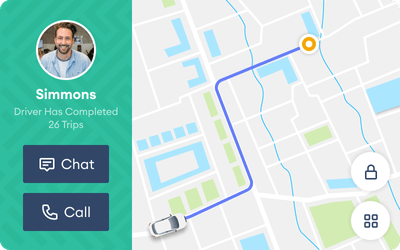 Trip Live View
Avoid delivery snafus with our real-time trip monitoring. Live mapping allows you to track driver locations, ETA, and progress to proactively manage any issues. Customers can also access the live view for up-to-the-minute status updates, providing them peace of mind along the journey.
Track Trip
Gain insight into your operations with detailed tracking of each delivery trip. Valuable data like start time, end time, duration, route, and more are logged for every trip. Our robust analytics empower you to identify optimizations and maintain service quality standards.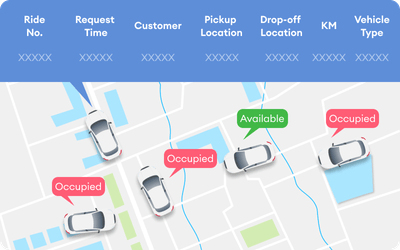 Map View
Visualize your fleet movement with our intuitive map view. Drivers appear as pins on the map so you can monitor positioning in real-time. Click into any pin to pull up extensive trip details. The map overview enhances coordination and proactive decision making.
Corporate Management
Manage the entire corporate fleet of taxis and their
Operations From One Place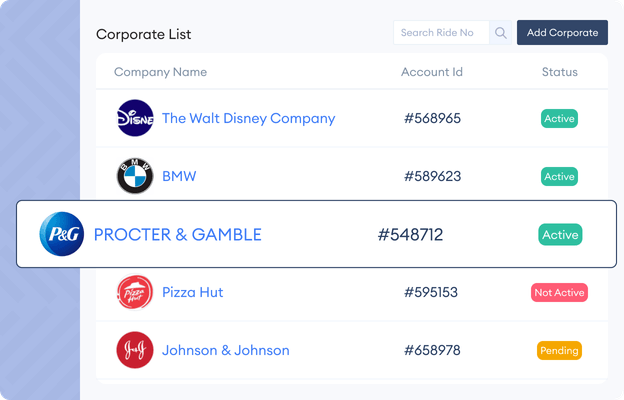 Easily manage employees, invoices, and approvals. Automate workflows to reduce administrative headaches and allow your manager to focus on more strategic tasks.
Get visibility into spending and policy compliance with inbuilt custom billing and reports. Make your client's business travel simple and cost-efficient with seamless booking, invoicing, and authorizations.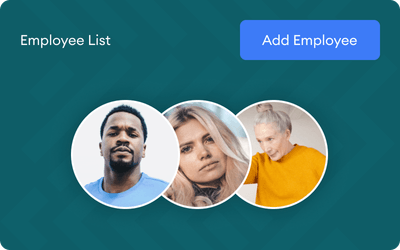 Employee Management
Simplify employee transportation arrangements with our centralized management tools. Easily add employee profiles, set permissions, manage documents, and enable seamless booking and billing workflows. Allow your manager to focus on other important tasks by reducing administrative burdens.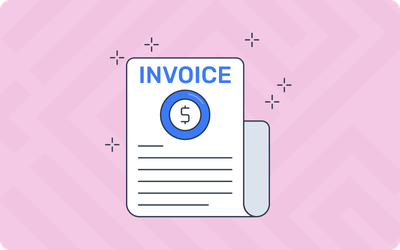 Corporate Invoicing
Consolidate all corporate transportation spending into a single intuitive dashboard. Provide transparency and control over costs with custom billing and invoicing options. Save your client's accounting time and effort with our automated reporting and payment processing.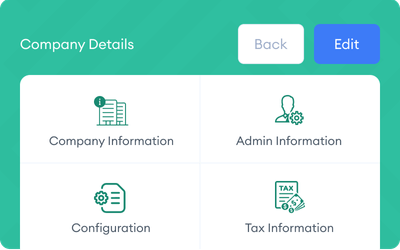 Authoriser to authorize employee trip request
Give power to your administrator to review and approve or reject employee trip requests. Ensures that only authorized employees are able to request rides on behalf of the company. Enhance security and control over company expenses.
Zone & Pricing
Maximize profitability with
Zone-Wise Pricing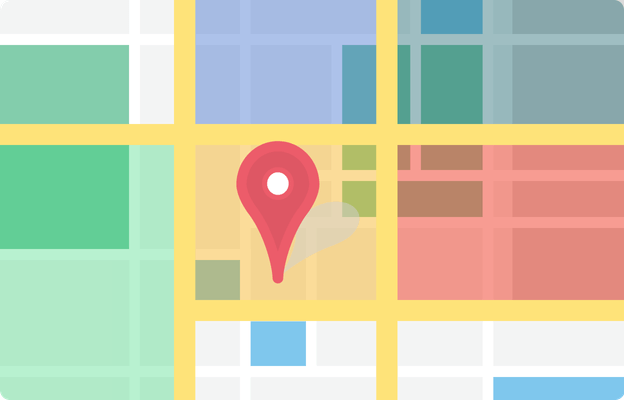 Implement strategic pricing models that maximize your revenue potential with options like custom rates, metered pricing, zone-based rates, and surge pricing during peak demand.
Precisely define locations and conditions for each pricing scheme. The flexibility allows you to optimize income by leveraging pricing strategies tailored for specific zones or circumstances.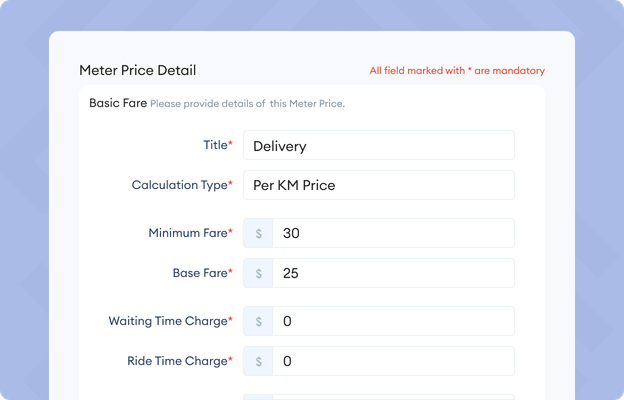 Custom Rate, Meter Price, Zone Price, Surge Price
Boost your revenue by applying fixed custom rates, distance-based metered pricing, zone-based rates, or demand-based surge pricing. Optimize your income by location and conditions with fine-tuned pricing strategies.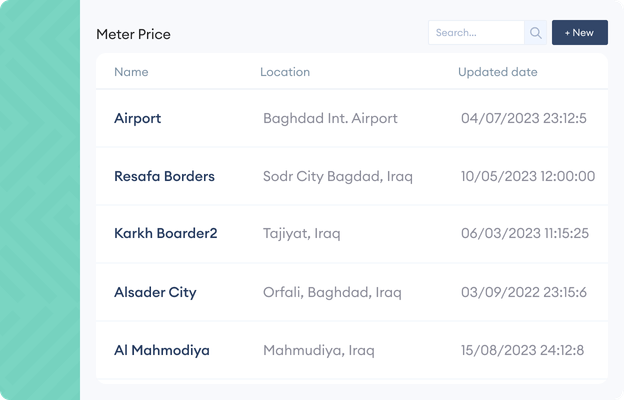 Manage Zones
Strategically define zones with specific pricing to match service costs in each area. Set higher rates for remote zones or zones with high demand. Ensure accurate billing by location with inbuilt automated calculation and allow your client a granular pricing with the zone management overlays.
Wallet
Reduce the need for cash transactions and make the
Payment Process Convenient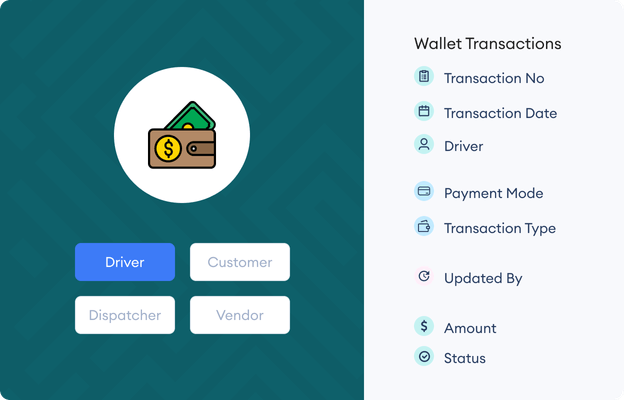 Seamlessly manage earnings, withdrawals, and account balances in real-time. Allow your drivers to independently track trip payouts, review transaction history, request withdrawals, and top-up funds. Ensure accurate earnings ledgers and hassle-free payouts by automating workflows. Eliminate payroll confusion, disputes, and delays for a smooth finance system - and enhance your driver's trust.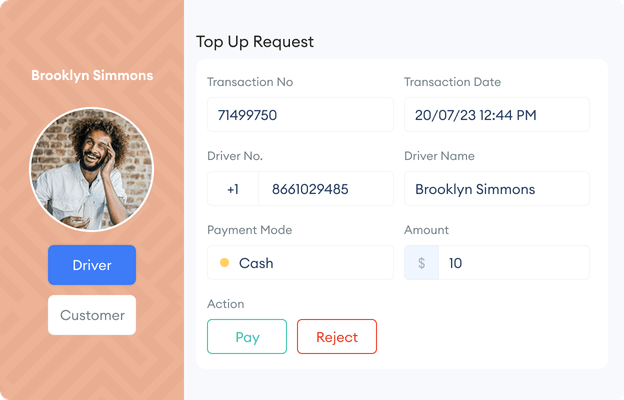 Manage Driver Topup, Withdraw, Earning
Effortlessly manage your driver funds with tools to track earnings, withdrawals, and account top-ups. Your drivers can easily review payments, request payouts, and maintain their balance. Help your drivers always stay updated with their earnings.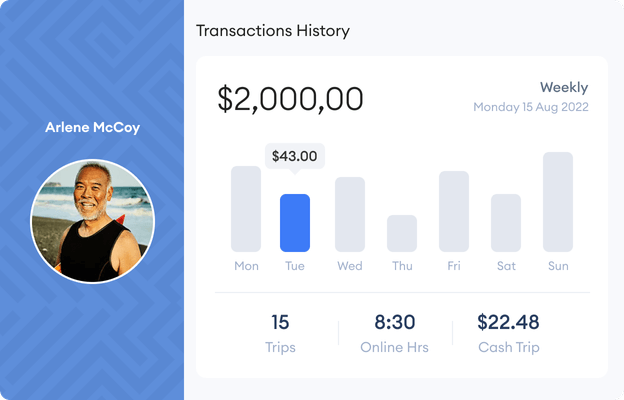 Transactions
Maintain a transparent ledger of all wallet transactions including trip earnings, bonuses, withdrawals, and fees. Your drivers can independently access their history at any time to verify the accuracy of payouts. Eliminate payroll confusion and disputes for a smoothly running finance system.
Queue & Pickup, Dispatcher, Kiosk
Eliminate the Need

for physical waiting in long queues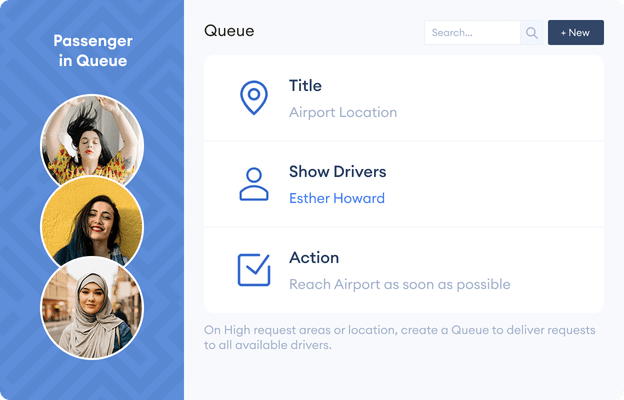 Optimize your order retrieval efficiency with our intelligent queue management. Eliminate driver wait times and parking headaches. Help your customers skip crowded counters to swiftly scan their codes and grab orders from our sleek kiosks. Save time and maximize convenience for both, your drivers and customers using frictionless queue management and instant order pickup feature.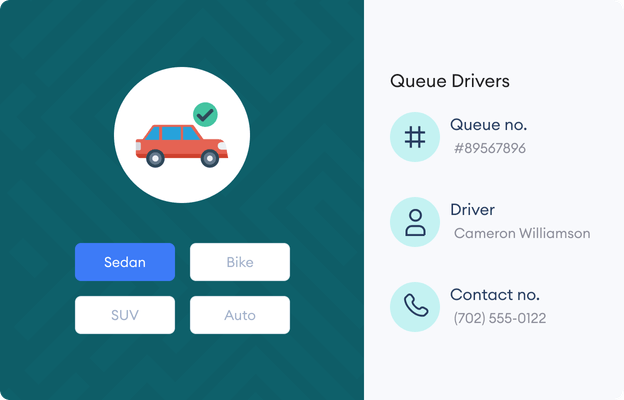 Manage Queue for Drivers
Stop wasting time circling for parking with our smart queue system. It notifies your drivers when orders are ready to eliminate wait times. Drivers reach the pickup point, grab the order, and go for maximized efficiency. Intelligent coordination means fewer headaches so your drivers can focus on fast deliveries.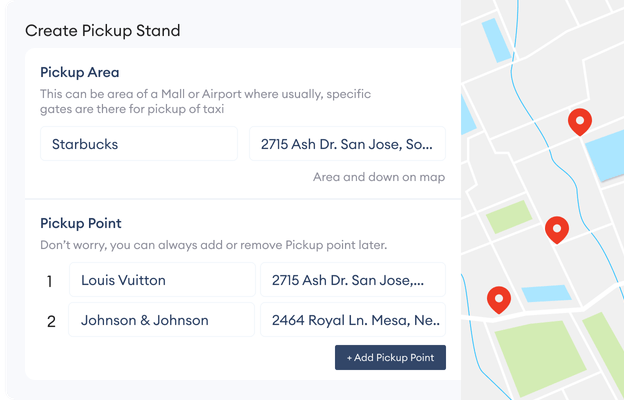 Pickup Stand
Instantly retrieve orders and help your customers conveniently scan their code to book a taxi without waiting in line. Our sleek kiosks streamline the pickup process so customers can get their ride fast. The pickup stands allow quick in-and-out service for a smooth pickup experience.
Driver Subscription Plan
Provide your drivers with
Subscription Options

and stability in their income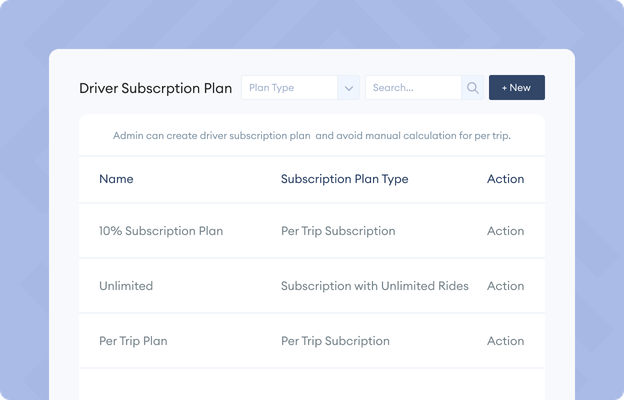 Make tailored subscription plans based on your diverse fleet. Provide dynamic options like pay per trip, unlimited, or limited plan to your drivers based on vehicle type and driver trip volume. Help your drivers choose a plan that fits their needs. Give them granular pricing options to maximize revenue potential across your heterogeneous fleet. Keep your entire workforce happy and productive with flexible subscriptions.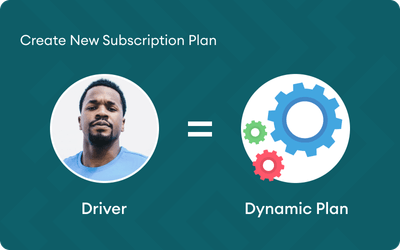 Create Subscription Plan as per your need dynamically
Tailor dynamic subscription plans to match your fleet's needs. Easily configure options like pay per-trip, unlimited trips, or limited trips. Make custom plans and provide the flexibility to optimize pricing for your different drivers. Take control of subscriptions to maximize revenue from your diverse workforce.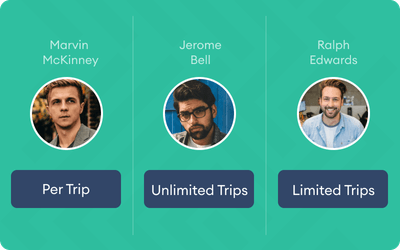 Per Trip, Unlimited Trips, Limited Trips
Not every driver uses the service the same way. Provide options to pay per trip, unlock unlimited deliveries, or choose a limited monthly plan. Drivers love choosing the plan that fits their schedule and delivery volume. Your flexible plans will attract more drivers to your platform.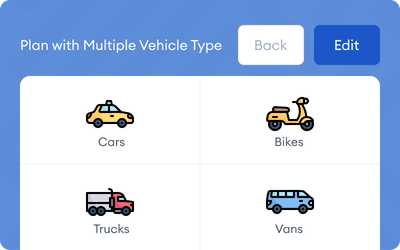 Assign Subscription Plan with Multiple Vehicle Type
Attach specialized pricing plans to specific vehicle types like cars, bikes, trucks, or vans. Account for the unique capabilities and costs of each vehicle with targeted subscription plans. Granular pricing maximizes income potential across your mixed fleet.
Vehicle Type
Cater to
Diverse Customer

preferences and needs effectively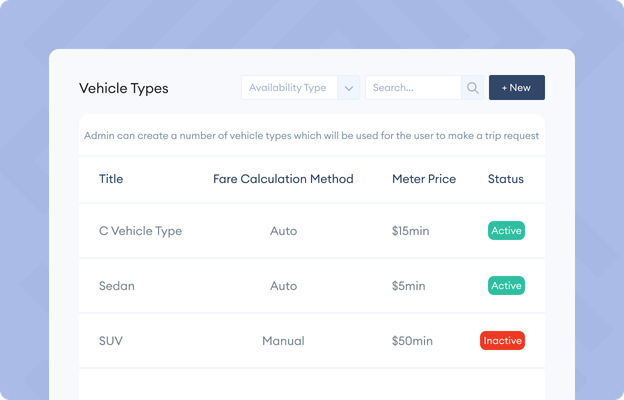 Strategically set customized pricing for each vehicle type like cars, motorcycles, vans and trucks based on their unique capabilities. Higher rates for trucks and vans offset their costs and cargo capacity, while lower pricing attracts motorcycles for quick short distance deliveries. Take advantage of the strengths of every vehicle in your diverse fleet and optimize your revenue by tailoring your prices.
Assign Different Rate groups for Different Vehicle Type
Tailor pricing to each vehicle type like cars, bikes, trucks or vans based on their unique capabilities. Set higher rates for larger vehicles that carry more or have higher operating costs. Maximize your revenue by leveraging the strengths of every vehicle type in your diverse fleet with custom pricing.
Platform
Stay in control

and ensure efficiency and customer satisfaction at every turn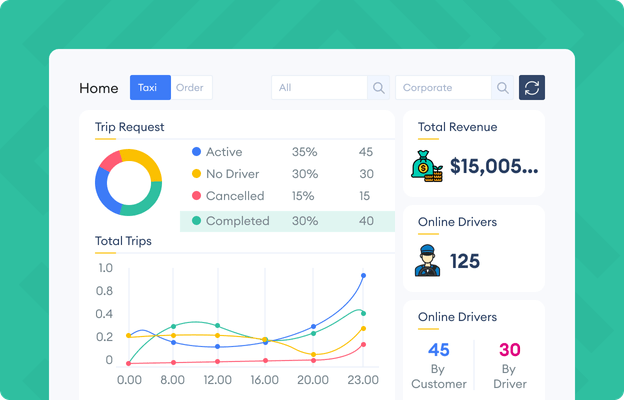 A lifeline for your taxi dispatch businesses. It simplifies fleet management, evoking relief and confidence. You can effortlessly assign drivers, handle customer issues, promote services, and manage vehicles. It's the key to operational harmony and delighted customers.
Issues
Effectively resolve common issues

and enhance your customer satisfaction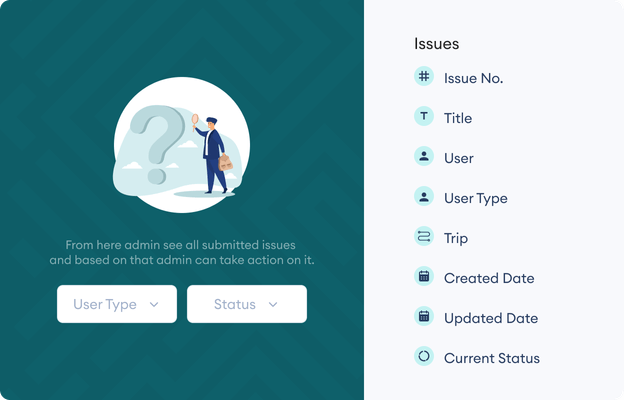 Manage disputes smoothly with an integrated issue tracking system. Streamline case workflows to efficiently collect details from all parties involved. Quickly improve driver and customer satisfaction with transparent logging results. Keep your users happy and keep them coming back.
Manager Customer & Driver Issues
Quickly resolve any customer or driver issues. Allow your managers to review issues, collect details from both sides, and determine fair resolutions. Improve your customer and driver satisfaction through transparent issue tracking and prompt issue resolution.
Promotion
Promote new services,

attract new customers, and increase customer loyalty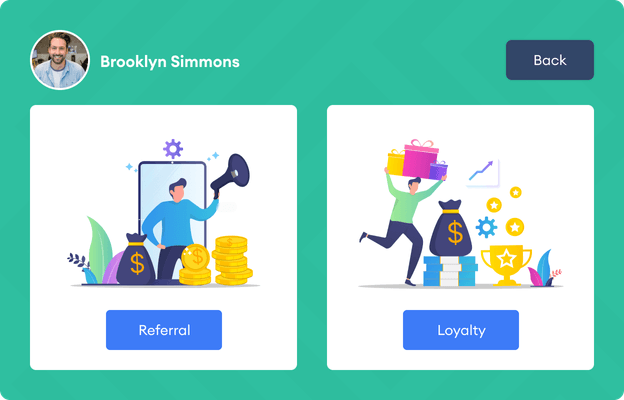 Manage disputes smoothly with an integrated issue tracking system. Streamline case workflows to efficiently collect details from all parties involved. Quickly improve driver and customer satisfaction with transparent logging results. Keep your users happy and keep them coming back.
Referral
Incentivize drivers and customers to refer new users with automated referral programs. Set up bonus rewards for successful referrals to grow your user base. Current users are happy to earn extra income by sharing your platform with friends. Viral growth without high marketing costs.
Promocode
Easily create limited-time promo codes for user signups or existing customer rewards. Targeted codes help attract new customers with discounts. Current customers appreciate the special savings from exclusive promo codes.
Vehicle Management
Reduce cost and
Manage Your Fleet

operations with ease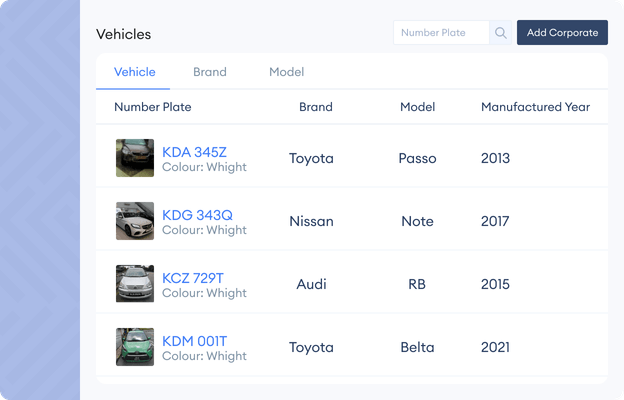 Completely digitize vehicle records like licenses, insurance, and maintenance for easy document storage and renewal reminders. Drivers conveniently access their profiles anytime. Vehicle sharing options optimize usage with multiple authorized drivers per vehicle. Hassle-free tools maximize fleet productivity.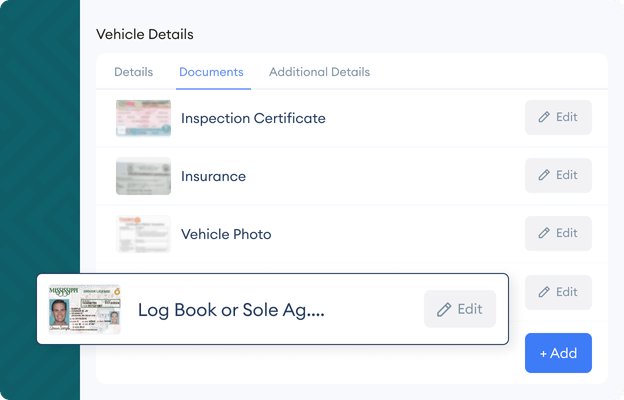 Vehicle Document
Maintain up-to-date vehicle records with digital document storage and reminders for license renewals. Eliminate paperwork clutter with organized digital profiles. Your drivers will have access to all their documents in one place. No more expired documents slipping through the cracks.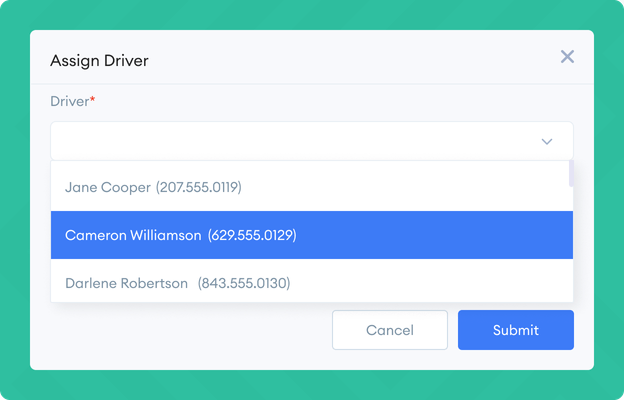 Assign Multiple Driver on Same Vehicle
Optimize asset utilization by allowing multiple authorized drivers to share a single registered vehicle. Team drivers appreciate the schedule flexibility of sharing vehicles. Increase usage and maximize return on investment from each vehicle.
Our satisfied clients
Proofs we have done amazing things!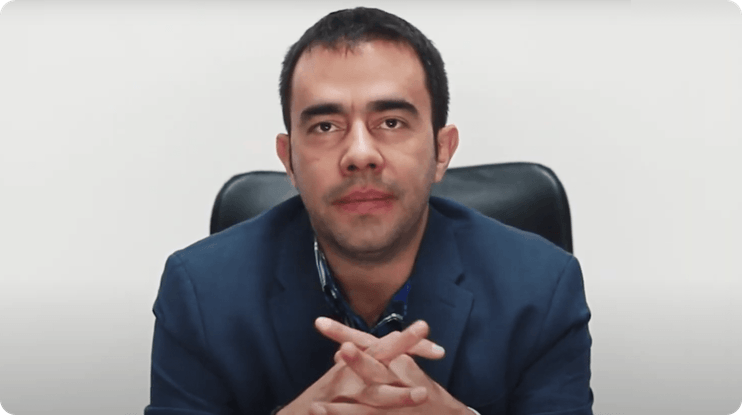 It was a pleasure working with a team of expert developers to create a taxi app for my business. The team was professional, responsive, and incredibly knowledgeable about the latest trends in the industry.
Arturo Reveles
CEO, Click To Go
View Case Study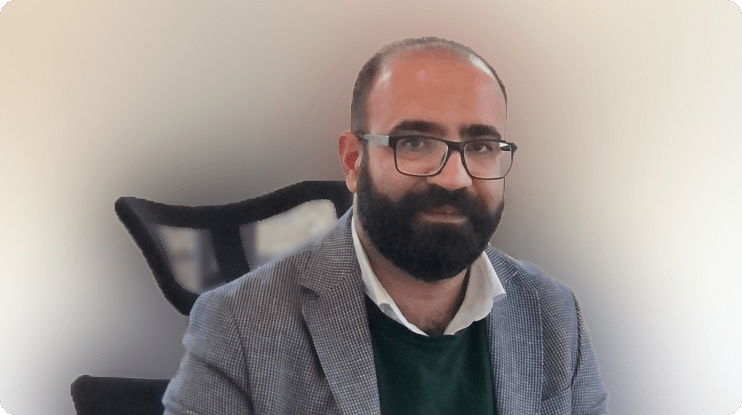 We are really impressed with them because they created an app beyond my expectations. It has helped me to streamline my taxi business while also providing a more convenient and enjoyable experience for my customers.
Abdullah Halim
Managing Director, SK Taxi
View Case Study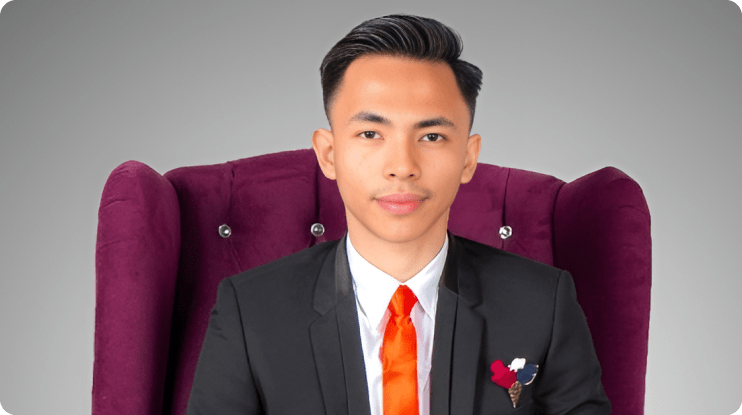 It was a great pleasure working with Yelowsoft team as they built a smart taxi app, and I must say, it was an incredible experience. The team was extremely knowledgeable and skilled, and they paid attention to every detail.
Mohamad Amirul Shafiq
CEO, Smart Taxi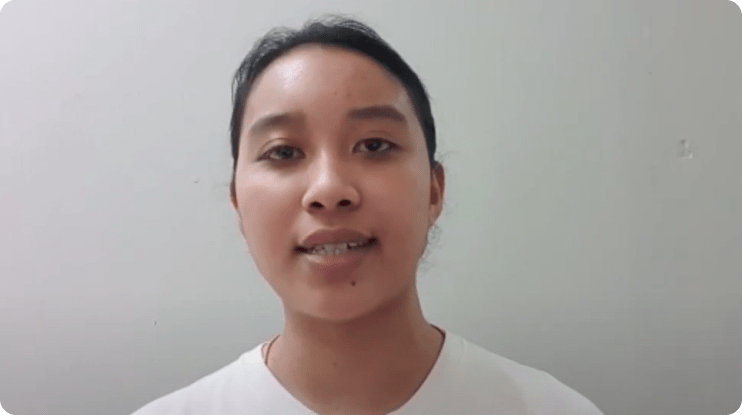 I couldn't be happier with the results. From the very beginning, the team was professional, responsive, and incredibly knowledgeable about the latest technology trends and user needs.
View Case Study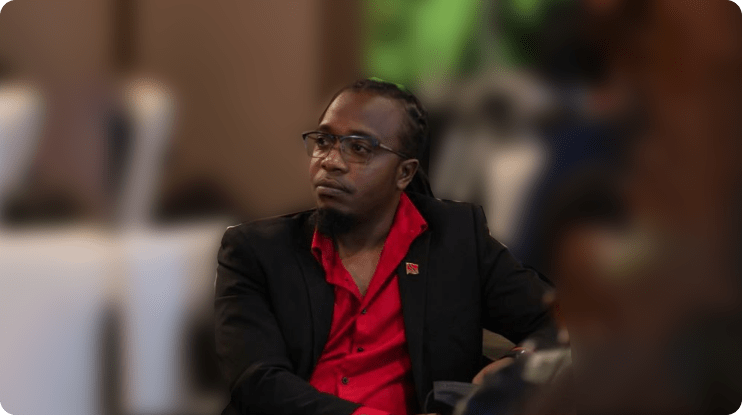 I would highly recommend their services to anyone looking for a reliable and skilled team of developers to help them create a taxi app.
View Case Study
Facts

& Figures we earned

Get to know some of the interesting facts and figures about Yelowsoft

News, blogs and
insights
Discover all the latest news, trends, and insights pertaining to on-demand businesses through our well-crafted content.
Don't Wait, Begin Your
On Demand


Journey Today!