Your taxi business'
central system
Manage drivers, vehicles, users, and all your operations effortlessly with our highly interactive and easy-to-access admin panel which acts as a central system for your taxi business.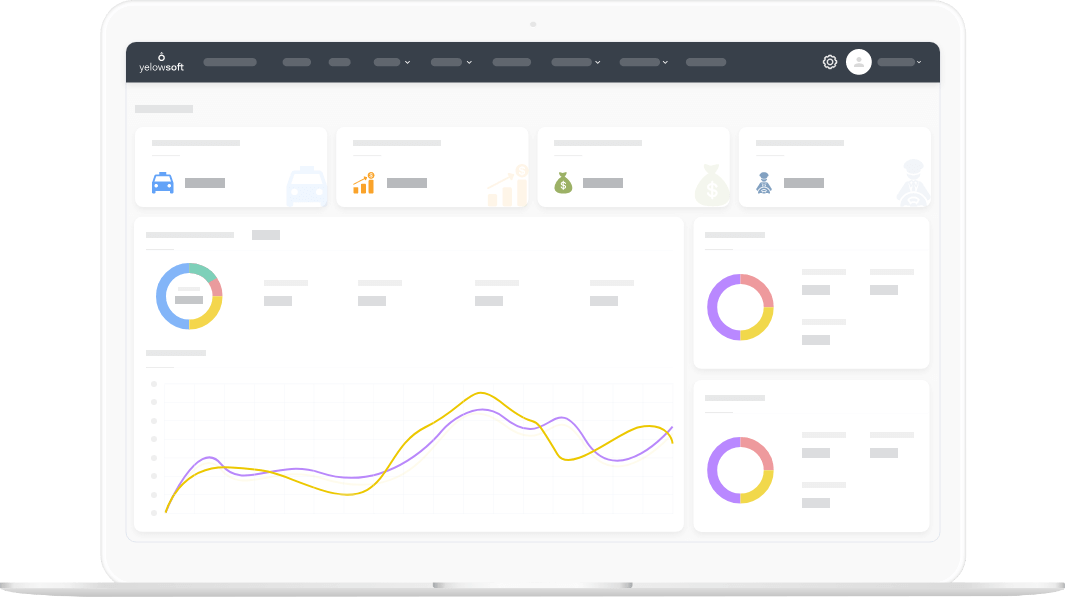 Configurable dashboard
Drive and manage your taxi business with a powerful admin-panel dashboard.
Seamless onboarding
Add, remove, and manage driver subscription with simplified onboarding process.
Flexible pricing
Set flexible prices to gain more profits in case of adverse weather conditions and time.
Easy-to-access

user app for a comfortable ride

Bring a smile on your user's face by providing them a seamless and comfortable riding experience. Offer them with simplified booking, on-boarding, and payment procedures to leave a greater first impression.
Cab booking made simple

Our passenger app's intuitive and simple user interface makes cab booking easy.

SOS button

Alert your relatives and the admin by pressing the SOS button in any emergency.

Book cabs for friends & family

Book a cab for your friends and family without any hassles from your smartphone.

View trip history

A passenger can view all the details like date, time, pick-up & drop-off point, and invoice in history.
Empower your
drivers
Make your driver's task easy, organized, and automated. Empower your drivers with a set of several robust features that provides them with an opportunity and motivation to earn maximum profits for their work.
Receive requests in real-time

Driver receives requests in real-time with info such as: passenger name and pick up & drop off points.

Heat map

Drivers can make more profits by going to the region of maximum demand as shown by the heat map.

Analyse and improve

Improve your performance by analysing your earning reports, performance, and feedback.

Manage your availability status

A driver can choose to be online or offline by switching their availability status.
Motivate your drivers with
iucrative incentives
It's obvious that you would want to reward your hard-working drivers. Thus, we have included an incentive structure in our taxi dispatch system. To avail the incentive amount, the driver must fulfill all the parameters or criteria of the incentive.
Multiple
payment

options

We understand that every customer has their own preferred mode of payment. That's why our taxi dispatch system provides your customers with the option of multiple payments. They can do payment by cash, card, or wallet.
Surge

pricing

Take full advantage of high demands at the peak hours by imposing surge pricing. Allow your drivers to make some extra cash by accepting rides with surged prices. There are two types of surge pricing: 1. Surge pricing imposed at odd hours and 2. Surge pricing imposed at the busiest areas.
Multiple
zone

price

With zone pricing, you can create geographical zone of the areas which usually has a very high demand. After that you can set up high prices for all the requests coming from that predefined zone area. You can define zone pricing in two ways:
More advanced
features
Yelowsoft's ride-hailing app is not like any other. We always believe in providing more than expected and hence we've got some more advanced features that will take your taxi business to new heights.
Driver que algorithm
Our driver que algorithm distributes request fairly and ensures that all your drivers gets the ride request.
Loyalty programs
Retain existing customers by offering them with lucrative loyalty offers and rewards.
Attract new user with promos
Offer exciting promos and discounts exclusively to your new users for their first few rides.
Dispatcher
Book cabs for your users at airports and metro station by performing manual dispatch with a dispatcher.
Referrals
Give referral bonuses to all your drivers and customers who refer your services to their friends & family.
Earn more while going home
Once activated, this feature ensures that the drivers get only those rides which take them closer to their home.
Number masking
Secure your user's personal data by hiding your user's number from your drivers while on call.
Easy driver payment process
Simplify the driver payment process by taking all factors like incentives, penalties, and commission.
Take insight driven decisions
Gain vital insights from reports and analytics to take insight driven business decisions.
Yelowsoft's global
footprints
Yelowsoft has provided top-notch on-demand solutions to clients that come from all the corners of the world. Our global footprint is growing each day.
News, blogs and
insights
Discover all the latest news, trends, and insights pertaining to on-demand businesses through our well-crafted content.
Let's get
started!
Get a free demo of all our solutions by simply filling out your details in the form.