Back in 2009 when Travis Kalanick and Garrett Camp came up with their brainchild - Uber, not many would have thought will start a revolution in the taxi industry. The idea of a taxi-app platform was both unique, innovative and had plethora of benefits for customers and drivers.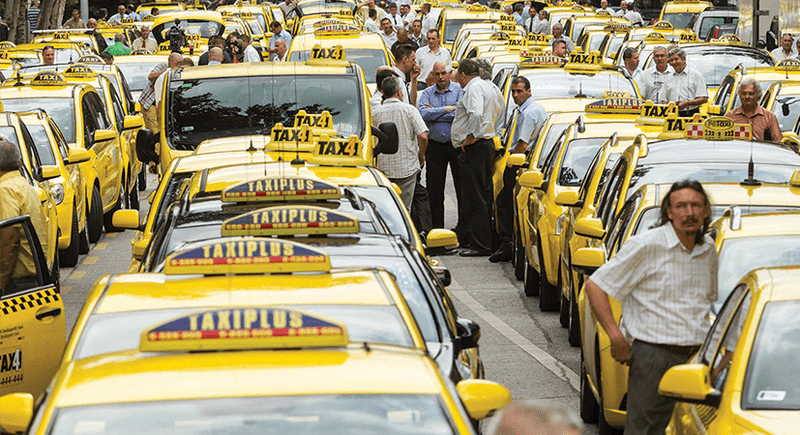 Soon after Uber's success, other companies like Lyft, Grab, Ola, and Careem also made their mark. The advent of taxi-aggregators services demolished the business of traditional taxis all around the world.
Which is the reason why associations of traditional taxi drivers always lock horns with that of taxi-hailing services.
However, recent few years have proved that this situation is not only for the traditional taxi drivers. There have been several protests and strikes by the drivers of taxi hailing services in different parts of the world too.
In this article we'll discuss in detail all the challenges and struggles of a traditional driver's association as well as the association of app-based taxi drivers.
Challenges faced by app-based taxi drivers
Situation in India
The total number of drivers driving for ride-hailing giants such as Uber, Ola, and others in India is a staggering 1.5 million.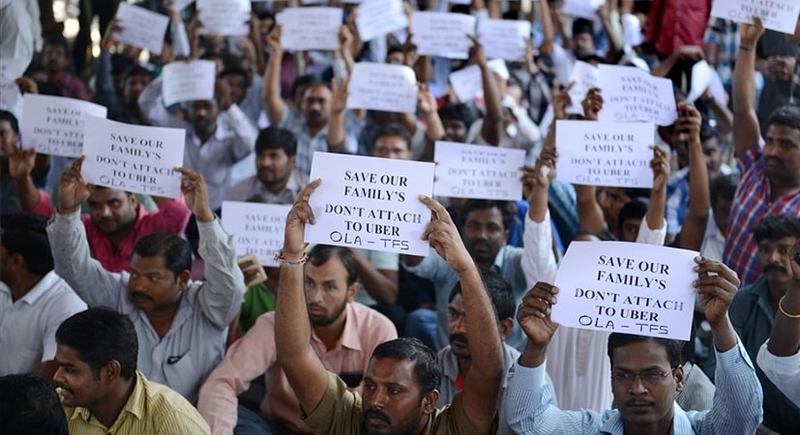 India has seen a couple of nation-wide strike by the drivers against these companies. The main reason behind the strike was that the money made by drivers from these apps was not enough for their survival. This made them helpless to participate in such strikes.
The situation wasn't this grim early on. When Uber first came to India in 2013 they promised drivers earnings around $1500 which was a huge sum for a cab driver.
The temptation was huge, which resulted in many people leaving their job to earn some hard cash. Clerks from banks left their job, people sold their land to buy a car, and rest took a car loan.
Many of these drivers did make huge earnings for the initial years. For example, in 2016, an Uber drive in Delhi who worked on an average of 10 hours used to save 50k after paying his car loan installments, fuel expenditure, and other maintenance costs.
However, by the end of 2016 the thing took turn. Uber reduced its charge per kilometer from Rs 11 to Rs 6.
Drivers that earlier used to get an incentive of Rs 2000 on completing a dozen of rides each day were now given weekly incentives only on completion of 40-50 rides. And on top of that Uber hiked its commission from 10% to more than 30%.
Many drivers claim that their earnings have stooped down to $10 per day. Such meagre amount is not enough for their survival especially when they have to pay installments of their car loan. The miserable condition of drivers forced all the driver associations to come together and raise their voice.
The main demand of these associations was that their taxi companies must provide them with steady business of monthly $1500.
Situation in Uganda
The condition of app-based taxi drivers is similar whether it's a developing nation in Asia (India) or a developing nation in Africa (Uganda).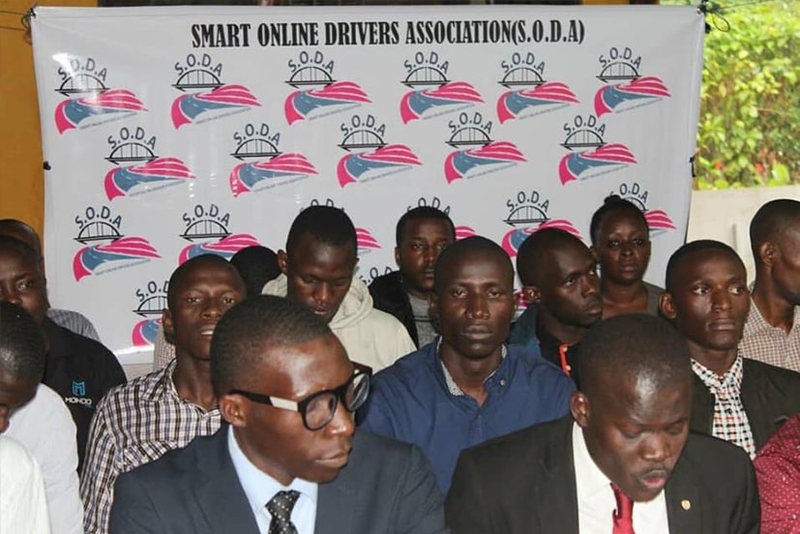 By the end of 2018 all the drivers of the two taxi behemoths under SODA went on strike demanding higher fares and better working conditions amidst of rising fuel prices in the country.
SODA (Smart on line driver's association) is an umbrella body that brings all the drivers working for Uber and Taxify which are the most prevalent taxi hailing companies in Uganda.
According to the chairman of SODA Musa Kabunga "it's unfair for the taxi companies to attract more customers by setting low prices at cost of drivers' loss."
The drivers are demanding sh7,000 for the shortest distance covered. They are currently getting sh4,000 in Uber and sh4500 in Taxify for the same. To add to the woes, the companies have hiked the commission from 15% to 25%.
Apart from the fares and commission the drivers also demand some amendments in the company's policies regarding drivers' safety. For example, they want the company to come up with a compensation system that pays drivers who have met with accidents or robbery.
Moreover, they also want a 24*7 platform on which they ask for help in all emergencies. They also want the platform to accept complaints regarding customers.
Challenges faced by traditional taxi drivers
Strikes in India
There have been several strikes organized by traditional taxi drivers in India. In Mumbai, traditional cabs were prevalent before Uber and Ola came into the scene. After their advent the traditional taxis took a huge setback mainly because of the tariff rates.
The traditional taxi drivers say that the fares set by these companies are way lower than the set benchmark assigned by the local government authorities. Moreover, lack of technology also makes them vulnerable.
Read More: Problems faced by Uber drivers and how to solve them
The drivers are constantly demanding the government to shut down all the companies that fail to set their fares at par with the benchmark.
Protests in South Korea
Talking about the friction between the traditional taxi drivers and the app based companies, up to 100,000 taxi drivers went on strike in South Korea.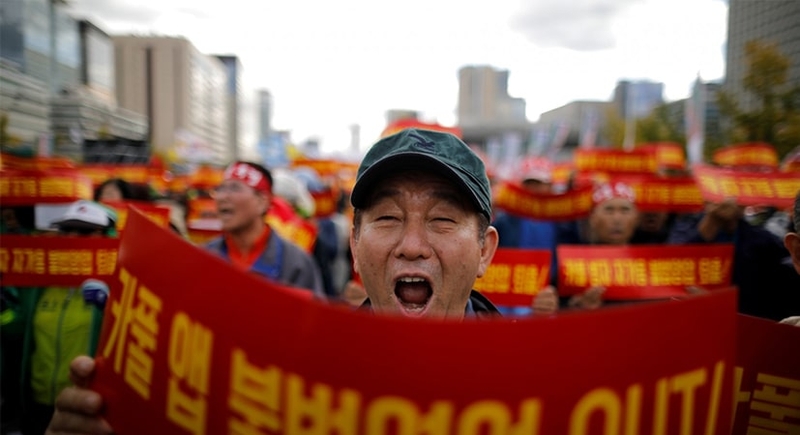 The strike was to protest the introduction of a taxi-hailing company by country's most dominant messenger service Kakao.
Traditional taxi drivers believe that Kakao's ride sharing services will pose a great threat to their livelihood. Kakao recently acquired the car-pooling startup Luxi and was supposed to starts its service in Jan 1 2019.
It's important to know that in South Korea the usage of personal vehicle for commercial purposes is banned; however, carpooling is allowed in "commuting hours".
This is not the first time that an app-based ride-hailing app service have faced the resistance of the traditional drivers.
Back in 2015 even Uber had to pull out of the country despite the fact that South Korea has a strong internet infrastructure which could have served as a conducive environment for Uber to thrive.
Conclusion
The advent of Uber and other ride-hailing services is good for the rider, but the same can't be said about the drivers. Traditional taxi drivers are facing the wrath of app-based taxi services for almost a decade.
That is why associations of traditional taxi drivers across the world are in protest mode demanding the government authorities to intervene and make some policies that ensure equal business opportunities to everyone.
On the other hand, drivers of app-based services made huge profits in the initial years when these taxi behemoths were trying to establish.
Soon after, when these companies got established, they increased their cut and made their driver's life difficult.
This state of misery caused these drivers to form associations that can have dialogues with the companies regarding the commission rate and working conditions.
Even after the constant efforts, the driver's associations across the world are struggling to put forward their voice. The important question that arises here is what these associations or organizations can possibly do next?
Who knows, maybe they can partner with a company or start their own app-based services? Only time will tell how things go for all cab drivers around the world.
But one thing is for sure that we are on the verge of witnessing yet another major change in the world of cab services.