The COVID-19 pandemic has caused unimaginable mayhem in most parts of the world. This disaster has two catastrophic outcomes. First, the obvious one is the massive number of loss of lives. And the second outcome is of its impact on world economics.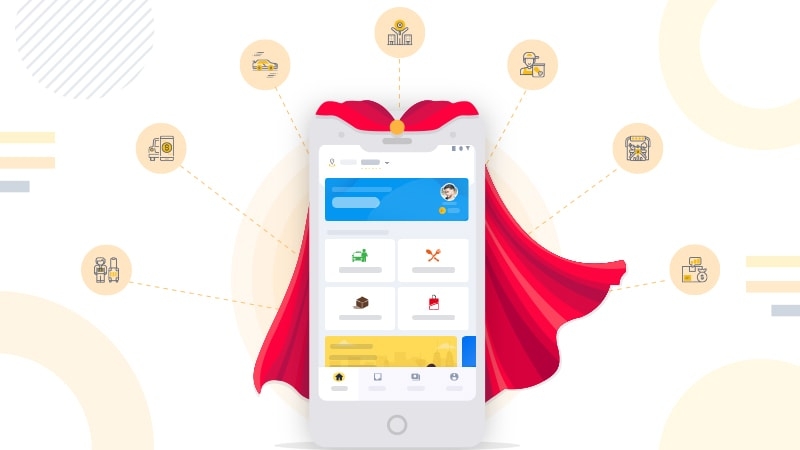 COVID-19 has either slowed down or shut a huge number of businesses across the world. The fear of catching the virus has forced people to stay inside their houses. Moreover, the restrictions imposed by governments like lockdowns and curfew have also caused a massive impact on both small as well as big businesses.
If we go industry-wise, then the magnitude of impact varies from one industry to another. Businesses that rely on more human contact are severely impacted. The best example of it would be that of ride-hailing businesses.
Ride-hailing businesses were booming all around the world in pre-COVID-19 times. Giants like Uber, Lyft, and Grab were making headlines for their humongous deals and expansion plans. Not only that, but even small taxi app start-ups were also doing great in their specific regions. However, COVID-19 pandemic has adversely impacted all ride-hailing businesses across the globe.
According to a study, the ride-hailing industry is about to lose a mammoth share of 50-60% in 2020. And the problems don't end there, as even in 2021, the industry will be able to gain its market by only by 70-80% as the ride-hailing companies have to adopt new business strategies to combat COVID-19. These strategies include:
Providing partition between the driver and the rider
Installing thermal devices to check body temperature
Equipping driver, riders, and vehicle with sanitizers and disinfectants.
So, the bottom line is that it's going to be a tough ride for all the ride-hailing companies during the span of the pandemic and even after it ends. So, what should they do? What can save them from the wrath of this pandemic?
Read More: Market scenes and taxi trends for 2020 and beyond.
Very similar to the Superhero movies, where the Superhero saves the day for us, a Super App can do the same for the ride-hailing businesses. But how?
In this article, we will see what a Super App is and how it can prove to be an effective tool for ride-hailing businesses to mitigate their taxi business losses.
What is a Super App?
Founder of BlackBerry Mike Lazardis was the one who coined the term 'super app' in 2010. According to him, Super App is "a closed ecosystem of many apps" that people would use every day because they offer such a seamless, integrated, contextualized and efficient experience."
Read More: Yelowsoft delivers a Super App to MyCar
In a short period of time, Super Apps have become extremely popular. The trend of Super App started in China when behemoths like AliPay and WeChat adopted this approach. Consumers also showered Super App with immense love as it offered multiple services from the same app thus ending the tyranny of the normal mobile apps.
Today, there are many Super Apps available. Let's have look at few of the Super Apps and the story behind them.
Top 5 Super Apps around the world
WeChat
The origin of Super Apps can be found in China. It all started with WeChat in 2013 when it first included social gaming feature along with a payment feature. Then in 2014, Tencent invested $45 million in Didi – China's biggest ride-hailing company. With this investment, WeChat partnered with Didi and allowed its users to access ride-hailing services of Didi via WeChat. WeChat also enabled its users to make payments for ride-hailing through its app.
Then in 2014, WeChat expanded its offerings by adding commerce vertical with the launch of WeChat Stores. Perhaps, the most important addition WeChat did was in the year 2017 with the launch of "mini-programs" which is an ecosystem of lightweight applications that are developed by third parties which functions within the WeChat app.
As of now, there are millions of such apps that are running within WeChat and offering thousands of services to its users. With "mini-programs", WeChat became the world's first Super App.
Grab
The South Asian taxi giant which was launched as GrabTaxi in 2012 has now become a full-fledged Super App. Earlier, Grab defeated Uber to become the biggest ride-hailing company in the South East Asia region. Grab which offers around 10 on-demand taxi services has also forayed into the multiple sectors such as ticket purchasing, on-demand video platform, hotel booking service, food delivery service, grocery delivery, etc.
Grab's FinTech offerings involve GrabPay, which is a QR-code based mobile payments service. Apart from that, Grab also has a loan and insurance service in the form of its "Grow with Grab' roadmap" strategy. Grab also has its food delivery service GrabFood which was launched in May 2018. A few months after, Grab launched its grocery delivery service GrabFresh.
Gojek
Gojek is Grab's fierce rival as both the companies have locked horns to emerge as the best Super App in the South East Asia region. Gojek began as a call centre service in Indonesia in 2010 where it used to connect clients with two-wheeler ride-hailing and courier services. Gojek launched its app in 2015 with its four services:
Today, Gojek 's Super App offers 30 services to its customers. This Super App can be used for services like booking cab, ordering food, payments, availing a massage, travelling, e-commerce, hyperlocal delivery, and many more.
MyCar
MyCar is a Malaysian e-hailing giant which is operational in major 14 cities of the country. MyCar started its e-hailing operations in February 2018. Now, it has over 113,800 registered drivers. 20% of these drivers are women. After receiving humongous success, the company decided to move towards the path of a Super App.
MyCar evolved into a SuperApp that can offer multiple services like e-hailing, food-delivery, and parcel delivery from the same app. Although this Super App is still in its initial stage, it's producing some great results already.
Momo
Momo is another Super App which has made some enormous news in the recent past. Vietnam – which is known to produce massive entrepreneurial ventures has given birth to this rapidly growing Super App. Momo has followed the footsteps of the above mentioned Super Apps whether it's WeChat, Gojek, or Grab.
Today it attracts more than 10,000 partners all hailing from diverse fields like e-commerce, insurance, consumer finance, transportation, and shopping.
Similar to WeChat, Momo also has "mini-programs" which enables it's users to pay bills, buy insurance policies, etc from the same app thus eliminating the need to download any external app.
Going beyond ride-Hailing with a Super App
The on-demand economy boomed when Uber began offering its ride-hailing services. Uber single-handedly disrupted the entire taxi industry in the world. Soon, others realized the importance of the on-demand economy model and started to come up with their own on-demand taxi app. And now, you could see many global as well as regional players in the competition.
It won't be wrong to say that the idea or the concept of a Super App is today in a very similar phase where on-demand service providers from all around the world are slowly realizing its importance. I would be taking a bit of faith of leap to say that Super App is the future.
But all the signs are already there. We already have a few success stories in the form of WeChat, Gojek, and Grab. And what's more inspiring is that two of out of those three originally started as on-demand taxi services which later on evolved into a Super App. This means that we might see many other taxi companies adopting this formula of a Super App.
Secondly, the Super App in today's time is most relevant than ever for taxi businesses. In the time of COVID-19 where all ride-hailing businesses are finding a way to mitigate their losses, Super App is the perfect answer to that. It not only allows them to make up their losses but also enables them to foray into various market segments which were earlier untapped by them.
Let's have a look at a few more reasons as to why one must go for a Super App.
Mitigate taxi losses
We have already discussed in the blog above that the ride-hailing industry is going through its worst phase due to COVID-19 pandemic. This pandemic has caused even big names like Uber, Lyft, and many others to lay off their staff. So, you can only imagine what the local and regional players might be going through.
The current time is a time of survival for many ride-hailing companies and they would look to do anything under the sky to just survive. In such a dire situation, going for a Super App is the best possible option for them.
Step into new market segments
The USP of a Super App for any company is the fact that it allows you to foray into multiple industry verticals at the same time. This might seem like a big and risky step; however, it's relatively less risky. It's because if you already have a ride-hailing business, then you can easily offer services of an on-demand delivery solution by integrating various on-demand delivery services like food delivery, grocery delivery, parcel delivery, etc.
This is because you can use your existing ride-hailing staff, app, infrastructure, and customer base for these services as well. All you would need is a Super App where all these services would be present at once. And there are many service providers who can offer you a ready-made Super App.
Become future proof
The current pandemic is a wakeup call for all businesses that you shouldn't put all your eggs in one basket. This is quite evident from how various ride-hailing companies are dealing with the pandemic. Companies like Grab and Gojek have suffered way less loss as compared to a ride-hailing company which had no services other than taxi. The Super App has almost made both Grab and Gojek immune to the adverse effect of COVID-19. Similarly, other ride-hailing companies can also make their businesses futureproof by having a Super App.
Conclusion
If you're an owner of a ride-hailing company then times are really tough. And we at Yelowsoft understand your plight very well as we have worked in this industry for many years. However, there's a ray of hope in the form of a Super App.
To help ride-hailing businesses that are struggling at the moment, we have come up with a readymade Super App that comes with all the advanced features and technology. Our experts at Yelowsoft will ensure that they seamlessly migrate all your crucial data from your existing app to the Super App. So, what are you thinking of? Just take a step towards a safe and bright future with us.