Traveling through airports can be chaotic. You have to navigate crowds, deal with delays, haul luggage around, and try to make tight connections. The last thing you want is a problem getting to or from the airport.
According to a survey done by Priority Pass, no matter how well people plan their trips, they still feel stressed when traveling to and through an airport.
Yet many airport taxi services worldwide still operate with outdated systems of phone dispatch, cash payments and little accountability. The result is often long wait times, confusion, communication barriers and unreliable service - ruining the start or end of a trip.
On-demand taxi dispatch software flips the script on the airport transfer experience. By leveraging technology like automated dispatching, GPS tracking, real-time communication, on-demand bookings, and digital payments, you get reliability, transparency and peace of mind.
Keep reading as we look at the 5 biggest ways taxi management platforms improve airport transfers for travelers and drivers alike.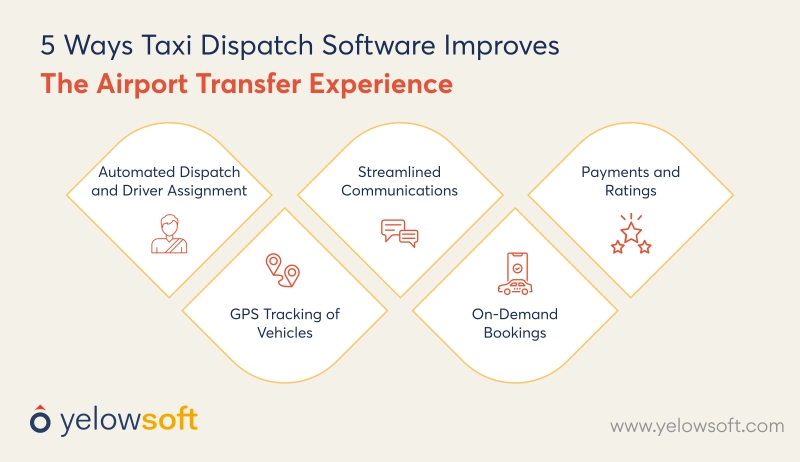 Way 1: Automated Dispatch and Driver Assignment
Dispatching drivers quickly and efficiently is critical for Airport transport service providers. Automated dispatch software eliminates the guesswork of manual dispatching by intelligently assigning the closest, best-matched drivers based on factors like location and availability. This automated approach reduces wait times for your passengers and optimizes driver routes.
Automatically assigns drivers based on location, availability and other factors
Rather than relying on human dispatchers to manually determine the optimal drivers to assign, you should rely on the automated taxi dispatch software that uses algorithms and real-time data to make driver assignments.
It analyzes factors like a driver's current location, vehicle type, passenger capacity, and availability status to identify the closest and most appropriate drivers for each ride request.
This data-driven approach removes any guesswork or human error that can happen with manual dispatching. The software ensures you that every ride is matched intelligently for shorter wait times.
Remove human error/guesswork of manual dispatch
Since the automated dispatch software uses data and logic rather than human intuition, it eliminates any guesswork, biases or errors that can occur with manual driver assignment.
You often make heat-of-the-moment decisions that aren't fully optimized based on all factors. The algorithms used for automated dispatch have no such limitations. You can rapidly analyze all available data points to make the objectively best driver match for each situation.
Ensures the closest, best matched driver is dispatched. Shorter wait times
By factoring in real-time driver locations and availability, the automated dispatch software can help you identify the closest available driver for a passenger's pickup location. Rather than going with your gut feeling, it helps you use hard data to minimize your driver proximity.
This software helps you reduce wait times compared to manual dispatching. The algorithms also account for other matching criteria beyond just proximity to find the best overall driver for the ride. This precision matching enables shorter wait times and a better experience for your passengers.
Example of business traveler wasting less time waiting
For instance, when a business traveler requests a ride to the airport from their downtown hotel, the automated dispatch software can immediately identify the closest driver 15 minutes away based on real-time traffic data.
This results in a short 25 minute total wait time so the passenger can quickly get to his flight instead of potentially waiting 45+ minutes for a manually dispatched driver. The algorithms optimize for minimal wait and allow your passengers to waste less time and maximize productivity.
Way 2: GPS Tracking of Vehicles
Knowing your driver's real-time location and route is invaluable for transportation businesses and customers alike. Cloud taxi dispatch system with GPS vehicle tracking features provides you total visibility into fleets for better communication, routing, safety and more.
Software tracks all vehicles in real-time via GPS
The software integrates with GPS devices in each vehicle to receive constant, real-time tracking data. This unique feature allows your dispatch team and passengers to view all vehicles live on a map at any given moment. You and your passengers both will know where drivers are the second a ride is requested for efficient matching and tracking.
See driver approach on a map
Your passengers can open the app and view their assigned driver navigating to the pickup location. This eliminates any anxiety over when they'll arrive. The map view and real-time ETAs make it easy to coordinate meetup. Your passengers will never have to squint down the street looking for their ride again.
Status updates and ETAs to improve communication
In addition to the live map, your passengers will receive periodic status updates like "Your driver is 3 minutes away" to stay informed. Moveover, your drivers can easily communicate ETAs if they encounter traffic. This transparency keeps everyone on the same page and prepared for timely pickups.
Drivers can take optimal routes based on traffic data
With real-time traffic data provided alongside the GPS tracking, your drivers can dynamically choose the fastest routes to each of your passengers. If an accident or construction pops up, your driver can quickly reroute to avoid delays. This results in shorter pickup times and happier customers.
Improves safety and security for travelers
GPS tracking also enhances security and safety. Your passengers will have peace of mind by knowing their driver's location is tracked at all times. You can quickly identify vehicles closest to a traveler in need during an emergency. This facilitates protection and assurance on every trip.
Way 3: Streamlined Communications
Seamless communication between drivers, dispatchers and passengers is key for smooth pickups and transit. Modern on-demand Airport taxi transfer software enables real-time messaging to coordinate every trip efficiently.
Real-time communication between passengers, drivers and dispatchers
The software allows instant chat functionality between all parties. Your passengers can message your driver with special instructions. You can send updates to drivers about traffic or schedule changes. This way, everyone stays connected for the most coordinated experience.
Overcomes language barriers or hearing issues over phone
Messaging helps your non-native passengers overcome any language barriers or hearing difficulties that can happen over call-based communication. Your passengers and drivers can use translation features infused right within the chat as needed. This unique functionality ensures everything is communicated clearly in writing for less confusion.
Clear communication for flight delays or special instruction
Rather than playing phone tag, your passengers can directly message drivers important details that arise like a delayed return flight or a need to stop at the store. Special mobility or luggage needs can also be communicated upfront. This smart feature ensures no critical information falls through the cracks.
Know driver's details and status
The messaging and real-time updates enable your passengers to stay informed and at ease.
Your passengers will know their driver's name, vehicle details and status every step of the way. Clear communication between drivers and passengers replaces uncertainty with constant coordination for the best experience.
Way 4: On-Demand Bookings
Enabling seamless, on-demand ride booking eliminates the hassle of reservations for both international and domestic passengers. Best taxi dispatch software platform makes airport transfers just a few taps away.
Book airport transfers through the software platform easily
Old days are gone. And calling taxi owners is no more a solution. Instead, your passengers can now simply open the app or website and instantly book their airport ride on their fingertips without wandering.
A few taps to input their trip details is all it takes to reserve your taxi and driver for transit to or from the airport. So simple is that, right? It is!
No more calling - compare within the app
The on-demand taxi dispatch software aggregates availability and pricing across all connected transportation providers. Your passengers don't need to manually call and compare options.
The taxi dispatch platform shows your passengers the best rides matching their airport transfer needs in one spot, along with real-time availability.
Instantly book the best option
Make the taxi booking process super fast. Help your passengers by preventing them from filling their information repeatedly to every provider. And make it simple for them to enter their details one time.
The Airport taxi management solution automatically checks availability across drivers and dispatches the optimal match. This simplifies and speeds up the reservation process especially for your passengers.
Visibility into pricing and driver details
Your customers can easily view pricing, vehicle details, driver name and other info before confirming their booking. This transparency ensures no surprise costs or confusion later in the process. Your passengers get all the details upfront for an informed, seamless experience.
Way 5: Payments and Ratings
Integrated payments and two-way rating systems make the entire Airport taxi transfer experience seamless and accountable. Below you will find how an Airport taxi transfer solution can help you provide an easy transition process to your passengers.
Cashless payments and digital receipts
Your passengers can securely pay for your ride services through the taxi booking app. This helps you and your drivers to avoid the need to handle cash. The on-demand taxi booking app automatically generates digital receipts and email for records and expense reporting. Finally, this streamlines the entire payment process for you.
Rate drivers to ensure quality and service improvements
After each trip, your passengers can rate your driver and provide feedback. This rating feature enables companies to identify top performers, as well as areas your drivers can improve. Over time, this helps you ensure consistently high service standards to your passengers.
Drivers also rate passengers
The accountability goes both ways. Not just passengers but your drivers can also rate passengers after each trip. This unique feature discourages inappropriate behavior and rewards good passengers.
Adds accountability on both sides
By enabling passengers and drivers to rate one another and provide feedback, the Airport taxi transfer solution creates mutual accountability. Both parties are incentivized to be on their best behavior and provide a positive experience. This fosters a high-quality and professional environment.
Conclusion
Airport taxi trips should be painless. Whether you're a bleary-eyed business traveler or a family headed on vacation. Yet outdated taxi dispatch systems have long burdened travelers with delays, confusion and frustration. On-demand taxi dispatch and delivery software eliminates these pain points through automated dispatch, real-time GPS tracking, instant chat, simplified booking and driver ratings. The result is reliable, transparent and high-quality airport transfers.
For passengers, that means less stress and more peace of mind on every end of your journeys. And for taxi companies, it translates to improved operations, satisfied customers and reduced Fness costs. With these smart systems, airport taxi services can finally deliver the seamless experiences that 21st century passengers expect.
So don't accept archaic taxi tools that ruin your trips. Look for best taxi dispatch software providers leveraging modern taxi dispatch platforms for an airport transfer experience you'll appreciate every time.