On-demand businesses have boomed in the recent past due to the success of Uber and many other on-demand businesses that followed after it. This huge success has lured many entrepreneurs to start their own on-demand businesses. Many have succeeded in starting their business but only a few have been able to sustain it for a long time.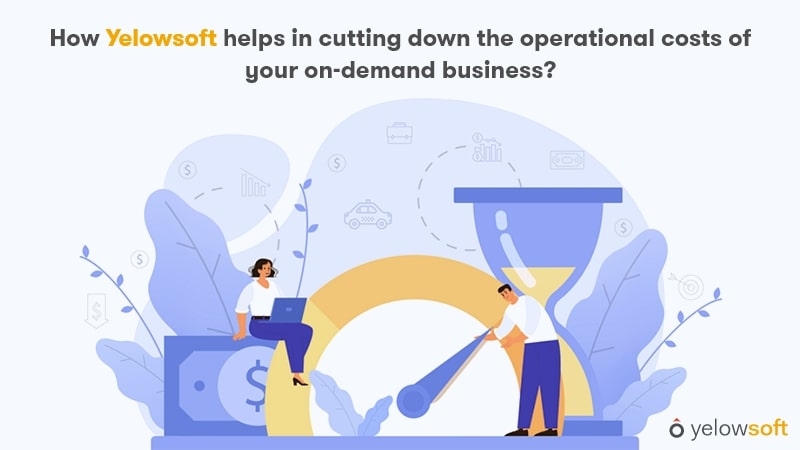 The reason behind this is simple, on-demand business comes with many challenges which you must overcome quickly to survive. And one of these major challenges is to keep your operational costs under the limit.
Operational costs in on-demand businesses can go way out of your budget if not capped using the best cost-efficient practices. And to implement those practices you need an on-demand expert.
That's where Yelowsoft steps in. Yelowsoft is a leading on-demand solution provider that has empowered several on-demand start-ups around the world. It has successfully implemented the best cost-efficient practices that have drastically reduced the operational costs of on-demand businesses.
In this blog, we are going to discuss the various factors that you should keep in mind to reduce operational costs. We will also discuss the practices which Yelowsoft follows to reduce their clients' businesses' operational cost. So, without further ado, let's begin.
Low initial investment
Initial capital or investment is one of the major factors which entrepreneur consider while starting their on-demand business. This factor is crucial as the initial investment in on-demand startups is massive. It's so huge that entrepreneurs with a tight budget can't even think of starting their own taxi business.
How Yelowsoft helps?
Yelowsoft's SaaS-based on-demand solution has emerged as a savior for these startups. Now entrepreneurs who are tight on their budget can begin on-demand businesses with Yelowsoft's SaaS-based on-demand solution. This would cost them way lower as compared to developing an on-demand solution from scratch. It's because developing an on-demand solution from scratch requires you to spend money on hiring a team of developers, setting up a server, and other infrastructure costs.
Whereas, with Yelowsoft's SaaS-based solution, you can bypass all these expenditures to start your taxi business with a minimal amount. Furthermore, with Yelowsoft's SaaS-based model, you don't have to pay any upfront cost. Instead, you have to pay for your subscription where you'll be billed fortnightly, monthly, or quarterly.
Save infrastructure cost
Infrastructure is another factor that you have to keep in mind while making the budget for your on-demand business. If you go for building your own on-demand solution from scratch, then you have to consider various factors like you'll need various kinds of servers to run your solution. You'll need a high-end server for hosting your solution.
You also have to ensure that you have a real-time server that is both reliable and scalable to manage a huge number of requests. Ensuring smooth working of such a server can increase your budget by a significant amount.
This all about technical infrastructure costs. But apart from that you also have to consider other costs such as rent of office space, equipment, and every other logistics.
How Yelowsoft cuts infrastructure cost?
If you choose to go with Yelowsoft's ready-made on-demand solution, then you don't have to think about infrastructure costs at all. It's because Yelowsoft also has state-of-the-art technology which includes a high-end real-time server that has 99% uptime.
Yelowsoft's highly reliable server also facilitates smooth scaling of your on-demand business. The bottom line is that by choosing Yelowsoft, you're saving the cost of server hosting.
Furthermore, with Yelowsoft, you're getting a ready-made solution, which means there's no need to hire a team, no need to pay rent for office space, equipment, and other logistics.
No maintenance cost
To ensure that your on-demand business goes smoothly, you must maintain it properly. Maintenance of an on-demand solution is not an easy task as the solution is complex and takes high-end expertise to maintain it.
For this, you will require a team of individuals who possess the technical expertise to manage all the functionalities of an on-demand solution. Hiring such a team can prove to be a financial burden to you if you don't have the required budget.
How Yelowsoft cut down the maintenance cost?
With Yelowsoft's SaaS-based on-demand solution, you can get rid of hiring technical professionals for maintenance. It's because Yelowsoft has a team of individuals who have the required expertise, skillset, and experience to offer you top-notch maintenance services free of cost.
Optimized use of Google Maps APIs
All the taxi entrepreneurs are familiar with the importance of using Google Maps APIs. These APIs enable us to use key functionalities of Google Maps on the on-demand apps.
However, using the high-class tracking and mapping technology of Google Maps comes with a price. And this has proved to be one of the biggest headaches for the taxi companies as they have not been able to limit the Google Maps APIs costs.
As a result, those startups only use major Google Maps APIs which affects the accuracy of real-time tracking and user experience.
How Yelowsoft helps?
Over the years, Yelowsoft has gained experience and expertise to integrate and use Google Maps APIs cost-efficiently. Experts at Yelowsoft have also consulted Google on how they can use these APIs in the best manner.
At Yelowsoft our experts have a lot of tips and tricks to save Google Maps API cost. Let's get a glimpse of it by discussing one of the tips.
The cost of the Google Maps API depends on the frequency at which it's called. So, we focused on reducing this frequency. For this, we used caching method.
Let's take an example to understand how it works. Let's assume that a rider has booked a ride from point A to B. So, we will call the Google Maps APIs for the entire ride while the cab is moving from point A to B.
We'll collect all the data and save it on our system. Now, the next time when a rider books a ride from point A to B, then we don't need to call the Google APIs again as we can reuse the saved data from the previous ride.
This way we will create a database of all the major points and routes in the city and reuse them every time a ride is booked. By reusing this data startups can save a huge amount of Google Maps API costs.
We have effectively utilized caching and many other tips for many of our clients and the results have been unbelievable. Our practices have reduced the bills from $500 to less than $200 which makes it effectively free as Google offers $200 free credit each month. It's also important to note that this free credit is only available only for small on-demand startups.
Reducing third-party costs
SMS is an important part of the on-demand application which acts as a notification for the riders. But it also comes with a cost. And you can make significant costs saving by identifying events where SMS's are not required.
For an instance, it's not necessary to send an OTP as an SMS every time a user or driver logs in. Instead, you can use a username and password for the same, this way you eliminate those login OTP SMSs.
Secondly, there are many events in the ride where the admin can send SMS to the rider. For example, driver assigned, driver near your location, driver reached your location, end trip, and many others. These are the events where the rider usually receives an SMS.
How Yelowsoft helps?
Our years of experience in this industry have provided us with tips and tricks to reduce third-party costs. Some of these tips are mentioned below:
Avoid sending SMS at every event
According to the experts at Yelowsoft, it's not necessary to send SMS for each of these events. For an instance, at the end trip, it's not necessary to send an SMS. Instead, you can simply send an email to the rider which will have all the details of the ride including the invoice receipt. Thus, you can save a lot of money by reducing the number of SMSs sent to the riders.
Choose local SMS provider
Apart from the number of SMS sent, the selection of SMS gateway is another factor that affects the overall cost. Years of experience in this field has given us a lot of insights as to which kind of SMS gateways are best for various on-demand startups and enterprise. And we use our expertise and insights to suggest to our clients the best suitable SMS gateway options.
Let's take an example to show you the significance of an SMS gateway. Suppose, there's a small taxi startup that is looking to integrate an SMS gateway for their business. So, first of all, we will see in which cities they are operational.
For example, if they are operational only in one city, then we would advise them to integrate a local SMS gateway of that country since it will cost-efficient.
Integrating a global SMS gateway for such a business won't make sense since they are not going to send an SMS outside their own country. Secondly, the rate of sending SMS is way higher in a global SMS gateway than in the local SMS gateway.
Conclusion
Yelowsoft is an advanced on-demand solution that enables startups having tight budgets to fulfill their aspirations of starting their ride-hailing, food-delivery, grocery delivery, parcel delivery, and many other on-demand businesses.
We not only have a state-of-the-art solution to empower your businesses but also have a core team of well-experienced and skilled individuals who are dedicated 24x7 to ensure that the solution works smoothly.
The cost-saving methods shared on this blog are just the tip of the iceberg. If you want to cut your operational cost by a huge margin then you must subscribe to Yelowsoft's on-demand solution that will not only save the operational costs but will also boost your total number of requests and profits with the help of its advanced features and technology stack.