The ride-hailing industry has come a long way. Only in the span of 10 years, we witnessed its massive growth and more importantly rapid adoption by the customers. Uber and Lyft's success in the US sowed the seeds for an industry which is now expected to reach the market size of $218 billion by the year 2025.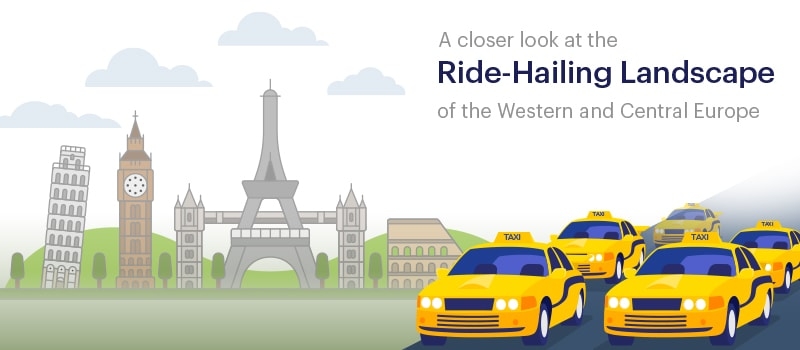 The formula of an app-based taxi business which worked wonders in the US has now spread to each and every corner of the world. If we look at its journey in the Western and Central Europe, then it's quite fascinating too. The Central and Western European region consists of 13 countries which are: Austria, Czech Republic, Germany, Ireland, the United Kingdom, Switzerland, Belgium, Liechtenstein, Monaco, France, Luxembourg, Netherlands, and Hungary.
In this article, we are going to discuss in detail about the ride-hailing market trends, big players, and important events related to ride-hailing businesses in Central and Western Europe.
Ride-hailing stats of Central and Western Europe
If we look at the ride-hailing stats of this region then according to Statista, the overall revenue of the taxi and the ride-hailing segment is estimated to reach US$ 17,098m by the year 2020. The revenue is also expected to show an annual growth rate of 14% (CAGR 2020-2024) which will result in the projected market volume of approx. US$28,848 by the year 2024.
User penetration is also expected to increase from 19.1% in 2020 to 19.4% in 2024. If we talk about the average revenue per user (ARPU) then it is estimated to amount to US$270.72.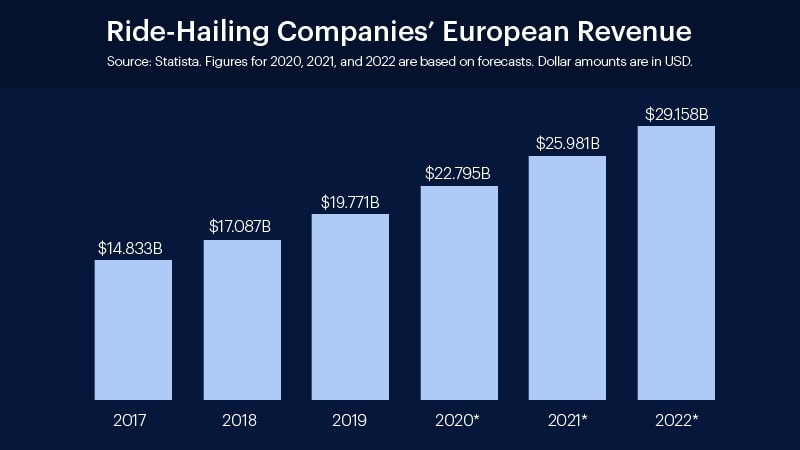 Uber's struggles in Central and Western Europe
Uber has gained immense success in the US to the point that it's almost omnipresent there. However, its story in Europe is quite different. Uber has failed to gain popularity and traction in many cities of the continent. Regulators of various European countries have proved to be a roadblock for Uber as their services have been banned in Hungary. Some of the Uber's services have also been banned in cities of France, Germany, and Netherlands.
UberPop, which is the cheapest Uber service after UberPool has been the centre of controversies in Europe as it enables non-licensed drivers to drive a taxi and pick up passengers in their own cars. Courts of Germany and France have already banned this service in their respective countries.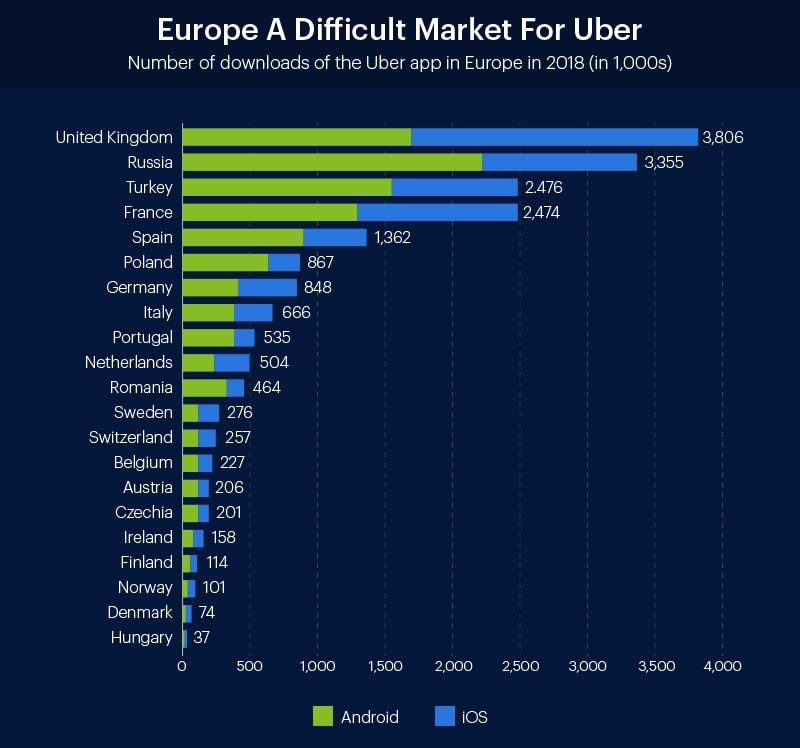 In July 2017, the European Court of Justice gave judgement according to which any European country can legally ban the UberPop service without notifying the European Union.
This judgement came in response to the strikes and protests from the licensed taxi drivers who complained that Uber presented them with unfair competition.
It's not only the regulators that have caused roadblocks for Uber in the Central and Western Europe. There's also a cluster of ride-hailing competitors that have competed against Uber to emerge as the major players of the region. Let's have a look at few of the Uber's biggest competitors in the region.
Top ride-hailing players in Central and Western Europe
Gett
Gett which was founded in Israel in 2010 has emerged as one of the major ride-hailing players of Central and Western Europe. Today, it is available in more than 120 cities in Russia, the U.S., Israel, and the U.K.
Like Uber, Gett also doesn't employ any drivers or own any vehicles but collects the commission for connecting drivers and the riders. However, the one major difference between Gett and Uber is that Gett is available only to licensed drivers.
People in the UK and other European countries prefer Gett over Uber as it is faster of the two. Moreover, Gett drivers are not dependent on satellite navigation or smartphone for directions and route suggestions. Furthermore, the Gett drivers can also use bus lanes in some of the cities which enable them to dodge the traffic and move around quickly.
According to Gett, the company has almost half of the licensed black-cab drivers signed up to their app. To use Gett's services, these drivers are required to clear a test known as The Knowledge. This test involves learning approximately 20,000 landmarks and 25,000 streets along with other places of public interest.
Gett also announced that they had raised $200 million at a $1.5 billion valuation which means that they are looking to follow Uber's footsteps by going public soon.
Bolt
Bolt which was earlier known as Taxify is a ride-hailing app founded in August 2013 in Tallinn, Estonia. There are many similarities between Uber and Bolt except the fact that drivers are extremely satisfied with the Bolt. It's because Bolt charges only 10%-20% commission to their drivers. Whereas, Uber charges commission somewhere around 30% to their drivers. Bolt has proved to be a good deal for not only for drivers but also for customers. With its launch in London, it offered riders with 35% cheaper fare as compared to Uber.
With over 25 million customers and 500,000 drivers, Bolt competes Uber in almost all the parts of Europe. Bolt is operational in 50 cities across 30 countries. However, it didn't have a memorable start in London as it was forced to shut down in London just after three days of its launch in September 2017. However, it did relaunch in the city with a different strategy of focusing only on the emerging markets of Eastern Europe, Western Africa, and the Middle East.
Hailo
A team of six entrepreneurs founded Hailo in the year 2011. Hailo is now remembered as a casualty to Uber's aggressive campaign in Europe. Uber's success in Europe played a major role in Hailo's crisis.
Very similar to Gett, Hailo also allowed their riders to hail a cab only from the licensed and registered drivers. This also included those drivers who drove London's iconic black cabs.
In May 2014, Hailo's office got vandalized by several black cab drivers. This incident took place after the company's decision to open up its services to private hire vehicles. This move was seen as Hailo's attempt to mirror Uber's business model in London.
Taxilo
Taxilo is one of the biggest taxi service providers in Germany. It caters its cab services too many people who visit Germany for various purposes like academics, business, and leisure. Their cab services also include airport drops and various other medium-length travels.
Taxilo enables its customers to avail their services via online taxi booking software. This ride-hailing company has witnessed immense success and growth and is all set to feature in the list of Fortune 500 companies.
Bike Taxi
As the name suggests, Bike Taxi is a ride-hailing company which caters to bike lovers. This service enables its customers to roam in the streets of Berlin with a bike.
Bike Taxi has more than 50 full equipped cycle rickshaws making them the biggest bike taxi company in Germany. Bike Taxi was founded in the year 2012 in Berlin and its operations were in almost every part of Germany.
The bikes also come with an electric auxiliary motor attached to them which assists riders to drive safely in the upward slopes. All the bikes provided by Bike Taxi have necessary legal approvals and are properly insured.
Ola enters London market
The ride-hailing company based in India, Ola had started its operations in Cardiff in 2018 and later on expanded its services in various other parts of the UK. Ola always had its eye on Uber which has appealed against the judgement that has suspended its license in London after recurring safety failures.
Ola says that they already have three million customers across the UK and their next goal is to become number one in London in a span of one year. However, it won't be a cakewalk for Ola to dominate the London market as there are several competitors in the race.
What's the current state of the market?
Ola was already operational in major parts of the UK which included cities like Bristol, Bath, Birmingham, Exeter, Cardiff, Liverpool, and Reading. Currently, there are more than a dozen app-based taxi booking companies operational in the UK. This tells a lot about the growing ride-hailing market in the country. Even the number suggests so.
As per Statista, the ride-hailing market in the UK is estimated to reach US$6,885m in 2020. This revenue is estimated to exhibit an annual growth rate of 14.5% (CAGR 2020-2024) which would result in a market volume of US$11,841m by the year 2024.
As mentioned earlier, Uber has appealed against the suspension of its license. It's important to understand that even after all the struggles that Uber had in the region, they still have the most number of registered drivers in London as compared to any of their rivals.
Uber shows its might with more than 45,000 drivers in the Capital of the UK as compared to the 35,000 drivers of Bolt. Whereas, Ola has around 25,000 drivers in London.
Ride-hailing in Germany
The ride-hailing companies have introduced automation and digitization in the taxi segment of the country. Ride-hailing services has becomes an inevitable part of many living in cities like Hamburg, Berlin, and Munich. Over the past year, more than a million users have used ride-hailing services in Germany. By the year 2023, this number could rise to 7.8 million.
The introduction of ride-hailing services by companies like Uber and FreeNow has received mixed reactions from the Germans. On the one hand, it has generated new mobility options for the citizens. And on the other hand, it has faced several societal and political backlash. Increase in pollution is one of the reasons for the backlash. Secondly, ride-hailing companies are being strongly opposed by local taxi drivers associations and companies.
Read More: Challenges faced by driver associations across the world.
This is because they feel threatened by the immense success of the ride-hailing companies and fear that it will drive them out of the market. This clash has also resulted in a demand for uniform regulations for all as ride-hailing companies don't fall under the same legal category as that of local taxi companies.
Passenger Transportation Act
Things in Germany looks quite unclear and confusing. It's because the ministry of transportation has failed to revise the obsolete Passenger Transportation Act. If the act is revised then the e-hailing apps would be included in the law to form the statutory framework.
The amendments suggested to the Passenger Transportation Act implies that the government is getting closer to acknowledge the roadblocks that the mobility sector faces in the country. However, it's still far from devising a plan to combat those challenges.
Many other ideas that can help in moving towards the right direction are hardly ever addressed. For example, giving incentives to the companies which replace their diesel or gas-powered vehicles with a fleet of EVs or other eco-friendly alternatives.
Read More: Benefits that SME can gain by adopting electric vehicles.
How can Germany resolve its mobility sector issues?
Germany needs to come up with a plan that can successfully unite various agents of the mobility sector. The best-case scenario would be when everyone would end up earning profits with increased collaboration rather than just cannibalizing each other.
To achieve climate targets, the government must incentivize EVs and carpool. This would help in reducing pollution caused by ride-hailing companies. The government must also factor in the needs of citizens and businesses while taking restrictive measures. They shouldn't favour one side to the other.
They must revise the old laws as soon as possible if they want to offer their citizens a customer-friendly and innovative mobility alternative.
Conclusion
The ride-hailing industry in Central and Western Europe is booming sparring some roadblocks caused by the regulators and local taxi companies. In this article, we tried to describe the entire ride-hailing scenario by discussing various aspects. The first was Uber's struggles in this region. We also had a closer look at the major ride-hailing players in Central and Western Europe. After that, we saw how Ola entered the already very competitive London market. At last, we discussed the ride-hailing scenario in Germany which included the debate over the Passenger Transportation Act.