Gone are the days when taxi businesses were managed in traditional ways. With the advancements in technology, we saw the birth of taxi behemoths like Uber, Lyft, Grab, Ola, and many more which dominated the taxi industry in various parts of the world.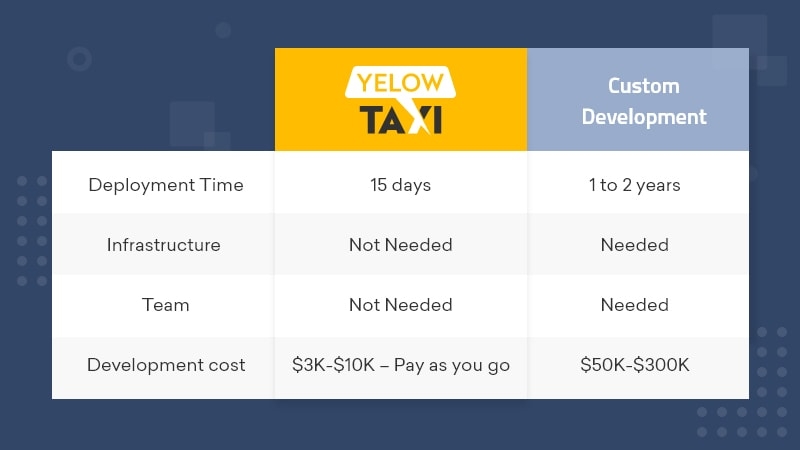 It won't be wrong to say that, the rise of these behemoths has disrupted the taxi industry completely. Moreover, it has also encouraged many entrepreneurs to come up with their own taxi-start-ups around the world.
However, one interesting thing here to notice is that every successful taxi company had a robust taxi application or a taxi booking and management system.
So, one thing is very clear that to become a successful taxi company, you must have an advanced taxi booking system at your disposal.
And to get an advanced taxi booking solution, you can either build it from scratch or simply integrate a ready-made taxi booking solution of a reputed taxi solution provider.
But which option is better?
If you're a start-up, then going for the latter option is a wise decision.
Now, you'll again have a question, how?
In this article, we will discuss how going for a ready-made taxi solution is better than building a taxi solution from scratch.
In this article, we'll discuss Yelowsoft as the ready-made taxi solution provider which has emerged as a reputed, established, and leading player in the taxi industry. So, without further ado, let's start.
Get your solution in less time
Time is money
One of the major benefits of hiring Yelowsoft is the amount of time that you save. Usually, when you're developing your own taxi solution from scratch, it takes around 1-2 years to develop and get it deployed. However, with Yelowsoft, you don't have to wait for that long as we can deploy our taxi booking solution in just 15 days.
Even if you're working at a lightning speed to develop your own solution from scratch, it will take you at least 365 days. Whereas, Yelowsoft takes less than 15 days to provide you an already tested and proven solution.
Even if you apply basic math then it suggests that Yelowsoft is 25 times faster when it comes to the development and deployment of a taxi solution.
If you believe in the mantra of 'Time is money' then Yelowsoft must be your choice for the taxi solution.
Adapt to current technological trends
Another major thing is to understand that the taxi industry is ever-changing, the technology used in taxi businesses keep on changing at a frequent pace. In such a scenario, it becomes very important that you come up with a taxi solution as soon as possible.
Read More: Market scenarios and taxi trends for 2020 and beyond.
Let's consider that you're building your own taxi solution and it took one to one and a half years to develop. When you started developing your solution, you took into consideration the taxi technology trends that were prevalent at that time. However, by the time your solution was ready, those trends were no longer prevalent or in the worst-case scenario, obsolete.
With Yelowsoft, you give yourself enough time to make necessary changes to adapt to the current technological trends. Moreover, Yelowsoft also helps you to stay relevant in the market by updating the technology.
First mover advantage
If you think that you have a novel idea about a taxi solution that can fulfill the needs of local riders, then with Yelowsoft, you can implement that within 15 days. Whereas, going for a custom-built solution would take ages to complete and you might see your competitor implementing the same idea thus rendering your idea obsolete.
Save loads of money
No matter what business you are in, cost minimization is one of the prime objectives. Yelowsoft offers you various opportunities for minimizing your overall cost. Let's have a look at it one by one.
Overall development cost
If you go for a custom-built taxi solution then it would cost around $50K-$300K. This amount is pretty high for any entrepreneur. Yelowsoft understands this very well and that's why it offers you an amazing deal. With Yelowsoft, you can start by just paying $3K-$10K with a pay as you go model, where you have to pay the monthly fees.
To develop a taxi solution of your own, you would require a team. And as per our estimation, that team must consist of a minimum of 5 people. The amount required to pay each employee also contributes to the overall costs. To give you a better idea, the minimum amount charged by an IT professional on an average is around $5K per month. It means that a minimum of $25K will go just in paying your team and that too for every month.
However, you can dodge all these costs by simply hiring Yelowsoft as it saves you from hiring any professional team and most importantly paying for it.
Infrastructure cost
If you have already hired a team then you would also require a working space along with equipment which would again add to your total cost. We all know how much the office space cost contributes. However, with Yelowsoft, you can save that expenditure as you don't require any working space or equipment.
Support and maintenance is crucial
Support and maintenance are some of the most underrated aspects as many people tend to overlook it. However, true businessmen know its significance.
One thing that many people forget is that the work of the development team just doesn't end once the development is finished.
The taxi solution needs periodic support and maintenance for its smooth functioning. You need a team that can do the following:
Monitor the performance of your server on a daily basis. You have to check whether the server is up or down. And if it's down, then you have to take a proper course of action to restore it.

Many times, your solution needs to be updated as per the latest technology.
For both the above tasks, you would require a team. You can either hire a new team or keep paying your previous development team. In both cases, your cost increases.
However, if you hire Yelowsoft, then there's no need to hire or pay any team as our developers are dedicated to ensuring the smooth functioning of your taxi solution.
Not only this, we also offer after-sales support in which our client can raise a ticket for any query at any time and our support team will respond and resolve that query in no time.
Experience, expertise, and guidance
Yelowsoft is a leading taxi solution provider. We have shaped many taxi start-ups into the successful taxi business. Our experience and expertise in the matter of taxi business is an added advantage for our clients.
Running a taxi business is not easy. Apart from the technical assistance, you would also require guidance as to how you can combat various difficulties that may arise. For example, what if your server shuts down when it receives a high volume of requests?
Read More: How improving customer experience can impact your taxi business.
Many times, it happens that a solution works fine when it receives a limited amount of requests, say less than 500. However, when it receives more than 1000 requests in a day then it collapses. Yelowsoft has dealt with such issues in the past and has come up with a foolproof strategy to avoid such a situation.
Cost-efficient solution
Yelowsoft also believes in offering top-notch solutions at minimum costs. Cost efficiency is one of our USP. We put all our efforts from our end to identify the potential cost cuts and implement it for our client's benefit.
For example, while integrating the 3rd party APIs, we guide and suggest our clients to only go for those APIs that are utmost essential for their business. This approach helps them to prevent extra expenditure on the APIs which are not necessary.
Moreover, we provide you with a reliable server architecture that maintains an impressive 99% uptime. No matter what the volume of requests is, our server never goes down. Such reliability is an important sign of any successful taxi business.
Not only this, but our server architecture also saves you a fortune as any in-house or cloud architecture costs a lot.
We are more than a partner
At Yelowsoft, we all firmly believe that our clients are more than just a business partner. We don't see ourselves just as a technology partner. That's the reason why we constantly keep track on all our client's business performance. Our team always has a continuous dialogue with our clients which helps us to understand their issues. After that, we identify the main source of the issue and come up with a solution for it.
We then suggest our clients with a well-defined course of action which helps them to overcome the issue and thus increase the profits.