The advent of taxi-aggregator services like Uber and Lyft have changed the taxi industry forever. An industry which used to function in a traditional way for decades got heavily disrupted by app-based taxi companies. But what lies in the future? Here are top three ted-talks that hints at the possible future of taxi industry.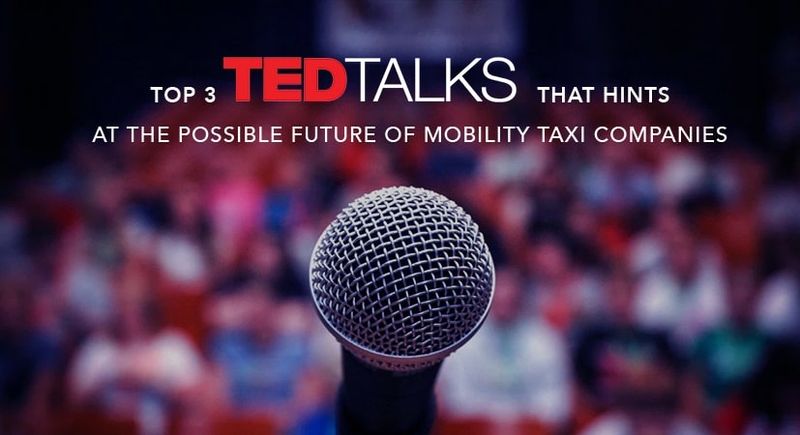 A driverless transportation system
Wanis Kabbaj absolutely loathes commutation and terms it as a monumental waste of human time and energy.
To back up his statement, he presents some figures that in 2014 only in US the total amount of time consumed for commutation was enough to build 26 Giza Pyramids.
He further says that it's a high time that we find a novel solution to our transportation issues. He says we need to find an inspiration to solve our problems.
And for that there's no need to look anywhere else but inside us. He then talks about our vascular system and terms it as the most efficient transportation system ever.
Wanis Kabbaj beautifully draws an analogy between a full-fledged automated transportation system with our vascular system.
In this video he shows how a driverless transportation system can mimic the properties of the blood flowing through the body to solve our transportation woes.
He beautifully explains how an automated driverless transportation system can be as efficient as a mass transit system and also as comfortable as a car.
A fully centralized and automated transportation for the whole city! What if a sole taxi company owns the system? Is this the future of taxi industry?
Watch the below video to know how an inspiration from biology can possibly solve our transportation issues for good.
Read More: How to create a successful business plan for a taxi business
Rent/sharing community cab services
Robin Chase is the founder Zipcar in USA which is a largest car-sharing company in the world. After achieving this feat, she is going a level up for her next endeavor: Buzzcar, which is a French startup that allows people to rent their car to others.
In the video she beautifully describes her transition from a founder of a conventional corporate organization to a founder of a peer-sharing startup. She describes advantages of both and shows how they are best of the both worlds.
She gave examples of many startups before coming to the Buzzcar which works on the same concept of community sharing. These examples were eBay, Fiverr, and carpooling.com. Afterwards she explains the success of a Buzzcar – how it got started gaining traction with each day passing.
She tells the audience how her startup encourages the idea of community sharing and evokes the humanity in all of us.
So, is this a new path that taxi companies can adopt to succeed in near future? Only time will tell. Till then watch the below Ted talk to know more.
Customer service is the key
Shep Hyken shares an anecdote of his cab driver Frank which perfectly matches the phrase 'don't judge a book by its cover'.
Initially he describes it as a misery as he judged Frank because of his erratic clothing. He wore torn shorts, sleeveless shirt, and had messed up hair.
The speaker was quick to judge his cab's state too early only to be surprised later. As soon as he entered the cab he found that it was fully air-conditioned.
To his surprise he found two newspapers, an ice bucket, and two soft drinks. The driver then told him that all these facilities were free of charge and he the fare rate that he offered was also competitive.
The driver was exhibiting a perfect example of customer service. At the end of the trip he gave his card to the speaker and told him that he is just a call away from picking him up and would provide all the facilities at free of cost along with competitive fare rates.
This anecdote from the speaker is a huge lesson for all the taxi companies and their drivers that it takes the strong will from your end to ensure quality customer service.
In a nutshell
In this article, we read about three different ted talks discussing about the transportation system.
All three of them are way different from each other; however, for taxi companies each ted talk gives a hint as to how the future taxi industry would look like.
So, it would be interesting to see how transportation system will evolve over the years and how would it affect the role of taxi companies in it.
But whatever happens, one thing is for sure that the taxi companies must be willing to accept the change and must quickly adapt to it in order to gain the first mover advantage.