Starting and sustaining any business in today's world is a tough task. And it becomes even tougher if we talk about the ride-hailing business since there's a cut-throat competition from taxi giants like Uber, Grab, Lyft, Ola, and many more.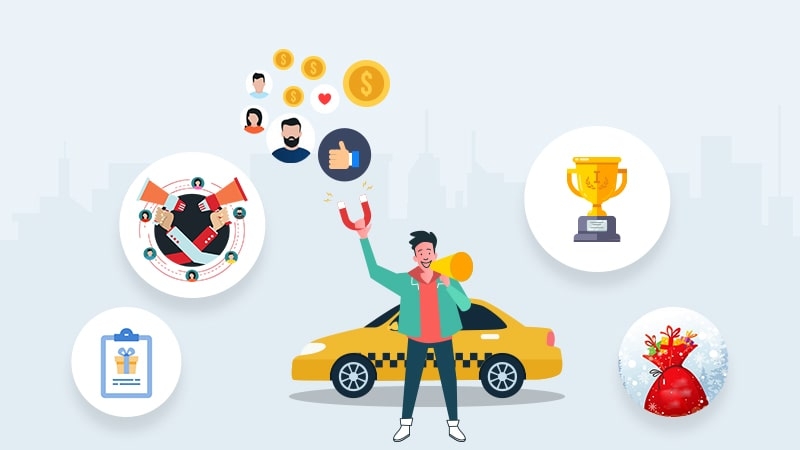 Many people believe that you only need to have a robust ride-hailing solution for a successful taxi business. However, that's not true. Growing and sustaining your taxi business is much more than that. You must employ proper promotion and retention strategies to ensure that your taxi business grows seamlessly.
In this blog, we will discuss various promotion and retention strategies that you can employ to ensure the continuous progress of your business.
Top 4 ways to grow & sustain your ride-hailing business
You need different strategies to run your taxi business. To do this, you need to focus on the key three things.
1. Referral marketing: – This strategy is most suitable ride-hailing start-ups.
2. Customer loyalty rewards: – This strategy is for already established ride-hailing businesses.
3. Driver incentives: – This strategy too can be employed by both start-ups and established taxi businesses.
4. Festival offers and promotions: – This strategy can be used by both start-ups as well as the established businesses.
Now let's deep dive into each of the above-mentioned promotion and retention strategies.
Attract new customers with referral marketing
Referral marketing is a foolproof strategy to attract new customers for your business. By employing this strategy ride-hailing start-ups can build customer-base in quick time. Let's see what referral marketing actually is.
What is referral marketing?
According to Wikipedia, referral marketing is nothing but a word of mouth marketing strategy which is designed to incentivize the existing customers to introduce their friends, family, and other known contacts to become new customers.
In ride-hailing business also referral marketing works in the same way. Referral marketing is bread and butter for ride-hailing start-ups who are in a constant search of adding new customers and drivers.
Uber was the first company to employ a referral marketing strategy in the taxi industry. Since it was an early adopter, it enjoyed several benefits; however, it was the word of mouth publicity of their loyal customers which made the difference.
Since Uber is an app-based ride-hailing company; the referrals in its case were of in-app referrals. Today, most of the on-demand ride-hailing start-ups rely on in-app referrals to boost their app downloads.
Now let's have a look as to how in-app referrals work.
How does it work?
To understand how it works, let's take an example. See the below picture.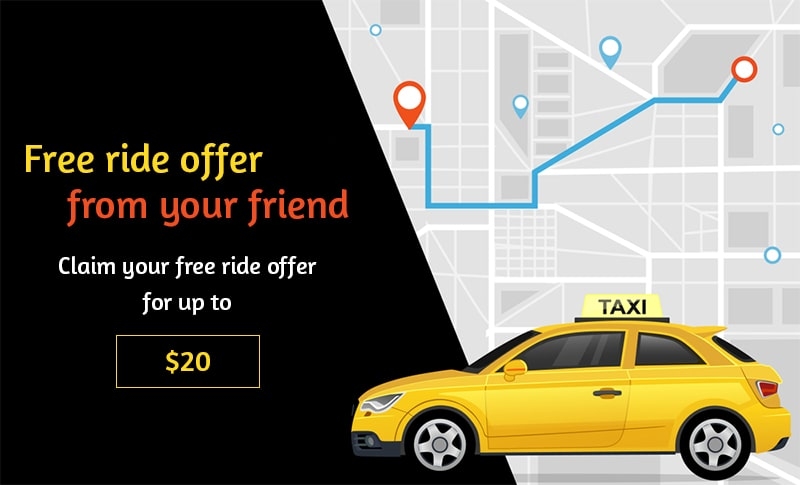 The image shows that his friend has gifted the user. When the user clicks on it, he sees that his friend has offered him a free ride for up to $20. Now this has different psychological effects on the user such as:
It makes them feel wanted
It's a personalized deal and it's coming from a reliable source
Makes it a WOW moment for the user
That's just the psychological aspect of it. More importantly, it emerges as a win-win situation for both the user as well as the referrer as they both are getting a lucrative deal. This thing makes in-app referrals attractive and thus increases the chances of more users referring your ride-hailing services to their friends and family.
How effective is referral marketing?
To see how effective referral marketing is, let's have a look at few stats:
According to a research, in-app referrals boosts download by up to 36%.
As per the Journal of Marketing, the lifetime value of a referred customer is 16% higher than that of a non-referred customer.
A referred customer spends around 13.2% more than that of a non-referred customer.
Retain existing customers by offering rewards
Taxi industry is highly competitive. That's the reason why it becomes important for taxi companies to come up with various ways to retain their existing users. Taxi companies are leveraging customer loyalty and rewards for effective customer retention.
You can offer rewards to your customers in several ways. For example, you can provide rewards to your customers per ride. Now, here too you can offer rewards in different ways. You can either give them cash back, redeemable points, or discount coupons.
Cashback
In these types of rewards, the customers get a cashback reward when they complete a particular number of rides. Here it's important to note that the cashback amount can't be used outside of the app. This means that the user can only use this cashback amount to book a ride or use any other ride-hailing services.
Redeemable points
In these types of rewards, the customers can earn reward points on completing various missions. For example, you can award your customers with 10 reward points if they complete 3 rides in a week. Also, you can
Discount coupons
In this type, you can offer various coupons and codes to your customers if they complete a certain number of rides. They can use these coupons to get discounts on their upcoming rides.
Incentives for drivers
Incentives are one of the most widely used strategies to keep your employees happy and loyal to your business.
In the taxi business, you can offer incentives to your drivers who follow good driving habits. Furthermore, you can also create a specific target achieving on which the drivers would get predefined incentive amounts.
You can define various types of incentive target such as:
Online hours
You can set a target of specific duration for an instance 9 hours a day. So, if any driver who stays online for more than 9 hours a day becomes eligible for the incentive.
No. of ride completed
Another criterion for driver's incentive can be of the total number of rides completed. You can set a target for no. of rides for an instance 30 rides in a day. So, a driver becomes eligible for the incentive if he completes more than 30 rides in a day.
Time-slots
You can also add time-slots as another criterion for incentive. You can also merge the above two criteria along with time-slots. For example, you can define a time-slot such as 12 AM-6 AM. So, any driver who completes a specific number of rides or stays online for a certain number of hours during these time-slots become eligible for the incentive.
Festival and seasonal offers
Offering discounts and offers on festivals and events are also an effective way to promote your ride-hailing business. Many ride-hailing giants are already employing this strategy to attract and retain their new and existing customers.
These strategies can be employed by both taxi start-ups as well as the existing taxi business since it targets both new and existing customers.
For an instance, you can offer 30% off on first 5 rides booked on Christmas and New Year week. You can also introduce many variations to these offers as per your requirements.
Festival and seasonal offers are a great way to not only increase your customer base but also to establish a deep sense of trust with your customers that would go a long way.
Conclusion
It goes without saying that no ride-hailing business can grow or sustain without a proper promotion and retention strategy. Referral marketing, loyalty rewards, driver incentives, and festive promotions are the backbone of any ride-hailing business. I hope this blog provided you with a proper guide on how to you can attract and retain new and existing customers of your ride-hailing business.
We'll come up with more such insightful content that can help your taxi business to flourish. Until then keep reading this space.