Quick Summary
As a fellow taxi fleet owner, I understand the day-to-day challenges you face - dealing with manual bookings, tracking vehicles, managing drivers and endless paperwork. It's impossible to grow amidst all this chaos.
But here's the good news - the right taxi dispatch software can automate your business and help you focus on what's important - your customers and growth.
In this blog, I'll walk you through the must-have features of a robust taxi dispatch system that can take your operations to the next level.
Running a successful taxi business is full of challenges - like dealing with manual dispatching, tracking vehicles, addressing customer issues and balancing demand with limited drivers. Moreover, consumer expectations are rising, competition is fierce and margins are razor thin.
To overcome these challenges means embracing technology. In other words - Taxi cab dispatch system.
According to recent research, the global taxi dispatch software market is expected to reach $1.37 billion by 2028, up from just $417 million in 2021. That's a whopping 18.5% annual growth as dispatch systems become essential for streamlining operations.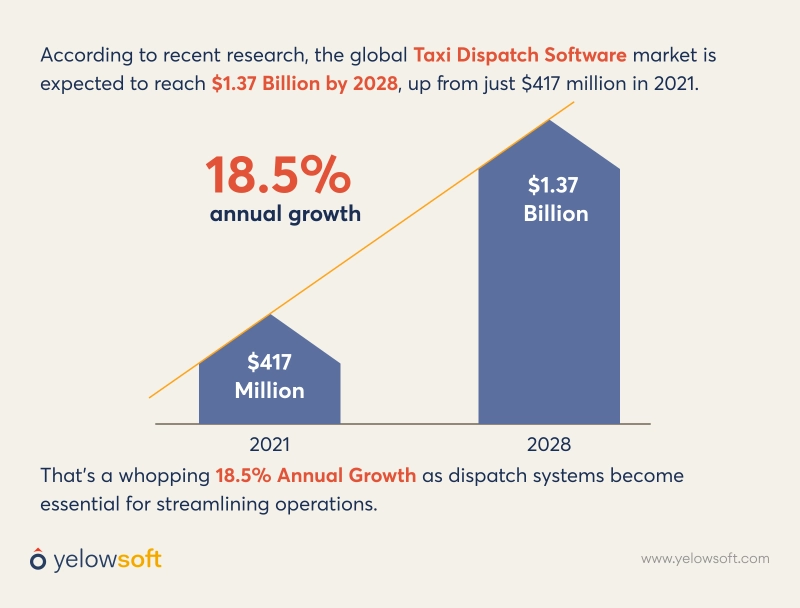 Everyone in the market is looking for the best taxi dispatch software expecting all the features in it. But, not all features are for you.
Below I will walk you through the most important features your advanced taxi dispatch system. should have. This will help you delight your customers, outpace your competitors, and grow your business. You need to upgrade your existing system if you are using one.
If you are not then you need to adopt the best dispatch software that can help you meet your goals.
Without any more ado, let's have a closer look at each of the important features.
Key Features of Robust Taxi Dispatch Systems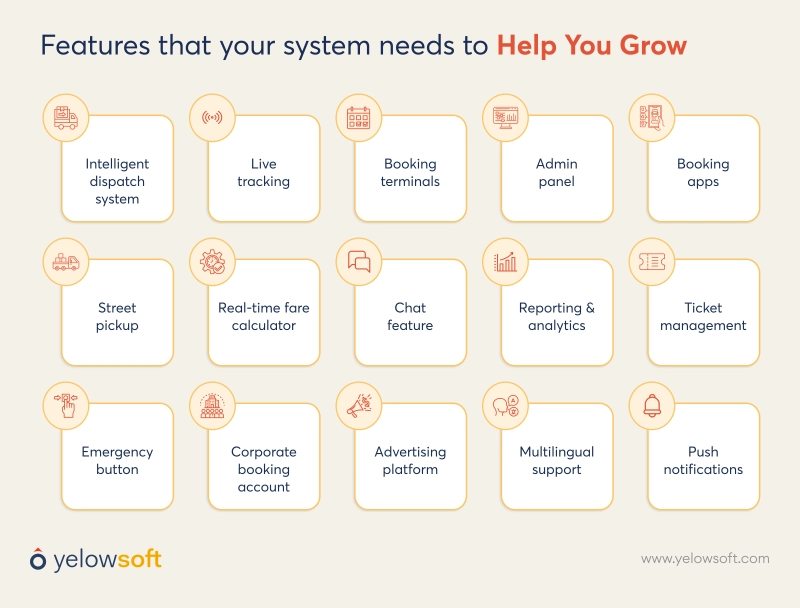 Intelligent Dispatch System
An intelligent car dispatch system is the heart of your dispatch operations. As Tony Hsieh rightly said:
"Businesses often forget about the culture, and ultimately, they suffer because you can't deliver good service from unhappy employees."
An intelligent feature-rich taxi dispatch software fosters a culture of seamless coordination between your drivers, dispatchers and customers.
It is designed to make taxi booking easy for your customers and allow taxi companies like you to manage information seamlessly.
Moreover, the taxi booking software uses complex algorithms to help you assign booking requests to the optimal driver in real-time.
The key capabilities that make it intelligent include:
Zone-Based Driver Allocation
The software allows you to divide your service region into different zones. When a booking request comes in, you can assign it to the nearest free driver within that zone for quick pickup. This ensures better resource management, and reliable & fast service for customers - resulting in improved customer satisfaction.
Dynamic Driver Queue
This feature helps you maintain a virtual queue of drivers at airports, venues etc. It helps you assign bookings in a sequenced manner while optimizing driver downtime and earnings. Additionally, using this feature, you can be assured that taxis are dispatched in a fair and logical manner. This reduces the wait times for customers and maximizes the utilization of the available taxis.
Surge Pricing
Using this feature, you can adjust your fare based on the demand and supply conditions. It means you can increase pricing during peak hours or special events. This is also helpful to incentivize more drivers to hit the road and meet the growing demand. An intelligent dispatch system is your ticket to maximizing fleet utilization, driver earnings and minimizing wait times for customers - all at once.
Live Vehicle Tracking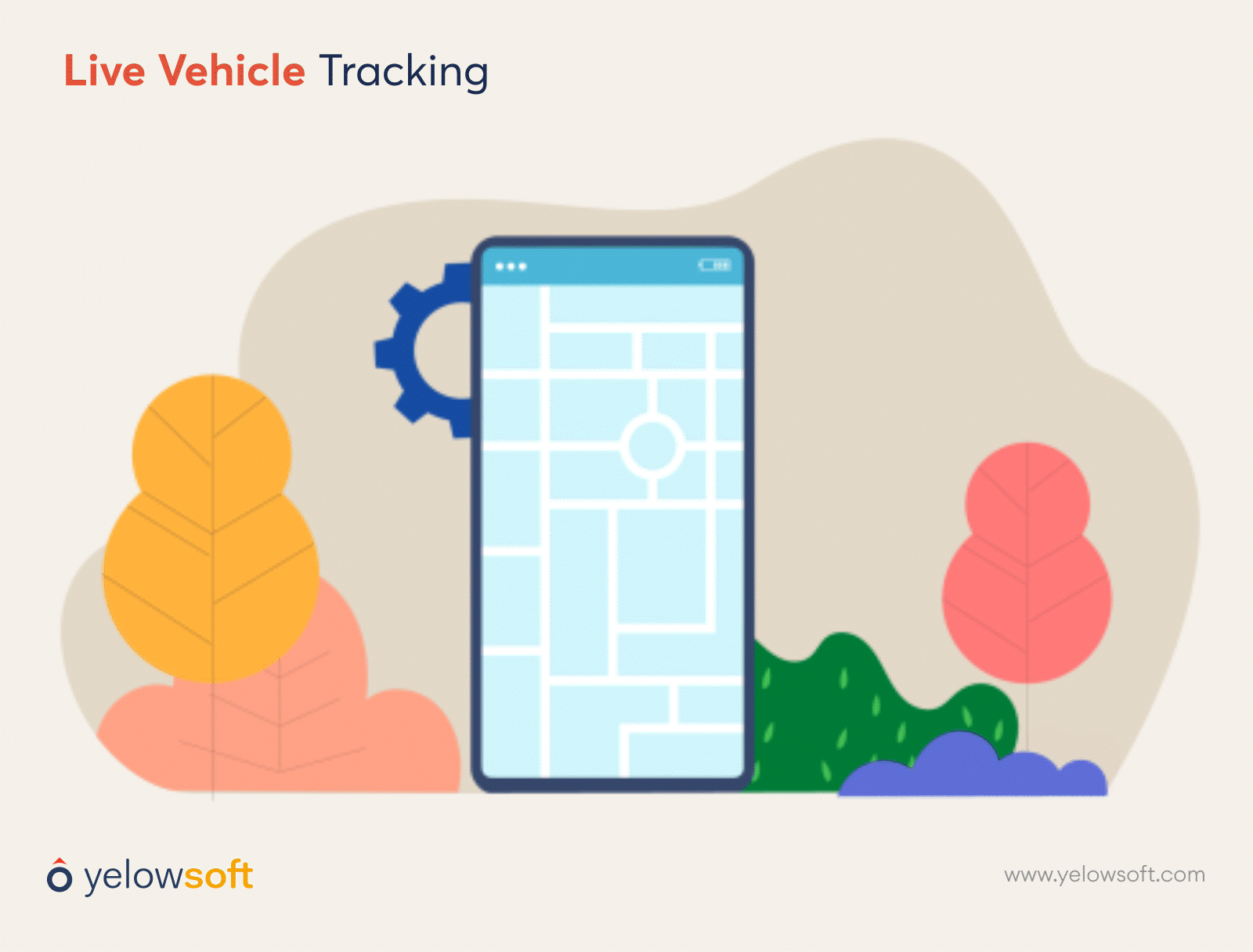 Knowing your vehicles' locations in real-time is vital for efficient functioning. A robust taxi booking app has in-built GPS tracking to let you:
Monitor vehicles live on a map
Track driver routes
Ensure on-time arrivals
Improve dispatcher coordination
Address customer concerns proactively
This leads to better accountability, safety and service quality for your taxi business.
Booking Terminals
For busy locations like airports, malls and hotels, setting up self-service taxi booking kiosks powered by your dispatch software is a must. Your customers can use these terminals to book cabs in a few taps. The terminals can integrate with the software to provide your customers with a seamless booking and payment experience. The terminals provide real-time information on available taxis, estimated arrival times, and fare estimates, making it easier for passengers to plan their trips.
Benefits of booking terminals:
Increased customer convenience
Higher booking volumes
Queue management of incoming leads
Brand visibility in high-traffic areas
It's a value-added service that makes the taxi experience seamless for your customers.
Admin Panel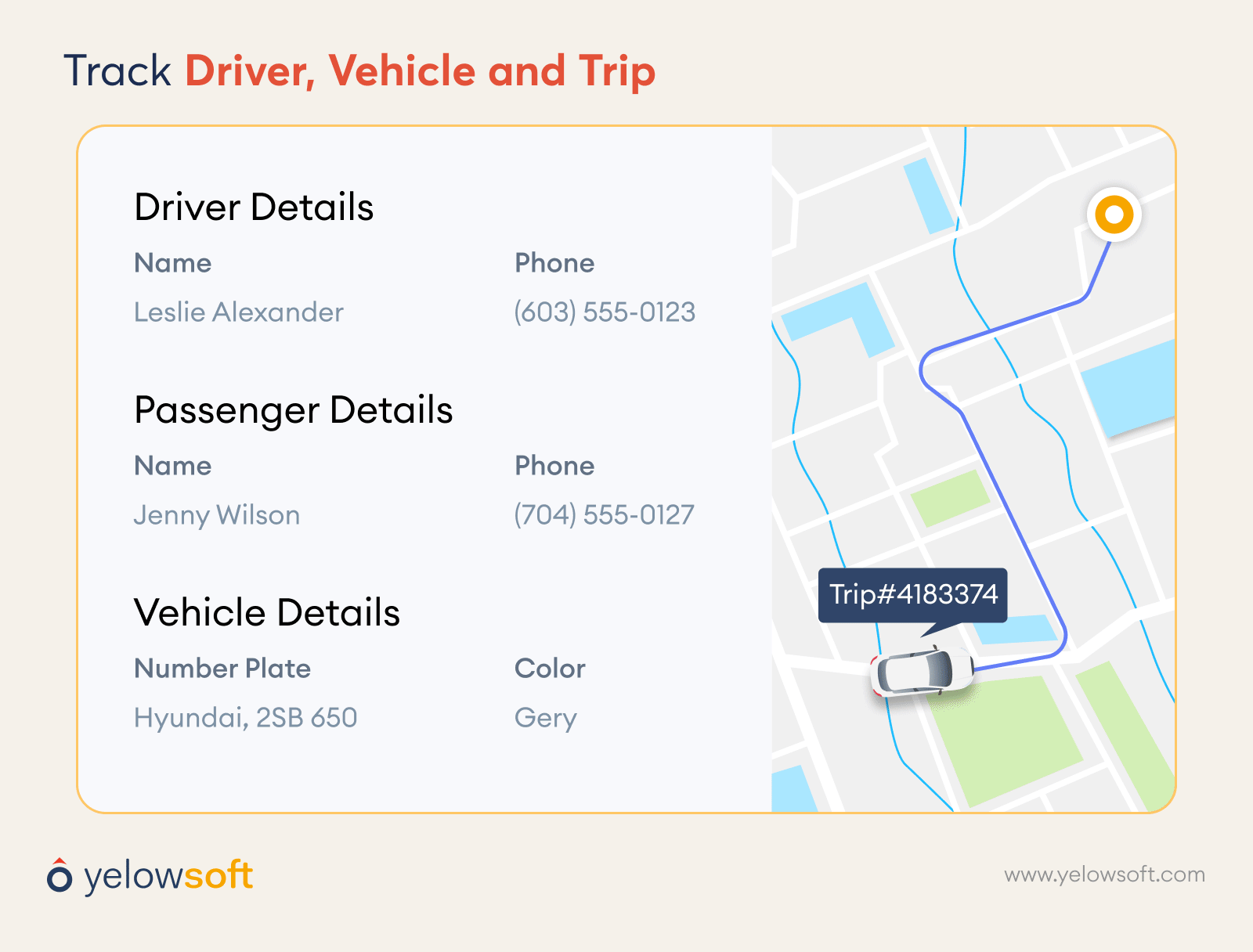 An all-in-one admin dashboard to manage your entire operations is essential. You can manage and monitor your taxi business from a centralized dashboard.
The software for the taxi business allows you to:
Track driver, vehicle and trip
Monitor fleets & performance
Effectively communicate with passengers and drivers
Set fare rates
View analytics to optimize your operations
Audit activities
Make error-free invoices and more
This gives you data-driven insights to make smart decisions on the fly. And finally, it helps you streamline your operations, enhance efficiency, and ultimately achieve business growth.
Booking Apps
Taxi booking apps for customers and drivers take convenience to the next level. Let's look at the key features of both apps:
User App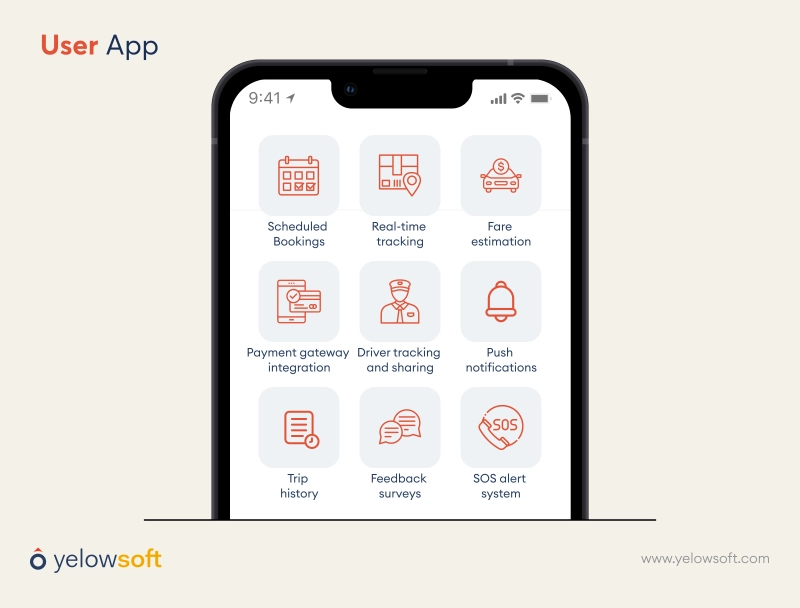 For customers, the app must have:
On-demand and scheduled bookings - Enables your users to book a taxi with options like choosing the vehicle type, specifying pick-up and drop-off locations, and scheduling rides in advance. They can even schedule for a fixed day.

Real-time tracking - Allows your passengers to track their booked taxi in real-time on a map. This feature ensures transparency and security.

Fare estimation - Users can estimate fares for their trips before confirming the booking. It ensures transparency in pricing.

Payment gateway integration - The system should be scalable and allow the Integration of various payment methods, including credit/debit cards, mobile wallets, and cash, for seamless and secure transactions.

Driver tracking and sharing - You can monitor your taxi drivers' locations, emptiness, and waiting times. This helps you enhance your fleet operations.

Push notifications - Your passengers will receive alerts for ride confirmations, driver arrivals, and other important updates.

Trip history - Your users can access their ride history. It will include their past trips, receipts, and route details.

Feedback surveys - Your passengers can rate your drivers, and provide feedback on their experience, including driver, vehicle, and overall.

SOS alert system - It ensures the safety of your passengers. Your passengers can quickly request emergency assistance during the ride, such as calling the police or getting medical aid.
This results in higher customer retention and growth.
Driver App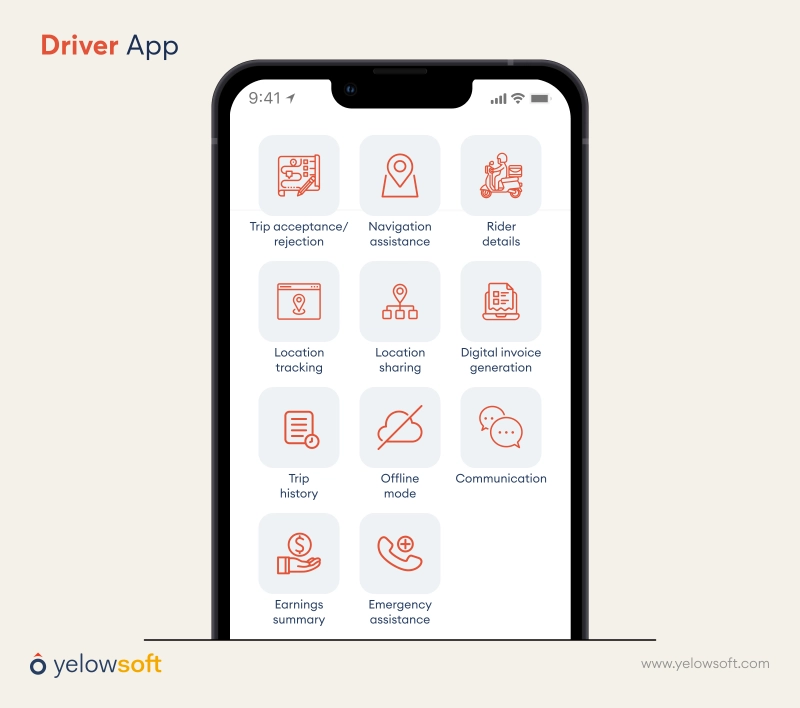 For drivers, the app should have:
Trip acceptance/rejection - Your drivers can accept and reject the ride based on their availability. He can see if the trip request is from the verified customer or not. The system will show him the verification status. It will all depend on him whether to accept or reject.

Navigation assistance - This feature uses GPS to help your driver with real-time direction and turn-by-turn navigation. It helps your drivers to find the best route, avoid traffic congestion and reach the destination quickly.

Rider details - The driver gets critical information about the rider (passengers). This includes if the passenger has a verified account, pickup and dropoff locations, estimated arrival times, and any special requests or preferences.

Location tracking - It helps your drivers navigate to the pickup location and estimate the time of arrival.

Location sharing - You can easily track the location of each of your drivers and provide accurate time of arrival to your customers. It also ensures your driver's safety, as using this feature, he can share his live location with his family and friends during their shifts.

Digital invoice generation - Drivers can process payments through the app. It supports cashless transactions resulting in increasing convenience.

Trip history - Your drivers can access their trip history and earnings reports for transparency.

Offline mode - Allows your drivers to receive ride requests and navigate even in areas with poor network connectivity.

Communication - It includes in-app messaging or calling features to facilitate seamless communication between drivers and passengers for ride coordination.

Earnings summary - It allows your drivers to keep track of their income and expenses. They can also see the deductions like commission and other fees.

Emergency assistance - In-app buttons for emergencies enable your drivers to seek help or report incidents.
This leads to improved productivity and earnings for your drivers.
The apps act as an "anywhere access" channel to your services. This results in digitalizing your taxi business to life-long customers and happier drivers.
Expert advice: If you plan to build a taxi dispatch software from scratch, STOP. Do not waste your money, time, and energy. Instead, outpace your competitors by leveraging a *white-label taxi booking software with advanced features at an affordable price - in less than 2 days.
Street Pickup
Street pickup allows your drivers to receive bookings directly via the driver app, without customers having to use the booking app. Plus, it also allows your customers to book a ride and request a pickup from a specific location on a map, rather than just from a fixed pickup location.
Benefits include:
Increased booking volumes
Reduced idle time for drivers
Higher driver earnings with incentives
Overall, taxi management software helps you expand your trips and boosts driver motivation.
Real-Time Fare Calculator
An automated fare calculator using GPS tracking is a must. It calculates fares based on:
Ride distance
Time taken
Real-time traffic
Surge pricing (if applicable)
This brings transparency in pricing. Your customers will know they are being charged fairly. And this will lead to greater trust.
Chat Feature
This unique feature allows real-time communication between you and your drivers. Plus, between your drivers and passengers. It has multiple benefits:
Drivers can contact customers before pickup
Customers can share pickup details
Issues can be resolved enroute
Helps to provide excellent service
The chat feature enhances convenience and transparency for both drivers and riders.
Reporting & Analytics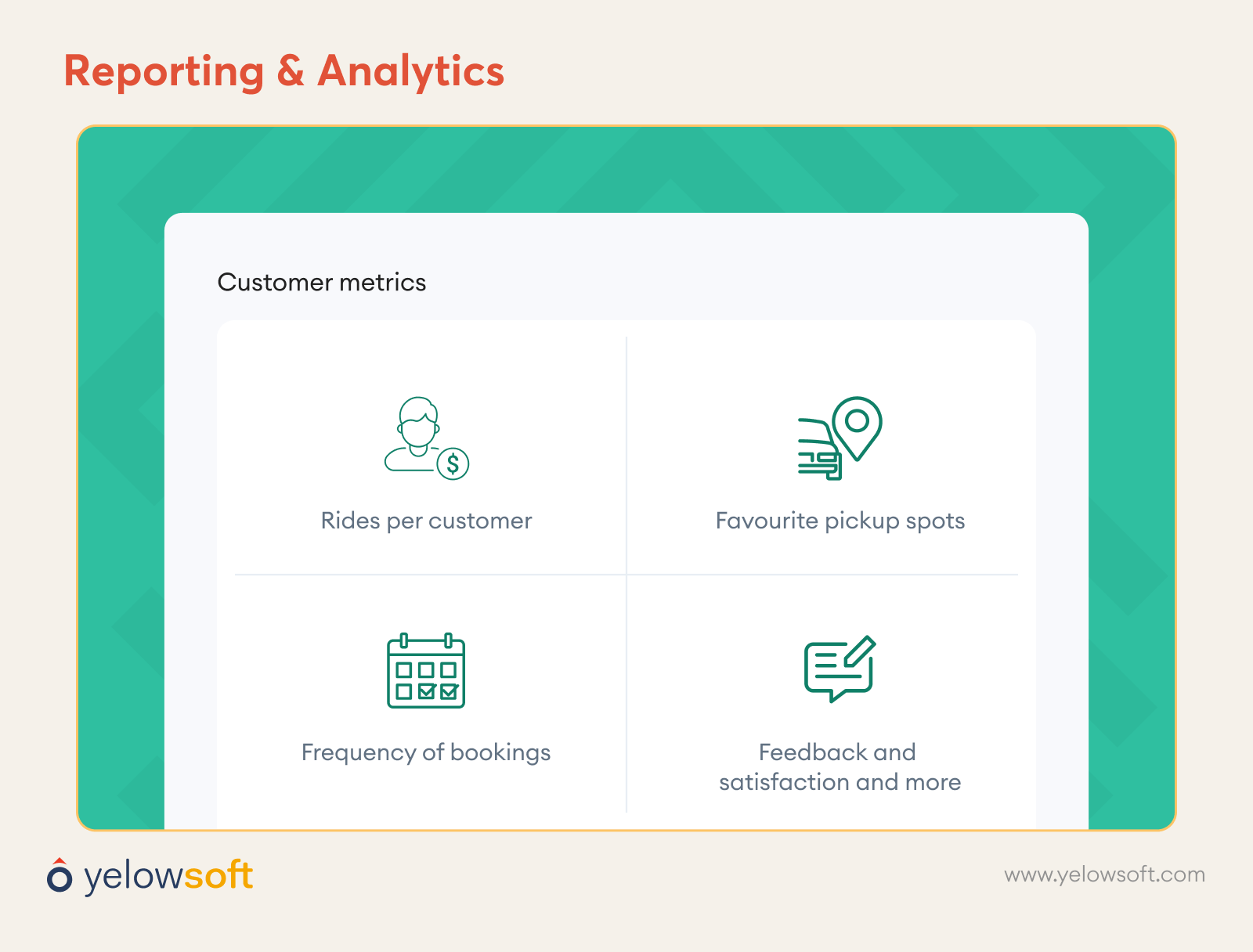 "Time and money are your scarcest resources. You want to make sure you're allocating them in the highest-impact areas. Data reveals impact, and with data, you can bring more science to your decisions."
The most wrong you will do to your business is make a decision by assumption. Successful taxi businesses these days are the ones who leverage analytics and make data-driven decisions. With robust reporting and analytics in your on-demand taxi dispatch & delivery software, you can maintain the records of your trips, customers' behavior, driver performance and more. This tool helps you organize all your data in a meaningful manner. This will further help you analyze it and provide you with data-driven insights on:
Customer metrics
Rides per customer
Favorite pickup spots
Frequency of bookings
Feedback and satisfaction and more
Driver metrics
Acceptance and rejection rate
Revenue and incentives
Ride completion times
Customer ratings and more
Business metrics
Peak demand trends
Fleet performance
Revenue and profitability
Identify growth areas and more
These actionable insights help you make smart decisions to fuel growth.
Ticket Management
A ticketing system allows your drivers and customers to lodge issues directly like:
Customers can report lost items or any grievances faced
Drivers can flag any technical issues or app malfunctions
This feature helps you streamline the ticket management process. Plus, it reduces disputes, improves driver compliance, and ultimately increases your operational efficiency. Finally, quick redressal increases trust and transparency.
Emergency Button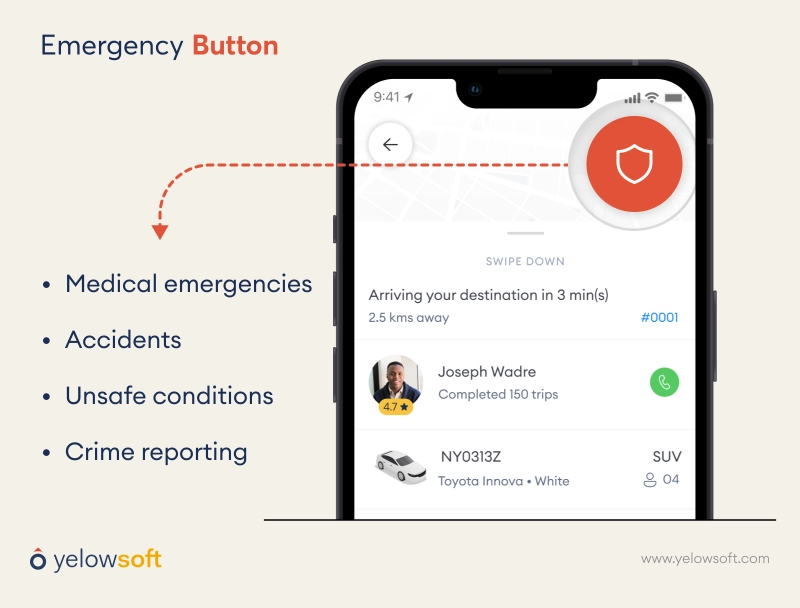 Passenger and driver safety is a priority. An SOS emergency button in the apps lets users call for help in case of:
Medical emergencies
Accidents
Unsafe conditions
Crime reporting
This provides reassurance of safety when using your service.
Important to know: The availability of this feature may vary based on the software provider and region of use. It is recommended to always check with your software provider for details on their emergency features.
Corporate Booking Account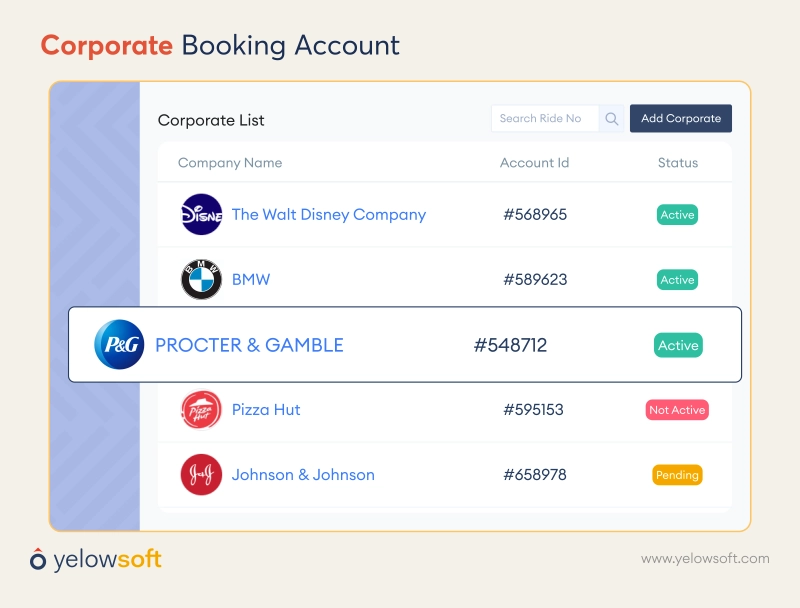 The software should have a "Corporate taxi booking solution" that will allow you to collaborate with various sizes of corporate clients and their transportation needs. This unique feature allows you to offer the best taxi dispatch services to them and helps them manage their transportation needs through a centralized platform.
Key benefits for your taxi business:
Guaranteed volumes from corporate clients
Higher per-ride revenue
Increased loyalty and stickiness
It's a value-added service to attract corporate customers. But it's a must-have feature too for you to increase your business at a larger scale.
Advertising Platform
A unique way to boost revenues is by including an advertising platform in your taxi dispatch apps. This allows you to display promotional content from other businesses which is viewable by your drivers and passengers. For example, you can have sponsored banners or interstitial videos playing during the time when drivers are waiting to receive trip requests. Restaurants, malls and other venues near the driver's location can run targeted ads. By partnering with local businesses, you generate an additional revenue stream through these in-app promotions. This income directly adds to your bottom line with minimal additional effort.
Multilingual Support
"Providing multilingual support in your app is an important way to make your service accessible to more users. When riders open the app for the first time, allow them to choose their preferred language. This makes your service more convenient for non-English speaking riders and leads to higher adoption.
Push Notifications
Your apps should have options for contextual push notifications to users, like:
Special promotions to riders
Incentive alerts to drivers
Peak-hour pricing alerts
Updates on service changes
This keeps both customers and drivers engaged with your platform for better retention.
Conclusion
Scaling your taxi business demands streamlining your operations with technology. Invest in a robust and full-featured taxi dispatch system that meets your unique requirements. The right solution will boost convenience, transparency and productivity - leading to delighted customers, engaged drivers and higher profits. So take your business to the next level. Equip your dispatch operations with the best-in-class features covered in this blog. Your move to tech-driven taxi dispatch will pave the way for maximizing success!