Ever since the onset of smartphones, consumers have changed the way they interact with businesses. Mobile apps aren't just a fad, they are popular because they are efficient for businesses to connect with consumers in an on-demand economy. Nearly every industry vertical you can think of: Banking, eCommerce, Entertainment or Travel have all been penetrated with mobile apps.
Travel industry and in particular booking taxis have been revolutionized by the likes of Uber and Lyft. They've quite literally changed the model of booking taxis upside down. From booking taxis over the phone to booking it on an app in a few clicks, the taxi booking industry has come a long way.
Booking taxis isn't just limited to your daily commute or a pickup from the airport. You could be on a holiday to Dubai or Las Vegas and want to take a look around the city in style. There are many limo companies around the world who offer executive services to its customers while holidaying. In order to stay competitive these limo companies have had to adapt to market changes and modifying their business models to better suit the ever-changing customer expectations. This includes moving away from the traditional way of booking limousines over the phone to adopting a Limo taxi booking app solution.
Apart from enhancing booking & rental experience for customers, moving to an app based model has operational and business benefits for your limo company and the chauffeurs. You can streamline and remove a lot of bottlenecks from your limo business operations. This will eventually lead to more bookings, better profits and superior service experience for your customers.
Let's take a look at different ways a taxi booking app can help your limo company organize chauffeur operations:
Flexibility to Accept Rides
With an app based booking process, you make it easier for your chauffeurs to accept rides as per their convenience and schedule. With Yelowsoft's Driver companion app chauffeurs have the ability to accept trips with a single tap.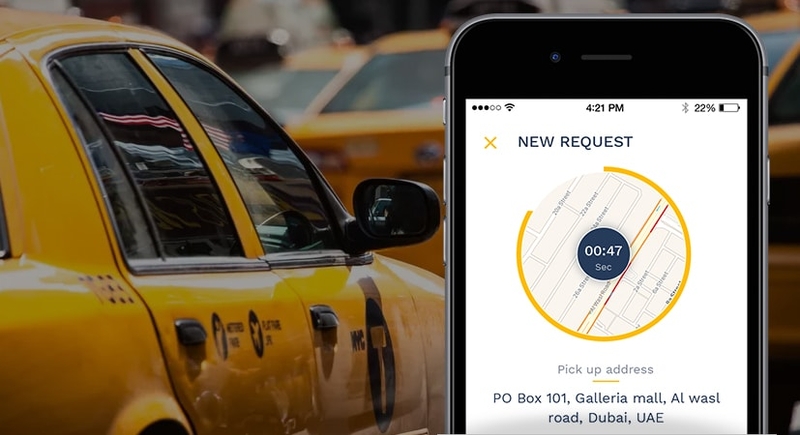 Your drivers get to see the customer's pick up location before they accept the trip. This means more customers getting connected to your drivers in real time which, in turn, leads to better profits.
Dispatching and Fleet Tracking
For any ride hailing business to operate efficiently, it's important to have a vehicle fleet tracking and dispatch backend software. This has tremendous benefits in terms of improving operational efficiency, connecting customers and drivers/chauffeurs, optimizing routes, saving
on fuel costs, and safety of your customers. With Yelowsoft's cloud-based dispatch solution limo companies can choose from auto or manual dispatch modes. The dispatch software is designed keeping in mind ease of use. The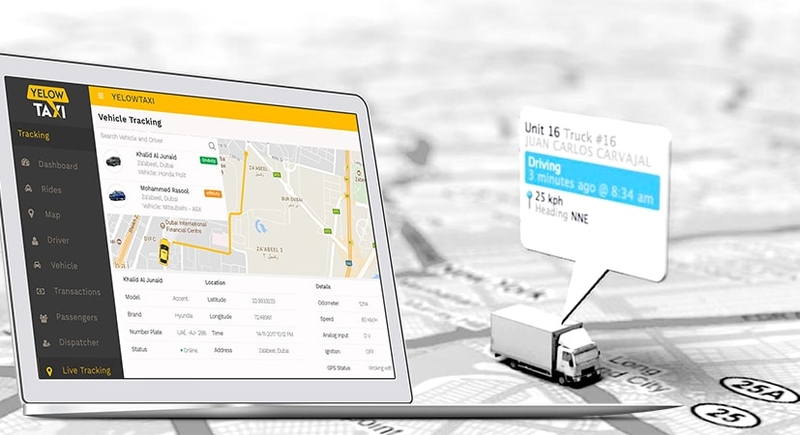 Dispatch software can consolidate customer requests from different sources like phone, email or website booking.
This helps the dispatcher connect the customer to the nearby driver and close the ride request quickly. With an efficient dispatch backend, you can assign more rides to drivers and increase their revenue. In addition to dispatching, ability to track your limo fleet in real time over GPS is a great value addition for your business operations. With fleet tracking solution for your limo business you get:
Live location tracking to monitor the driver/chauffeur is on the right track to the destination

Geo-fencing ensures the chauffeur is within the geographical limit set by you

Notifications when driver goes off the track when on a trip

Track even when driver's app is offline

Tamper-proof GPS device fitted in the vehicle
Analytics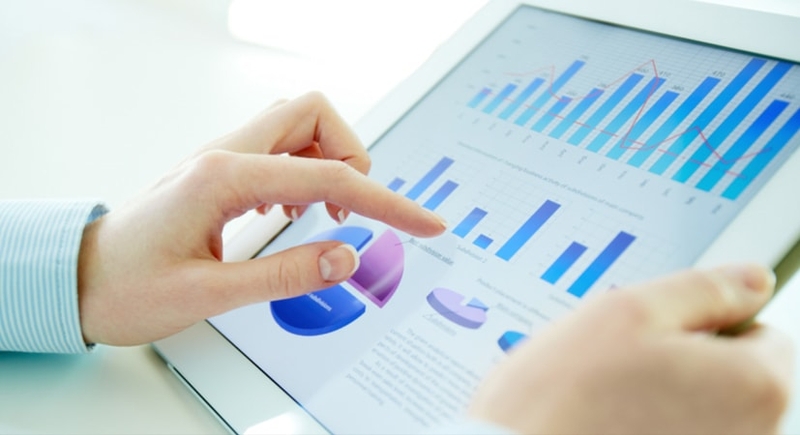 With the driver companion app, it becomes really easy for the driver to access a range of analytics. Drivers can access past trip details, earnings history filtered by week, month and year, total time online, total number of trips and total KMs travelled.
Improvement via Feedback
Customers can rate their experience with the chauffeur after a ride. The rating and comments are then shared with the drivers so they can understand their mistakes if any and improve on them.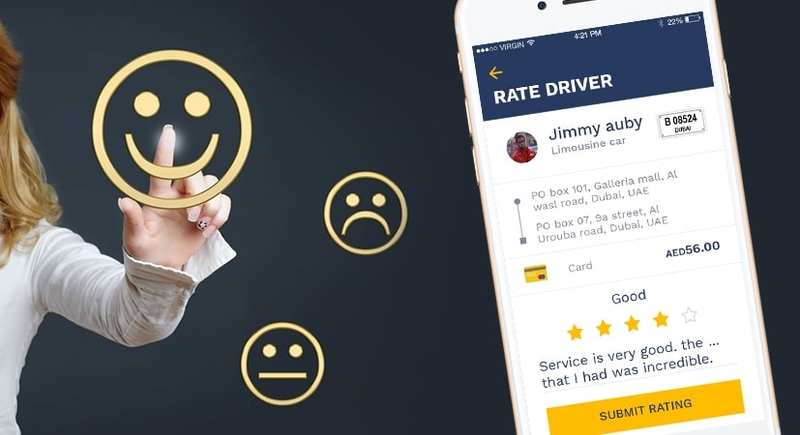 This feedback system also enables the limo company business owner to monitor customer satisfaction and take actions accordingly, such as appreciation for drivers when the ratings are consistently positive or training drivers in customer service and safe driving when ratings start to decline.
Read More: Automated taxi solution for your business?
Easy Payments
Drivers can easily collect payments after the trip has ended. You can connect your choice of payment gateway to the app and accept digital payments or simply collect cash. Both payment options are presented to the customer when ending the trip.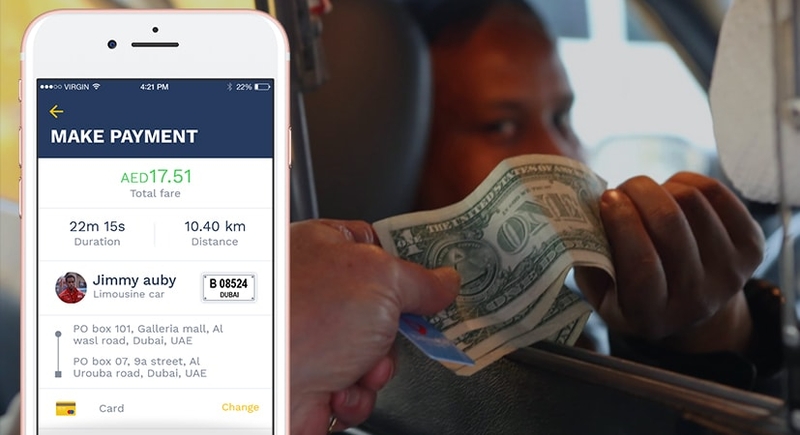 The drivers can check their earnings which are bifurcated into cash and credit/debit cards. Availability of payment mode data makes it easier for the limo company to settle payments with the drivers thereby promoting transparency and faster payouts to chauffeurs.
Map Navigation
With maps integration across the board on the dispatch system, driver app and customer app, it's easier than ever before to connect drivers and customers. This makes the whole process of booking, pick-up and drop-off highly seamless.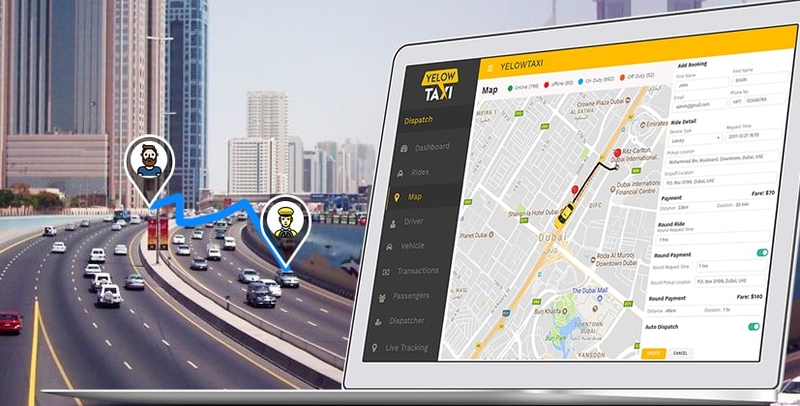 Exact location of a customer is shared on a map with the driver when a booking is initiated. Once the trip starts, both driver and customer apps will display the shortest route possible to complete the trip. Drivers can get turn by turn directions of the destination.
If you're a limousine company offering services to clients, a mobile booking app and dispatch/tracking solution will make your company look more professional as compared to traditional competitors. You'll also instantly experience improvements in operational speed and execution. This also helps you brand your company on app stores and attract customers who prefer app bookings for all services. At Yelowsoft, we offer a truly white-label and customizable Limo taxi booking app solution to grow your business.