Technology is popularly known to be an enabler of processes. However, the advances in technology have made it the very backbone of certain businesses. It is hard to imagine a modern taxi or car rental service operating efficiently without taxi dispatch software and telematics.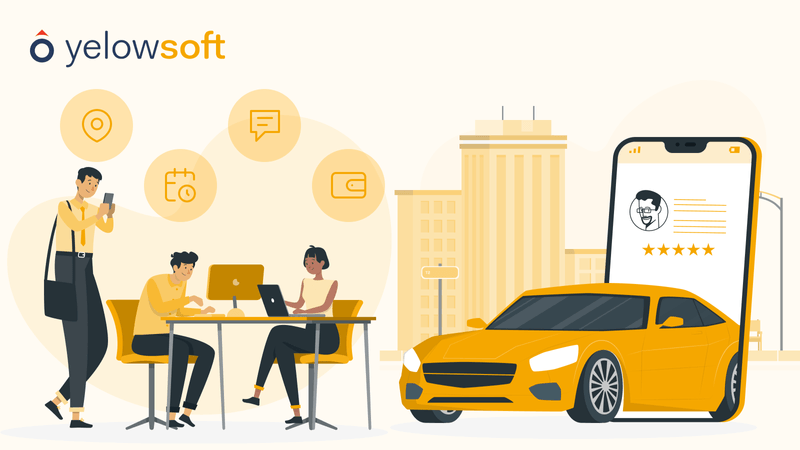 The advantages are numerous and can make the difference between streamlined, cost-effective operations and crisis-managed operations. Here are a few compelling reasons that make it necessary for a taxi service to ring in efficiency through dispatch software.
On-demand taxi software applications such as Lyft, Ola, Uber, etc. have transformed the way we travel within cities.
In 2019, Uber went public, making it the highest-valued tech IPO since Facebook and Alibaba albeit it's a dramatic loss of 1 billion USD in 2018.
What's going on behind the operations of these on-demand businesses? We cannot also ignore the fact that the traditional taxi industry has taken an immense hit after the entry of the taxi dispatch software into the market.
Read More: Boost your business by selecting the best taxi dispatch software
Smooth convergence of different components
The typical taxi booking software comprises a client-facing app, driver-facing app, an admin panel, and a dispatcher panel. The four components work in tandem to offer seamless service to your corporate clients, while improving the efficiency of route assignments, helping drivers to earn better, and the company gets to clock good revenues.
Corporate employees face time management issues when it comes to taxi booking so they avoid it. However with a corporate cab dispatch solution it will solve your time delay and security issues and provide hassle free ride.
The admin panel, as the name suggests, handles the administration aspect of the software; it does not handle the administration of the operations, but the software alone. The dispatcher panel handles the day-to-day operations through a dashboard manned by operators.
Usually, the client-centric apps are used by the promoter who downloads the app and use it for making bookings, cancellations, payments, and reviews. The driver-facing app handles the actions to be taken by the driver to accept a fare, cancel a fare, in addition to taking care of tracking earnings and reviews.
These four components were earlier handled manually leading to chaotic and often mismanaged operations. With powerful applications and GPS-assisted routing, operations are streamlined and efficient.
Reasons why you need to have taxi dispatch system for your corporate clients
Taxis are a necessary service for business people for their regular activities. Day in and day out, employees in enterprises have to book taxis multiple times. Just imagine how frustrating it would be when you can't find a cab and you are already running late for your 9 O'clock meeting. Now, taxi companies can easily solve this problem with efficient Taxi dispatch software.
The taxi industry is the fastest growing and one of the most popular nowadays. But there are some taxi businesses that are facing issues while managing their taxi service. So taxi dispatch software is a platform that entitles taxi-service owners to manage their business reliably. Let's see why you need an efficient corporate cab dispatch solution.
Make your corporate travel business more efficient
The single biggest challenge faced by taxi operators is the need to schedule rides-round trips, and drops, in a manner that optimizes the route for better earnings and swifter response time to bookings. Service providers are expected to ensure that taxis arrive on time, and reach destinations on time.
In isolation, this is easy to achieve. The challenge is in handling a large fleet that needs to be assigned fares which may include a round trip or a one-way drop to destinations.
Manual handling of operations will not only be chaotic and inefficient, not to speak of poor customer satisfaction, but it would also actually be impossible to achieve in a world where time is the edge that competitors need. The combination of the four components of a taxi dispatch software tackles the challenge in a manner that turns operations into efficient, high revenue earning models.
The features that make the difference
Without exception, cloud-based taxi dispatch systems used by taxi service providers include a set of standard features. However, for the service to offer better efficiency for your corporate clients, it is necessary for the application to have certain mandatory features. The standout features that make the difference to taxi dispatch software includes the following
Alerts/notifications
Pre-bookings
Real-time tracking
Cloud-hosted solutions
Chat options
Driver earnings
Ratings/Reviews
Multiple payment options
Advanced telematics and route optimization
Extract actionable information from the data that is generated
In a data-driven world, businesses need to extract information from the data that is generated and use actionable insights strategically. For instance, ratings of drivers on particular routes, or timings can give an indication of the dissatisfaction of customers is due to the fault of drivers or due to other circumstances.
The timings during which corporate employees are most likely to have complaints of delayed pickups can help a taxi service to reschedule shifts. Similarly, the amount of data that is generated from the bookings and fares is a potential information goldmine that can be used to extract precise and accurate business intelligence.
Vehicle preference for Executives
Executives who are committed to their careers are always seeking ways to improve their productivity. With vehicle preference for executives, it permits them to start and end their day only with work. So it is essential to provide the choice of the ride to your executive clients, ensuring their utmost comfort & the flashy status symbol for those corporate visitors.
To retain these riders, it is essential to provide them with a short solution for their commute and it will also leave a long-lasting impression on clients.
Corporate Panel
Taxi service operations demand superior management skills. The success of operations depends on the manner in which every single aspect is planned. From the maintenance of company-owned fleets, and the maintenance records of vehicles that join an aggregator service, to the speed of ride acceptance, there are multiple actions and pain points that need to be managed.
Expecting managers to extract information in the midst of this situation is impractical. This is precisely why a taxi dispatch software should offer the corporate panel and dispatcher panel with a dashboard for actionable information. A corporate panel also lets your clients check their rides on a day-to-day basis.
Final thoughts
A good taxi dispatch software will leverage the convergence of technologies to offer a superior ride experience to the patron while streamlining operations for dispatch and drivers. A corporate taxi booking solution should also be able to handle the operations in a manner that is scalable without impacting efficiency.
It is necessary to choose software that offers all the standard and standout features, as well as furnishing actionable insights on the dashboard for management to take suitable decisions and strategize for streamlining operations.