Quick Summary
The taxi industry is rapidly evolving. And the white-label taxi booking software (also known as readymade solution) plays a vital role in the taxi industry's growth. In this blog, you will learn all about white-label software. You will also explore its key benefits and how implementing Yelowsoft's taxi dispatch software can help you capitalize on industry changes and stay competitive.
As a top white-label software solution provider, Yelowsoft helps taxi companies thrive amid industry shifts. According to the skyquest, the global taxi market will reach $599.87 billion by 2030. And the reason behind this growth will be technology (taxi dispatch software).
Our solutions enable you to launch branded apps, customize features, integrate e-hailing and GPS tracking, stay compliant, and deliver exceptional passenger experiences—everything today's taxi businesses need to capitalize on growth opportunities.
We have designed 4 different solutions for 4 different categories. They are ride-hailing, taxi dispatch, airport transfer, and corporate. The aim is to empower and enhance each of them. For your reference, the solutions are:
Airport taxi transfer solutions
Corporate taxi booking solutions
This blog reveals how Yelowsoft empowers your success in a landscape disrupted by ridesharing. Read on to learn how our innovative white-label software platform helps drive your competitive edge now and in the years ahead.
The Changing Landscape of the Taxi Industry
With the explosive growth of ridesharing platforms like Uber and Lyft, there's no doubt that your customer expectations have dramatically shifted.
Passengers now demand the same convenience and frictionless experience that app-based competitors provide. This shows a drastic change has taken place in the taxi industry.
Increasing reliance on technology
With the traditional approach, your operational costs continue to rise while revenues face downward pressure. To stay profitable, you must leverage technology to maximize efficiency.
Streamlining dispatch, implementing GPS tracking, and enabling e-hailing through branded mobile apps are essential to optimize your workflows.
Regulatory requirements add further complexity to the changing landscape. You must maintain compliance across diverse, complex regulations that vary by city and region.
Embrace innovation
To survive and thrive amid these industry shifts, you must embrace innovation - the cloud-based taxi dispatch software solution. The old taxi model focused on ownership of medallion cars no longer guarantees success.
Instead, you must adopt a flexible, nimble mindset open to emerging technologies and new ways of operating.
Those who are able to modify their business models and are making strategic investments in technology are gaining a sustained competitive advantage.
The Power of White Label Solutions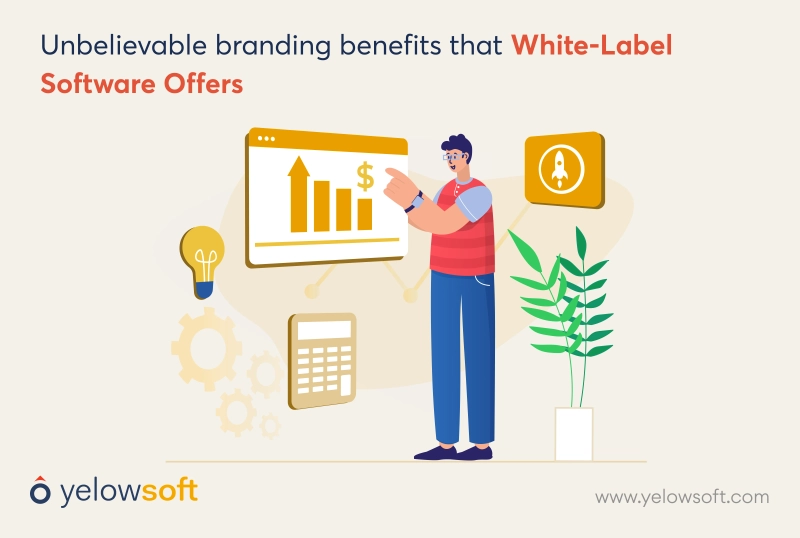 White-label software refers to software solutions or platforms that are developed by a software developer or a company. It is licensed and can be rebranded by the seller for the client (buyer) under their own name. The client can then use the solution as his own product.
Branding benefits white-label software offers
You get license-proven technology and the power to launch your own branded taxi booking app on iOS and Android.
Get a customized taxi booking app development tailored to your specific workflows and operational needs.
You can build customer relationships under your brand.
You get full ownership and control over your customer data
Avoid the high costs and complexities of taxi booking app development from scratch
Scale the solution up as your taxi business grows and evolves.
Focus your resources, time and investment on your core taxi business strengths and service delivery.
Benefit from a lower-risk model of leveraging established software on a pay-as-you-go basis.
Zero technology infrastructure and ongoing management cost of the platform.
Elevate your capabilities by unlocking innovations in dispatching, tracking, customer service and driver management.
Future-proof your taxi operations with scalable and agile technology
Promote a consistent brand experience across your mobile app, website, vehicles, uniforms and marketing.
Yelowsoft aligns with these principles
Yelowsoft's white-label taxi dispatch system fully embodies these advantages. Our innovative platform empowers you to launch custom-branded mobile apps quickly.
You can scale and take ownership of the platform. And deliver exceptional passenger experiences—all while focusing resources on operations and growth.
Which business owners can use white-label software?
White-label software is considered a revolutionary innovation. It not only works in the taxi industry but almost in all sectors.
As we are talking about the white-label taxi dispatch software here, we will see about the taxi dispatch software. Below are a specified number of taxi businesses that can benefit from using our ready-made solution.
1. Taxi businesses offering ride-hailing services
2. Taxi transfer services provider to corporate clients
3. Taxi fleet owners offering comprehensive taxi dispatch services
4. Taxi fleet owners providing airport taxi transfer services dedicatedly

Key Benefits of Yelowsoft's White Label Taxi Dispatch Software
Not every taxi software is made for you. But the taxi dispatch software created by keeping your key benefits in the center is definitely what you need to succeed.
Check out below what phenomenal benefits our ready-made dispatch platform delivers. Plus, it can help you excel in your core taxi services.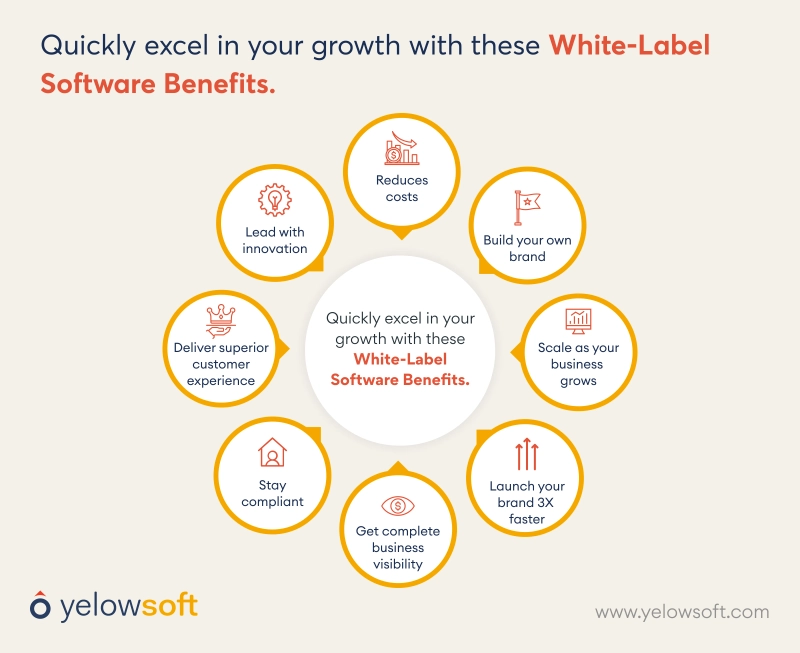 Cut Costs Through Automation
Our automated taxi dispatch system automates your time-consuming dispatching and manual workflows.
This results in reducing your labor costs associated with these tasks by as much as 20%. It helps you free your staff to focus on customers.
Launch Custom Branded Apps
With us, you can create iOS and Android apps based on your requirements that align with your brand identity.
You can provide a seamless booking experience to all your customers like Uber and Lyft provide - your passengers will recognize and love it.
Scale Your Business With Ease
Our cloud-based taxi dispatch software means no expensive hardware to install as your taxi fleet grows.
You can effortlessly expand from 10 taxis to 1,000 or even more without technological limitations. The sky's the limit for you with Yelowsoft.
Speed Time-To-Market
Leveraging the potential of white-label software integration, our experts handle the software complexity so you can launch new apps in just weeks.
You get your mobile platform up and running 3x faster than building in-house.
Operate Proactively With Real-Time Visibility
You will have a complete overview of your taxi business. With dashboard analytics and reporting features, you will get complete visibility into fleet operations and metrics.
This will help you operate your business proactively and make informed decisions.
Stay Compliant With Regulations
No matter which region you are located in. With us, you stay complaints with the regulations. We use features that adhere to transportation regulations across your service region.
Deliver Superior Customer Experiences
Passengers enjoy seamless mobile bookings, fare estimates, ride tracking and other features that remove friction.
Leveraging our white-label solution, you will deliver superior customer experiences they are missing from you and your competitors.
Access Cutting-Edge Innovation
Yelowsoft's continuous platform enhancements ensure you always stay on the cutting edge of the market.
We lead the market by introducing innovation as and when necessary. This helps us keep you a leader every time.
Features That Set Yelowsoft Apart
Every software has a feature. But not all deliver profits. Yelowsoft has features that not just set us apart from the market but also you.
It makes you feel proud and helps you multiply your profits. Let's have a look at each of them.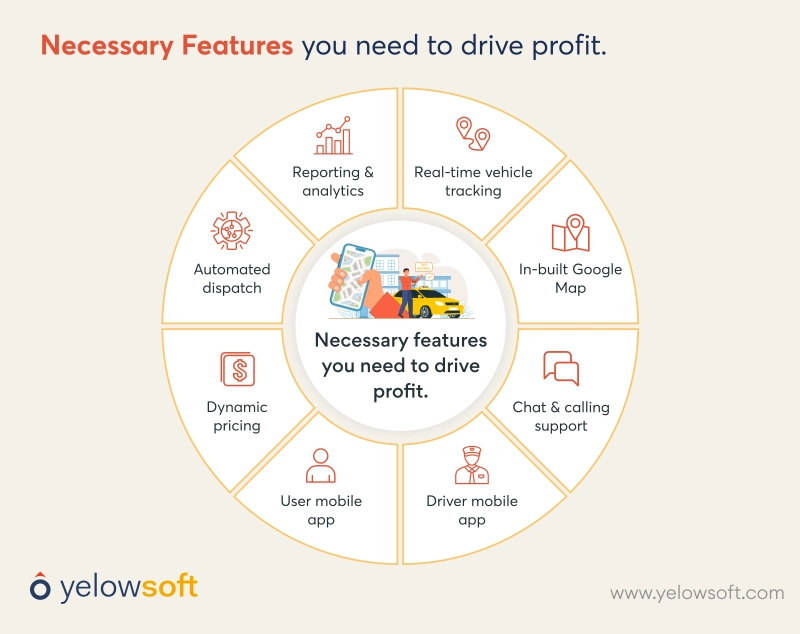 Real-time GPS vehicle tracking - Allows you to monitor all your vehicles in the fleet for efficient allocation and routing.

In-built Google Map - You save $1000's dollars when you use Yelowsoft taxi dispatch software. Google Maps charges 5X more than what you pay for the same service using our software. We help you reduce costs, get proper tracking, and deliver superior customer service effortlessly.

Built-in chat and calling - Enables seamless communication between every character in the loop - you, your drivers and passengers.

Driver mobile app - You get a dedicated driver app that you can give to all your drivers. The app will provide access to ride requests, navigation, earnings and other features.
You will be smart, advanced, and a market leader in the eyes of your drivers.

Passenger mobile app - And here comes where you get the bread and butter - customers. You get a customer app with an easy-to-use interface.
Your customers can book, track, pay and do more on the go.

Dynamic pricing - A feature you get from us that helps you earn more. This feature helps you automatically adjust fares based on the supply/demand of the trips to maximize revenue.

Automated dispatch - This is what makes you smart. It helps you Intelligently assign bookings automatically to the nearest drivers for quick pickups.

Reporting and analytics - You can make wise decisions. With this feature, you can track key metrics of your business that includes a number of trips, customer feedback, driver behavior, canceled trips, rejected trips, completed trips, longest trip, shortest trips, and more.
You get detailed data to analyze. After evaluating, you can make a data-driven decision.
Customer Testimonials
Satisfied customers are hard to earn. But when you work with a pure heart and mindset of solving problems, you achieve what you want. And we did the same. Check out our couple of clients sharing their experiences.
Yelowsoft has a long list of satisfied clients. You can check who they are, what they are saying and what benefits they get using Yelowsoft that you can get too. You are just one step away from experiencing success.
Conclusion
In summary, white-label dispatch software emerges as the trusted solution for taxi and transportation businesses looking to streamline operations and boost efficiency in 2024.
This unique technology allows you to transform your business and launch your own app under your brand name. Leveraging this solution, you will unlock benefits like reduced overhead, improved customer satisfaction, and the ability to scale faster.
Yelowsoft offers ready-made solutions as Software as a Service or SAAS model that empowers your taxi business to unlock growth. With innovative features and capabilities tailored for modern taxi fleets, Yelowsoft can be a strategic technology partner for forward-thinking taxi businesses.

FAQ's
SaaS white-label software is pre-built. You can customize it as per your needs and rebrand it with your company name. For custom software, you will have to build it from scratch based on your unique requirements. White-label software offers quicker deployment, lower upfront costs, and ongoing vendor support. But custom software allows bespoke functionalities tailored to your needs. White-label software requires adapting to the vendor's core platform with limited customization options. Custom-built software takes more time and investment but provides full control to you.
Yes, white-labeling software is completely legal as long as proper licensing agreements are in place with the developer.
White-label software can be highly profitable for your taxi business. It provides a customized dispatch and management solution at a fraction of the cost of developing proprietary software.
Every business has a different need. And one solution does not suit all businesses. But if you are into the taxi transfer business and offering services to corporate clients or other services like airport transfer, ride-hailing, and dispatch services - you can consider Yelowsoft the best white-label taxi dispatch software solution. It's powerful, smart, feature-rich and more importantly affordable.
White-label software can help your taxi business by allowing you to get a customized, feature-rich dispatch and fleet management system that you can brand and market as your own platform. For more information - you can reach out to a sales expert and get a free consultation.
There are a bunch of pros of white-label software. A few of them include cost-savings, customization, quick deployment under your own brand, and access to ongoing updates from the developer.
When you are about to choose the right white-label software, keep your needs at the center. Features requirements, problems you have - see if the features can solve all your problems, check the customer base of the solution provider, their support team, and more. The answer to this question has no end as every client has a unique need. Hence, do your own research and talk to the expert to get to the roots. This will help you choose the right white-label solution. If you are looking for one - you can reach out to our product expert and get a free demo.