While 2020 began on a gloomy note for the travel and hospitality industry, speculations began to rise about the future of the taxi business. With movement restrictions and lockdowns in various parts of the world, on-demand cab booking services had to face a setback.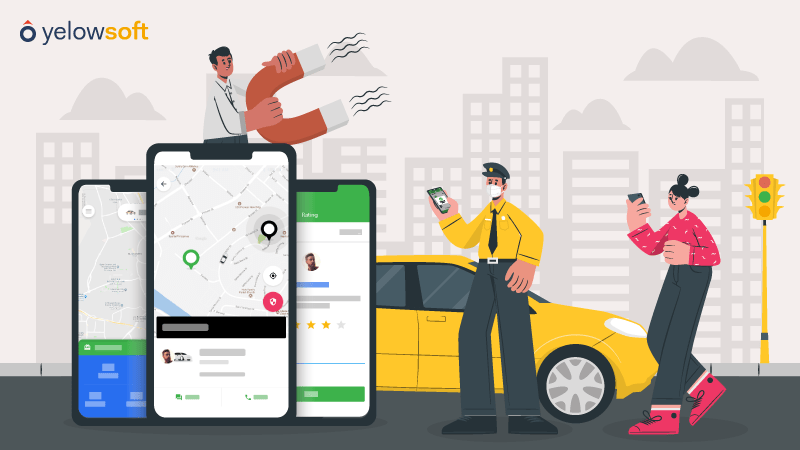 However, the year 2021 proved to be a year of redemption for the lost opportunities. As lockdown started lifting up, users returned to normalcy and opting for an online taxi booking app was no big deal for users.
But it was a big deal for taxi booking app owners and I will tell you why.
Allied Market Research projected a sharp growth of the global taxi market to be USD 120.89 Bn by 2027, rising at an annual rate of 12.3% from USD 69.18 Bn in 2019.
Since taxi businesses look at these growth potentials, they feel relieved about the future of their cab booking app. However, there rises fierce competition with the already existing taxi booking system businesses.
To add to the intensity of the competition in the car rental software market, numerous car booking business models are being experimented with. For instance, it is no longer about hailing a taxi. There are numerous budget-friendly shuttle booking system and luxurious Limo booking system based businesses.
Hence, the ball really is in the court of the taxi booking app business owners to cut through the competition and save their existing drivers and riders from switching loyalty to other taxi businesses.
Want to automate your taxi business with tech?
Our cloud-based solution brings various benefits to your business.
Let's look at individual strategies for riders and drivers, which are essential things required to start a taxi business.
How to Increase the Potential of your Taxi Business from Customers' End?
Let me show you the true potential of a taxi business.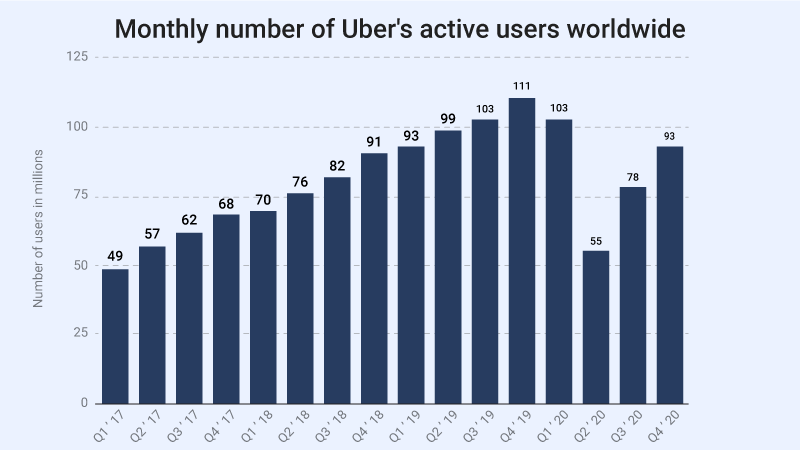 The statistics are about the monthly no. of active riders for Uber, starting from 2017 - 2020 based on the quarterly changes (in Mns). Imagine getting these numbers of riders for your taxi booking app. I am sure the picture looks quite bright and happy when you imagine. But there are some necessary steps to boost your taxi business with innovation.
Remarketing can do Wonders
Taking the proverb-Out of sight, out of mind-seriously, you can invest in targeted ads to keep your riders loyal to your brand.
In order to attract riders for your taxi business, you can opt for remarketing. You can use the behavioral targeting to attract the attention of riders, who have visited your app virtually or used your taxi booking app to be into their sights.
Opt for Fleet Branding as a Way to Stamp your Brand Impression
You have some riders riding with you by also experimenting with other cab booking apps. In such a case, the best way to keep them engaged with your brand is through brand positioning.
Using fleet branding, your cabs will have your brand recognition elements floating on the roads for everyone to see. That's free marketing for your taxi business.
Even if you have just contacted a taxi booking app development company or already have the best taxi dispatch system at your disposal, there's never no time for fleet branding to reinforce brand awareness.
If you want to get more creative with your rider engagement strategy, you can add QR-codes on the cabs for riders to scan and redeem discounts or deals for their use of your taxi management app.
Read More: Top issues only a good fleet management solution can solve
Take Rider's Feedback Constructively
One of the best ways to retain and engage your riders for your taxi booking system, you need to make your riders feel important. If you are wondering how you can do so, you can take their comments and opinions seriously into consideration to make them feel valued.
If you have recently launched the, it is important to understand the shortcomings of your taxi business from your real customers, who are using the online cab booking service in real situations.
This feedback will help you improve your taxi booking app and also make your riders feel a part of it with their comments being taken seriously. You can hire a taxi app developer to make the enhancements and re-launch your now fool-proof cloud taxi dispatch system.
In the above-mentioned points, I have talked about the practical actions you can take to retain existing customers and target new ones.
However, ultimately, it is your online taxi booking software that interacts with your riders and wins them over for your taxi business. To put this into perspective, the taxi dispatch system transforms taxi businesses.
How to Win over Rider's Loyalty with a Taxi Management Software?
The key is to be as rider-centric as possible. How can you achieve that? You can achieve a high rate of rider retention and engagement with the proper use of technology with your taxi business software.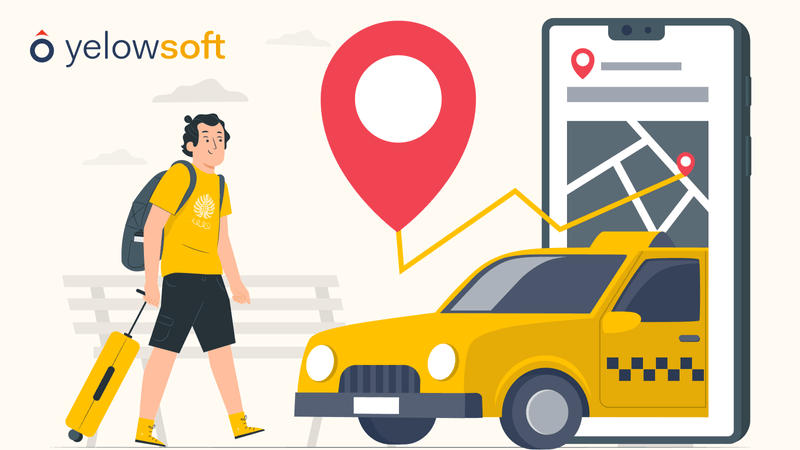 If you have in place certain features, you can definitely keep your riders engaged in your on-demand taxi app using the top features of the current taxi trends.
Let's explore the best and must-have features for your online taxi dispatch system for your riders:
Live Tracking
Riders can use the live tracking feature using their taxi booking mobile app once the ride begins to track the path that the driver is taking along with the estimated time to reach the destination.
They can even share their ride details with their friends and families to track their rides live.
Change On-ride Destination
Users should have an option in their taxi booking app to change their final destination. Based on this change, drivers will receive the updated map in their taxi management app with an optimized route along with the updated price.
Zone-wise Pricing
Every pickup area and drop-off location falling within a particular zone will have a fixed price as defined by the admin.
Change Vehicle Type
In order to make the ride comfortable for users, they can request a change of vehicle to drivers. Upon the request sent by drivers for vehicle change, users will be notified to accept/decline the request from their taxi booking app.
Multiple Drop-offs
A rider can book a single cab and run chores by adding multiple drop-off locations using their cab booking app without having to book multiple cabs for that.
Pickup Points
In case a rider is at a location with multiple exits/entrances and riders can leverage the self-operating kiosks in taxi businesses to determine their exact gate number/terminal for drivers to arrive at the pickup points in the shortest possible duration and narrow down the wait times for riders.
Ride Broadcasting for Taxi
In order to increase the ride-booking experience of users, the ride broadcasting feature in taxi booking software can roll out notifications to all drivers in the nearby radius. Drivers completing a trip in the nearby vicinity also gets a request to avoid 'no-driver' instances for riders and cut down the wait times.
Book for Others
Riders can choose this feature using their taxi-hailing app to book the ride for their friends and families.
Scheduled Booking for Taxi
Using the scheduled booking feature for the on-demand taxi app, users can make bookings for their rides well in advance, before the date and time of riding.
Promo Code
You can launch your taxi app solution with promo codes to attract new users. Besides that, riders find the ease to enter their pickup and drop location and find a promo code already applied to their ride without having to look up manually.
Referral
Riders can share the referral codes using their cab booking app with other users, who are new to your app-based cab booking solution and gain mutual deals and discounts.
Reward
Every time the user makes a booking using your taxi booking mobile app, you can provide them with a coin-based reward, which they can redeem and encash in their wallets to maximize the use of in-app wallet transactions for their future trips.
In-app Banner Advertisement
When you expand your online taxi dispatch system with other on-demand models such as on-demand delivery solutions, on-demand car rental software, etc. users can directly use these services without having to download another app.
Tips
In order to create a healthy rider and driver bond, you can opt for the tipping feature. You can offer users an option to tip drivers on the basis of their ride experience with the amount of their choice.
SOS
You can integrate the 'Save Our Souls' aka SOS feature with a panic button on the taxi business software for riders to report any threat or emergency to official authorities and their friends/families.
Ultimately, it is the technology that can bridge the gap between your taxi business' success and your riders. So, the key is to look for a cab application development company or cab app developers to integrate features that can improve the rider's experience.
What Should be your Strategy to Achieve Loyalty of your Drivers?
There's another part of the taxi management system that needs to be addressed when it comes to launching a winning online taxi booking software - the driver's front.
Though the taxi dispatch app solution provides drivers with multiple benefits such as flexible work hours, choosing their number of rides, rejecting or accepting requests, and more, the competition out there is so fierce that the churn rate is quite high.
Don't believe me! Believe what the numbers depict.
According to a study by Business of Apps, Uber recorded over 5 Mn active drivers across the world. In addition to this, Uber drivers completed about 18.7 Mn rides per day. However, back in the day, there were many instances that Uber had to face pertaining to poor driver satisfaction with the on-demand taxi booking app system.
As a result, Uber saw many protests from its drivers and challenges from taxi associations. However, with better retention strategies, Uber is able to control the driver deal.
If you want to keep your drivers satisfied and engaged and attract new drivers for your taxi management software, you can follow these strategies:
Attract your Targeted Drivers through your Taxi Management App's Social Media Presence
Today, almost all millennials across the world with good internet connectivity is on social media. Besides millennials, the number of Gen X, Gen Y, Gen Z, and Baby Boomers using social media is also high. Most of the youngsters get their daily dose of news and current affairs from social media platforms.
As a result, it won't be an exaggeration to say that social media is a decisive instrument for drivers of today for their employment.
Read More: Promotion & retention strategies for taxi business
Post Ads to Hire Drivers and Mention Benefits
Through the proper use of advertisements, you can facilitate your on-demand taxi app with brand recognition. In addition to this, social media stamps the validity and legitimacy of your business, which increases the trust level of your drivers.
By staying in the known and where your target drivers are, your taxi business can create a psychological brand impression on the minds of your drivers, thereby increasing the brand value and possibility of getting more drivers for your taxi booking app.
Have Transparent Communication
Though riders are important for the revenue, drivers are important for the rides. Hence, do a social listening of your driver's sentiments towards your taxi business.
Learn their struggles and challenges with respect to your cab dispatch system and try to resolve them by seeking technical help from a taxi booking app development company or by hiring a cab app developer.
Similar to the rider's taxi booking mobile app, it is crucial to pay attention to the driver-facing on-demand cab booking app for better retention of drivers as a part of the top promotion and retention strategies for your taxi business.
How to Win over Driver's Loyalty with a Taxi Management Software?
One of the best ways to engage drivers is by using the latest technologies well. You can consult your taxi booking app development company to integrate AI for personalization and route optimization features for drivers to use less effort and less fuel while at work. In short, you can grow your taxi business with tech with the right set of features.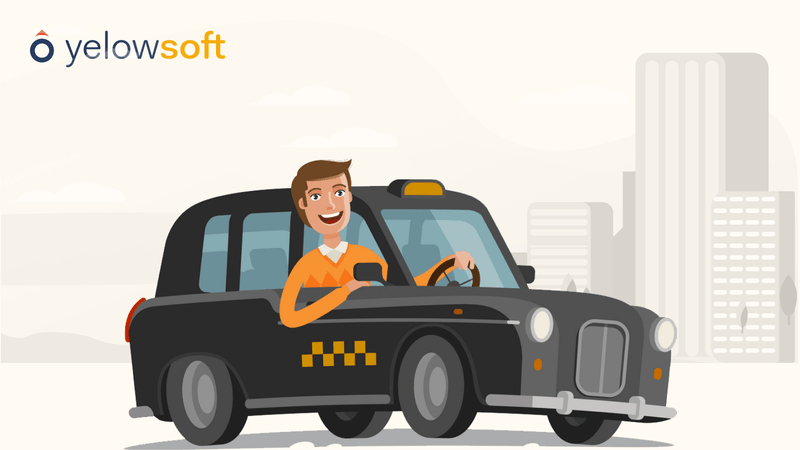 In addition, you can incorporate the following features to go about your taxi dispatch app solution.
Live Tracking
Drivers can have the live tracking option in their online taxi booking app and can even share it with their close ones.
Change Vehicle Type
When the driver upon arrival at the pickup point feels that the ride vehicle might not meet the ride needs of users, both can mutually agree to change the vehicle type.
The driver can request for changing the vehicle type using their taxi booking app and upon the acceptance from the user's end, the request can proceed.
Multiple Driver On Vehicle
Using this feature, a particular vehicle can be used by multiple drivers. Drivers have to denote their shift timings and show online status. However, the other driver would have to mandatorily turn offline toggle.
Queue Service
At crowd-heavy locations with multiple gates when it is difficult to get to the pickup point of users, the queue service feature makes it easy for drivers to get to the exact location.
In addition to this, drivers nearby or within the radius of the location will also be eligible to get the request in case no driver from the vicinity accepts the request.
Street Pickup
Using the street pickup feature, drivers can even entertain riders that do not have the taxi booking app installed on their phones. Drivers offer an estimated price for the ride to the users beforehand.
Incentive
In order to engage the drivers with your taxi booking software, an incentive feature can be at your disposal. The incentive feature can create excitement among drivers to complete a certain number of trips, improve their accept-to-reject ride ratios, and stay online for receiving an incentive.
Plus, performance ratings and the number of tips received from users can also encourage drivers to perform better for earning incentives.
Referral
Drivers can use the cab booking app to send referrals to their friends who want to take up driving for the taxi business. Once their friends register themselves, drivers can get the referral amount in their wallets. Admin can choose whether to give the amount to both or only the referee.
Reward
Your taxi booking system should have a reward system for every milestone and number of trips in the form of a coin, which can be redeemed in the form of an amount to avoid rejection of rides and ride cancellations.
Tolls
Drivers can pay for the toll as and when needed and then get redemption of the total amount spent on the toll at the end of the trip along with the fare. In case there are multiple tolls in the trip, drivers will be able to track the number of tolls crossed and paid for using the add toll and view toll functionality.
User Rules
For staying consistent with their performance, user rules are stepping stones for drivers towards getting incentives, since ride accepting and rejecting ratios also play a part.
SOS
Drivers can use the SOS feature in case they feel hostile or vulnerable by pressing the panic button from their taxi app.
The best way to win the trust of drivers is to treat them with the best technologies.
How to Plan your Engagement Strategy for your Taxi Business?
In order to win at the on-demand cab booking services, you need to rely on tech defining the future of taxi dispatch businesses. Below are some additional checklists to follow:
Make your payment cashless and diversified
Seek inspiration from competitors to understand their retention strategy
Bond with riders and drivers on social media
Email your stakeholders and ask them for feedback
Offer convenience to your riders with their most-used app actions
Generate better routes for less ride time and less consumption of fuel.
Think Futuristic: Revive your Taxi Business During COVID-19 and After
While things have started getting normal, it is important to not get the dollar signs up on your eyes. Think about your riders and driver's safety and then evolve with your taxi business accordingly.
Avoid multiple passengers with different ride requests. Ask your drivers to disinfect frequently to keep themselves and riders safe from the potential infection. Invest in face shields, masks, sanitizers, etc., and ask drivers to take passengers only with masks on. In order to gain new opportunities, look out for business trips.
Collaborate with corporates and companies to offer corporate taxi booking solutions that need cabs services to ensure safety for their employees. You can also use your taxi app to partner with hotels for increased opportunities.
Ultimately, pick up on an issue that your riders and drivers face and resolve. That is the sheer form of retention and engagement for your on-demand cab booking services.