Taxi businesses are becoming advanced day by day. We all are witnessing the utilization of various cutting-edge technologies that enhances the passenger's riding experience. However, not all taxi companies are able to leverage these state-of-the-art technologies due to the budget constraints of small taxi startups.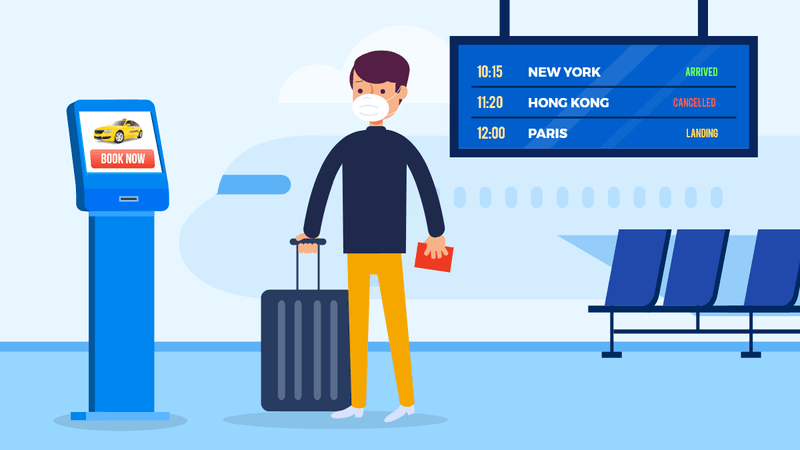 Instead, they go for smarter options which provides them with maximum results at minimum cost. One such smart option is to install self-operating kiosks. Taxi startups across the world are leveraging this option to increase their customer base, bookings, and overall revenue.
But what are self-operating kiosks and how do they work? In this blog, we will discuss the same along with its importance in the taxi business and its benefits. So, without further ado, let's begin.
What is a self-operating taxi kiosk and does it works?
As the name suggests, a self-operating kiosk is a kiosk where passengers can come, enter their trip detail, and book a cab in minutes. These kiosks can be set up at various locations such as airports, metro stations, bus stations, malls, and many other public places.
Now that we have understood what a self-operating kiosk is. Let's see how it works.
Enter pickup and destination
The first step is to enter the pick and drop-off location on the kiosk machine. The touch screen and easy-to-use user interface make this process smooth and easy.
Sending request
Once the passenger fills in all the necessary details, then he can send the cab booking request through the kiosk system.
Dispatch
Once a passenger makes the cab request then a driver who is nearby that kiosk is allotted with that request. Moreover, the passenger also receives details which include the real-time location of the driver via a link on SMS.
Pick up
Once the driver arrives at the passenger's location, the passenger can directly board the cab. Here the passenger is not required to show any confirmation ticket to the driver.
Why a self-operating kiosk is important in the Taxi business?
Self-operating kiosks are rising in popularity among taxi dispatch and ride-hailing businesses due to its several and diverse benefits. First of all, it's a cost-efficient way to increase bookings. We will deep dive into this later in the blog.
Another major reason for its success is because it targets those customers who don't have a mobile application for booking cabs. This makes it suitable to target tourists who have no idea which taxi businesses are existing in a particular region. So, taxi businesses can simply put their kiosk in the airport so that the tourists can book cabs without any hassles.
In this way, taxi businesses can increase their number of bookings and add more passengers to their customer base.
Apart from this, a taxi kiosk also helps businesses to attract more drivers it's because a kiosk placed at a busy place like an airport, bus station, or mall means that there will be a lot of bookings for drivers at regular intervals.
But most importantly, self-operating kiosks enable taxi businesses to form alliances and tie-ups with other businesses. These tie-ups are a game-changer as they can increase the number of bookings to a large extent.
Where can you install self-operating kiosks?
To gain maximum results, self-operating kiosks must be installed in a busy and crowded place. Places where people are often looking for a cab ride also qualifies as a good place for installing a kiosk. Let's have a look at some of the best places to install kiosks.
Airports
Hands down! Airports are the best place to install self-operating kiosks. It's because most of the passengers who are present at the airport are looking to book cabs to reach their desired destination. Installing a kiosk at the airport makes the job of passengers extremely easy as they just have to enter their details and wait for the cab.
Secondly, airports are the place, where you'll find most of the foreign tourists who might not be aware of the taxi services that are prevalent in the region. And that's the reason why they won't have any taxi booking apps installed on their phone. With kiosks in place, it becomes extremely easy to convert those tourists into bookings.
Malls
Shopping malls are a place where you'll see hundreds of people buying various things. Once all the shopping is done, people often look to book cabs if they don't have a vehicle of their own. This is what makes malls suitable to install self-operating kiosks where passengers can book their ride once they are done with the shopping.
Restaurant & Bars
Restaurants and bars can also be an interesting choice for installing the self-operating kiosk. It's because the most common problems these places face are drunk people. And the situation worsens when they drink and drive. In some cases, they also meet fatal accidents.
Many bars across the world have started to resolve this issue by collaborating with taxi companies. Taxi companies install their kiosk at these places which encourage drunk people to book cab instead of driving themselves.
Technologies used in self-operating kiosk
Self-operating kiosks are a sophisticated device which uses multiple technologies for its efficient functioning. Let's have a look at these technologies one by one.
Touch screen
The self-operating kiosk machine runs on a touch screen display which offers a top-notch user experience along with eliminating hardware such as external keyboard, button, and many more.
QR code/OTP generator
Self-operating kiosk machine also comes with technology like OTP generator or QR code generator which is used for the payment methods and identification purposes.
GPS
The kiosk also has an inbuilt GPS system that shows the real-time location of the driver who is coming to pick up the passenger.
Emergency module
The self-operating kiosk also comes with an emergency module that informs the customer of any uncertain event or delay in the arrival of the cab via SMS or email.
Top benefits of installing self-operating kiosks
Self-operating kiosks have emerged as a huge success for taxi startups across the world due to their several benefits. Let's discuss these benefits one by one.
Increase customer base
Self-operating kiosks is a boon for those smaller taxi dispatch businesses that are looking to expand their customer base without investing in mobile apps, call centers, etc.
These small taxi dispatch startups can simply put these kiosks at places where they expect a large number of potential passengers can convert them into bookings. Kiosks help taxi businesses to tap on a large number of potential passengers in public places with an easy and convenient taxi booking option.
Save costs
One of the biggest reasons why self-operating kiosks are such a big hit among the taxi businesses is the fact that it enables them to eliminate some of the biggest overheads. It helps them to increase booking without investing much in mobile applications, office space for call centers and teams, and many other costs.
Read More: How taxi booking app reduces the operational cost?
Furthermore, since it's a self-operating kiosk, business owners no longer require to deploy any resources thus allowing taxi businesses to utilize these resources somewhere else.
Increase brand awareness
Apart from a cab booking machine, self-operating kiosks can also act as means to advertise ride-hailing or taxi dispatch business. Branding on kiosks can generate a large number of impressions since they are placed in highly crowded places. In other words, it's similar to having a permanent billboard that has your brand 24×7.
With this, taxi business can advertise their business without investing much in traditional advertising.
Multiple modes of payment
Self-operating kiosks not only makes cab booking easy but also makes the payment process extremely convenient by offering multiple modes of payment with it. Passengers can make payments here by cash, card, or with an in-app wallet. Moreover, the kiosk also allows third-party applications for making transactions.
Advertising and tie-ups
Apart from advertising their own ride-hailing or taxi dispatch business, kiosks can also be used as an advertising space for other brands. For example, advertisements of other brands can be displayed on the kiosk screen when no one is using it. In this way, taxi businesses can earn some extra revenue along with establishing strong ties with other brands as well.
Integrate promotions & rewards
Self-operating kiosks can also become a great means to offer various promotions, offers, and rewards to attract and retain your customers. For example, businesses can offer a certain discount for passengers who are booking a cab for the first time via a kiosk. Similarly, businesses can also offer various promos on festivals or weekends to boost more bookings.
Read More: Top promotion & retention strategies for taxi business
Conclusion
Today, almost every taxi startup is looking to have self-operating kiosks. And why not? It's a cost-efficient method to increase the number of bookings, customer base, and overall revenue. In the coming years, we will see more modification being introduced to make self-operating kiosks even better.
For now, if you're a taxi startup that is looking to reap the benefits of a kiosk system then you can contact Yelowsoft which is a leading taxi dispatch solution provider.
Yelowsoft's taxi dispatch solution consists of self-operating kiosk systems which have already boosted the total number of rides for their existing clients. Yelowsoft's superior system, expert team, and proven record make it the number one choice for taxi startups across the world.