Everyone on the earth is wishing to get their life back to normal. The human hopes are high and are expecting that world will get as normal as it was before the covid crisis once the vaccine is in enough arms.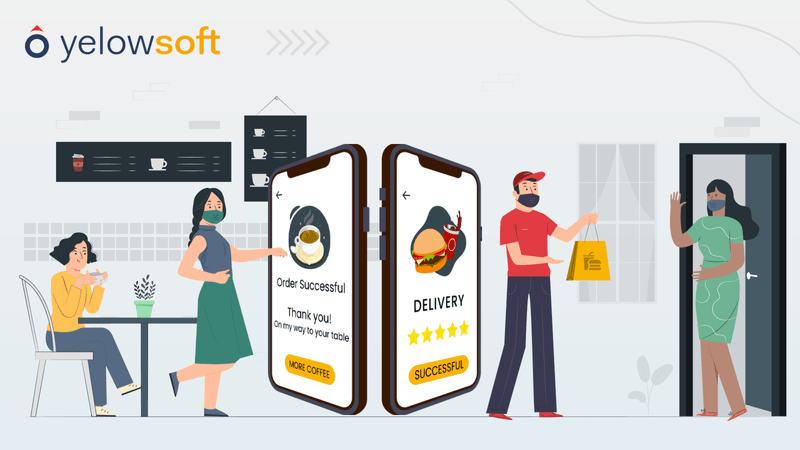 However, the situation does not favor the restaurant industry as customers avoid visiting restaurants and are now more health-conscious.
Currently, as per the latest data collected by Deliote's experts, consumers are more interested in buying fresh foods and cooking in-house than they did before the pandemic.
To Sustain your delivery business during the COVID-19, meet the customer's expectations and increase your revenue, you can leverage the power of technology and automate restaurant operations.
Did you know?
As per Statista, Revenue in the Online Food Delivery segment is projected to reach 154.34 billion US dollars by 2023.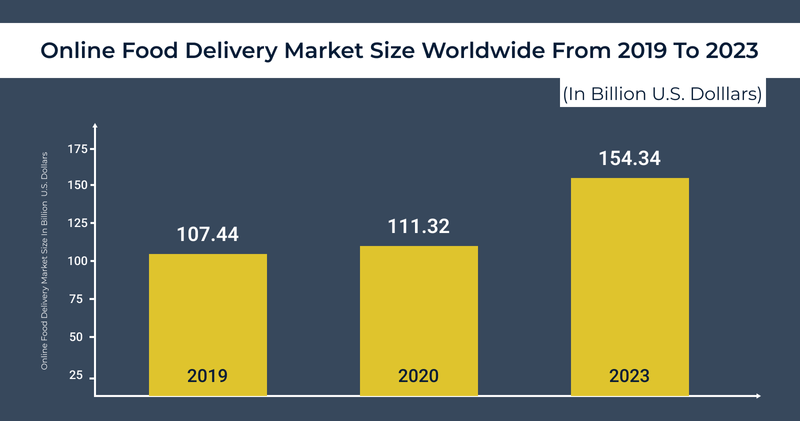 In 2019, the market size of the global online food delivery sector was 107.44 US dollars. The market further registered a slow growth of $111.32billion in the year 2020 due to the coronavirus pandemic. However, the market is expected to grow at a CAGR of 11.51% to reach 154.34 billion US dollars by 2023.
The pandemic made restaurants and food delivery businesses face numerous challenges that were unexpected.
Challenges faced by the restaurant and food delivery business
The impact of Covid on the restaurant business is pathetic, dire, and unforgettable for decades. It is like a nightmare for every restaurant owner. Contrary to challenges, covid also played a vital role to make food ordering and delivery businesses successful. Let us see the challenges that restaurants and food delivery businesses faced.
Unexpected expense
The high operational cost was the major challenge that every restaurant went through. Dining rooms were closed for customers. Some restaurants were forced to permanently close their doors.
Drastic fall in customer walk-ins
Due to the sudden born of the newly born deadly "coronavirus" and its threat to people of death if do not maintain the distance led Restaurants in the densely populated areas registered the highest traffic (customer) declines.
Only option to switch
Dining restaurants will have to shift to online. Small restaurants with low backup cannot survive to move online which ultimately large restaurant units will thrive over small restaurants and family-owned restaurants.
Re-designing menus
Digitization changed the life of both, customers and restauranteurs. Customers avoid ordering food in combos, or dish that carries a heavy quantity. Menus will have to be rethought and re-engineered keeping every individual customer & covid situation in mind.
Re-architect interior sittings
Restaurants that were earning a profit offering space and communal tables are now disappeared. Customers are now not feeling safe sitting close to each other. This has forced restaurants to re-engineer their sitting arrangements and has impacted their profits as well.
Automating restaurant operations
The core problem with pandemics everyone has is direct interaction with a human. The solution to it is reducing human interaction. These days the primary goal of every restaurant is to minimize human interaction. This is possible by employing cutting-edge technology.
Top reasons for restaurant businesses to get automated
Automation enables restaurants to serve maximum customers, deliver food on-demand, & provide even better yet cheaper service. There are several other reasons to automate the restaurant operation from which some strong reasons are mentioned below:

Everyone expects on-demand
Though you might be the business owner, you are a customer too. There are N numbers of needs that everyone including you expects should get at the doorstep without making an effort of stepping out of the house especially in the time of covid. Right?
You got the point. When you need things on-demand, your customers too need them on-demand.
So, don't waste your time crawling with the old-school business model. When you are a restaurant owner, remember it is not the option to automate but an immediate need of your customers and so of yours.
You can either own your software to automate or you can get help by collaborating with the food delivery app development company that provides an online platform for food delivery businesses.
Both are possible, the question is how serious you are about your restaurant, its growth, streamlining operations, delivering satisfaction to the customers, and continuing in the future with the same or increasing speed of growth.
Helping your employees, the delivery guy becomes more effective
Automation enables businesses to speed up the process, keeps your staff engaged constantly, transfer messages in real-time to every individual connected to the chain of software. This makes everyone remain active, stay connected and informed, act as soon as the request is received and deliver the food on time.
Security is a top business priority
When you get digitalized, you get access to the data of your customers, and every individual that is connected to your business and system. It is very important to make sure none of the information of your customer is been used with evil intentions.
Leveraging the potential of the technology, you ensure your customers that their every detail is end-to-end encrypted and is highly secure. This builds trust among your customers, gives them a sense of security which ultimately encourages them to order food from you again and again.
Strengthen restaurant business and customer relationships
Almost every business is striving to get automated. Be it, customers or business owners, all need quick results. It takes minutes and hours to change the shop in person but seconds to switch to another shop online for customers.
Demand is increasing and the competition in the food delivery industry is at its peak. When you provide quality food to your customers, you ensure your relationships with customers are going to be strong.
Every customer on the earth needs quality food and every business owner needs to retain customers. And this is possible when you know the recipe to strengthen your business and customer relationships. And the recipe is adopting a food ordering and delivery business model.
In the current era of the emerging rise of the internet, smartphones, excessive presence of customers over social media, and need of covid, automation is proving itself to be the nectar for every business. And it is trusted as the future of the restaurant industry.
The contactless delivery system is the new mantra for restaurant success
A contactless delivery system enables restauranteurs to sustain their on-demand delivery business in this tough time of covid and makes them ready for the new normal. Restaurants are now able to provide convenient customer service, reduce the threat of covid-19, ensure employee safety and business growth.
Read More: Why your Restaurant Business Needs an online System
Emerging new trends in restaurant business post covid
This novel covid, with bad, has also brought some good changes in everyone's life and has taught us the real definition of what is social. This has introduced some of the top trends and predictions for on-demand delivery business & restaurant business that include:
Creative innovation
Here, restaurants offer delivery and pick-up on the drive. Customers are more interested in ordering food from restaurants for the entire family using online services from the online application.
Customers can subscribe to the family meal bundle and order restaurant food for delivery and can pick up the meal from the restaurant without interacting with restaurant people.
Virtual presence with contactless support
With the demand of social distance due to covid, contactless ordering, payment, and pickup are the other emerging trends restaurants are up to.
On-demand food delivery software for online ordering
Food ordering and delivery software is the new trend among restauranteurs and customers that has filled the gap and is still helping both. It is the booming option for not just only proactive restaurants but for every restauranteur.
Results that on-demand delivery businesses and restaurants got with Automation
Although there is always room for improvement and innovation, the restaurants always strive to provide better customer service by implementing some creative way of offering food, attracting customers, and making their revenue continue to grow.
The increased use of the smart device, the maximum presence of customers on social media, and the guidelines for Covid to stop spreading the virus made by WHO have given birth to some of the trends that have helped restaurants continue their functioning and increase business.
We have mentioned the top trends below with insights to help you know how they are contributing to the success of the restaurants.
Online ordering from the restaurant
From fine dining to online ordering of food, this trend has become popular among customers with the onset of pandemics. Restaurants offer the customer to order food online and choose delivery or pick-up option.
It is considered one of the steps taken by the restaurant to contribute to stopping the deadly virus among the people by feeding them on time.
Online food delivery apps
This is another trend that is not just adopted but has helped restaurants to stand again in the market. Home delivery software was known as a lifesaver in the lockdown and has empowered restaurants to continue providing their services to customers even in the lockdown. It has played a vital role in fulfilling the gap between restaurants and customers in times of pandemics.
Online food delivery apps are also known as the online discovery markets for ordering food from the best restaurants around you.
Food delivery businesses need an online platform as it ensures numerous benefits which have helped Restauranteurs with low budgets to be visible online and get the benefits of the marketplace to increase their sales. Some of them are:
It makes your ordering process easier

You get a system to efficiently manage your customers and orders simultaneously

Allows you to monitor your expenses incurred in real-time while accepting any order and with successful delivery (this includes, charges of the app owner, delivery, tax, food making)

You get the place to market your restaurant for free

Helps you get the data of your customers who chose your restaurant to order food

Encourage your customers to order often as apps enable them to enjoy the convenience of mobile ordering

Keeps you ahead of the competition
Contactless modes of payment
Contactless payment ensures customers are safe from getting infected. Allowing your customers to pay online and order food eases their food buying journey. However, not every contactless payment is safe, nor easy to use.
Customers skip ordering and paying online when they find the mode is insecure or complex. You need to make sure your app has secure and easy-to-use contactless modes of payment.
Restaurant delivery app development companies make sure they have everything right. And to make that possible, they have a strong technical team that dominates their intelligence to not only make the app successful but also delivers 100% satisfaction to end-user.
If you are looking for an online food delivery software that is highly secure and ensures your get sales, contacting a food delivery app development company will help you get exactly what you want.
Increasing cloud kitchens business models
This is the advanced version of restaurants kitchens that is replacing the brick and mortar restaurant kitchens. This model has attracted many new chefs to start their own food-selling businesses. This model is tech-enabled and designed to sell food taking advantage of apps on your smartphones, such as Grubhub, Doordash, and UberEats.
Automation in operations, management, and inventory in restaurants
The adoption of technology in order to automate the restaurant business is a trusted trend and not just the words. The new trend of getting digitized enables restaurants to manage their operations, track inventory & streamline the process.
Self-ordering kiosks
Similar to an ATM. Yes, it is a self-order POS system. Restaurants are putting every effort to bring new innovations to attract customers and self-ordering Kiosk is one of the innovations. This is the new way to enable your customer's place and pay for food orders totally contactless and frictionless.
Food ordering and delivery business models of the restaurant
Order Only Model
This model suits restaurants that have only a single branch but a wide customer base. And when you are alone, it is hard to manage all operations single-handedly. To overcome challenges, you can automate the business by implementing restaurant delivery management software.
You can have your restaurant function smoothly without any interruption. What you need is the acceptancy of going from futile to fertile. These days, without technology your restaurant is futile, accepting the change and leveraging the power of technology you can make your business fertile.
Order and Delivery Model
You have a restaurant but don't have the budget to create your own application, you have the opportunity to leverage the power of market place and sell your food online.
Apps like Swiggy, Zomato, UberEats are some of the examples of the marketplace. These are the apps that were called a life savior in lockdown. These apps come with three entities that include:
Admin or platform owner panel

Merchant or restaurant owner panel

Delivery guy panel
If you have an idea but don't have technical expertise, it is advisable to consult an expert who can help you in building readymade food delivery software. Consulting an expert who has already made and delivered similar types of apps in past, will be an added advantage for you.
Fully Integrated Food Delivery Model
We also call it a full-stack food delivery model. Here, you will accept the order, prepare it, and will have the facility to deliver it to your customer's address.
Some of the examples of restaurants for chain model or fully integrated food delivery models are Dominos, McDonald's, KFC, Starbucks, and more. These businesses are run worldwide. They have the same service but at different places.
There are many restaurants that are willing to go online, accept the digital phase but lacking in budget. For those restaurants, there is another solution that is cost-effective, powerful, trusted, robust, and reliable.
White label on-demand ordering and delivery app development is the other option for the major restaurants that do not want to spend thousands of dollars in building their own app.
Quick Note
Be it any type of restaurant you own or model you fall into, there are a few primary features that every restaurant app should have and you should have it too.
There are many key features to consider when you decide to develop a food delivery app. An exceptional app is only when it is capable of enabling your restaurant to easily and quickly manage day-to-day activities. Check out these key features that are necessary to add to your food delivery software.
Benefits of having an automated restaurant business
Be it any industry, automation is the talk of the town in every town these days. As per researchandmarket.com, the global automation market is poised to reach $14 billion by 2025.
Automation makes management centralized, streamlines operations & increases business efficiency. When it is done right, it reduces labor costs, mitigates other operations expenses, and contributes to increased productivity and profit. With not having the personal experience of owning a restaurant, trying to explain some of the advantages they can avail are:

Saves money
The investment in technology to automate the restaurant operations reduces the dependency on human resources. It aligns every member in the system and pushes them to be productive which ultimately helps them from extra paying and getting utmost work at the same time.
This helps restaurant owners save money by getting proper work from each interconnected member within the timeline.
Increase reliability
When automation is implemented, the process gets easier, faster, and more accurate. It reduces the chances of errors and keeps everyone in the chain engaged. Provide real-time notification to act once it arrives. This enables every profile owner to give their best, stay busy but conscious.
This process encourages everyone to provide outstanding service to every customer. Hence, it increases reliability.
Improves efficiency
Be it a receptionist, driver, a chef once the order is received, the transition of the order is placed accordingly to every screen it should be. It decreases inaccuracy, makes every responsible personnel react on time which improves productivity.
Cost and resources for launching an automated restaurant business app
To automate your restaurant, you need both. Money and resources. But both are interrelated as the resources that you want would be the ones that will charge you to automate your business.
Cost can be identified when you know which factors to consider before developing an on-demand food delivery app. There are different factors for different types of restaurants, however, there are a few common that you need to consider before starting the development.
Your user-centric interface

Secure payment gateway integration

Live tracking order GPS feature

Offer and rewards

Push notifications

Multiple ordering methods

Choosing technology and framework

SEO friendly platform and more
The cost depends on the number of features you want in your app, the technology you select, number of developers involved in building the application. However, the final price can only be determined when you discuss the complete requirement with a restaurant delivery app development company.
Users now prefer digital services. When you are a restaurant business owner, it is essential to have the best automated solution to effectively run a business. You need to identify from SaaS, in-house, or clone which of the development business model will suit your need.
Read More: Major development models available for on-demand business
Conclusion
Now, after going through each and every point of the blog, you will be able to identify that restaurant automation has a strong growth curve. This is the right time to automate your restaurant. If you have automated, this is the right time to analyze, assess and optimize. Be optimistic when it's about your business.
Never compromise with the quality. Be it providing tasty food to your customers, delivering food on time with the aim of leaving a smile on the face of your customers, or making the software using cutting-edge technology that is competitive, strong, and customer-centric.