Whether you are a single restaurant owner or run a restaurant chain, the traditional method is no longer going to help you grow - be it the reach or revenue. At the current time, no restaurant can win the market without on-demand delivery software.
See statistics by Statista - Online food delivery revenue is expected to reach the market volume of U.S. $466,472 million by 2026.
It means, without technology, every restaurant in today's time is disabled. So, what's the solution? Well, it is on-demand delivery software. And with this software, the restaurant industry has changed dramatically in recent years.
A few examples are third-party platforms like Uber Eats and DoorDash. They are great at handling logistics but also take large commission fees that steal a major part of your profit.
To save more profit, many restaurants are now adopting their own or white-label on-demand delivery software and restaurant delivery service software to take control of the delivery process. This helps them tap into new revenue streams.
In this blog, you will explore the core benefits of adopting on-demand delivery software, the key features you should consider when planning to use it, solutions to existing challenges you face in your day-to-day business and a few case studies to give you a clear idea of what top restaurants have gained using Restaurant delivery service software that you can get too.
So, this was enough for a starter, let's start with the main course now.
Benefits of On-Demand Delivery Software for Restaurants
For restaurants, having on-demand delivery software and restaurant ordering software can provide numerous benefits compared to relying solely on third-party services: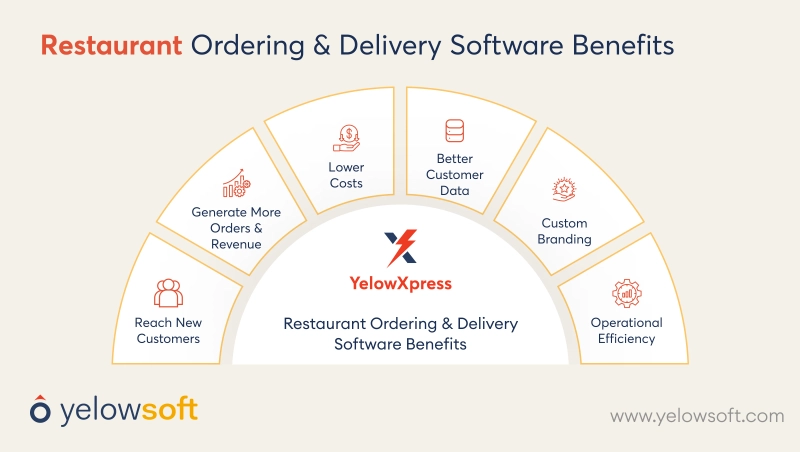 Reach New Customers
On-demand delivery software expands your reach beyond just diners who can physically come to your location. For example, you can now deliver to neighborhoods 5 miles away that never ordered from you before. New customers in the delivery radius will start discovering your food menu.
Generate More Orders and Revenue
With the convenience of delivery powered by restaurant order and delivery software, customers will be more likely to order from you versus dining out. Existing customers who used to visit 2 times a month may now order delivery 4-5 times a month just out of the ease of use. More orders inevitably mean more revenue coming in.
Lower Costs
You can save 30% or more on fees by handling delivery in-house rather than paying commissions to third-party apps. For a restaurant making $1000 in daily delivery revenue, that could mean over $100K in added margins per year going right to your bottom line.
Better Customer Data
When customers order directly through your app or site, you gain valuable data on ordering habits and customer details. You'll know who your top customers are, popular menu items, ordering times, and more. This information may be useful for marketing activities and promotions.
Custom Branding and Experience
Your restaurant delivery software allows you to maintain your branding throughout the ordering process, unlike generic third-party services. Customers get a seamless experience tailored specifically for your restaurant.
Read more: Why Your Food Delivery Business Requires an Online Platform
Operational Efficiency
Integrated order management improves communication between front and back-office staff. Delivery dispatch is managed seamlessly. Plus, it reduces errors and delays.
Clearly, the benefits are substantial. But how do you choose the right on-demand food delivery software solution?
Let me tell you one thing. We all know that not all fingers are the same. In the same way, not all on-demand software will suit your exact needs. So, what should you look for in a solution that will help you ease your burden and grow faster?
There are several things you should look for. One of them is the feature set.
Let's look at key features your delivery software should have to provide a positive delivery experience.
Key Features Restaurants Should Look For in Delivery Software
Your online food delivery software needs to check off these critical boxes: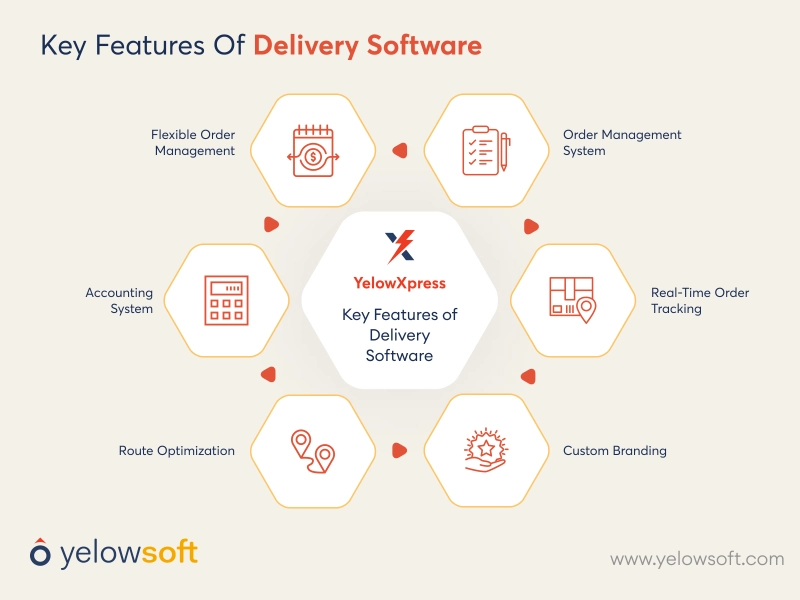 Order Management System
A centralized dashboard to manage orders from your website, app, in-house, and third parties. Track order status in real-time as they come in and go out for delivery. Add notes for kitchen staff and assign orders to drivers with just a few clicks.
Real-Time Order Tracking
Give customers a live map of their delivery route. Text alerts keep them informed of estimated arrival times. Drivers can call customers on approach with one tap. Customers can also rate deliveries and provide feedback.
Custom Branded Apps
Get on the App Store and Google Play with your own white-label food delivery applications. Provide a seamless branded experience for customers from ordering to payment to receiving their food.
Delivery Route Optimization
Dynamic algorithms factor in current driver locations and traffic to generate optimal routes. Easily sequentialize multi-delivery runs. Drivers have turn-by-turn directions and customer details right on their phones.
Accounting System Integration
Completed orders are automatically marked as paid in the system. Cash, credit card, and online payments sync in real time with your POS software so revenue is always up to date.
Analytics and Reporting
Track top-selling menu items, peak order times, average delivery times, and other metrics. Leverage data to adjust operations, menus, and marketing.
Flexible Order Management
Handle takeout, curbside pickup, in-house dining, and delivery with a unified platform. Customers can choose what they want with clear indications across channels.
Not all delivery software will have these features. But these are key features you should have to streamline your restaurant ordering and delivery process. The right white-label food delivery app development tailored to your restaurant's needs will fulfill all your business objectives.
To understand is better. Let's look at some real-world examples.
Examples of Successful Restaurant Delivery Partnerships
A local Pizza shop in the UK with a good name was struggling to compete with big national pizza chains delivering in their area. To end their struggle and meet their customers' evolving demands, they partnered with an on-demand delivery software development company to launch their own branded mobile app.

They got their white-label delivery software and now are making noise in the market with their success. Their customers can conveniently order Mama's Pizza for delivery or takeout directly through the app. In the first year, Mama's saw a significant revenue increase attributable to their new delivery capabilities. The software paid for itself in added profits within 6 months.

One of the dining spots in Canada had focused exclusively on in-house dining for years. But customers kept asking if they offered on-demand delivery. As the restaurant saw a drastic fall in walk-ins and high demand for online food ordering and delivery, they decided to leverage a technology solution - SaaS-based food delivery software.

The restaurant started offering evening deliveries with the help of the software. It opened up a new customer base that couldn't dine in person. Their average delivery ticket was also higher than in-restaurant checks. The added delivery business increased annual revenues at a drastic speed.

Fast casual salad chain Green Eats decided to implement a unified delivery solution across all their locations. By managing delivery in-house through their own branded app and drivers, they reduced third-party commissions substantially. What's more, they gained better control over the delivery experience and customer data. Their delivery business is booming, on pace to add millions in incremental revenue this year alone.
IMP NOTE: When there were no options but only third-party solutions, it was a compulsion. But now when you have an option that can give you the same benefit at a low cost with more profit and still continue to pay a high commission is like you are cutting your own foot with an axe.
And yes, here is the thing. As life is not a smooth sail. It does easily happen what we think. To overcome the life hurdles, we take help - it could be from anyone.
In the same way, there are challenges that every restaurant faces in their routine. And there should be a way to overcome it. Below, you will explore them.
Overcoming Potential Challenges with Delivery Software
Of course, launching a delivery program does not come without its challenges. Here are some potential issues restaurants should prepare for: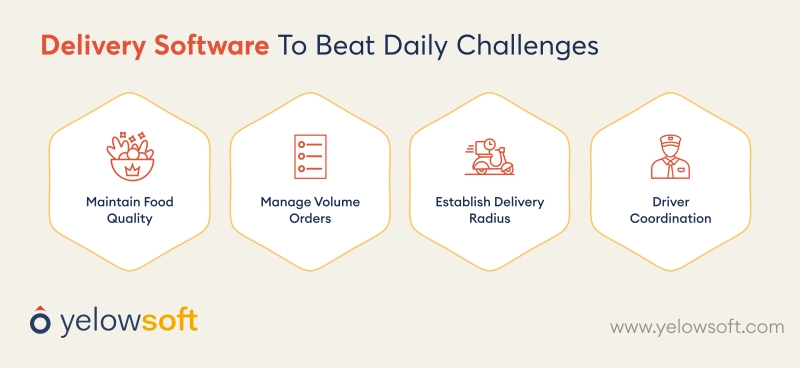 Maintaining Food Quality
Use insulated food carriers and warming bags to keep food hot during transit. Train staff to neatly pack sauces and condiments separately to prevent soggy bun issues. Regularly check delivered meals to ensure quality standards are met.
Managing Order Volume
Your restaurant delivery software should help handle the influx of orders. But also prepare by bringing on extra delivery drivers to handle peak Friday and Saturday night demand. You don't want customers waiting over an hour for their food because of understaffing. If you make them wait, they will make you wait for orders in future. Take this risk only if you are ready to lose customers.
Establishing Delivery Radius
Analyze a map of your area to determine a delivery zone that drivers can cover in 15-45 minutes. A 5-mile radius is a good starting point. Gradually expand the boundary as your operations scale up. Just be sure to set customer expectations on estimated delivery times.
Coordinating With Drivers
Vet drivers thoroughly and track their on-time performance. Your food delivery dispatch software should optimize routing and dispatch orders to the closest available driver. However, have a manager oversee the driver pool to ensure sufficient coverage across all the shifts.
Avoiding High Commission Fees
With your own restaurant delivery software, you can avoid the 20-30% fees charged by third-party apps. Pay drivers a fair hourly wage plus per delivery commission. Even at 10% per order, your costs will be far lower than external services.
Wrap Up
Food delivery is here to stay. On-demand food delivery system levels up the playing field for restaurants. It allows you to get in the game while avoiding the huge commissions charged by third-party apps. With your own restaurant order management system, you can expand your reach, increase orders and revenue, understand customer data better, and strengthen your brand.
Restaurant ordering and delivery software tailored for restaurants can streamline all front and back-end processes involved. While it takes effort to implement, the payoff in customer satisfaction and profits make it well worthwhile.
In today's digital world, restaurants must meet customers where they are. On-demand food delivery software is the key to unlocking new potential revenue streams while better controlling your branding and operations. Take control of your delivery and start reaping the benefits today. Your customers will thank you!