The underdog genre is widely appreciated by most of us. It's because it gives us the hope that something that seems extremely impossible is also achievable. The appreciation increases by many folds if the story happens to be real.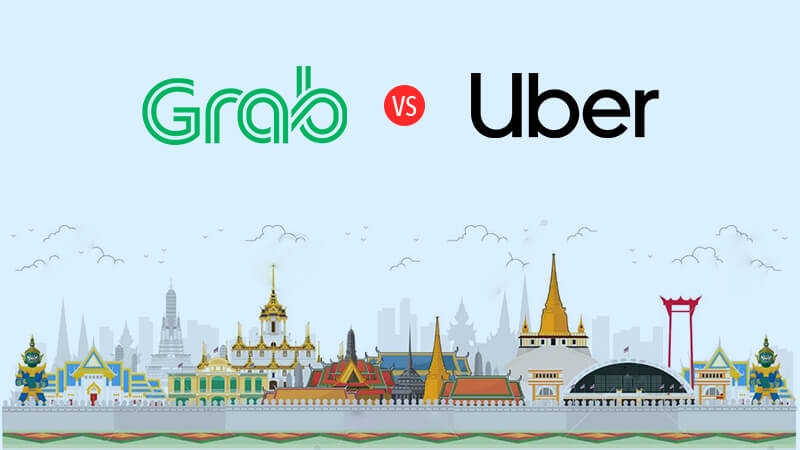 The rise of Grab is the quintessential underdog story of the ride-hailing business sphere. And in this article, I will try to highlight all the major points of that story. So, without further ado, let's begin and understand what is grab and its journey from beginning to biggest ride-hailing company.
What is Grab and its success story?
Grab is a Singapore-based ride-hailing company that was founded by Anthony Tang and Tan Hooi Ling in the year 2012. At that time it was known by the name MyTeksi which then became GrabTaxi and then later in 2016 it was rebranded as Grab.
Anthony Tan was the one who came up with the idea of an Uber-like ride-hailing company. His classmate Tan Hooi Ling at Harvard then joined him. Grab won US$ 25,000 in prize money after coming second at the Harvard Business Plan Competition 2011.
Later in 2012, they launched their ride-hailing company which now operates in over 500 cities across eight countries of the Southeast Asia region.
The duo of Anthony Tang and Tan Hooi Ling was very well aware of the unorganized and chaotic state of transportation in the Southeast Asian countries. They knew exactly what challenges the transportation whole as a sector was facing.
They saw this as an excellent opportunity because starting their ride-hailing service meant that they would have the first-mover advantage. So, to make the most of it, the duo put all their skills and knowledge of general management and business administration. They also drafted a business plan after conducting several brainstorming sessions.
However, it wasn't that easy. The co-founders Anthony Tang and Tan Hooi Ling had to work hard to get both drivers and customers on board. Their first target was to get their primary customers which were drivers to get on board. And for that, they decided to meet drivers at their local hangout places and the airports.
There, they used to pitch the idea of Grab to all the drivers one by one. They wanted to sign up as many drivers as possible and that's why they adopted a unique method. In this method, one person would pitch the idea of the Grab to the driver while the other one would note down the driver's information and sign him up. They repeated this process with several other drivers. Thus in the matter of a few minutes, they were able to sign up multiple drivers.
Slowly Grab started to grow as a reliable on-demand taxi service. Today, Grab has expanded their services and hold subsidiaries like:
GrabTransport: Includes taxis, private cars, motorcycles, and ride-sharing services.
GrabFood: An on-demand food delivery solution.
GrabMart: Includes grocery delivery and essential delivery.
GrabExpress: on-demand parcel delivery services and document delivery.
GrabPay: Seamless online payment services and in-store payment services.
GrabInsure: Easily accessible insurance services and loans
GrabRewards: Earn points and unlock benefits with transactions
GrabGifts: Practical gifting services.
Millions of people are using Grab for many moments in their everyday lives using their super apps. They connect their customers with almost all important steps of day-to-day life including deliveries, providing mobility, supporting financial services, and beyond. Let's understand the journey of becoming Grab as "SuperApp" with the help of the following picture.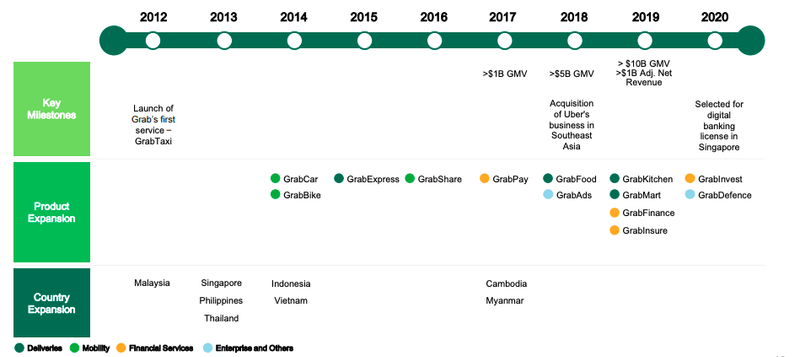 The above image reflects the growth of the company and how the giant has expanded its operations in all the vertices which can affect the everyday life of its target audience. Grab has become Southeast Asia's tech unicorn and emerged as a market leader in on-demand services.
Uber vs. Grab: The clash of the titans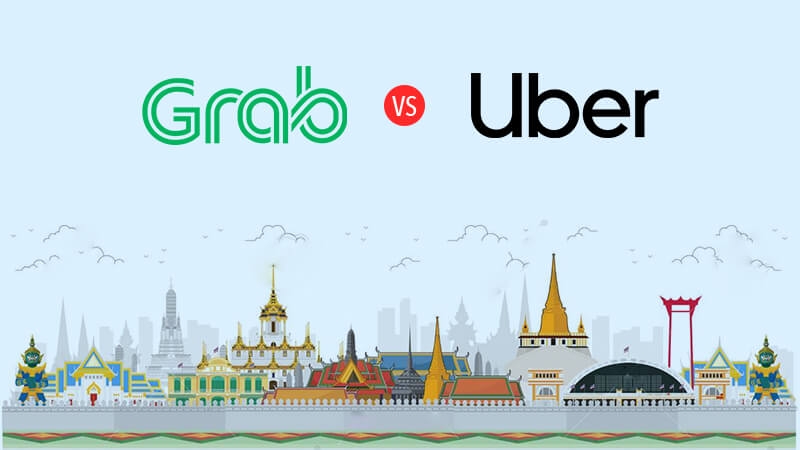 Inside Southeast Asia's battle of super-apps- Grab vs Uber, both the rival ride-hailing services dueling to deliver everything. Uber is unarguably the biggest ride-hailing company in the world. With its presence in over 80 countries and more than 75 million active users, the stats surely show its dominance. Uber entered the Southeast market in the year 2013 when it started its operation in Singapore. Uber has tasted success in various parts of the world. But, the Southeast Asian region was about to offer something different.
Grab beat Uber as a top ride-hailing app as it strongly focuses on the local market and adopts a different culture and languages of the country they expanded their business into. This is a key strategy that helped Grab gain a lot more users and capture the market than Uber.
The Global vs. Local approach
Uber and Grab have almost approached the Southeast Asian market at the same time. When Uber entered the Southeast Asian market, Grab was a newbie and all the ride-hailing pundits thought that it would be the end of Grab as the taxi behemoth would throw them out of the market.
However, Grab continued to move steadily. One advantage that Grab had over Uber was local expertise and cultural knowledge. Not only that but there was also a stark difference in the approach of both companies.
Uber is a taxi behemoth that has a presence almost all over the world. That's why it believed in providing standardized services to all its users around the world including the Southeast Asia region.
On the contrary, Grab Company had adopted a hyper-local approach. Grab wanted to offer a more friendly and customized service to its users. They also gave huge importance to the culture and the value system of various countries of the Southeast Asia region.
They hired a lot of local talent that further helped them to come up with local-focused services.
The difference in the approach of both the companies grab and uber is visible in their various decisions which we are going to discuss below.
Cash is the king
We all know how the increased penetration of smartphones has boosted cashless payments in all sectors including that of on-demand taxi services. However, it's also true that in some regions especially the Southeast Asian region, the cash is still the king.
Many countries of Southeast Asia are a cash-based economies. Grab knew this fact very well that's why they integrated the cash payment feature in their app from day one.
On the other hand, Uber didn't have any cash payment feature until 2015. And they suffered a lot due to this. When Uber initially started its operation in San Francisco, the mode of payment it offered was of a credit card. This decision didn't affect them as people in San Francisco are very well habituated with card and cashless payments. However, that was not the case in Southeast Asia.
Dodging the traffic with Grab Bike
One thing that many cities in Southeast Asian countries are known for is long traffic jams. People in big cities like Jakarta, Manila, and many more are habituated with 2-3 hours of traffic jams during peak hours.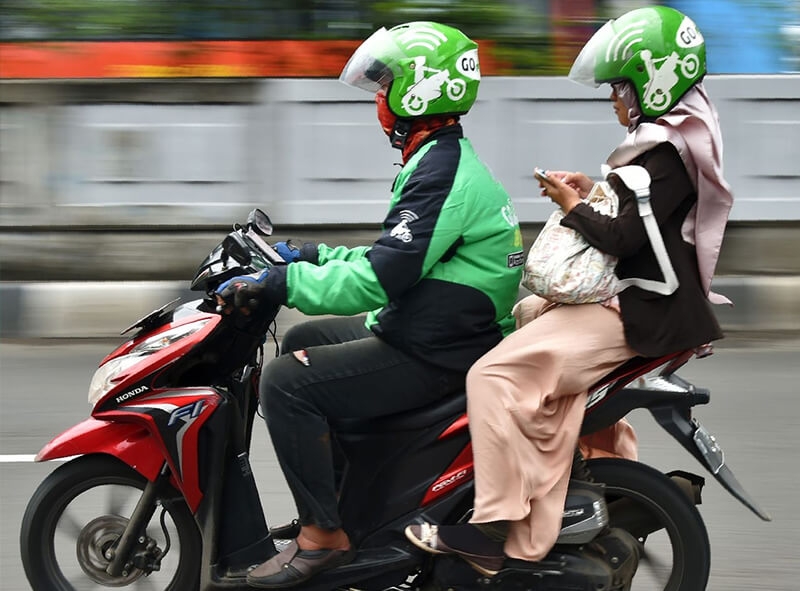 Grab knew this scenario well and that's why they came up with their motorbike taxis called Grab bike. Grab's motorbike gave them a serious advantage over their rivals Uber as their bikes were easily able to weave out of the heavy traffic, whereas the Uber cars stuck their hours.
Uber's PR crisis and downfall
It won't be wrong to say that Uber and controversies have become synonymous. If I start listing all controversies then this it would take the whole day. For starters, since its inception, it has faced worldwide protests from traditional taxi companies who accuse Uber of throwing them out of the business.
Uber was also banned in Delhi after one of the drivers raped a woman. Things got worse in 2017 when Uber was stung by multiple controversies.
On 27th Jan 2017, Donald Trump enforced the refugee ban. Many citizens gathered at the JFK airport to protest against the ban. Many taxi companies also supported the protests in solidarity by refusing to pick up any passengers from the airport.
However, Uber chose to profit by continuing its services during the strike. This decision outraged many people and a viral #deleteuber emerged as a result of it.
On March 3rd 2017, it was revealed that Uber was using an application called greyball that made it impossible for certain users to search for cabs, this also included law enforcement officers.
To make the matters worse, Bloomberg released a video in which Uber's then CEO Travis Kalanick could be seen yelling at an Uber driver.
All these controversies had a very severe adverse effect on their company's image. And in some way it helped Grab a lot.
It was simple, which company would a customer choose? A company that is tainted with clusters of serious offenses or a company that seems friendly and doesn't have any trace of controversy. The choice was simple.
When Grab emerged as victorious
Grab had gone ahead of the race and it was only a matter of time when it emerged as victorious. And that day came on 26th March 2018 when Grab officially announced that it will take control of Uber's Southeast Asia operations. Uber in Singapore decided to relocate their Asia-pacific headquarters by the end of 2022 and hence Grab itself proved once again the most popular ride-hailing app in SEA.
In this deal Grab would control all Uber operations in countries like Cambodia, Malaysia, Vietnam, the Philippines, Singapore, Indonesia, Thailand, and Myanmar. Grab would also control the UberEats operations there. In return, Uber will get a 27.5% stake in Grab which has already a valuation of several billion dollars.
Did you know?
Grab Holding has proposed US company Altimeter Growth Capital a deal of approx. $40 Billion to allow Grab to become a NASDAQ Company. Grab's co-founder Anthony Tan's told the decision to become a public company was made by` strong financial performance in 2020.
Grab going beyond the taxi
Grab has adopted the super app model which allows it to enter multiple consumer services sectors such as food ordering, on-demand video platform, ticket purchasing, grocery shopping, hotel booking services, and a few of some financial services.
Chinese companies Alibaba's Alipay and Tencent's WeChat are believed to be the inspiration for this model. Grab is among the companies that are leading in this model. According to Grab's third-quarter 2021 report, Gross Merchandise Value reached a new record of $4.0 Billion rises of 32% year-over-year. And in the future, it would like to continue the same trend by expanding into various segments.
The GrabRide section is further divided into different ranges that keep everyone's needs in mind as well as pockets. Examples of a few small offerings that give a personalized touch to their customers are:
JustGrab: This service includes taxi or vehicle bookings.
GrabHitch: Service offers users to carpool with other passengers to save money.
GrabBike: Service includes motorcycles for ride-sharing.
GrabFamily: Offer vehicles with some extra safety features when you are traveling with your family, especially with kids.
GrabPet: This grab ride-sharing service allows transportation of your pets.
Grab's FinTech service offerings
Grab came up with its in-app e-wallet app called GrabPay that can be used to pay for the rides and can top up at the fuel stations and convenience stores. Moreover, it could also be used to pay for food orders and transfer funds.
GrabPay was a masterstroke from Grab because it not only gave a cashless payment option to its users but also became an important platform through which Grab can enter into various ventures like eCommerce, FinTech, and many more.
Read More: How the wallet system works and why it is important?
Not only this Grab has also started providing insurance services and loans which is a part of their 'Grow with Grab roadmap' strategy. Under this strategy, Grab provides loans and micro-insurance to SMEs and drivers respectively.
Furthermore, with GrabPay, Grab has scaled its financial services by offering the 'Pay Later' option which is nothing postpaid, and installment payment service which allows the users to pay for Grab services at the end of the month and that too without any additional cost.
Fact Check
Grab's financial service revenue rise to $14 million by 11% YoY. Grab has declared to increase its ownership in a leading digital wallet of Indonesia, OVO. OVO is an open ecosystem platform and in collaboration with Grab, both companies expanding the suite of financial services.
GrabFood: Grab's food delivery business
GrabFood is a food delivery business that was launched in May 2018 as a part of its everyday super app strategy. This service is currently available in around 200 cities across the major six SEA countries.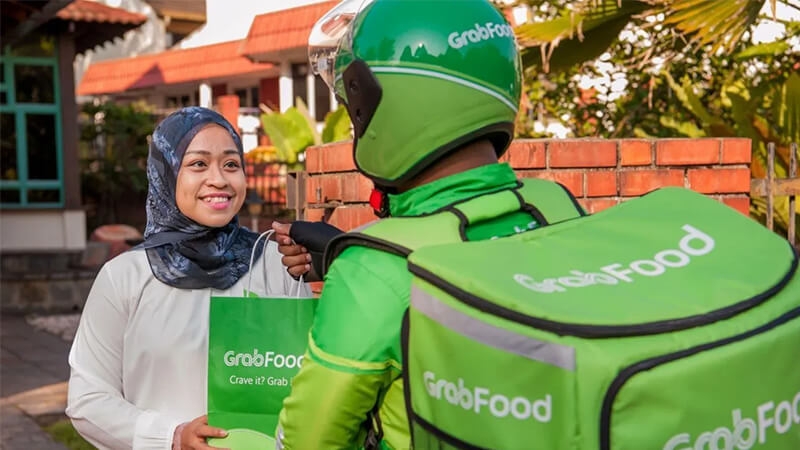 Grab offers its driver-partners to make their earing double by becoming GrabFood delivery partners. GrabFood is on a path to continued success as one of its top executives claims that its revenue has grown to a mammoth 45 times during March 2018 and December 2018.
Did you know?
Grab has launched autonomous robots named A.H.B.O.I-Autonomous Handling and Batching Operating Intelligence. It can consolidate and transport over 350 orders and reduce the estimated delivered time by 15 min.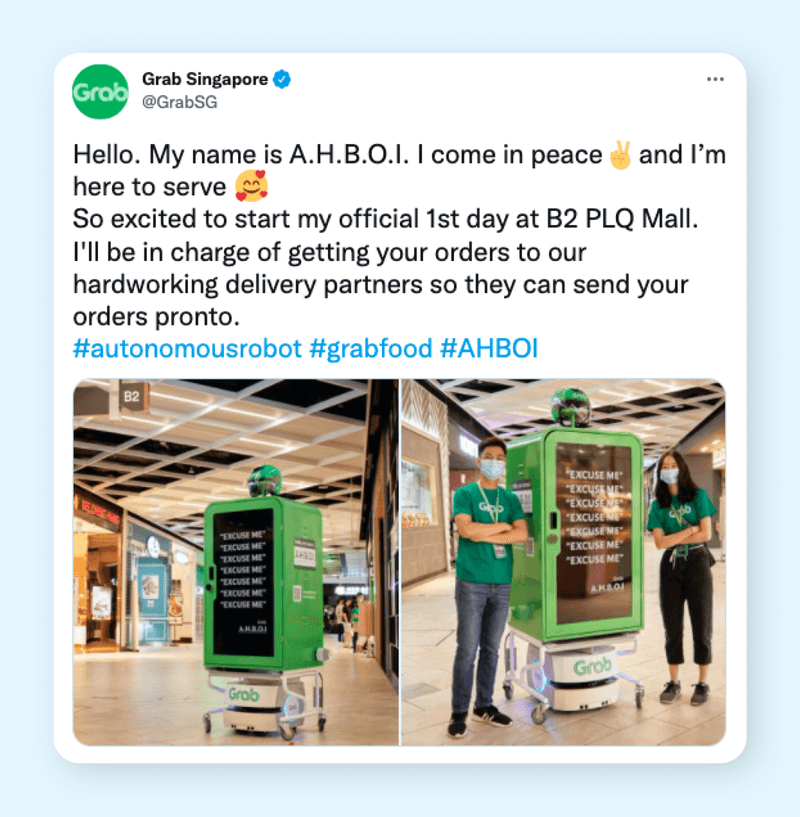 Grocery shopping with GrabFresh
Grab tried emulating the success of GrabFood by quickly launching its grocery delivery service GrabFresh in July 2018. GrabFresh allows its users to choose from a wide range of grocery products and get them delivered at their doorsteps. Like in the GrabFood, in the GrabFresh too, the partner-drivers can choose to deliver groceries in between their passenger trips.
Read More: Your next-gen on-demand grocery delivery solution.
GrabInsure: Get insured with Grab insurance
Grab has collaborated with local insurers to offer their customers as well as drivers a variety of insurance coverages. Travel insurance, accident coverage during Grab journey, and many more services are being offered by Grab. This has rise customer trust and helped Grab to enter a new sector.
GrabAds: An Effective way of advertisements
rabAds provides advertisement solutions and enables third parties to advertise on grab's platform. As Grab services are being used in everyday life and become a part of people's life frequently, it proved as one of the most effective manners of advertisement.
Grab has some promising partners like Apple, Nike, Disney, McDonald's, Coca-Cola, and Unilever. Grab also promotes the product in offline mode like placing the samples in their cabs, attaching promotional stickers to their vehicles and placing ads in their delivery orders.
There's still more to come
Grab is actively looking to enter into new industry verticals. In April 2019, it entered into four more industries which were ticket purchasing, hotel booking, on-demand video streaming, and trip planning. Grab partnered with
Singaporean video-on-demand streaming platform HOOQ

Booking.com and Agoda – Hospitality OTA platforms

BookMyShow
for their latest initiative.
Conclusion
The underdog story always ends with the underdog winning at the end. The story of Grab is also similar to that. We saw how humble beginnings and struggles can lead to massive victories.
In this article, we discussed Grab's journey: it's beginning, it's battle with Uber, the way how it adapted to the southeast Asia region, its victory over Uber, and at last its big ambitions of becoming an everyday super app.
Grab is spending a huge amount on advertising, more promotions, localization of its services, and expanding its wing aggressively in Southeast Asia. With the rise in popularity, ride-hailing businesses are becoming more demanding and the story of becoming a global leader will be more complicated with the rise of new players. Grab-Uber has created new milestones for many newbies and created a dream business opportunity for them. I hope you liked this article, if you want to read more such insightful articles then keep reading this space.