The end of the first decade of the 21st century saw some humongous transitions in the cab industry. The advent of taxi giants like Uber changed the game altogether.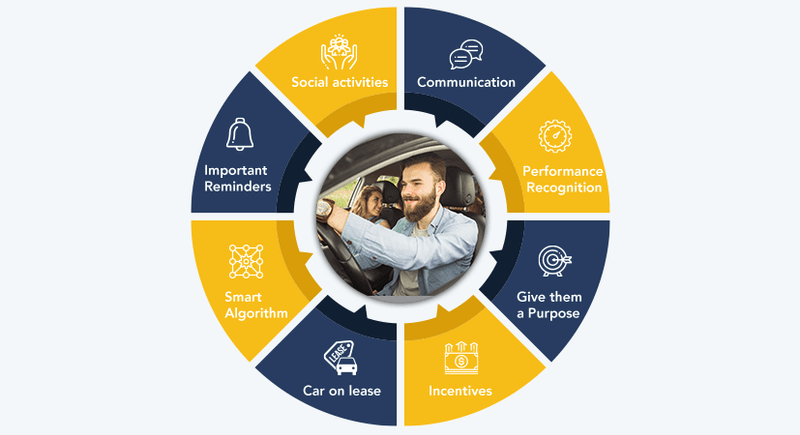 The transition was so big that even after 10 years we see many taxi businesses increasing at a galloping rate. And Uber must surely be given a fair credit for this increase as many Uber-like apps are emerging in an attempt to replicate its success.
However, achieving success like Uber is not an easy task. There are many things that you must take into account like the drivers, customers, and business strategies.
If we dive deep into business strategies then it opens up another Pandora's box which has things like branding strategies, solving the chicken and the egg problem, along with retention of driver & customer.
In this blog, we will discuss how you can motivate your drivers to stay online and take up more rides.
Drivers are the backbone of any taxi company without which no company can survive. The success of a taxi company depends heavily on how your drivers perform.
It's obvious that the drivers will accept ride requests and do their job. However, in today's cut throat competition this is not enough.
You have to ensure that your drivers available during maximum number of hours and are accepting the ride requests no matter how much the demand increases.
Ensuring all your driver's availability is not a simple task. Moreover, all the drivers may or may not be as motivated as the rest. So, how will you motivate all your drivers?
There are few techniques and tools that can be used to motivate your drivers. Let's discuss all of it one by one.
1. Communication
Communication is an essential part in any sector and taxi companies are no exception. Communication allows you to express your gratitude towards the drivers for their hard work. It provides you a medium to remind your drivers how big of a role they play in your taxi company.
Apart from making them realize their role and appreciating their work it's also important for you to make them understand that your company values their well-being as much as their performances and achievements.
When you communicate with your drivers in this way, then it increases their engagement. They start taking more pride in their work and look to achieve more than their set targets
The second important aspect of communication is to listen to the voices of your drivers. You must ensure that you constantly communicate with all your drivers. This continuity will help you to hear all their challenges.
If you solve most of their challenges then it will strengthen your relationship with them.
Moreover, it will also boost their loyalty due to which the drivers will try to earn for them as well as for your company.
2. Performance recognition
We just saw how engagement is important to motivate drivers. However, even the most engaged set of drivers will get frustrated and demotivated if you don't recognize or provide them with positive feedback on their work.
Feeling the sense of achievement is essential for any individual. The psychologist Abraham Maslow supports this in his hierarchy of needs.
A driver whose efforts are recognized will always try to outdo his/her own performance which is exactly what every company wants.
The more you recognize them the more they will find ways to get more recognized. But how can you do that? Let see below.
We can take the example of CFI, which is a Missouri-based truckload fleet. CFI offers their experienced drivers who have completed one year with the company with rewards.
This reward is in the form of a package where the drivers can earn with an increased rate of 1 to 5 percent per mile.
CFL takes recognition one step further by offering this packages to military veterans and other drivers with over one-year experience.
3. Give them a purpose
Current generation or millennial as we say doesn't work only to get a paycheck. Their expectations from their work is way more than what the previous generations had.
The taxi drivers are of no exception. So, when you're setting up your company, ensure that the driver's job is not only to drive and earn.
You must set the goals in such a way that the drivers feel a sense of purpose in their job. If you succeed to achieve this, then all your drivers will be automatically motivated to work more in pursuit of fulfilling their Purpose.
4. Incentives
The idea that there can't be any bigger motivation than money sounds like a cliché; however, it's true. Money can be used effectively to retain your drivers and motivate them to work more.
You can present them with rewards and incentives based on several parameters.
You can set a benchmark for drivers like a definite number of rides in a day or a definite number of online hours.
All the driver who cross this benchmark will then be eligible for the predefined incentive. Similarly, you can set these benchmarks for weeks and months too.
Other types of incentives are time based. In the benchmarks and the parameters are totally dependent on the time.
For ex. if you want to increase the number of online drivers in odd hours like from 12AM to 5 AM, then you can offer them incentives based on this time slot.
In this any driver who completes more than the set number of rides from 12AM – 5AM will be eligible for the incentive.
Read More: 3 features no cloud-based taxi solution must go without
5. Car on lease
Another smart strategy to motivate your drivers is to provide them with car on lease. There are many people who want to earn money by driving car but they can't since they don't have a cab of their own.
You can attract such people by offering them with cars on lease. Many taxi-hailing companies like Ola and Uber have adopted this practice in which they buy a bulk of cars and then provide them on lease to their car less drivers.
The drivers are bound to pay a definite amount to the company till a defined period. On completion of that period, the driver will become the owner of the car.
The lease strategy works as the perfect motivation for the drivers to stay online for longer hours and accept more and more rides since they must pay the lease amount to the company to own the car.
6. Smart algorithm
A driver can get easily frustrated if he/she is getting short and cashless rides on a trot or in a worse case no rides at all.
Without a smart algorithm in the driver app it becomes possible to ensure that all the drivers are getting rides of all types.
In this, all the driver gets rides of all the types. You can also set your algorithm in such a way that no driver gets more than 3 consecutive cash rides or long rides to ensure proper distribution.
7. Heat maps & important reminders
Heat maps are the tools which highlights the area with high requests on the geographical map.
In simple words, the region having high demand are shown in dark colors and the regions with comparatively lower demand are shown in lighter color.
This is an important feature in the driver app as it guides them to go in the region of high demand and try to make more money.
Such features motivate all your drivers as you're providing them with an opportunity of making more money.
Another important feature is of sending important reminders and notifications. Many a time it happens that drivers don't have an idea how close they are to achieve their targets.
Due to which they might lose an opportunity to get eligible for the incentive.
With these reminders, drivers will always be aware of how much more they need to complete their targets. These reminders also serve as a motivation to work more for themselves.
8. Social activities
To ensure that your drivers are truly loyal to you, it's important to establish a close relationship and trust with them.
And how can you do it? By taking care of them and the things that they care about. Which includes welfare of them and their family. You can achieve this by organizing social events or initiating kin of your drivers.
If you give your drivers such additional benefits then most likely they will be loyal to you and will try to work at utmost efficiency.
Conclusion
Highly motivated drivers are the key to any taxi company's success. However, to keep all your drivers motivated is not an easy task. But by following the tips and techniques mentioned in the blog you can surely achieve greater results.
Taxi companies like Uber had also followed many techniques to ensure that all the drivers are on their side and are motivated to contribute to the success of the company.
You can devise new techniques which you feel might work for your drivers as the source of motivation might vary for people of different regions, culture, tradition, and language.
I hope this article provided you with key insights on how can you motivate your drivers to stay online and accept more rides. For more such insightful content stay tuned to this space.