The restaurant industry is shifting towards end-to-end digitization and operational automation.Hence, on-demand food ordering app giants found an opportunity there and entered the market by developing ordering and delivering solutions, to deliver piping hot favorite foods at consumer's doorstep.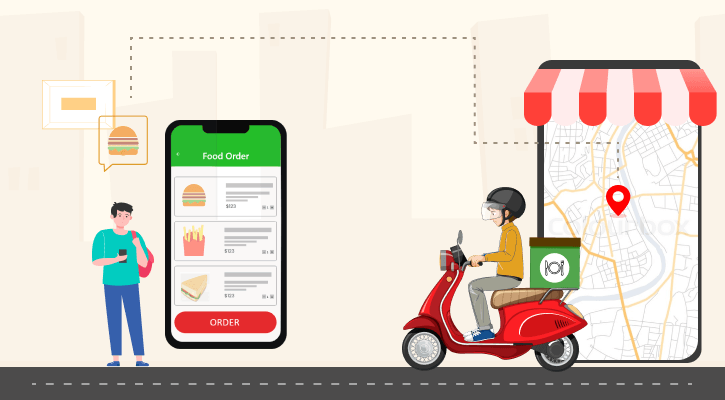 Your food delivery business allows your customers to order from the restaurant at their convenience. With your own delivery business, you can ensure your customers provide a variety of options, great service, and flexibility to entice new customers.
Trends like on-demand food ordering and delivering apps have been accelerated with the new customer behaviors. The pandemic propelled the restaurant industry in an entirely new direction. At the same time, this is important to automate your restaurant business with tech in such a way that it is unique, has a market need, and rakes high in revenue.
In this blog, we will focus on important aspects to make the restaurant's online ordering and delivering apps more efficient and proficient to generate profits for business owners.
The Rising Market Value of food delivery software
The future of the restaurant is ready to pivot to digital ordering. According to market experts, by the year 2030, the online food delivery market will show a shift from $35 Billion to $365 Billion which indicates the need for an online platform for the food delivery business.
With the rise in the use of smartphones and the internet, the growth of the overall food industry allows more customers to order food online. As per Grand View Research, the market will grow at a compound annual growth rate (CAGR) of 15.4% from the year 2018 to 2025.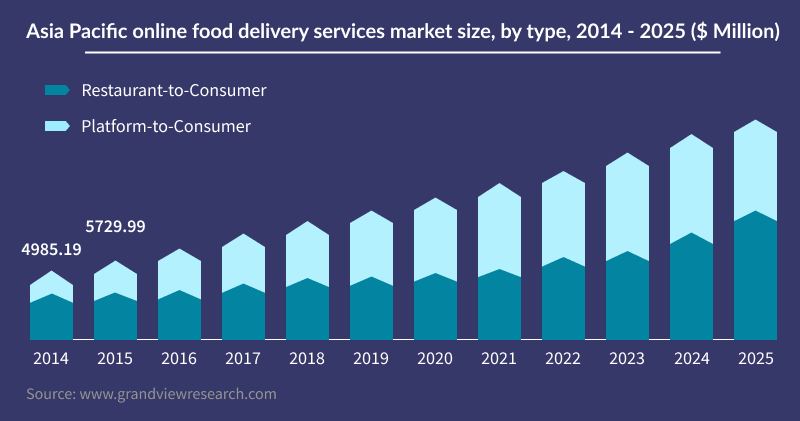 The use of smartphones has tremendously increased in the past few years or we can say mobile phones are becoming impossible to ignore. This raises the habits of ordering almost everything, especially the food.
Running a restaurant business is more than a full-time job. Restaurant owners have to adopt new technological changes to operate, reinvent themselves and survive with new normals to sustain the delivery business during the COVID-19. Food ordering and delivery management Solution are helpful for restaurant owners to keep track of their customers, bridging the gap between them and making great profits in the market.
Read More: Impact of COVID-19 on food-delivery business
Steps to make your food ordering and delivery business successful
There are several ways to streamline and automate the food ordering and delivery process. Not all work for all but there are some result-oriented steps we have mentioned below which if followed, online food ordering and delivery businesses can witness mind-blowing rates and make the application more successful.
Using Technologies to automate restaurant operations
Technological involvements can not only smoothen your food ordering and delivering solutions but also increase consumer engagement in on-demand delivery businesses. Online ordering services should be integrated with your POS that allows you to automatically collects the orders from various online ordering services.
As a restauranteur, this helps you to manage the order and reduces efforts of tracking the orders at the end of the day. Restaurant owners should maintain a strong database of customers and inventory management solutions for a smooth process.
Easy search options
Search options should be simple and quick as no one likes to spend a long in search of food while feeling hungry. In fact, the homepage should be designed as per the customer's preferences based on the restaurant and cuisines. Easy search options make the placement of orders simple and quick and users can easily enlist the list of restaurants fit for their food cravings.
Assign & track your orders with ease
Assigning the order is really important as the customers should not wait for too long especially when they are feeling appetite. In case the owner is using more than one on-demand ordering and delivery service, it would be great to use POS.
Priority of assigning orders to free riders, and then tracking that order makes your process smoother. The tracking module also helps the customer to get an estimated delivery time using real-time GPS and track the order while waiting.
As a restauranteur, this would help you in knowing the customer preferences and optimizing home delivery orders, tracking your available delivery staff, analyzing the dispatch and delivery time of orders.
Multiple payment methods
There should be multiple payment options for your clients for better convenience. Payment should be done in two ways: COD or cash on delivery and online payment gateways. In online payment options, there should be the provision of using credit/debit cards, mobile wallets, and other e-commerce payment systems.
From online ordering, cashless payments, and self-checkouts for contactless delivery systems and take-aways, the restaurant industry can no longer afford to ignore the latest growing trends that help their businesses to reinvent themselves to remain competitive.
Create a clear and concise online menu
The online menu is actually a driver of your online sale as customers experience the food later and menu first. The menu should be designed and optimized with the following tips for generating good sales:
Make it easy for the customer to find your menu.
Create proper food categories with tempting pictures.
Write beautiful and clear descriptions.
Highlight special dishes and options to customize as per client preference.
Deliver attractive food packaging and remarkable customer services
The restaurant delivery system should provide excellent service like your off-premises services. Some small checkpoints can make your customers happy and build a strong online platform for the food delivery business. These checkpoints are as follows:
Serving hot food: Hot and fresh food is being liked by all and if it is delivered hot too it gives a positive impression of being freshly prepared. This could be achieved by keeping track of food dispatch time and delivery time.
Attractive Packaging of food: Like a good food presentation and ambiance create a feel-good factor while dine-in the restaurant, similarly an attractive and fancy packaging gives pleasure to customer in restaurant food delivery. Packaging should be ensured as per the type of food so that there should be no spillage and food should be delivered in good conditions.
Proper equipment for separation of food to delivery boys: The delivery boy should have the proper equipment like separate delivery bags for the hot items and cold items, proper bags like pizza bags, different veg, and non-veg bags, etc. This will keep the food presentable even at the time of delivery.
Take care of necessary ad-ons and customer preferences: All the additional items required in dine-in should be taken care for making the dining process pleasurable and comfortable. Restauranters should cross-check the order as per the customer's preference and notes if mentioned any.
Add-ons like salt, pepper, napkins, oregano, ketchup, necessary condiments, and tableware should be added in the order for the convenience of the customer.
Proper communication with your customer
Clear and effective communication between the restaurant and their customers can prevent customers from getting frustrated and dissatisfied with the outcome of their orders. Proper and managed client communication can smoothen your delivery process and can improve customer satisfaction.
Confirmation of proper address, any clients remarks on customization of the dish should be well asked before dispatch of order through a phone call or via chats. This would help the delivery person as well as the customer to avoid unnecessary confusion and smoothen the process too.
Outsource your delivery services
In-house delivering the food is a very engaging choice of business, especially with startups. Outsourcing the deliveries to third parties can deliver your food at customers' doorsteps conveniently. This innovative way of outsourcing delivery drivers not only reduces the hassle and delivery time in rush hours but also cuts down on staffing and labor.
Rating and Reviews
Rating and reviews give an immense amount of control to your customers. With this feature, the customer can make a mindset to choose the right restaurant to get their food preferences.
Thus, it could be a platform for restaurant owners and food delivery services to know their area of improvement and how their competitors in the food industry are performing. Online ratings play a vital role to change the restaurant landscape as they can boost or hurt the branding of a restaurant.
Push Notifications and new marketing materials
This is the timely updates and notification to the customer from food ordering and delivering software's owner can send in real-time. Push notification is a great marketing tool as it allows the customers to get connected. Discounts, offers, events, etc can be timely updated, and notifying the customers can boost your growth too.
Rewards and offers include discounted meals, some free menu items, and access to exclusive events. These special discounts and offers help the online ordering services to retain your old customers and bring more new users.
Also, while delivering the food make sure to add flyers, reward coupons, and stickers as add-ons which could help the customer to contact you later again. This marketing strategy is really helpful to increase consumer engagement in on-demand delivery businesses.
Read More: Beat the competition in the on-demand food delivery business
Conclusion
In the current pandemic scenario, many restaurants are venturing into the digital world by launching or integrating with online ordering and delivery mobile apps or websites. With the advent of technological advancements, restaurant owners have realized how to invest money and time to prepare future demands of the food industry for better growth, stay ahead of the competitors, and survival in crucial times.
The food ordering and delivery market are accelerated with new online marketing strategies and have many advantages of an online ordering system for restaurants like owners can have more online customers as well as stand out as an innovative business, the amount of ROI increases, the owners get a strong and vital client database and consumers who place an order online shows more retention than those who haven't.