Over the years, we have seen the on-demand economy booming with the entrance of big players like Uber, Lyft, Grab, Gojek, and many others. These companies have disrupted many industries at a time be it taxi, food-delivery, ecommerce, etc.
It won't be wrong to say that the taxi industry was the one which was most disrupted by this. The arrival of Uber, Lyft, Grab, and Ola totally decimated the traditional taxis all over the world.
Moreover, with people using more and more on-demand services, we are witnessing a new trend among the ride-hailing taxi business. We are seeing ride-hailing businesses exploring into different ventures especially the food delivery. UberEATS is the prime example of it which began in August 2014. So, why are taxi companies venturing into the food-delivery industry?
The answer to this question is very simple. Both taxi booking and food delivery businesses are very similar. Both from the business and technical point of view these two on-demand businesses share a lot of things in common. This is the reason why many companies find it easy to simply add food-delivery into their existing taxi booking business without spending much money and time.
For whom it's suitable?
Many of you might have a question that who can actually add a food delivery service to their existing taxi business. This question is genuine as taxi business are of different types viz. startup, medium-sized business, and enterprise level businesses.
It's possible for all types of taxi businesses to start their own food delivery businesses; however, it's more suitable for taxi businesses that have following:
A strong core of drivers
Companies having a strong core of substantial number of drivers can easily introduce a food delivery service. It's because they don't need to find any new delivery agents as all their drivers can act as the delivery agents.
Customer base
Taxi booking companies that have a massive customer base are also suitable for starting their food-delivery business as they don't need to build their customer base from scratch which saves a lot of money and time.
Taxi brand
The taxi businesses who have established their taxi brand well can also start their food-delivery business under the same brand, thus saving a lot of money and effort in advertising and marketing.
The corona virus impact on taxi industry
Right now the world is in the state of hibernation since the widespread Coronavirus Pandemic. This deadly virus has infected more than a million people across the globe and has resulted in deaths of more than 75,000 people.
The coronavirus pandemic has hit the ride-hailing industry the worst. The fear of catching the virus is making riders stay at their home thus decreasing the ridership of various ride-hailing taxi firms. Even the taxi behemoths aren't spared by this pandemic as the major ride-hailing firms like Uber, Ola, Grab, and many more have witnessed unprecedented drops in the number of bookings.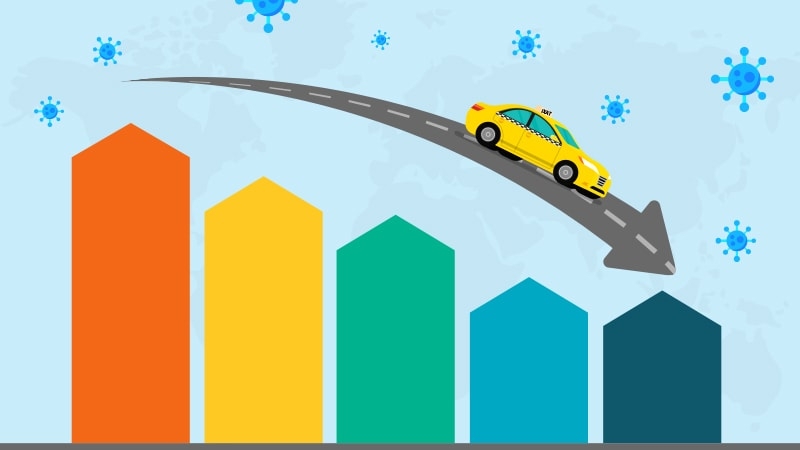 For example, in India, the taxi giant Ola saw a dip of 50% in the on-demand taxi rides. Similarly, Uber has already mentioned the negative impact of Coronavirus in their 8K filing published on March 2.
As the situation worsened in many parts of the world, the governments of many countries started announcing lockdowns, which made the matters worse for the ride-hailing companies. This is because; no ride-hailing taxi can operate while there is a lockdown being imposed. It means that all the taxi companies have to bear massive amounts of losses for the lockdown period.
Moreover, no one knows for how long the lockdown would continue. And even if the situation becomes better and lockdown is removed, the people would still be hesitant to come out of their house due to fear. All these factors make one thing very clear that the coming few months are going to be really tough for all the taxi business owners.
However, there's a silver-lining even in this grim situation. Taxi businesses are banned during lockdowns but food delivery is not banned since it comes under life-essential service.
Read More: What things are required to start a taxi business in a small town
Taxi businesses can take advantage of this and make up for all their taxi business loss by simply starting their food-delivery service.
This is a very smart move as the food-delivery business has gone up by many notches in this Pandemic period. All the food-delivery firms are witnessing unprecedented surge in the number of orders.
You can too leverage this advantage by starting your own food delivery business with your existing taxi infrastructure, drivers, and customer base.
But how exactly can you do this?
Get YelowXpress
This is exactly where YelowXpress comes into the picture. YelowXpress is an advanced and extremely on-demand delivery solution. It's a feature-rich solution that enables you to deliver food to your customers in a fast, convenient, and precise manner.
Any type of taxi businesses that we have mentioned above can leverage this situation by getting YelowXpress.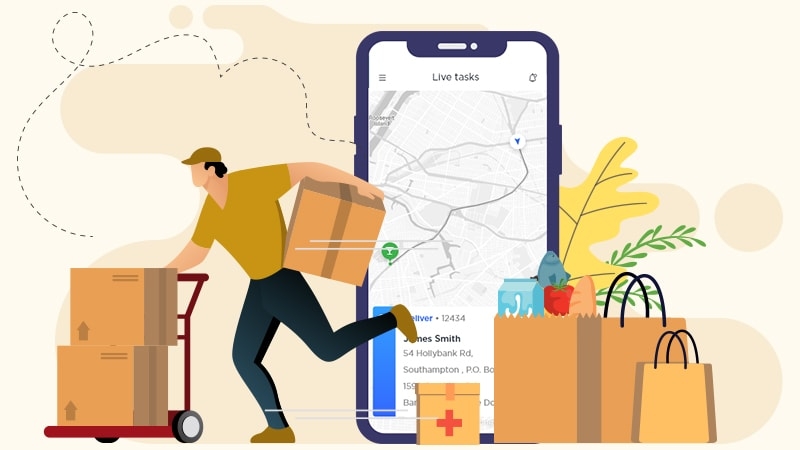 Introducing food-delivery service to their existing taxi businesses is even easier for all the Yelowsoft clients. Let me explain how?
All Yelowsoft's existing clients can use both taxi and food-delivery services from that same app. They don't need to install a separate app for food-delivery. In this, the drivers will get an option to choose whether they want to deliver a food-package or want to provide a riding service to a customer. Similarly, the customers can also book a ride and order food from the same application.
With this arrangement our clients don't lose any of their drivers and customers. All it takes to integrate both these services is an application update. Once the drivers and customers update the application, they can use both the services.
If we talk about the taxi businesses which are not Yelowsoft's client, they have to face a lot of hassles to integrate a food-delivery business. It's because they won't be truly able to integrate their taxi booking solution with a food-delivery solution as both will have different databases. Simply put, it would be similar to running two different applications.
Moreover, they won't be able to effectively migrate all their customer-base. All they can do is try sending push notifications and ads on its existing taxi app about launching a food-delivery app; however, it may not give the desired results.
If I have to put it in simple words, then Yelowsoft makes it extremely easy, effective, and fast for its clients to add food delivery service to their existing taxi business.
This is not it, Yelowsoft also has grocery delivery, courier delivery, medicine delivery, and many other services. So, in future if you're looking to expand your business in these industry verticals then you can do that seamlessly without wasting much time, energy, and money.
Conclusion
With the trend of multiple on-demand service providers increasing and the Corona Pandemic shutting all taxi businesses worldwide, it couldn't be a better time for you to introduce a food-delivery business and take advantage of the situation.
Apart from making profits it will also allow you to expand your business in multiple segments and that too with a healthy start.
So, what are you waiting for? Get YelowXpress now and transform your taxi and food-delivery business into a successful story.