Till a few years back, the traditional taxis were our choice of transportation to travel anywhere in comfort and style. With the growth of ride sharing apps, the transport industry is undergoing a phenomenal change.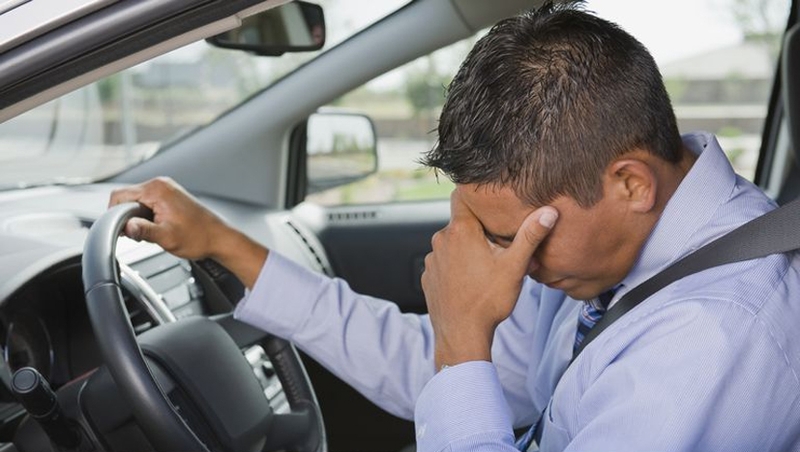 The ease of booking a cab through one's smartphone, without having to venture out in the hot sun to flag it down, is leading more users to depend on these apps and services.
According to data compiled by Statista, the number of users of ridesharing services will cross the half-billion mark in 2020.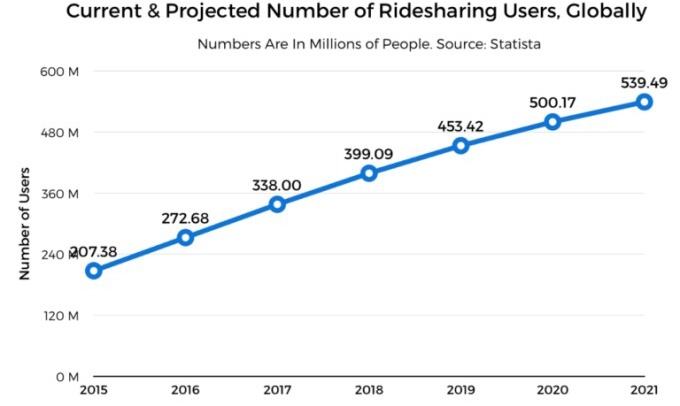 Statista further estimates that by 2020, global revenue of the ridesharing industry will be approximately $61.4 billion (USD) from 12 percent of the adult population in the various regions Statista's analysis covers. This points to a strong but linear growth trajectory for the industry at a global scale.
Now imagine your customer. He may be running late for his job interview or urgently have to reach somewhere; all he needs is a ride desperately. It is possible he has left his car in the car garage for repair and have no other means of transport at the moment.
He thinks of making use of technology by booking a ride from his favorite taxi app. Your nearest driver, who is going to pick him up, shows 5 minutes away from him. Thus, he waits with bated breath for the driver to arrive. As he tracks the driver location through the driver app, he sees him approaching him and then suddenly the driver stops moving. He wonders what is happening and finds that the driver has canceled the ride at the last minute.
This makes him seriously annoyed and disheartened. He doesn't know how much more time will be required for him to get a second cab. The wait seems to be endless.
The above is a typical scenario which a customer may have faced many times while trying to book a cab through a taxi app. He may even think of not using the same app immediately to do a second booking and may migrate to another taxi app.
From the company's owner's perspective, this is a loss of revenue. It is the objective of any taxi owner to maximize profit from his business. But cancellation of orders from the driver's end can be a major concern for you as the owner and lead to heavy losses.
So, what can be the possible reasons for a driver to cancel an order in the first place?
Distance factor and rush hour
Once a customer books a ride, the driver will always have a glance at his current location. There are chances he may cancel his order, if he finds either the location is too far off in some interior part of the city or the order falls on a rush hour. Now there can be many consequences for a rush hour:
The driver may want to avoid getting caught in the traffic and risk order cancellation from the customer's side, while trying to reach him

He may fear a bad rating from his end for late arrival
The passenger is unreachable or is not ready
The second situation is the driver reaches the customer. He calls or texts him to get more information but doesn't get an answer! Either the customer is too busy attending to some personal issues and forget to glance at his phone or yet not ready. The result – the driver waits over the prescribed time of 5 minutes and leaves, without able to get hold of him.
Bad Location
This is a major deterrent to the driver. The pincode entered by the passenger is not actually where he stays! The passenger is unable to give the driver proper directions to reach him. In the process, the driver keeps going around and wastes his time.
Some personal issue comes up with the driver
The driver just like us is a human being first. There are situations when he has some personal emergency at home or elsewhere and cancels a ride.
Low Rider Score
A driver wouldn't generally give a rating less than 5 to a passenger, unless and until he has caused some serious problems in the past. These problems can range from being extremely rude, to damaging the vehicle, to obnoxious back seat driving or carrying some illegal stuff to the car. Once a driver sees a passenger's personal score is less than 5, there are chances he may cancel the ride. The driver may also give a heads up to other fellow drivers, who may in turn not pick him up.
Here are few tips which will help you as the owner to minimize order cancellations by your drivers:
Educate your drivers
The key point is to educate drivers to use the driver mobile app properly. You may call them periodically and educate them about the driver's manual and guide them step by step ways to handle all types of orders, their operational area and statuses.
Some advice you can give them are:
Don't press 'Accept' if you are not sure about how comfortable you would be to make the ride. You can still bid on it though.

Limit your operational radius in your driver app as per your needs to avoid incoming distant orders.

Track other drivers' presence in the driver app map. Examine 'high demand' areas and cover those locations which has limited cab presence.
Apply Cancellation Fees
You can eliminate your company's monetary losses due to canceled orders, by imposing cancellation fees.
The cancellation fee logic for a Taxi booking app is very simple. The system will charge driver's account with a fee if:
Driver cancels order after accepting it;
Passenger cancels order citing there is no taxi in situations where the driver has a prescheduled order but he delays for more than 3 minutes after the estimated time of arrival and is farther than 200 meters from pickup location.
Monitor Cancellations
You can track the cancellation rate for each driver on a weekly or monthly basis by generating a "driver report". The report shows different statistics on every driver as well as the number of orders canceled by them.
Below shows an example of how Uber monitors driver behavior in the San Francisco market. For example, drivers are expected to have a cancellation rate of less than 5 percent, or they risk being fired from the system: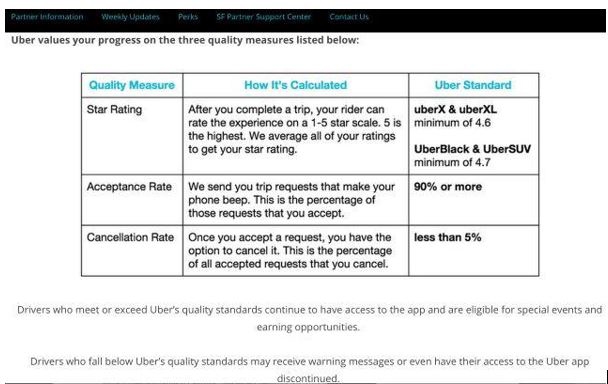 Thus if a certain driver has very high cancellation rate, you might call him and get first-hand feedback. Make him aware of your concerns and also get details on the high cancellation rates.