Transportation has been an integral part of our lives since time immemorial. It refers to the movement of humans, animals and goods from one location to another using various modes that include air, land (rail and road), water, cable, pipeline and space. Transport is important as it allows trade between different countries and people, thus is essential for the development of civilizations.
Passenger transport may be public or private. In public transport, operators provide scheduled services. This includes public buses, taxis, vans, trains etc.
Below graph shows the percentage of commuters and their mode of transport through the years.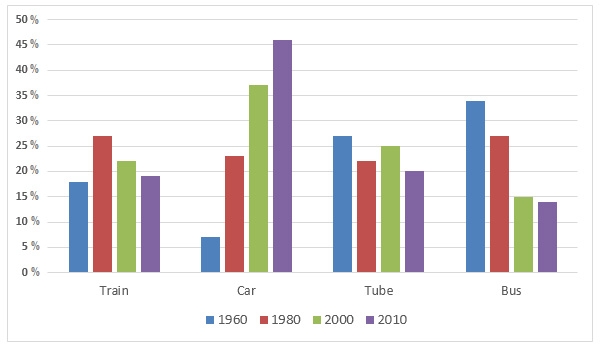 Private transport (as opposed to public transport) is transportation service, which is not available for use by the general public. Though time and again the government subsidizes many forms of public transportation, but the entire cost of private transportation is always born directly or indirectly by the user.
Taxi Industry
Many large companies like Tesla, Amazon, Microsoft, Alphabet and Apple are trying to create great innovations in the transportation industry to propel it into the future direction.
In older days, method of transportation was much simpler. A person who needed a taxi had two options – either dial from a payphone or they would flag down a taxi while standing on the road. The invention of the Internet has brought new transportation technology in use and has completely changed the taxi industry.
With the kind of Taxi booking mobility solutions, which companies like Uber, Ola first made popular, automobile industry has undergone a major change.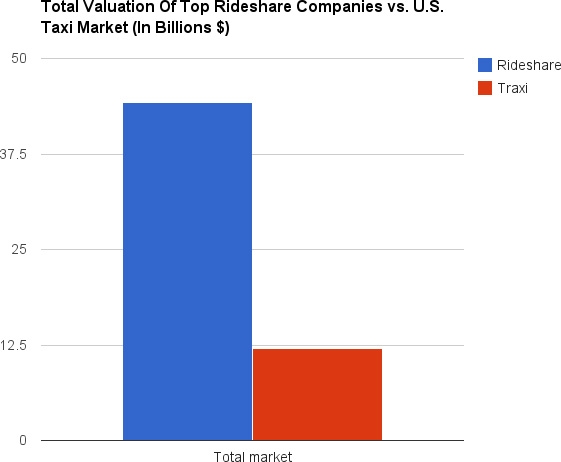 The above graph shows how in just a few years, a handful of Silicon Valley ridesharing companies have created a new market that's worth multiple times the entire U.S. Taxi industry.
So here are the ways, how the Internet has positively impacted the taxi industry:
Mobile Booking: Customers can hail a cab and prepay using their phones with ease.

GPS System: Owners can track where their fleet is, and drivers can receive exact directions with Real time tracking solutions provided by the mobile app.

Instant Presence: The use of websites is far better than advertising at any billboard or commercial. The use of websites is far better than advertising at any billboard or commercial.
Let us now reflect into the future to witness the trends that will shape the taxi industry of 2018 and the coming years.
Future trends in Taxi industry of 2018 and the coming year
Autonomous automobiles
While we do have cars like Mercedes-Benz E-Class and Tesla S, which have the self-driving function, drivers are still required to supervise the car's driving behavior. We might expect to see self-driving Taxis driving around without drivers by 2018.
In the future, autonomous vehicles that are capable of driving in any environmental conditions, without any supervision will be developed. Magnetic roads are going to be the carrier for such autonomous cars where the vehicle will precisely travel across predetermined points for improved safety.
At present companies like Waymo and Uber are focusing on Self Driving cars. People soon will be able to call for an autonomous car and command the vehicle to drop them off at their destination.
Read More: Top 6 Reason For Bus Tracking System
Solar-powered electric cars
The world is already facing environmental concerns with decreasing air quality being the prime concern. The future innovations will be targeted across eco-friendly innovations. Instead of relying on generating electricity by non-renewable sources of energy like petrol, diesel etc., solar-powered electric cars will see the light of the day in 2030. The roads will also transform to accommodate such electric cars by implementing a technology that charges cars while on the move. This will be a kind of revolution in itself!
Flying cars
For many years, engineers have been working vigorously towards bringing the idea of flying cars into reality. In the coming decades, flying cars will be actively used for personal transportation.
Using similar technology like drones or unmanned vehicles, which are used in transportation of goods and other purposes, Uber, the ride hailing taxi provider, is planning to launch "Flying Taxis"
Dubai has successfully tested the flying taxi as reported in The Verge.In India, Bengaluru will start the first Heli – Taxis So the market of "Flying Taxis" is expected to be huge in 2018.
Conclusion
Yes, many new technologies will be introduced in Taxi Business in the year 2018. Where apps like Uber have transported taxi industry to the digital revolution, taxi businesses can watch out for these trends and prepare themselves for the future.
Time is money. People are willing to pay to get a Helicopter ride or looking for better and innovative ways of transport to avoid the endless traffic.